The Oldest Canucks Textile in Existence?
December 9, 2018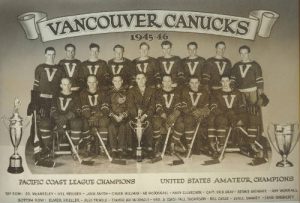 Someone asked me this past year what was the oldest Canucks jersey I'd ever seen. It was a good question and got me thinking. 1970s game-worn Canucks sweaters are common and 1960s Canucks jerseys from their years in the Western Hockey League can be found with little effort. Jerseys from any 1950s teams are rare, maybe none more so than the Canucks. It's a well-worn story among Canucks alumni that after the end of the last game of every season, team equipment manager Eddie Shamlock waited at the dressing room door and collected all team jerseys—on stingy owner Coley Hall's orders—so they could be re-used again next season. Not many made it outside the walls of the dressing room as a result.
The BC Sports Hall of Fame collection has one white, blue, and red Canucks jersey worn by fringe player Bill Chalmers we've dated to approximately 1954-55. This may be the oldest Canucks jersey still in existence today, certainly the oldest I've seen.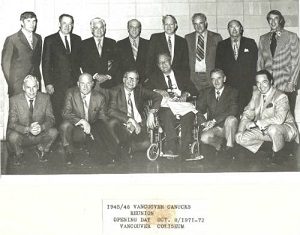 Now, the oldest Canucks textile is another story and I know this one definitively. About a year after the BC Sports Hall of Fame inducted the 1945-46 Vancouver Canucks (you can find the story of this remarkable team here: 1945-46 Canucks – Part 1 and 1945-46 Canucks – Part 2), I was contacted by Jake Swaney, the son of Lyall Swaney, a defenseman on that inaugural Canucks team. We'd searched out relatives of all team members, but somehow Jake escaped our best efforts. He'd heard about the team's induction, but unfortunately after the fact. To make up for this, I invited Jake down to the BC Sports Hall of Fame for a visit. As we chatted, he mentioned that he still had his father's team jacket and leather helmet. On a future visit, he brought both items down for me to see. My jaw dropped when I saw them.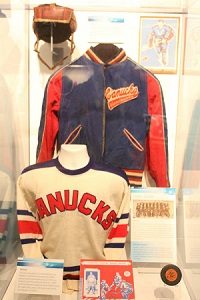 When the 1945-46 Canucks were inducted I'd interviewed living players Andy Clovechok and Ernie Dougherty, and both were fairly certain none of the jerseys from that season had survived. Ernie remembered wearing his for years while gardening and painting until it literally fell apart at the seams and was discarded.
Jake didn't have a team jersey, but his father Lyall's team jacket was the next best thing. After the 1945-46 Canucks won the Pacific Coast Hockey League title and the US Amateur Championship, each player was presented with a gorgeous red and blue canvas jacket. Despite lots of wear, including surviving many oil changes of the family car, Lyall's jacket is in remarkable condition and is our best clue to matching the colours of the original Canucks team jerseys from that season, seen here in the original black-and-white photographs. After consulting several experts, collectors, and other Halls of Fame, as far as we can gather, at 68 years old this jacket stands as the oldest Canucks textile in existence.
Background: John Thomas Lyall 'Butch' Swaney
Born in Regina, Saskatchewan on December 11, 1918, Lyall grew up on a farm near Balcarres. When 16, he attended Notre Dame College in Wilcox, Saskatchewan on a scholarship. After graduation, Lyall played hockey for the Regina Vic Aces junior club and later moved on to the Chatham Maroons senior team in 1938-39, before returning to the Aces senior squad the following season. In the fall of 1940, he moved to Kimberley where he worked for Cominco and played senior hockey for the Dynamiters. After serving in the RCAF during World War II and playing on several RCAF teams, he joined the Vancouver Canucks for their historic inaugural season in 1945-46. After one season, he returned to Kimberley where Cominco rehired him as a mine clerk. He continued playing for the Dynamiters until 1953 when he broke his leg refereeing a game. He retired from Cominco in 1980 after over 39 years of service. Lyall and his wife Ida were married for over 60 years and had three children.
_____
If you have a historical item you are interested in donating to the BC Sports Hall of Fame or if you own a sports item and need help identifying its' history, please contact Jason Beck at "jason.beck@bcsportshall.com":mailto:jason.beck@bcsportshall.com or 604.687.5520 ex 30.