The One and Only Jim Taylor
January 9, 2019
By Jason Beck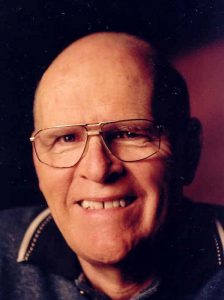 The first installment of this new BC Sports Hall of Fame monthly feature focuses on Jim Taylor, one of Canada's all-time great sportswriters. It only seems fitting. My very first interview here at the Hall of Fame 14 years ago was with Jim. I've conducted nearly 500 since then, but that first one remains perhaps my favourite. My journey since then here at the Hall has been inextricably linked with Jim, who was equal parts hero, mentor, and friend to me.
His passing at the age of 81 last week evoked one of the largest, most heartfelt outpourings of respect, tribute, and gratitude bestowed upon a member of BC's sports community in recent decades. No one deserved it more. No one. He was talented beyond measure as a writer—sharp, witty, biting, spit-your-cornflakes-funny, proud, quirky—and he had a heart of gold. I won't recount Jim's career accomplishments here; others have done a far superior job of that:
Tom Hawthorn, Globe and Mail
Ed Willes, The Province
Susan Lazaruk, Vancouver Sun
Cam Tait, Edmonton Sun
Jack Knox, Victoria Times-Colonist
I will instead share some personal anecdotes.
My first recollection of Jim Taylor was while growing up on an Abbotsford dairy farm in the mid-1980s. My Dad read The Province every morning after milking the cows and us kids knew not to bother him at the kitchen table. But I became curious why the 'serious' paper would get him chuckling. I learned later it was Jim's column, which he read every morning for decades. Only this week he told me that when he finished breakfast and went out to cut hay or plow fields in our John Deere, he'd have an imaginary conversation with Jim in his head for the next few hours, discussing certain points raised in Jim's column.
So I come by my admiration for Jim honestly. It's literally embedded in my DNA.
Jim's column soon became my morning ritual too. Didn't always get all the jokes at first, but understood enough to realize this writer was different, someone whose words stood out in technicolor among pages of black and white.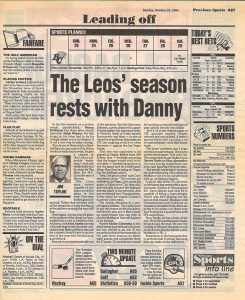 Fast forward to 2005. I'm working at the BC Sports Hall of Fame and green as grass. Jim Taylor is among the inductees at that year's Banquet of Champions. Directed to contact each inductee for interviews, I scanned the list in terror and my finger stopped at Taylor's name. There's no way he'd pick up if I called… Dialed the number, he picked up first ring. I stumbled through an awkward introduction and mentioned the interview.
"How about today?" he suggested. How could I say no?
We walked over to the old Beatty Street Bar and Grill as he gave me copies of his books as gifts. For the next three hours I don't think I was ever more impressed, entertained, and in awe. His sharp wit, his humour, his stinging sarcasm, his sincerity. For maybe the first and only time in my life, one of my heroes turned out to be even greater in person than how I'd built them up to be in my mind. I went back to that audio recording kept in the Hall of Fame archives and picked out a handful of Jim Taylor gems:
"Premier Bill Bennett joked I was the inspiration for BC Place's dome design. He said, 'I was camping with Jim Taylor and one morning the tent flap parted and the first thing that emerged was his bald white head!'"
"Eric Nicol said, 'Nobody can write five columns a week. Two will be garbage. But it's got to be the best garbage you've got in you that particular day, 'cause if you don't do that, three will be garbage.' And I never forgot that. Today look at the guys, they write two. That's retirement—that's not writing!"
"Nowadays newspapers don't even look at you unless you've got a—quote—journalism thing from some university, which doesn't prove you can write. Can you write a column in 11 minutes when Mike Tyson has just bitten Evander Holyfield's ear and every second guy in the crowd has a gun?"
"The Calgary Sun flew me to Ottawa for Wayne Gretzky's last game in Canada. In the press conference afterwards, they said, 'If you have a question, give your name and paper affiliation.' So I stand up and say, 'Jim Taylor, Vancouver Province.' Wayne says, 'No kidding!' 'Cause by that time we had done the two books."
"If something was funny, at least if I thought it was, I wrote it that way. If it was hard, I wrote it that way. But I'd got to the point where the funny stuff became so potent that if I wrote four really tough ones in a row, we'd get calls. 'Why isn't Taylor makin' me laugh?'"
"I went to the World Cups in Italy in '90 and the States in '94. Then the one in France [in '98], I thought it was automatic. I was the soccer guy. But the Sun chain sent our baseball writer because his wife had never seen Paris and they owed him a trip. So I stayed home. After the first day I get a call: 'Are you watching the World Cup matches in Vancouver?'
I said, 'Yeah, I watch them all.'
'Could you write a column?'
I said, 'Why? You've got a guy there.'
They said, 'He's not fast enough. He's missing all the deadlines.'
I said, 'Are you telling me that if I was slower I'd be in Paris?!'
So I covered the World Cup—from my basement."
"At the '86 World Cup at Azteca Stadium soft drinks came in little plastic bags—sealed bags. Fans would drink 'em, piss in 'em, seal 'em, and throw them at the bench of the visiting team. One of these things comes—blam!—lands right by the Canadian bench. One of the trainers, he makes the big pantomime, he pretends to run his finger through it, and he says, 'Female…three months pregnant.'"
"What I don't understand is, we have all this high-speed equipment now and the deadlines are earlier. Until they made me take it down, I had a sign on the computer I used at the Province: 'If we get any faster, we'll be a bleepin' weekly.'"
"First byline I ever got was a story on softball I wrote eleven times. They kept handing it back to me and handing it back to me at the Colonist and I was getting madder and madder and madder. I go home, I get up at five o'clock, I go deliver the papers, and as I always did I read the sports page to see what they've done to my stuff. And there's the byline: 'By Jim Taylor.' First one."
I walked away from that interview buzzing, some of which is still firing my passion for sport in this province 14 years later. Listening to the recording today, my inexperience makes me cringe. The amazing part? He went out of his way to make me feel comfortable. I recognize it now. He treated me as an equal—which I had no business being, not then or even now for that matter.
I closed with: "Thank you very much, Mr. Taylor."
"Call me Jim. Mr. Taylor's my father," he said. "Let's do this again."
I was floored.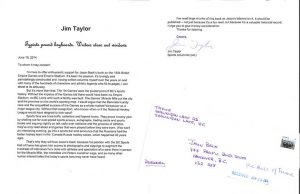 We did do it again. Later that spring, working on his induction biography I had follow-up questions. "Come on over to the house," he said. He introduced me to Deb, his lovely wife, and their crazy dog who nearly pinned me against a wall. He toured me through his basement home office-slash-man cave. Framed photos signed by Wayne and Walter Gretzky and Rick Hansen hung beside those of his son Chris' soccer teams, some of which Jim coached. There was also fan mail that would have insulted most other writers. He found them hilarious and framed them. One long wall was covered by a small library of books and every Sports Illustrated magazine from 1954 to the present. His beloved Underwood typewriter sat near a unique oak architect's drafting table. We sat side-by-side on the couch and watched the CFL Traditions documentary, which he called his proudest work.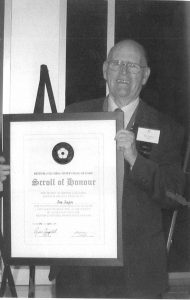 I went away and tried to write the perfect Jim Taylor biography and it didn't do him justice, but it was the best I could do at the time. The night of his induction we found one another just before it began. Holding a copy of the dinner program containing his bio, he shook my hand and said, "Good job, Jase." As a young writer, three words couldn't have meant more to me. Province sports editor Paul Chapman said compliments from Taylor could give young colleagues "wings." Just wings? I was floating high enough to conduct satellite maintenance.
From that point on, we regularly saw one another at events or talked by phone. Treasured those calls. "Haa-llo. Oh hi!" I can still hear his voice now. Whenever "J Taylor" came up on call display, I knew half an hour or more of fun would follow. It also hit me early on. Just like he'd soaked up knowledge from one of his heroes, the great humour writer Eric Nicol on the sidelines of their kids' Saturday morning soccer games, with each of these phone calls I was now going to school. We talked mostly sports, but also about writing. Who influenced him, how to approach a particular subject, how to capture a person's unique speech patterns. I learned something every talk. Each was a lesson and never will I miss going to school more.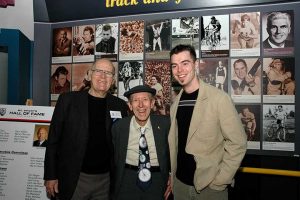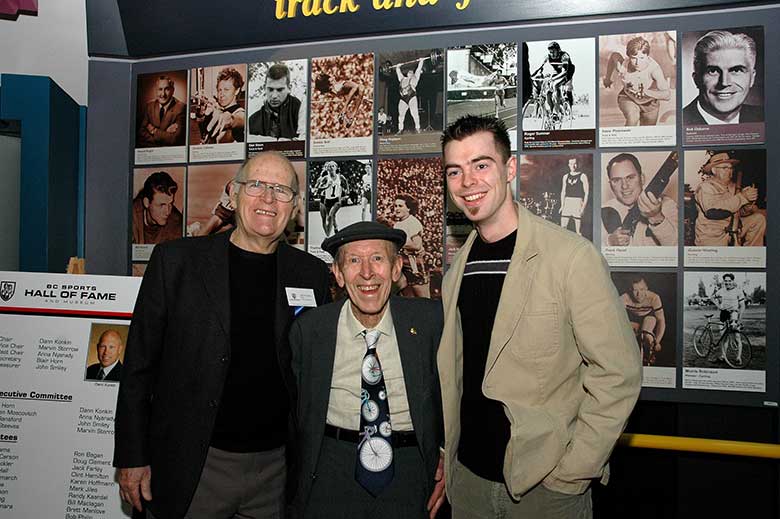 His emails were a special treat. My, could that man write. Mundane messages about meetings and tickets and letters of support were turned into fine works of literature.
At some point I got it into my head that I should write a book on the 1954 British Empire and Commonwealth Games. Jim encouraged me from the beginning. My very first interview was with him and his long-time friend and Sun stablemate Jim Kearney at the Taylor kitchen table. That was something else. Stories, one-liners, barbs, bounced back and forth between them like ping-pong.
I sent Jim drafts of chapters periodically and he sent back comments and criticisms. He was rooting for me. When I was nearly finished, he called Howard White, his publisher at Harbour. They were interested, but I broke one of Jim's cardinal rules: "Write tight." On their own, each chapter was good; as a whole, far, far too long. Harbour lost interest. And I spent a year editing, cutting my manuscript in half.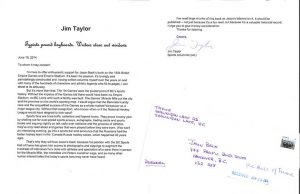 While preparing to submit to other publishers, I needed a couple letters of support. Jim was the first to contribute, no questions asked, and as letters go it was a work of art. I have no doubt his support helped seal the deal I signed with Caitlin Press in 2015.
By that point, Jim's health was declining, as he struggled with back issues and diabetes. He'd sat on the Hall's Selection Committee for several years, but travel was difficult now and he was forced to bow out. My wife Nicole and I decided to visit him and Deb at Shawnigan Lake. We arrived after dark one rainy evening and were greeted with martinis and jazz and laughter. We had a blast, time slipped away, and before we knew it, we'd missed the last ferry.
"No problem. Sleep in the bed upstairs."
The next morning over breakfast Jim regaled us with his usual array of colourful stories. I think he was showing off to Nicole, charming her. It worked. She loved him. How could you not?
He was also so proud of Deb, his lifelong sweetheart. For lunch we helped Deb prepare fresh shrimp in the kitchen and Jim retrieved a copy of her first book. He was beaming as he told us how she'd researched and written it.
About a year later, after 56 years of marriage, Deb passed away and Jim was heartbroken. He told me that every evening around 5 o'clock he'd go down to the gazebo by the lake. He'd sip a martini as they always had, and he'd talk to her.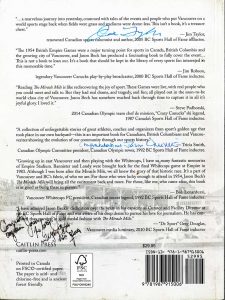 By that point my book The Miracle Mile was just weeks from being published and I was looking for back cover endorsements. Jim was always my first choice, but I held off asking. "You'll have one from me by tomorrow," he said during one of our calls. I couldn't believe someone in the depths of that kind of sorrow would offer to do something like that.
Two months later, we held the book launch at the BC Sports Hall of Fame. Jim wasn't well enough to attend, but that morning he called with congratulations. It meant the world to me. "You did it," he said, "and it's a treasure."
Not long after we held a book reading at the Greater Victoria Public Library, partly to see him. He came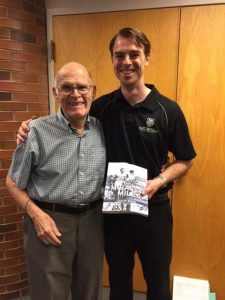 and shared stories of Empire Stadium and the Mile and stole the show, leaving the crowd roaring, anecdote after anecdote.
Our visits and calls continued until just recently. The last time I spoke with Jim was mid-November. I urged him to try writing another book, thought it might help him. He mentioned maybe trying fiction, but in the next breath he also said, "I think I'm done. Sixteen books ain't bad." My only regret from that last talk is that I didn't say thank you, for everything. But he knew. He knew how much I admired him.
While preparing this tribute, I sifted through photos of Jim, old emails, letters he'd sent me, gathered up his books. Pieces of him were everywhere. Advice from Greg Douglas resonated: "Think of all the joy his books, his columns, his jokes, his words have given us. Focus on that." I've tried to and it's helped a little.
One thing I stumbled upon took my breath away. After Jim's induction in 2005, he wrote our staff an unpublished column as a thank you. No one to my knowledge has ever seen this beyond our small team at that time. It's everything you'd expect from Jim, displaying immense pride over his induction, heartfelt sincerity sprinkled liberally with nuggets of humour and clever turns of phrases. It was vintage Taylor with a capital T. I'd like to share it publicly here for the first time:
By Jim Taylor
So I'm sitting at the Victoria High School class-of-'55 grad reunion when a guy named Bud Rutherford, former star basketballer, demands that I stand up.
"Look at that body," he sneers. "Not an athletic bone in it. Remember all those great athletes we had? We were good. But who gets into the BC Sports Hall of Fame? He does. I ask you—is that fair?"
Probably not.
Consider my athletic credentials: No depth perception. Lousy reflexes. Not big, but really slow. Never played one minute of any sport for any team, organized or playground. When sides were chosen and I was the only one left, the kid doing the picking would offer to play one guy short.
But three weeks earlier, they'd put me in the Hall. David Ford, Arnie Hallgren, Ivan McLelland, Ross Rebagliati, Marion Lay, Jane Swan, the wonderful Vancouver Asahi baseballers, the Vancouver Carling lacrosse team.
And me.
Stan Smyl, so long the beating heart and soul of the Vancouver Canucks. Jack Poole, the Olympic Games guru.
And me.
Okay, I was the media guy, and over the years I wrote some stuff that somebody must have enjoyed, because in 46 years I never got fired. Had a couple of papers fold under me, but people were kind enough to say it wasn't entirely my fault. Wrote some books.
But I was a career spectator, the sports equivalent of the eunuchs who guarded the harem: watched a lot, had the theory down pat, but couldn't perform if their lives depended on it. The Hall was crammed with athletes and builders whose entry fee was measured in sweat, dedication, and sacrifice. I wrote about games and people I was paid to follow, and had so much fun I'd have done it for nothing.
Don't misunderstand. When they phoned to tell me, I was thrilled. Still am. The framed Scroll of Honour hangs in my home office, placed so it's the first thing I see as the door opens, even before the autographed picture of Cheryl Tiegs and the signed Andy Warhol print of Wayne Gretzky. Being mentioned in the same breath as Jim Coleman, Jim Robson, Clancy Loranger, Jim Kearney, Jack Short, Bill Good Sr., and so many others, let alone joining them in the Hall—who in the media dodge could ask for better than that?
But what if I tripped, walking down the runway? How would it feel, sharing a podium with this latest slate of great athletes and builders?
Now I know.
Humbling. Gratifying. Amazing. And more fun than anything that's legal.
You want memories?
Ivan McLelland, taking us down the trail of a kid goaltender who, on a memorable night in 1955, shut out the Russians 5-0 to win the world hockey championship.
Swapping lies and memories with the Carlings and their baby-faced assassin, Gordie Gimple, about the days when they were a lacrosse powerhouse and their monumental playoff battles with my beloved Victoria Shamrocks.
Rick Hansen, my friend, presenting me with my medal, triggering a flashback to the day he started his incredible Man in Motion tour, when I leaned over and whispered "Better finish. A book called Halfway Around the World by Wheelchair won't sell bleep."
The eyes of the surviving members of the Asahi baseball dynasty and the relatives of those who've passed, glistening with pride and more than a hint of tears.
And one more: back at the table, my wife kissed me. My son shook my hand. "Good job," he said. I was in the Hall and they were there. Perfect finish, perfect night.
-30-