The Harry Warren Collection
January 2, 2016
Background: In Canadian field hockey circles, Dr. Harry Warren is considered a legend. While attending the University of British Columbia, at 19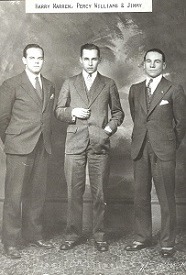 years old he established the university's first field hockey team. A decade later, he did the same at California Tech. He spent much of the 1940s and 1950s coaching, including helping send Canada's first women's field hockey team to the 1956 world tournament in Australia. Later, he established both the Canadian Women's and Men's Field Hockey Associations (in 1962) and as founding president he worked to have the newly-formed CFHA accepted as a member of both the International Hockey Federation and the Canadian Olympic Association. For his work in the sport and community service, in 1972 he was awarded the Order of Canada, in 1977 he received the International Hockey Federation's Order of Merit, and in 1991 the Order of BC was bestowed upon him. Add it all up and it's no wonder Dr. Warren is known in his sport as the 'Father of Canadian Field Hockey.'
Dr. Warren was inducted into the BC Sports Hall of Fame in 1990 as a field hockey Builder, but what most don't realize is that before his field hockey involvement, he was one of Canada's fastest sprinters and a world class athlete in his own right, also excelling in cricket, field hockey, and rugby. While still a student at UBC, he singed the cinders with blazing natural speed winning the 1926 BC championship in the 100, 220, and 440-yard sprints. Awarded a Rhodes Scholarship, he left for Oxford University later that year and starred on Oxford's track and rugby squads. In 1927, Warren won the 220 yards at the British Games.
Coached by Bob Granger, the same man who guided Percy Williams (Williams was a close friend of Warren's, serving as best man at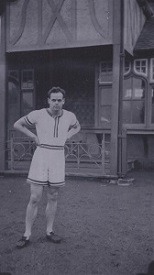 Warren'swedding later on), Warren was chosen as one of three sprinters to represent Canada at the 1928 Olympics in Amsterdam. While his friend Percy raced to dramatic—and wholly unexpected—Olympic gold medals in the 100m and 200m, due to selection politics Warren was never given the opportunity to even compete. He served as a spare in the sprints and helped coach the Canadian women's track team (famously known later as 'The Matchless Six' to a remarkable four Olympic medals, including two gold. Immediately after the Olympics, Warren gained some form of redemption by winning the 100m at the Tailteann Games in Dublin, Ireland, and breaking the Irish record for the event and tying the world record on grass. He also took third in the 200m at the same Games.
Collection Details: I never had the opportunity to meet Dr. Warren (he passed away in 1998), but over the past few years I've come to know well two of his children—Charlotte and Victor Warren. I've sat on several committees with Charlotte and come to appreciate her deep knowledge of BC sport. I only met Victor for the first time early in 2015 when he donated a dixie cup of red dirt scooped from the track in Rome when the Olympics were held there in 1960—one of the more unique artifact donations we've received in quite a while. Charlotte and Victor contacted me recently and, well, you could say they topped that cup of dirt.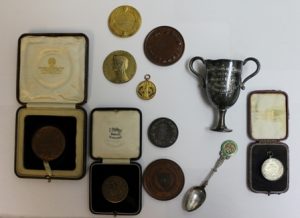 Their father, Harry, had kept many items from his athletic career and they were looking for a good home for them. When we met to view the collection, I had no idea what to expect. There was an impressive collection of medals including Harry's gold and bronze from the Tailteann  Games. My jaw dropped the moment Harry's vibrant green and maroon Vancouver Athletic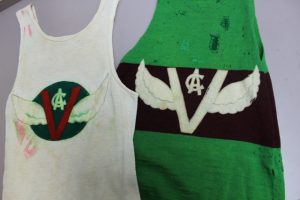 Club singlet (circa 1925) was pulled from a garment bag and it remained open when other equally astonishing pieces were revealed. First, another Vancouver Athletic Club singlet, this one white, but sporting an amazing white, green, and red felt crest on the chest.
Then a regal cream and deep blue Oxford University Athletic Club wool sweater, complete with a 'Castell & Son' tag on the collar and Harry's own handwriting in ink: "H.V. Warren Queen's College."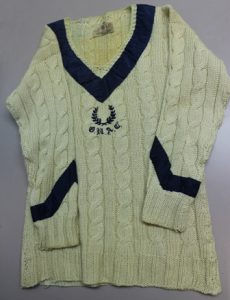 Next came Harry's navy and white-striped Oxford University rugby jersey, sporting the number two on the back. And then the topper: two cream Oxford running shirts and accompanying shorts featuring elegant green, baby blue, and deep blue striped trim. These short-sleeved shirts and long shorts worn in the late 1920s seem plucked from an even earlier era of running; even when sleeveless singlets had become the norm by 1920 Oxford held onto the uniform style popularly worn at the turn of the century. Remarkable.
I've often said sports-related textiles prior to 1940 are rare and, when they do survive, usually come in tattered condition. But considering the striking colours on Harry Warren's 90-year-old singlets and shirts that seem barely a day old, this may be the most impressive collection of textiles the BC Sports Hall of Fame has had the privilege to receive in the past 25 years.
If you have a historical item you are interested in donating to the BC Sports Hall of Fame or if you own a sports item and need help identifying its' history, please contact Jason Beck, the BC Sports Hall of Fame's Curator at jason@bcsportshall.com or 604-687-5520 ext 30.