Susan Butt: Writing A Tennis Legend – 2023 Inductee Spotlight
June 22, 2023
By Jason Beck
Every induction year interesting connections between inductees within the class often from vastly different sports are discovered. Some were friends. Some were neighbours. Some worked together. Some were fans of one another from a distance.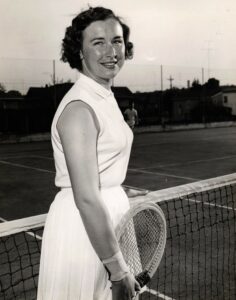 Although Susan Butt and Eleanor (Young) Stonehouse both played tennis, a connection between them is perhaps not so surprising, but still warrants mention. When researching Eleanor's story, Susan's name kept coming up again and again through the 1950s. The reference was almost always the same: many considered Susan the best new BC player since Eleanor a decade earlier. In the BC tennis historical timeline Susan followed Eleanor, essentially the next link in the chain of great players developed in this province. And now they are linked once more, one once again following the other, both inducted into the BC Sports Hall of Fame together in the same year.
Born in North Vancouver, the early part of Susan's childhood was spent on Salt Spring Island and later the Saanich Peninsula. When her family sold their cherry and strawberry farm there and moved to Victoria, her family joined the Victoria Lawn and Tennis Club.
"That's where I got really keen about tennis," Susan said in a phone interview from her North Saanich home earlier this spring.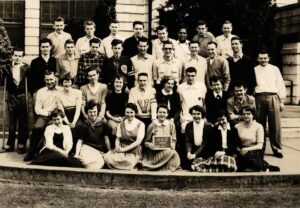 The other moment where tennis hooked young Susan arrived when a 13-year-old Californian tennis phenom named Maureen Connolly came up to Victoria to play. Connolly later went on to win nine Grand Slams in the early 1950s including three Wimbledon singles crowns. Her limitless talent was already apparent at a young age and Susan was enthralled.
"She was a pimply-faced little girl with a huge forehand and wonderful backhand," recalled Susan, the awe still evident in her voice over 75 years later. "I remember sitting in the stands in amazement. I think I was nine at the time."
To say the game had hooked Susan is actually an understatement. It was much deeper than that.
"I fell in love with tennis," she said. "I had no adolescence because I was so in love with tennis. I just liked to play. It was fun."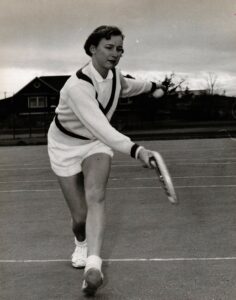 Given how much of her life was later devoted to writing, it seems only fitting that Susan partially learned to play tennis from a book. In her early teens, Susan checked out Championship Tennis from the Victoria Public Library and patterned her strokes from the book's photos and descriptions of great players like Frank Sedgman, Lew Hoad, and Sandra Reynolds, who in an amazing twist of fate years later Susan faced on Centre Court at Wimbledon. More on that later. The book worked wonders as many later commented on Susan's flawless technique as one of Canada's top players of the 1960s.
Early on, Susan's father began coaching her and she honed her game at the Victoria Lawn and Tennis Club. It was the perfect learning environment. Although a very traditional English style club, one of the things that really helped Susan was that any of the club's senior members were willing to play junior players like her at any time. All it took was a phone call.
"I could phone up the men's champion or anyone and get them out to play. My father always gave me new tennis balls because he said they'd want to play with me again," she laughed.
A lot of very strong players came out of the Victoria club at that time including Reider Getz, Johnny Fraser, Bob Moffatt, Sharon Whittaker, and Don McCormick. Susan was another link in the chain and maybe the strongest one yet.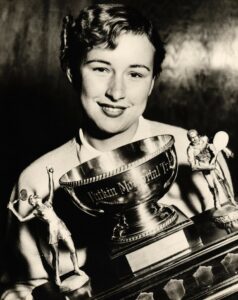 She also played field hockey and table tennis, but tennis on the big outdoor courts was always her primary passion. So much so that Susan actually changed schools at age 15, transferring from St. Margaret's School to Norfolk House School because St. Margaret's wouldn't allow her to leave school an hour early to get in outdoor practice time on Victoria's unlit courts before dark.
"And often we would be sweeping off the puddles before we could play," she recalled. "That was my big handicap in tennis. I started late. And then we simply could not get in the practice."
But Susan progressed rapidly despite her relatively late start in the sport, by age 17 winning the Victoria city championships in both singles and doubles. At season's end the BC Lawn Tennis Association awarded her the Fred Fatkin Memorial Trophy as the outstanding junior player in BC. More importantly, she was on the association's radar who began helping to finance the cost of going out on tour first around the Pacific Northwest and later farther afield.
In 1956, Susan played her first Stanley Park Open in Vancouver and made it all the way to the women's singles final. She was supposed to play Ann Barclay, one of Canada's top players, but the tournament was rained out and never completed.
"We were all waiting to play, but the rain just kept on coming down, so the finals were cancelled and we all went home," Susan mused.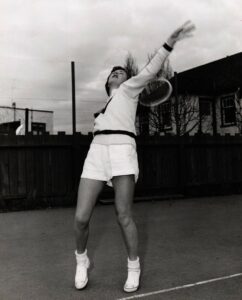 The following year Susan won her first of seven Stanley Park Open singles titles (in addition to many doubles and mixed doubles titles) over the next decade. She also began travelling over to Vancouver to play in and often win the city championships at Jericho Tennis Club (first won senior singles, doubles, and mixed doubles all in 1957) and the Western Canadian Lawn Tennis Championships at the Vancouver Lawn Tennis Club (first won junior singles in 1956 and senior singles in 1957). Junior and then senior victories in tournaments in Washington State and Oregon became common.
By 1957, Susan began travelling to eastern Canada for tournaments including winning the Quebec women's singles championship in Quebec City, in addition to more titles in Vancouver, Oregon, and Tacoma. She finished the year ranked as the number one player in BC, the number two player in Canada, and the second runner-up among athletes from all sports for The Vancouver Province Athlete of the Year award.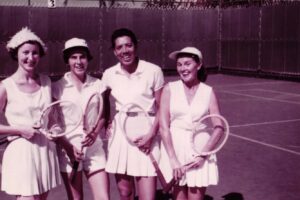 At the end of the year, supported by the BC Lawn Tennis Association, Susan was sent out to tour the eastern US, specifically Florida, and then on to the Caribbean. Top BC players tour internationally all the time today, but in Susan's era it was extremely rare and she was among the first from BC to do it successfully for an extended period. Later Susan toured all over the world playing in tournaments on four continents including the French, German, Italian, Australian, and South African Opens, as well as Forest Hills in New York and Wimbledon in London. Along the way she picked up singles, doubles, or mixed doubles wins in Quebec, Ontario, Oregon, Alabama, Chicago, Ottawa, the Netherlands, and Germany. She also faced all the legendary players of her era, everyone from Althea Gibson and Maria Bueno to Margaret Smith and Billy Jean King.
Before cell phones and the internet, coordinating a touring schedule in the 1950s and 1960s was extremely difficult. Players had to find out about tournaments and when they were. They had to write up their schedule. They had to write letters to each tournament and make all their own travel arrangements. They needed to arrange practice times and find out if there were courts available (often there weren't). They'd have to ask for or arrange travel expenses, meals, and accommodations.  And all of this was often done by regular mail while they were still out playing on tour.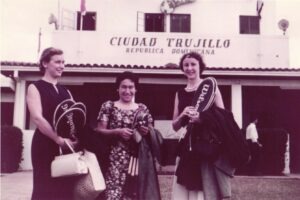 "It was tough," summed up Susan. "Everything was done by us. A totally different era, nothing like now."
As another way to support her while she was away on tour, Susan was hired to write weekly columns for her hometown newspaper, the Victoria Daily Times, describing her experiences. It wasn't uncommon for celebrity athletes to have columns in newspapers at this time, but most were ghostwritten by a writer on staff. Susan wrote all her columns herself, which isn't so surprising when you consider her family's literary background.
"I come from a long line of newspaper people in Scotland," she explained.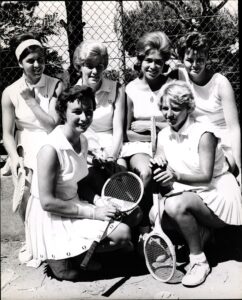 For 120 years, members of her family ran the Brechin Advertiser, a newspaper in a small town in northern Scotland near Balmoral Castle. In fact, on the newspaper's 150th anniversary, Susan wrote a profile of her earliest family member, her great-grandfather D.H. Edwards, who ran the paper and was a well-known historian, writer, and publisher.
After Susan's initial forays touring in the southeastern US and Caribbean, she attended UBC for two years while focusing on practicing and playing local and some selected eastern Canadian tournaments. By the late 1950s, she emerged as likely Canada's top touring player. She was ranked as Canada's top women's singles player three times beginning in 1960 and 1961, as well as later in 1967. She was also ranked in the nation's top five on another six occasions during her career.
After graduating from UBC with a degree in psychology, Susan decided to fully devote herself to tennis and see if she could make a career out of it. In 1961, she toured abroad in the U.K., Europe, and Middle East playing tournaments all over. The highlight undoubtedly was playing at Wimbledon for the first time that year. After a first round bye, she defeated Italy's Lea Pericoli in straight sets (6-4, 6-3) to advance to the third round. There, she faced the tournament's number-one seed, Sandra Reynolds of South Africa, who had finished as the runner-up at Wimbledon the previous year. If that wasn't a difficult enough challenge for Susan, she also had to face Reynolds on the hallowed grass of Wimbledon's Centre Court.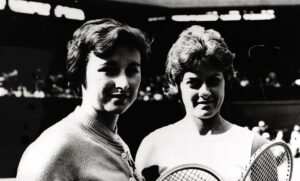 "It was almost unbelievable to end up on Centre Court your first year [at Wimbledon]," Susan recalled. "It really is tough because you weren't allowed to practice on Centre Court. So all I had was a three-minute warm-up against the first seeded player."
With thousands of spectators, including celebrities and royalty, in their finest attire all looking on, young Susan worked to calm herself and focus on the match.
"I remember Bob Bedard, who was the number one player from Canada, saying, 'Susan, go out and hit the ball hard or you're going to get obliterated.' Because it was faster than all the other grass courts. So I did really hit as hard as I could. I took a great swipe at the first ball that Sandra Reynolds hit across to me and it hit the top of my racquet and went waaaayyy up into the air. The whole crowd went "Ohhhh!" It was so funny."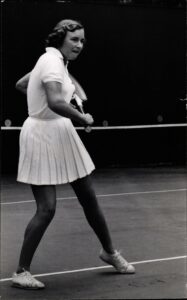 Susan eventually settled down and put up a brave fight, but Reynolds ultimately took the match in straight sets (6-3, 6-2). Reynolds later lost in the semifinals to the eventual champion, Great Britain's Angela Mortimer. But acquitting herself well against one of the world's top players on the most famous tennis court in the world meant everyone in tennis became aware of Susan. She was invited to play in tournaments all over and immediately went to play in exotic locales like Athens, Beirut, and Istanbul.
At the end of 1961, Susan came back home to Victoria after a grueling year of touring the tennis world on several circuits and she knew she had to make a decision. As well as she had played, she realized a top Canadian player just couldn't make a living playing tennis then. She arrived home to find enticing invitations to play three months in India, then off to Casablanca and then Dubrovnik. But the shine of touring the world and playing in some of the most prestigious tennis tournaments had worn off and become a grind. Other priorities seemed more attractive suddenly.
"Those were the two years I gave myself the possibility of specializing in tennis, but it just wasn't worth it," Susan explained. "And to tell you the truth, the tennis tour is a bloody bore. You sit around waiting to play. Waiting, waiting, waiting. I thought, what is going to happen to me? I'm 23. There are younger players better than I am. I started late. Do I want to do anything else with my life?"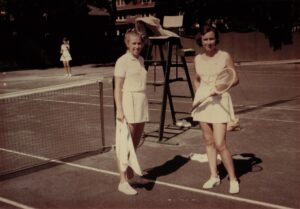 In 1962, Susan decided to put her psychology degree to work with an internship at Riverview Hospital. She didn't abandon tennis entirely, far from it, but decided to continue playing for fun wherever her academic journey happened to take her. She followed this pattern for the remainder of her career. When she was pursuing her PhD in Psychology at the University of Chicago in the mid-1960s, she won the Chicago city championships twice. She'd also go north and play in eastern Canadian tournaments in Ontario and Quebec. When she found herself at home, if the Canadian championships were held in Vancouver, she'd play in them. In 1963, for instance, she finished runner-up in singles at the Canadian championships and won the national doubles title with playing partner Vicki Berner.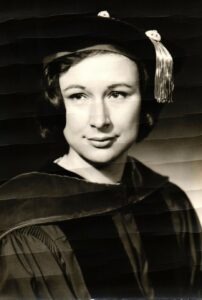 Despite the change in focus to academics, Susan continued to be remarkably successful on the tennis court. 1967 in particular was a standout year. She reclaimed the number one ranking in Canada and after graduating from the University of Chicago with her PhD, the Canadian Lawn Tennis Association sent her over to Wimbledon for the second time in her career. Although not in peak shape and with other priorities beyond tennis on her mind, she acquitted herself well once again, battling in the second round before falling to South Africa's Greta Delport 6-4, 6-1.
"It was a privilege to get to play Wimbledon again," Susan said.
Also that year Susan represented Canada at the Pan American Games in Winnipeg and she played for Canada's Federation Cup team in Berlin for the first time. Susan actually ended up captaining the Canadian team when captain Louise Brown became spooked by Cold War era security measures and decided to abruptly leave with her husband Ross. "We're not staying around here, it's too dangerous! You captain the team!" Brown said as she shoved a bunch of stuff into Susan's hands and off they went. Susan later served as non-playing captain of Canada's Federation Cup team in 1970, 1971, and 1972. The following year, she largely retired from competitive play, focusing on starting a family with her husband. After joining UBC's Department of Psychology in 1967, she continued to teach there for decades.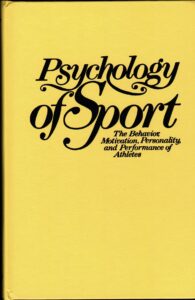 In 1976, Susan combined all of her major interests—tennis, writing, and psychology—into one, writing the groundbreaking, influential book, Psychology of Sport. An expanded second edition was published a decade later. It begs the question, did her degree in psychology help her as an athlete?
"I wish I knew then what I know now!" Susan laughed. "No, I developed my theories later. I think I developed excellent theories that are becoming more and more relevant today."
She marvels at the level the top women's and men's players are playing at today compared to her era, which was much more laidback.
"The players today are much, much better. There are tennis schools all over where players can go and have as much practice time as they want. If I had as much practice time as I wanted, I would have been a much, much better player. I might have hit six million balls for instance, but these players today have hit 600 million. That's the difference. They're amazing, much better athletes. The game has advanced immensely."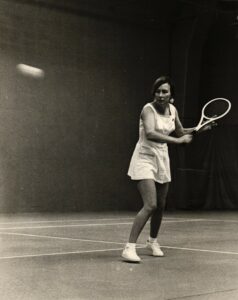 The multi-million-dollar prize money awarded to top players is certainly one area that has advanced far beyond anything she could have imagined. Occasionally, players in her era might be paid a small amount of prize money under the table, but that might be it. At Wimbledon her first time she received £75 when she made it through qualifying and into the first round.
"We thought we'd died and gone to heaven!" she laughed "To get £75 and a room in Hyde Park for 12-and-6. These were totally different days than now. The modern coaches wouldn't have it. We were tourists at the country clubs owned by the wealthy. They would put on programs and parties for the players. Social invitations came all the time and you'd have to cancel them if you had a match the next day. I was a tourist, I went to parties, and I loved it. But it wasn't the way to develop players."
But Susan's experience travelling the world with racquet in hand did afford her lifelong friendships of all sorts.
"In tennis then you had a family around you. There were times when I could have gone anywhere in the world and walked into a club, got a game, and got welcomed, you know? Plus, there was the local family that rallied around you at difficult times. And for the rest of your life. You make friends for the rest of your life. Tennis was always a nice sort of privileged family atmosphere."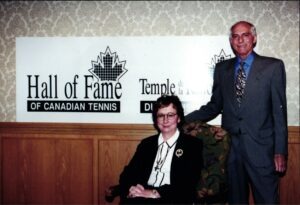 With all the recent success by top Canadian tennis players lately, you have to acknowledge the trailblazing that early touring pros like Susan did for those who followed later. In some ways, they paved the way for the young Canadian players enjoying success today.
Susan was inducted into the Tennis Canada Hall of Fame in 2000 and the USTA Pacific Northwest Hall of Fame in 2007. She will be inducted into the Greater Victoria Sports Hall of Fame later in 2023.
She remains proud of her career despite the obstacles she faced.
"Tennis has been really good to me. But I didn't ever see myself making a living from it. I'm proudest of the fact I stuck with it for so long and turned it into an intellectual thing with the books I wrote."
On her induction into the BC Sports Hall of Fame, she is incredibly moved by the honour, saying succinctly: "Oh I think it's a privilege! I thank you very much."
As part of the Class of 2023, Susan Butt was formally inducted into the BC Sports Hall of Fame in the Athlete category at the annual Induction Gala held June 1, 2023 at the Fairmont Hotel Vancouver.