Deb Huband: Master Class in Coaching – 2023 Inductee Spotlight
April 25, 2023
By Jason Beck
There are some inductees who have stories or accomplishments that jump off the page at you. Deb Huband is one of those.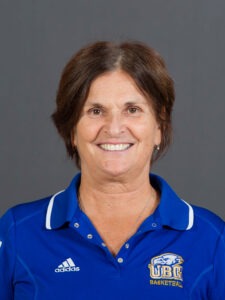 You can't fake the hard numbers and championships and victories that Deb accumulated at UBC coaching the women's basketball team for 26 seasons. Want a sampling?
Three CIS (now U Sports) Canadian national championships.
Four Canada West titles.
Overall career win-loss record of 538-295 in all competitions, for a .646 winning percentage.
New record of 344 Canada West victories against just 171 losses, for a .667 winning percentage.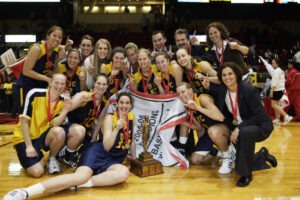 The really shocking thing? When Deb first began coaching, she wasn't sure whether she even wanted to do it. She had an established, fulfilling career completely outside of sport that she enjoyed. Yes, she had been a star for the women's national team for a decade as Canada's long-time captain and floor general but had no idea if that would translate to coaching.
Looking back over her impressive career, it's safe to say it most definitely did. And along the way she became one of Canada's most successful university coaches in any sport ever.
Growing up, Deb's family moved around every few years as her father was transferred to a new post working for Bell. Her older sister was born in Kingston, Deb was born in Ottawa, and her younger brother in Montreal. There were also stop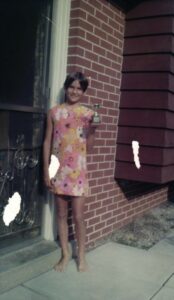 s in New Jersey and Oakville. Deb was a multi-sport athlete who played whatever sport was in season and it helped her adapt and fit in wherever her family moved to next.
"We were really encouraged to play sports and sport was just an 'in,'" she said in a recent interview. "An in to the community. It was a way to get engaged and learn about your neighbourhood. All of sudden you have some instant friends because you're active in community and school sports. Sport was a little bit of a life raft in that way."
Whether it was field hockey, soccer, volleyball, swimming, track and field softball, even gymnastics, she played it and usually quite well. Basketball was in that mix from early on, although her earliest hoops memory involved an admittedly humble start.
"I remember an elementary school gym playing basketball and I might have been going in the wrong direction," she laughed. "I hadn't figured that out yet."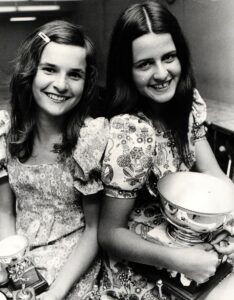 It wasn't until later in school while in Quebec that she chose to focus on basketball and only because softball, her favourite sport then, wasn't a school sport.
"Basketball won, and it just went vroooom from there!"
Deb's eyes light up when talking about the sport that she has devoted most of her life to both as an athlete and a coach.
"Basketball is just so dynamic," she said. "You're in the play the whole time. It's quick reaction time, back and forth, lots of communication in the trenches with your teammates, so I think you just fully immerse yourself in a game and it's very mentally stimulating."
Two key moments early on provided the targets Deb needed to strive towards. The first came when the influential Canadian Olympian Abby Hoffman came and spoke at her school.
"It kind of opened my eyes to what's beyond the level I was playing."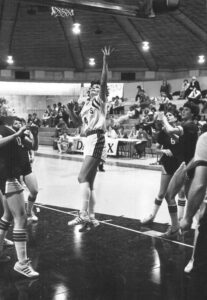 The second came when her family was living in Montreal while the city hosted the 1976 Olympics. Deb went to a women's basketball game and saw Canadian women's players like Joanne Sargent, a 2014 BC Sports Hall of Fame inductee, Sheila Strike, and Chris Critelli.
"I was like, 'What?! They've got women's basketball playing in these Olympics?! This is pretty cool!' That really opened my eyes. I wasn't aware of it before that moment."
Incredibly, some of those women she saw play became her teammates on the national team just a couple of years later.
After high school Deb first attended John Abbott College, then Concordia for a year, before transferring to Bishop's University in Sherbrooke, where her strong play on the court began attracting national attention. In one game with Bishop's in 1979-80 she set a single-game scoring record with 50 points. Most athletes would remember vivid details from a game like that, but it speaks to her intense focus—one of the hallmarks of Deb's career both as an athlete and coach—that she isn't one who does.
"To tell you the truth, I don't even remember it," she chuckled. "I don't have any detail of it. One of the things about playing is that I was so immersed in the moment, I never really kept score as they say. I was just in it."
When Deb wrapped up her university career in 1980 as a two-time CIAU First Team All-Star and MVP of the 1978 national championship tournament despite not making the final, she was already an established member of the Canadian women's national team. She ultimately wore the maple leaf for 11 years, eight as team captain and Canada's starting point guard. She became known for her athleticism and a fierce desire to compete.
"I never took a moment off," she said. "I was in it to bring it every second I was on the court. I was able to be pretty consistent and developed a strong basketball IQ."
A dominant scorer in university, at the national level Deb became more of a floor general and distributor as well as a fantastic defensive player, usually given the assignment of guarding the other team's star. This meant she became well acquainted with many international legends of the era like Hortência and Paula from Brazil, and Americans Nancy Lieberman and Cheryl Miller. Decades later in 2018, Deb and Chinese point guard Xuedi Cong experienced an unexpected reunion on the sideline of a scrimmage between Deb's UBC Thunderbirds and Cong's U-18 Chinese national team. They discovered not only did their countries play against one another at the 1984 Olympics, but someone found a photo of Deb guarding Cong at the Games.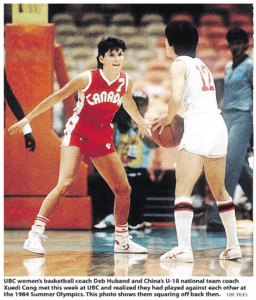 "They actually pulled this up while we were having the game and we did a little reenactment, so that was kind of cool."
Deb's era on the national team was a golden one for Canadian women's basketball and she was a major reason for that along with another young star who joined the national team the same year, Salmon Arm's Bev Smith, a 2003 BC Sports Hall of Fame inductee. They led Canada to a bronze medal finish at the 1979 FIBA World Championship in South Korea, although Canada actually finished tied for first with the USA and South Korea but was dropped to third on tiebreakers. There was a strong chance Canada's women would have medaled at the 1980 Olympics in Moscow, but the western boycott dashed those hopes.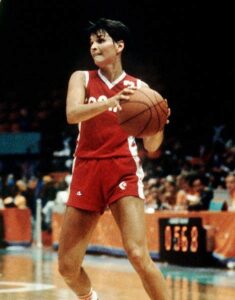 Four years later, Deb captained Canada to a fourth-place finish at the Los Angeles Olympics, still to this day Canada's best-ever result in women's basketball. It was a landmark result for Canadian hoops but it felt like a devastating disappointment to Deb and her teammates. In the round robin they had beaten China, who boasted several towering players, but in the bronze medal game China changed strategy, sat their tall players, played small ball, and this time upended the Canadians. Feeling bad for his players who were despondent after losing to a team they'd beaten earlier in the tournament, Canadian coach Don McCrae bought them each Olympic gold pendants and took them out for a team meal at the Beverly Hills Hotel.
"We got the lead medal, which is not a good one! Fourth place. That is no place to finish. That was a heartbreaker," Deb said of her one and only Olympics as a player. "You need to learn from the first and bring it to the second, but I never got that chance. We never got back there."
After winning another bronze medal at the 1986 FIBA World Championships, Canada underperformed in the qualifying for the 1988 Olympics and didn't advance to Seoul. Deb retired from the national team shortly after.
Some might assume Deb's time in BC began with coaching at UBC, but in reality she has lived here far longer than most people realize. Here sister had moved out to North Vancouver in the 1970s and Deb followed her here in 1980 when completing her Masters degree at UBC. After finishing her degree in early 1983, she decided to stay and has been here ever since. BC is now the province in which she's lived the longest.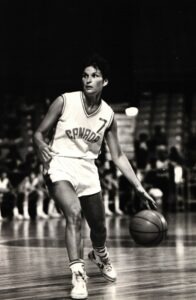 "I kind of consider myself a British Columbian," she chuckled.
With far less opportunities to play professionally in Europe and no WNBA until 1997, while still playing on the national team and training on her own Deb began her second career working as a speech and language pathologist first in Chilliwack and later in Richmond and North Vancouver. She had no intention of getting into coaching after retiring until long-time Canadian teammate Bev Smith came calling with an idea. Bev also retired from the national team in 1988 and had just been hired as the new coach of UBC's women's basketball team. She asked Deb to come help her as an assistant coach. Deb had never coached before, but the assistant position allowed her to also continue working as a speech and language pathologist. She decided to give it a try and so began one of the greatest coaching careers in Canadian university history.
"I can either thank Bev or curse her, I don't know!" Deb laughed.
Ultimately Bev only coached at UBC for one season before coming out of retirement to play professionally in Italy and return to the national team. Deb was among those considered to take over as UBC's coach, but ultimately another Canadian national teammate, Misty Thomas, was hired.
"It was too soon for me," Deb explained. "I'd only been a speech and language pathologist for five years and was enjoying that profession. I turned it down."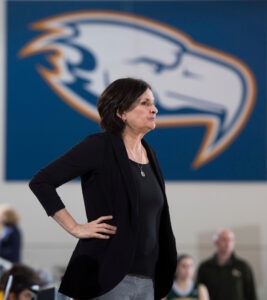 She stayed on as an assistant under Thomas until 1991. Thomas coached the Thunderbirds until 1995 when UBC once again circled back to Deb for the head coaching job. This time she said yes, but not without some reservations, which is an interesting footnote considering the hall of fame coaching career she was about to embark on.
"I wasn't sure," she explained. "I wanted to give this a try, but I didn't leave my other job and did both half time and half time. Needless to say, I worked all the time."
She continued working part-time as a speech pathologist while coaching the Thunderbirds for three years gradually devoting more time to coaching until she became totally focused on it.
"I wasn't fully aware what it meant to be a full-time coach, run a program, and build a program, how all-encompassing it is," she said. "For me, I had a hard time with the balance piece of it and I don't think I ever perfected it. It was almost a 24-7 thing because you're so driven to excel, build, and grow. Once I was in it, there was no getting out!"
When she did get out, 27 seasons later in 2021, she held the longest tenure of any UBC women's coach in any sport in the university's history. She also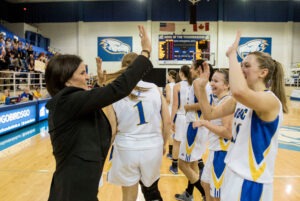 built the most successful athletic program of any on campus and one of the most successful in any sport in the country in that time. Above all the wins and championships that Deb ultimately brought to the program and the hundreds of student-athletes she mentored, maybe her most impressive accomplishment and lasting legacy is the way she elevated the reputation and consistency of UBC's women's basketball. They became a national power, the blue-and-gold feared on courts across the country, bringing a level of success back to UBC's women's basketball that hadn't been seen since the great Thunderette teams of the late 1960s and early 1970s and earlier of the pioneering 1930 UBC Senior A women's team, a 1981 BC Sports Hall of Fame inductee, that won the world championship after traveling to Europe.
"It was a place where people went to school, but not to play basketball," she said of the early days at the UBC coaching helm. "It was a brick-by-brick thing and it took a long time."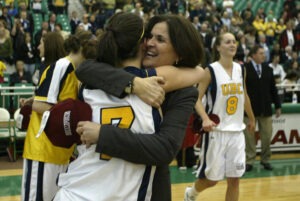 Deb loved the long legacy of UBC's strong women's basketball players, seeing them as useful examples for her players to pattern themselves after, and so engaged them unlike any UBC coach before her. This included developing an especially strong relationship with one of the players from that 1930 UBC team, who became perhaps the team's biggest supporter, the legendary Mary Campbell.
"I loved Mary," said Deb. "She made me laugh so hard. I got so much joy out of that relationship with her. She sent our team a telegram once when we were at nationals in Winnipeg and it just said, 'K.T.S.O.' It stood for 'Knock Their Socks Off.' She used to say to me, 'Deb, you tell those girls to knock their socks off!' She'd say, 'I want to have a party' and she'd have us over for tea at her condo at Oakridge. She'd make us those little tea sandwiches where you'd cut the crust off."
In a highly competitive decade in which BC schools won the CIS women's national basketball championship nine straight years, Deb's Thunderbirds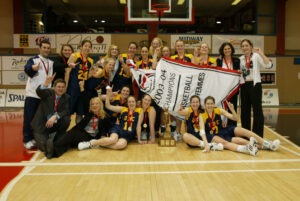 broke through on three occasions, taking the Bronze Baby Trophy in 2003-04 (the first time UBC qualified for nationals in Deb's term and the university's first national title in women's basketball in 30 years), 2005-06, and 2007-08. During her career, she'd also coach UBC to the nationals on three other occasions reaching the final eight in 2006-07, winning a silver medal in 2011-12, and a bronze in 2014-15.  They won four Canada West championships in 2007, 2008, 2012, and 2015 and three Pacific Division championships in 2004, 2007, and 2012. After winning the 2004 national title, Deb was named the winner of the Peter Ennis Award as CIS Coach of the Year, as well as Canada West Coach of the Year.
"We built ourselves up to a championship program basically and always had an opportunity to compete, give ourselves a chance at a national championship and be a playoff contender."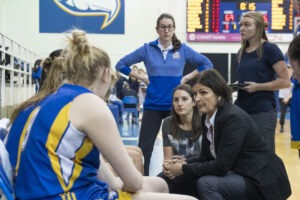 A lot of what she learned as a player herself, she brought to coaching.
"From my time as an athlete, I understood the power of team chemistry, teamwork, discipline, and accountability. So we had pillars of the program. Things that we preach, worked towards, expectations. I was a hard worker, so my players were going to be hard workers. We were all committed and we all relied on each other. That became the defining characteristics of my program and my team. It attracted a certain type of person and player. I also believed in teaching the game. I didn't want robots."
She became a master recruiter and was able to sign many difference-makers on the court, who in turn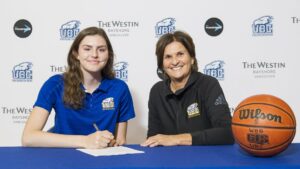 attracted other top players. Charmene Adams was a key early signing that raised the program up a notch, followed a couple years later by Carrie (Watson) Watts, who led UBC to the national title in her fifth year and is currently the head coach of the University of Victoria's women's basketball team. Watts was also a member of the Canadian national team at the same time as another key Thunderbird, Sheila Townsend. Erica McGuinness was a member of all three of UBC's national titles in this period.
"I had a lot of buy-in," said Deb, explaining the reasons for the program's success. "I demanded it and I received it. So we were all on the same page and pulling the rope in the same direction. It led to a lot of success on and off the court. Really fun working with exceptional young people that are just committed and care about each other, want to put the work in and see what they can achieve as a group. It was just phenomenal."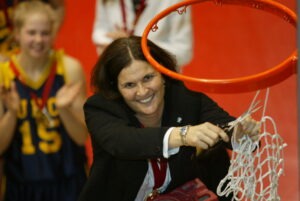 Despite her initial hesitancy to try coaching, it turned out to be the perfect fit for Deb on so many levels.
"I was so lucky to be a coach. It's amazing, you get to be involved in the sport that you love, that you're passionate about, that you've developed these skills in and now you get to share your knowledge and experience and learn. Throughout the whole thing, there wasn't a day I didn't learn something. I was always a sponge for new ideas, new drills, new angles or terminology. I was always a lifelong learner and have that growth mindset, it's something that has always been effective in my coaching career."
Landing at UBC also proved the perfect spot for her.
"I stumbled upon a place that aspires to do well in athletics as well as academics. I wouldn't have done well in an environment that wasn't trying to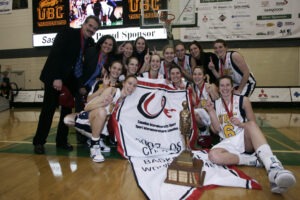 pursue excellence, that wasn't trying to push the envelope. Bob Phillip and Kim Gordon [UBC Athletic Director and Coordinator respectively] took a gamble when they hired me, as someone who didn't really have a coaching pedigree. I had a basketball pedigree, but playing is different from coaching. I had some character elements that would probably bode well for coaching: the work ethic, discipline, passion, competitiveness. They told me I would be evaluated by the product I put on the floor. So that empowered me to do my thing and off I went."
Maybe the best indicator of how strong UBC's on-court product became was on full display in early 2020 when with her 338th Canada West win Deb broke the record for most coaching victories held by the legendary Kathy Shields, a 2013 BC Sports Hall of Fame inductee whose UVIC teams dominated university play for over two decades. Deb finished with 344 Canada West victories against just 171 losses.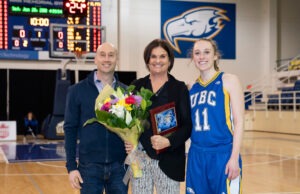 "I was honoured to break her record because we're basically friends. She was an exceptional coach, one of the best of all time. She set the bar for us."
At the time of her retirement from coaching in 2021, her overall career win-loss record of 538-295 gave her the fourth-most wins ever among all Canadian women's basketball coaches. That pales in comparison to what she calls her proudest accomplishment.
"Just seeing what our players have done and are going to do with their futures," she said. "I love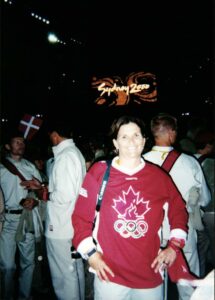 'Senior Night', the most amazing thing when you are talking about athletes who came in at 18 and now they're leaving at 22 and you see their lives just transition and change. Those are remarkable evenings because it makes everything come full circle. You see where they come in as dependent, ill-prepared young people who are a bit naïve and uncertain and then they blossom and flourish and then then they graduate are ready for the next phase of their lives. That, to me, is an amazing thing to witness and so great to be a part of."
On top of her UBC coaching resume, for over a decade Deb also found time to coach in various roles with Canada Basketball. When Bev Smith took over as the Canadian women's national coach, she once again tapped her old teammate to come on board as an assistant from 1998-2000. This included assisting with the Canadian women's team at the 2000 Olympics in Sydney, Australia, making her one of the few Canadian basketball players to reach the Olympics as both athlete and coach.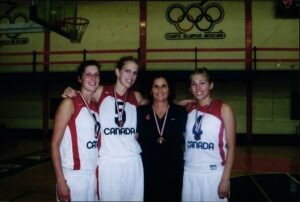 "I was like 'Finally! I got back here!' I wanted to do it as a player, but I'll do it as a coach."
She also helped coach the Canadian women's national team to a silver medal at the 1999 Pan American Games in Winnipeg, served as head coach of the Canadian women at the 2003 Summer Universiade in Korea, and contributed in assistant or co-head coach roles for other Canadian development teams through the 2000s.
Even though she has stepped away from coaching at the university level, she hasn't completely left her passion behind. She is currently helping coach young grade seven players at Lord Nelson Elementary near where she currently lives in East Vancouver today.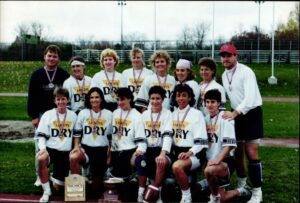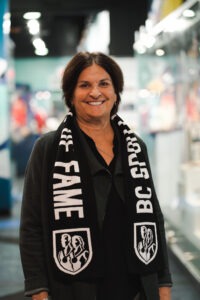 Considering her remarkable dual careers as athlete and coach, Deb is no stranger to hall of fame inductions. She has already been inducted into the Nepean Sports Wall of Fame (1987), Canada Basketball Hall of Fame (1994), Ottawa Sports Hall of Fame (1995), Bishop's University Sports Wall of Distinction (1995), Basketball Ontario Hall of Fame (2006), Concordia University Sports Hall of Fame (2006, as a member of the 1976-77 Concordia Stingers women's basketball team), Basketball BC Hall of Fame (2017), BC Football Hall of Fame (2019, as a member of the 1986-91 Vancouver Mardi Gras women's touch football team) and most recently the UBC Sports Hall of Fame (2022). Even though her BC Sports Hall of Fame induction will mark her tenth hall of fame induction, it still remains uniquely special.
"I was very surprised and I am incredibly honoured. I'm well aware of who has been inducted and BC is so rich with athletic excellence. I'm just in awe of the class. I'm honoured to be inducted into any hall of fame, but because this one is all sports, not just my sport, to be invited into a collection of people who have done so much for the fabric, history, and tradition of sport and excellence in BC, is just, wow, that is so special."
As part of the Class of 2023, Deb Huband will be formally inducted into the BC Sports Hall of Fame in the Builder-Coach category at the annual Induction Gala to be held June 1, 2023 at the Fairmont Hotel Vancouver. Tickets can be purchased here: https://bcsportshall.com/inductionweek/