Dennis Kearns: Perfect Passer – 2023 Inductee Spotlight
April 16, 2023
By Jason Beck
Growing up, not once did Dennis Kearns dream of playing in the NHL. Unlike other players who made the NHL chasing down their childhood dream like a puck skittering across a frozen pond, it just never really entered his mind because he didn't believe he was good enough.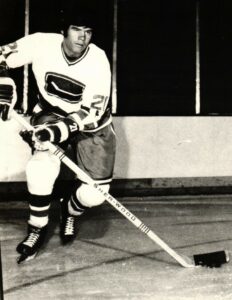 This isn't the normal storyline you encounter with an NHL star inducted into a hall of fame. And that's a good thing because it makes for an even better story ultimately.
A classic late bloomer, Dennis stuck with hockey because he loved it. He honed his game at lower levels, gained confidence, worked his way up the ladder, and eventually made his NHL debut at the advanced age of 26. He ended up an NHL standout on the Vancouver Canucks blueline for ten years and even played for Team Canada twice in the world championships. Not bad at all.
"To play 677 NHL games, I mean that's probably my proudest accomplishment," Dennis said in a recent interview. "I mean, gosh, now some kids that are 26 have got 500 games in already. Having never been a star as a kid, playing Junior B and not Junior A, a year of senior, and then four years in the minors, to get 677 games, that's something."
Not just something. That's pretty amazing actually. And now he's in the BC Sports Hall of Fame.
Can a dream come true if you don't actually dream it? Dennis Kearns is proof that one can.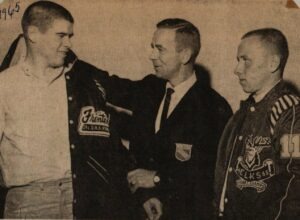 Born and raised in Kingston, Ontario, Dennis was the baby of five kids in his family. None of his older brothers or sisters played competitive sports, but that didn't matter as there were plenty of kids his age in the neighborhood to play hockey with. From an early age, Dennis always seemed to be outside playing road hockey or out skating on one of several nearby outdoor rinks, some lit to play after dark. There just always seemed to be a game on you could join.
"It was just something we did in Kingston," he said.
Dennis played his peewee and minor bantam at the Jock Hardy Arena, just one practice and one game a week.
"That's all there was in those days."
If he wasn't playing, you could find him down at the old Memorial Centre watching good local pro hockey just a level below the NHL like the Kingston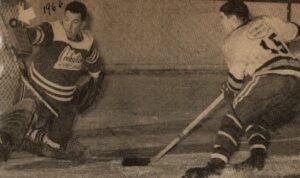 Frontenacs in the old Eastern Professional Hockey League. The league was full of past and future NHLers like Trail's Cesare Maniago, who played for the Hull-Ottawa Canadiens, or Don Cherry, who patrolled the blueline for the Sudbury Wolves.
"So we were rink rats or arena rodents as we called ourselves," he chuckled fondly.
Dennis played some baseball in the summers, often at catcher, but hockey was his love. Considering where he ended up as a player, the surprising thing is that at first he was a very average player, whose development arose slowly.
"I was very late developing. Very late," he recalled. "They always had all-star teams and I would always be on them my second year, not my first year [at each age group]. Sometimes I wasn't good enough to be on defence so I was a fourth-line left winger. It wasn't until I played juvenile that I started to play well."

The other surprising thing is that his parents—his dad worked at Alcan in Kingston for decades; his mom worked as a schoolteacher—never actually saw Dennis play until he was in junior. After mass one Sunday at church, one of the other families said to Dennis's parents, "You should go see your son play hockey. He's a pretty good player."
"So mother and dad went to a game and I think after the second period dad wanted to go home and watch Lawrence Welk, so they left," laughed Dennis. "They were there for the right reasons, but they just had other interests."
Dennis attended Catholic schools growing up and then Kingston's Queen Elizabeth College Vocational Institute but struggled in school by his own admission.
"I was a terrible student, I was bad. In Kingston, it was education or incarceration!" he laughed, referring to the former maximum-security penitentiary there. "But I managed to get my Grade 12 and I was lucky to do that."
He did have hockey, although at that point even a career in the minors seemed a stretch.
"I never really thought I was ever going to be good enough to make the NHL."
He tried out for the Niagara Falls Flyers and Oshawa Generals in Junior A and didn't make either. He ended up playing three seasons of Junior B with the Kingston Frontenacs.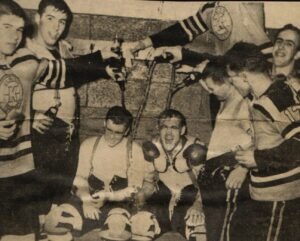 "Luckily, we had a very tough team and a lot of the defencemen were in the penalty box, so I got a lot of ice time because of that killing penalties," he recalled. "Then you get more confidence doing that. That was really the start of when I began to get better."
He was slightly undersized for a defenceman in an era when hulking, hard-hitting blueliners were coveted, but, my oh my, could he pass the puck. In one game with the Frontenacs in 1964, he tallied seven assists. Still, his outstanding puck moving skills didn't garner him a tremendous amount of attention. It became one of the strange quirks of Dennis's career that some of the guys that were stars on the Junior A teams Dennis was cut from never even made the NHL, while Dennis went on to play ten years in the big league.
"When you're a rank-and-file player like me, you need a break," he explained.
That big break came in 1965 when he was 18.
Gord Fashoway, a long-time star with the New Westminster Royals and Portland Buckaroos in the Western Hockey League, had retired and was scouting for Portland in the east. Fashoway came out to Kingston to look at Syl Apps Jr., a top prospect who would go on to a long NHL career with Pittsburgh and Los Angeles. But it was actually Dennis who caught Fashoway's eye that night.
"I must have had a good game and Fashoway phoned Hal Laycoe [Portland's coach]," Dennis reasoned. "He said, 'There's a guy in Kingston we should get.'"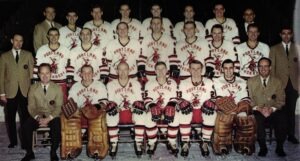 Laycoe tried to sign Dennis to play for the Buckaroos in 1966, but in another crazy twist, Dennis turned them down flat. To this day, he's still not sure why: "Who knows?!" He stayed one more year in Kingston, playing for the senior Kingston Aces. It wasn't a terrible decision as the Aces ended up winning the All-Ontario Championship in 1966-67 and Dennis played a huge part of that. He led all defencemen in the league with 17 goals.
Laycoe and the Buckaroos came calling once again, determined to sign him, but once again Dennis turned them down. He went off to work the summer on a surveying crew. When he returned home, he found a letter and plane ticket from the Buckaroos enticing him to come out west to their training camp. Dennis finally gave in and went. And he made the team. That was his second big break.
"You need a coach that likes you like when Hal Laycoe liked me and my style," he said. "I got a break in Hal Laycoe. He saw something, him and Gord Fashoway, that I didn't even see."
In the late 1960s, the Western Hockey League was a fantastic circuit, probably the best pro league in North America after the NHL. The Buckaroos were loaded with talented, experienced pros who all helped bring along Dennis, still only 21 years old. His teammates included WHL legend Art Jones ("great player"), Andy Hebenton ("nine years in the NHL, very, very good"), Connie Madigan ("tougher than a two dollar steak"), Cliff and Arnie Schmautz ("Bobby's older brothers who I later played with on the Canucks"), and Doug Messier, yes Mark's dad ("he and I were [defence] partners for two of my three years there").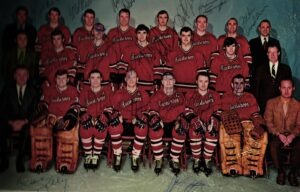 Having never been this far away from home before, Dennis battled homesickness that first year, but slowly gained confidence. Laycoe helped him tremendously.
"I was always an offensive defenseman, but mostly passing, mostly starting the play," explained Dennis. "Hal Laycoe used to keep a stat, the third assist, which nobody would have ever heard of. He kept track of the third assist and lots of times it's the person that starts the play doesn't get credit but was very valuable in Hal Laycoe's mind."
Others slowly began to see how valuable Dennis was too. In 1968-69, his second season in Portland, Dennis was named to the WHL's Second All-Star Team. The all-star teams then were voted on by fellow players.
"I was flabbergasted."
The following season he was named to the WHL's First All-Star Team on the strength of 53 points in 72 games including a single-game WHL point-scoring record for defencemen with seven points (2 goals, 5 assists) on April Fool's Day 1970.
By that point the Chicago Blackhawks owned Dennis rights—he was never drafted—and brought him to their training camp for the 1970-71 season. Dennis had a great first week and then the wheels fell off.
"I made the mistake of being in awe of everything, my teammates and opposition, and I played terrible after that."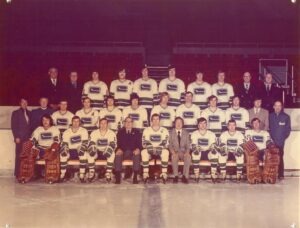 He was sent down to play for the Dallas Black Hawks of the Central Professional Hockey League and gradually regained his confidence once again to the point he was named to the league's First All-Star Team. Then along came his third break.
By 1971-72, Laycoe was in his second season as the Canucks inaugural head coach in the NHL. The expansion Canucks needed help on the back end and, remembering Dennis from their Portland days, Laycoe had the Canucks claim him in the first round of the NHL's Intra-League Draft (discontinued in 1975) after Chicago left him exposed. Laycoe had Dennis in the Canucks opening night line-up against Toronto at the Pacific Coliseum. The kid who had never dreamt about the NHL because he didn't think he was good enough had finally made it at age 26 taking the long way around. And he quickly proved he was more than good enough. A week after his NHL debut he scored his first NHL goal on a powerplay shot from the point against the California Golden Seals in Oakland.
"One of those lucky seeing-eye shots that made its way through," he said humbly. "That was quite a thrill."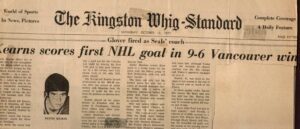 For the next ten seasons, Dennis remained a cornerstone of the Canucks defence, deemed "the Denis Potvin of the West" by The Hockey News. In 677 regular season games, he totaled 31 goals, 290 assists, and 321 points—at the time a club record for Canucks defencemen. It would take nearly 30 years until his mark was broken by Mattias Ohlund and later Alex Edler. Dennis remains tied for third all-time in scoring for Canucks defencemen with Jyrki Lumme today and stands second all-time in assists by a Canucks defencemen behind only Edler, who broke Dennis's mark in 2020. Twice he was awarded the Babe Pratt Trophy as the Canucks top defenceman.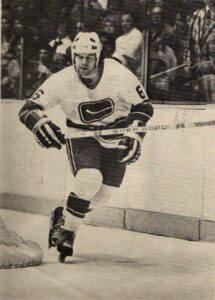 His best individual year came in 1976-77 when he became the first Canucks defenceman to reach 60 points (5 goals, and a record 55 assists) in a season. His club record of 55 assists stood for a remarkable 45 years until broken recently by Quinn Hughes in 2021-22.
"I sent an email congratulating him and he got back to me, which was very nice," said Dennis. "He's a fun kid to watch. I really enjoy watching him."
If you were to compare how Dennis played the game in the 1970s to any current Canucks player, Hughes is the best place to start. With his puck smarts, pinpoint passing, and smooth skating, Dennis in some ways was ahead of his time. He likely would have even more success in the current NHL that places a premium on these skills than in his era where size, toughness, and bodychecking were most valued in NHL defencemen.
"Kearns was the kind of player where people looked at what he couldn't do instead of what he could do," explained Jim Robson, a 2000 BC Sports Hall of Fame inductee and long-time legendary voice of the Canucks. "They overlooked his great passing because he didn't play tough and he didn't score a lot of goals and things like that. Kearns was never fully appreciated as a player in Vancouver. He played ten years with the Canucks, was one of the best passers they ever had, and was great moving the puck. He was a smart defenceman."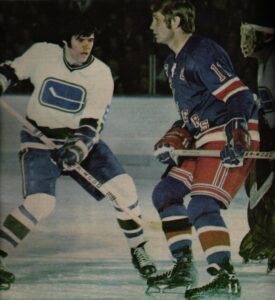 The Canucks captain when Dennis joined the club, Orland Kurtenbach, inducted into the BC Sports Hall of Fame in 1997, loved having Dennis on his blueline as a teammate and later as Canucks coach.
"It was a pleasure to play with Dennis as you knew his pass would always be on your stick," Kurtenbach said.
When asked about his passing, it's perhaps not surprising that Dennis had a very insightful answer.
"I always said the three components of passing were, number one, you gotta know how to pass. Number two, which is more important than the first, is knowing when to pass. But the most important, is who to pass it to."
It helped having teammates that were always looking out for him on the ice.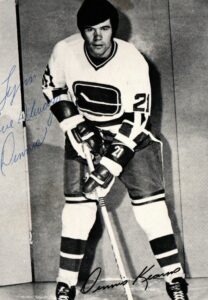 "My strength was once I got the puck in my end, if I had that extra second like I did when I played with Harold Snepsts or Jack McIlhargey, somebody tough, you get that extra second, and then I had all the confidence in the world because I could move the puck. I could get it out of our end. That was my big strength, seeing the play, peripheral vision."
You didn't see many dump-ins when Dennis had the puck for Canucks, an early foreshadowing of how the game is played today in the NHL.
"I didn't like shooting the puck in," he explained. "I wanted to keep possession and lay it off."
Add it all up and it's why he should be considered one of the top defencemen in Canucks history.
Asked to pick out a few highlights from a tough era as the expansion Canucks tried to gain a foothold in the NHL, Dennis mentioned how special it was to play in the Original Six arenas like the Montreal Forum, Maple Leaf Gardens, Madison Square Garden, or the egg-shaped ice of the Detroit Olympia.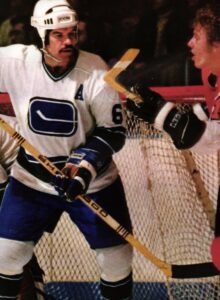 "In the old buildings the fans were right over top of you. It meant there was a little more atmosphere."
Helping the Canucks to their first division title and first trip to the playoffs in 1974-75 was another highlight. In the playoff format of the era, for winning the division the Canucks earned a first-round bye only to face Scotty Bowman's powerful Montreal Canadiens in the second round. Although the Canucks managed their first-ever playoff win in Game 2, the Canadiens ultimately emerged with a 4-1 series victory.
"Gerry O'Flaherty had a great line about that: it was bye in the first round, then bye-bye in the second!"
In the final six seasons of Dennis's career, he helped the Canucks make the playoffs on four more occasions.
"It was an exciting time and the arena was often sold out," he remembered. "It was a great city to play in, great city to live in. My wife and I, once we bought our first house out here in 1975, we knew were going to be staying here and raising our boys here."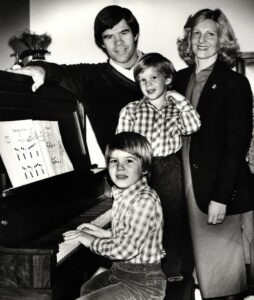 Dennis and his wife Lynn have lived on Vancouver's North Shore ever since, nearly fifty years now, currently in West Vancouver.
Persevering for years just to make the NHL and then working hard to become a standout NHL blueliner prepared Dennis well for the other highlight of his career: representing Canada internationally. At the height of his career, Dennis was selected twice to play for Canada at the IIHF World Ice Hockey Championships in 1977 and 1978. He was also selected to play in 1979, but the Canucks playoff series with Philadelphia went longer than expected and another player went in his place.
At the 1977 worlds in Vienna, Canada ultimately ended up finishing fourth overall behind the Czechs, Swedes, and Russians. Playing on the larger European ice surfaces, Dennis opened the eyes of many of his teammates with his slick passing, one of whom was current Canucks president Jim Rutherford, then one of Canada's goaltenders.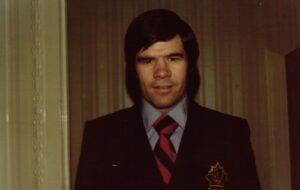 "I learned what a skilled and extraordinarily talented defenceman he was," said Rutherford recently. "As a former goaltender, it was always reassuring to have a defenceman the caliber of Dennis Kearns playing in front of you."
On his first visit to Europe, Dennis's one regret from the tournament didn't take place on the ice but off it. To this day his wife Lynn never lets him forget how they passed on free tickets to see the Vienna Boys Choir and the famous Royal Lipizzaner Stallions.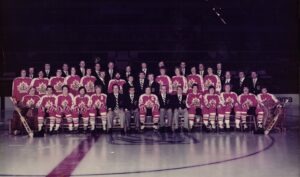 "I had these itchy pants and I didn't want to wear them, so I said to my wife, 'I'm not going.' I guess it was a great, great show. [Canucks teammate] Garry Monahan loves to tease me to this day because I didn't go, but I really should have."
One year later, Dennis was back with Canada at the worlds, this time in Prague. Canada ended up taking the bronze medal behind the Russians and Czechs. Facing the Soviet Union's great goaltender Vladislav Tretiak was a thrill, but so was playing beside two of the greatest scorers in NHL history as teammates: Canada's captain Marcel Dionne and Phil Esposito. Having Dennis on his side for once was a welcome change for Dionne.
"Playing against Dennis during our many NHL seasons was a test of my skill," he said recently. "He was a very competitive player and always made it difficult for me. We certainly had our fair share of battles. Dennis was among the elite defencemen in the NHL during that era. I, for one, amongst many others have always had a lot of respect and appreciation for his incredible on-ice talents."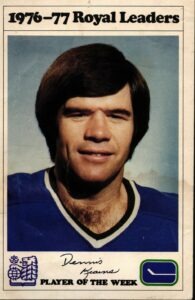 Esposito, then the greatest goal scorer in NHL history, personally selected Dennis to man one of the points on Canada's power play. Dennis acknowledged that as a "pretty amazing" honour.
One of Dennis's other memories from the tournament is a stark reminder of the Cold War era. On the final day of the tournament, the Czech bus driver who had been assigned to drive Team Canada for several weeks was in tears. When the players asked what was wrong, he told them he was sad because he would never be free in his country locked behind the Iron Curtain like the Canadian players were in theirs.
"We felt so sorry for him," recalled Dennis. "Marcel Dionne took up a collection amongst the other players and we must have given him more money than he'd earn in two or three months. That really stood out."
Dennis played three more years for the Canucks before retiring at age 35 at the end of the 1980-81 season. The Canucks held a pre-game retirement ceremony for Dennis in which owner Frank Griffiths presented Dennis with several gifts, one of which was flights on CP Air anywhere in the world for him and his family. Dennis and Lynn ended up taking their three boys to Hawaii.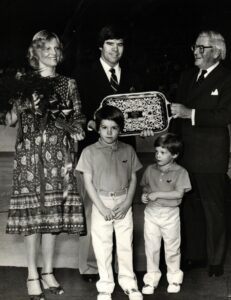 Beginning in 1985, Dennis began his second career working in insurance, which he has remained involved in on the North Shore to this day running his own business. When he first started out, he remembered being asked how he would handle rejection in the industry. He had a great answer.
"You have to realize, I've had 15,000 people boo me to get off the ice," he laughed. "So one person is not going to bother me!"
Dennis's long road to the NHL turned out to be an inspiration for one of his sons, Bracken, who also managed to work his way to the NHL after playing for the University of Calgary and bouncing around the ECHL and AHL. Bracken debuted with the Florida Panthers for five games at age 30 in 2011-12 and later played another 30 NHL games for the San Jose Sharks and the New York Islanders. Dennis was proud of his son, yet believes he never really got the lucky break that he himself had received.
"He could have played ten years in the NHL like I did," he said. "He was good enough."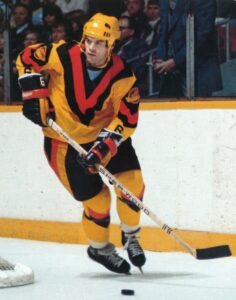 When the Canucks kicked off their 50th anniversary season in 2019-20, Dennis skated out onto the Rogers Arena ice in full equipment and uniform representing the Canucks 1970s decade.
"I was very honoured to do that. I hadn't been on skates in so long, at least 15 or 20 years. My youngest boy gave me a pair of skates. I went to Hollyburn a couple times to get the feel for it again."
He may not hit the ice very often anymore, but he still watches hockey all the time.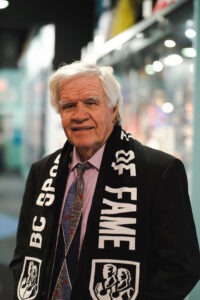 "I personally like where hockey is today. It's so much fun to me watching these skilled players. And they can do things—if we ever did some of these things, we'd get our heads taken off. I really enjoy watching the skill players now."
Over the years, several honours have come Dennis's way. He was inducted into the Kingston & District Sports Hall of Fame in 2003 and the BC Hockey Hall of Fame in 2007. And now with the BC Sport Hall of Fame, he has his hat trick of halls.
"Well, when I got a call for the Kingston Hall of Fame, I was in awe. When I got a call to be in the BC Hockey Hall of Fame, I was like, 'Oh my…' But this is the crème de la crème. This is such an honour. It's an honour not only for me, but for my wife and my boys and my grandchildren, my teammates. It's a huge, huge honour. We're very, very moved."
As part of the Class of 2023, Dennis Kearns was formally inducted into the BC Sports Hall of Fame in the Athlete category at the annual Induction Gala held June 1, 2023 at the Fairmont Hotel Vancouver.