Sonja Gaudet: It's What You CAN Do, Not Can't – 2020 Inductee Spotlight
July 21, 2020
By Jason Beck
You could easily assume curling must have been a lifelong passion for Vernon wheelchair curler Sonja Gaudet from early on. Skim through the remarkable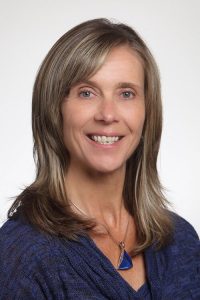 career highlights of the world's most decorated wheelchair curler—three-time Paralympic gold medalist, three-time world champion, Canadian flagbearer at the 2014 Paralympic Games Opening Ceremonies, first-ever wheelchair athlete inducted into the Canadian Curling Hall of Fame, featured on a Canada Post stamp, recent Canada's Sports Hall of Fame inductee—and it seems a foregone conclusion. But speaking with Sonja via phone in early April at the height of the Covid-19 lockdown here in BC, I was surprised to learn curling was just about the last sport on her mind as a youth.
"I played every sport imaginable growing up," she said. "Every sport under the sun. It was never too much for our parents to drive us here. Drive us there. Pick us up. Drop us off. That's all we did."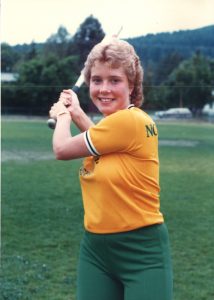 Growing up in North Vancouver, Sonja played softball from a very early age, coached by her father Bram (pronounced 'Brahm', short for Abraham) who also coached Sonja's older sisters, Loesje and Joanne, and other teams in the community. She played volleyball and basketball in elementary school and also some track and field events – long jump, shot put and high jump. She tried soccer, but wasn't a fast runner. She played tennis, participated in swimming, and skied—on the water in summer and on the mountains in the winter. She followed in her sister Loesje's footsteps, who was a national racquetball champion, and also took the sport up, going to the 1983 BC Winter Games in Revelstoke. At Argyle Secondary, she continued with basketball, volleyball, and track and field. Basketball was her favourite and at 5'11" in height and with loads of athleticism, she was a standout on the court.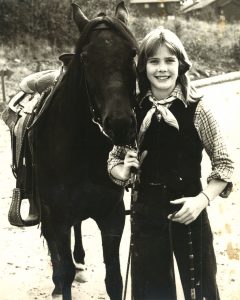 And if she wasn't playing one of these sports, then Sonja could probably be found at the Laura Lynn Equestrian Centre, a horse stable a short walk from her home. Riding horses became a large part of her life. She began looking after others' horses in elementary school which led to leasing horses and by age 18 she'd bought her own.
But curling? Forget about it. Was she even aware of it?
"Ha! Yeah I was aware of it!" she laughed. "My Dad loved to watch curling either on TV or at the North Van Rec Centre. So when Dad came to pick us up from swimming, there he'd be waiting for us watching curling. I remember thinking, 'Are you kidding me?! What are those people even doing out there?! Come on Dad, this is like…boring!' I never thought about curling. I didn't know anything about curling. I had no desire to try curling."
As we all know living through these uncertain times, things can change in a blink of an eye. No one knows that better than Sonja.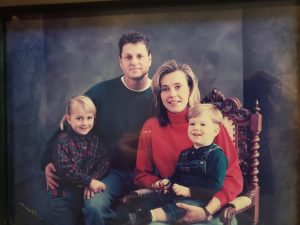 After high school, Sonja began pursuing her dream of opening her own salon by going to hairdressing school in Burnaby. She met her future husband Dan and they moved to Vernon in 1988. They married in 1990 and daughter Alysha and son Colten soon followed.
Everything changed on June 1st, 1997—the day of Sonja's accident.
"I was out for a fun ride that day," she remembered. "I rode English dressage and had a horse for a couple years, a retired race horse. I had been working with him in a ring outside and then I'd always go across the street and cool him out in a big open field. At the end of my ride when I was just heading back to the barn, there was a girl that I knew who was walking her dog. We stopped to chat and that's pretty much the last thing that I remember."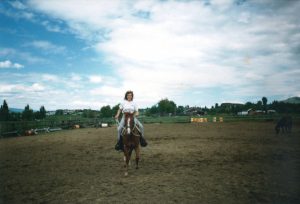 Sonja believes her horse was annoyed at being forced to wait while she stopped to talk. The horse reared up twice and the second time went over backwards, falling on Sonja, who was still in the saddle. She was knocked unconscious and suffered several terrible injuries: complete spine dislocation at the T5-6 vertebrae and paralysis from the chest down, broken ribs, punctured lungs, massive internal bleeding but fortunately no organ damage. Nearby a large family barbeque was taking place that thankfully a paramedic and two nurses were attending. They got to Sonja in time to keep her alive until the ambulance arrived and rushed her to Vernon Jubilee Hospital. Her condition was critical and at first it appeared doubtful she'd survive.
"They brought my kids and my husband in to say goodbye," Sonja recounted, her voice heavy with emotion. "So I know for them that was really tough of course. Our kids were only three and six at the time. They had the priest and the nuns there too to prepare them because they didn't think I'd make it to Vancouver General Hospital via helicopter."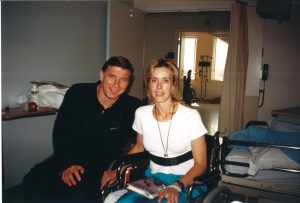 Miraculously, despite her injuries, Sonja pulled through. She regained consciousness six days later on June 7th. Her sister, sitting at her bedside, had to explain to Sonja where she was and what had happened. And then they began to talk about where to go from here. Almost immediately, Rick Hansen's name came up.
When Sonja was in Grade 9, she was chosen from her school to participate in a large girls volleyball camp at BCIT. Rick was one of the camp's coaches, along with Tim Frick.
"They did a demonstration game with serious elite volleyball players and Rick was out there playing and more than holding his own, he was unbelievable," she recalled. "I remember thinking, like many of the girls there I'm sure, 'Whoa, this guy is incredible.' I was totally taken in by Rick at the time."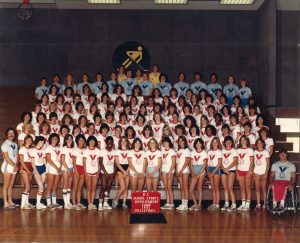 Four years later, Sonja appeared in a Province newspaper article that asked 'Who is your hero?' Her answer was Rick Hansen because of all the great things he was doing for people with spinal cord injuries.
So laying in the hospital bed trying to figure things out, despite not knowing him other than that brief encounter at a high school volleyball camp many years prior, Sonja and her sister both agreed they needed to get Rick there as soon as possible.
"It was the weirdest thing," she said. "It's like I knew somehow in a weird kind of way, I just knew. He's always been a big influence in my life."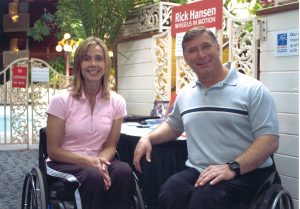 As it turned out, one of Sonja's nurses at VGH was a good friend of Rick's and within two weeks he was there at Sonja's bedside.
"That first meeting with Rick was really impactful in the sense that his kids were similar in age to my kids," Sonja explained. "He was able to give me some key strategies around how to be with my kids and how that was going to work. That was of course my one and only concern: I still needed to be the mom I want to be to my kids. So he was super helpful with everyday stuff that we do as parents raising kids, whether it's just going shopping, cooking for them, caring for them, the everyday chores of raising a family. It put my mind at ease that I would still be able to do all of that."
Other visits were just as important. One of the first who visited Sonja when she was still in the ICU was Lars Taylor, a neighbour from Vernon who they bought hay from. Lars suffered nearly the same injury as Sonja and was now living a very active life. Marni Abbott, three-time Paralympic gold medalist in wheelchair basketball, also visited her. The BC Paraplegic Association (now Spinal Cord Injury BC) paired Sonja with another woman named Mary Jo, who was close to Sonja's age and had the same level of injury, but was very active, a frequent camper and member of the BC wheelchair basketball team. These visits helped Sonja in ways she couldn't even measure at the time.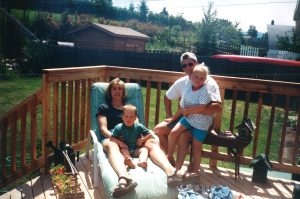 "I give a lot of the credit for my recovery to my peer support I've had along the way," she said. "The getting back to life and the learning of new skills that you have to learn, everything from your personal care to just managing the wheelchair you get from the lived experiences of your peers. Even before I left the ICU I asked to see my peers as soon as possible. I wanted to see what they could do in their chairs, so I could see what was possible. That was so helpful."
What made all the difference though was the support Sonja received from her husband Dan and her family. Dan spent a lot of time driving back and forth from Vernon to Vancouver being there for Sonja while also trying to hold things together through all the upheaval and uncertainties back at home during the week with the kids.
Sonja amazed the doctors with her rapid recovery. She spent one month in VGH's spinal unit and then continued therapy at the G.F. Strong Rehabilitation Centre for another two months. She began going home to Vernon for weekends quite quickly to integrate back into what was going to be a new normal for them as a family. She returned home for good barely three months after the accident, motivated the entire time to be there for her daughter Alysha's first day of Grade 1 in September.
"It was a fairly quick turnaround," Sonja said simply, downplaying how remarkable this truly was.
Her mindset played a massive role in this and later propelled her curling career as well. Almost immediately after her accident she was asking 'what can I do?' rather than 'what can't I do anymore?'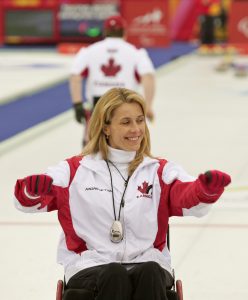 "Everyone says you had a choice," she said. "I feel like I never had a choice. You could have not done this or not done that or given up. But in my mind I never had a choice. Why would I choose not to go 'Ok how are we going to do this?' I had two kids, a family. Not choosing to move forward and get on with it, whatever 'getting on with it' looked like, it wasn't an option. So where's the option? I'm not going to lay in bed and be miserable. And not live my life. And not look after my kids. And not get on with it and enjoy what I enjoyed before just in a different way. So I actually never felt I had an option or a choice."
The other remarkable part of this story is what happened next. The community in Vernon rallied around Sonja and her family, raising $90,000 for renovations to make their house wheelchair accessible. The community held bake sales, garage sales, hair-cut-a-thons, a 'Songs for Sonja' musical benefit. Many fundraisers were held at the Best Western Vernon Lodge where Sonja had worked. The Desert Classic at Predator Ridge donated $10,000.
"Sometimes I just…can't wrap my head around it," she said, her voice trembling. "The walls of my room at G.F. Strong were lined with newspaper articles, cards, letters, and messages of support from back home. I'd just lay there and think, 'Wow, is this what happens? And why are all these people doing this?' To this day, it's a pretty cool feeling, but it can also get pretty overwhelming at times—not in a bad way. It just brings it all back."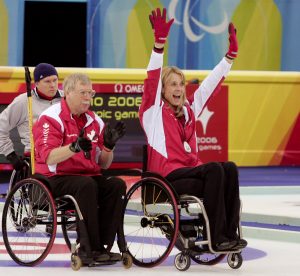 As part of Sonja's rehabilitation, she tried sports right away: wheelchair basketball, volleyball, and tennis. She thought wheelchair basketball would be her path, but struggled with how her level of injury limited how she was used to playing previously. She volunteered with BC Wheelchair Basketball for a few years, coaching their Interior junior wheelchair basketball team in Vernon, which began a pattern that has continued to this day, giving back to her community that gave so much to her when she and her family needed it most.
So how does the world's most decorated wheelchair curler get introduced to curling? It started with a bathroom reno project in 2003. The Vernon Curling Club reached out to Sonja for advice on how to renovate their bathrooms to be wheelchair accessible. The club was about to begin hosting wheelchair curling clinics to find and train athletes to build a Canadian wheelchair curling team leading up to the 2006 Winter Paralympics where wheelchair curling was on the sport schedule for the first time. She had no idea that she would end up being one of the athletes recruited. She still thought a draw to the button was a sewing term.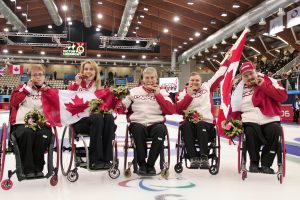 "They had to really convince me to get out on the ice because I was not very interested in it at all at first," Sonja laughed. "So that's how it started. Somehow they convinced me to get out and try and it went from there. I really thought it was just going to be maybe something my husband Dan and I could do with friends as we got older. It took a while before I could even execute it at that level. It was really hard at first. Pushing the rock. There's a real technique to even feeling like you can get it to the other end of the ice."
The timing of Sonja's entry into this fast developing sport couldn't have been better. Regional competitions and provincial teams were beginning to form. Early on, she played strictly on wheelchair teams and as she improved she progressed to playing on senior ladies able-bodied club teams at the Vernon Curling Club and then eventually at the Kelowna Curling Club with teammate Gerry Austgarden in the mixed leagues. Sharon Morrison and Jan Mori were huge influences on her development, taking her, Gerry, and future long-time national teammate Ina Forrest under their wings.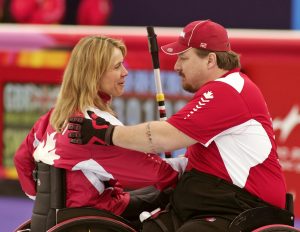 "Curling started the competitive and team atmosphere again for me," she said. "Especially the team atmosphere registered and reminded me that teamwork and camaraderie was such a big part about sport that I just loved to be a part of."
She improved so rapidly that within three months of taking up the sport she was representing Team BC at the inaugural Canadian Wheelchair Curling Championships in Toronto. Wheelchair curling differs from able-bodied curling in that curlers make provincial and national teams as an individual, not as a collective team that wins the right to represent. BC's provincial team was fairly strong from the beginning, which meant it didn't take long before Sonja and her teammates were getting noticed and entered the conversation as potential Canadian national team members.
Sonja broke into the national team unit in 2005, (along with Gerry) a team of primarily Ontario-based curlers led by skip Chris Daw. She was scheduled to go to the 2005 World Wheelchair Curling Championships in Scotland just to observe as Canada's 6th player, but at the last minute officials chose not to send her. It meant the very first time Sonja competed for Canada internationally was in 2006 on the sport's biggest stage, the Winter Paralympics in Torino, Italy. Sonja was the lead on the team skipped by Daw.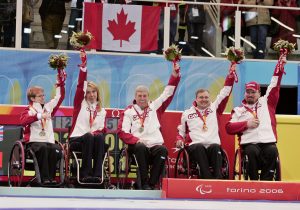 "The magnitude of the Paralympics was bigger than I could have imagined because I didn't have anything to compare it to," she explained. "That was also super helpful because I didn't have any expectations so I didn't have any anxiety and wasn't nervous."
Team Canada advanced to the gold medal game against Frank Duffy's Great Britain rink. In the final end, Duffy had the chance to win by scoring four with a relatively straight-forward shot, but he inexplicably missed. It meant Canada hung on for a 7-4 victory and the sport's first-ever Paralympic gold.
"I remember my teammate Gary Cormack and I, we just looked at each other and said, 'Oh my god! Are you kidding me???' We won!"
That said, Sonja and her teammates didn't celebrate the victory as a team perhaps the way they should have. Winning on an opponent's missed shot just didn't sit well with any of them. "I think we all learned from that and made sure we didn't let that opportunity pass by the next time," she said.
The following year in 2007, Sonja was back as lead on Canada's national team competing at the 2007 world championships in Sweden. Despite a strong start, Canada finished fourth and out of the medals. At the 2008 worlds a similar result occurred.
By 2009, Canadian national coach Joe Rea had built a largely new team based around BC athletes who would form the foundation of an international curling dynasty. Besides Sonja, she was joined by friend Ina Forrest also of Vernon, Richmond's Darryl Neighbour and Jim Armstrong, also from Richmond, who skipped the team. The 2009 worlds were also being held in Vancouver, a year before the Winter Paralympics, which proved a great opportunity for the Canadians to become comfortable with the Hillcrest Centre layout they could expect in 2010.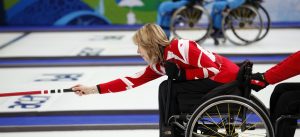 Sonja went into the 2009 worlds as the Canadian team's alternate, but ended up playing a great deal of the tournament when the team chemistry of those picked ahead of her didn't mesh. With Sonja in the line-up, Team Canada's play improved and they end up winning Canada's first-ever world wheelchair curling championship, defeating Sweden 9-2 in the gold medal final.
In 2010, they did it all again at Hillcrest at the Paralympics. Sonja was back in her customary lead position and played a key role in helping Canada to defend its 2006 Paralympic championship. The Canadians defeated South Korea 8-7 in the gold medal final. Hillcrest was rocking with home support, Canadian fans painting the stands red and white, among them Sonja's family.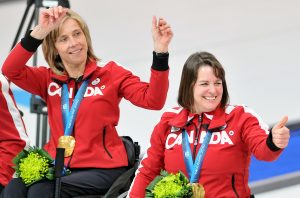 "My strongest memory was needing to know where in the audience my family was because I didn't want to ever feel like I needed to spend any time looking for them," she remembered. "I just wanted to know where they were so I could connect with them when needed. It was pretty amazing, super proud. Pretty grateful to have my family there."
From there, Sonja and her national teammates continued to add to their gold medal haul winning two more world championships in 2011 and 2013 and another Paralympic gold medal in 2014 in Sochi. It gave Sonja a double hat trick of world championship and Paralympic gold medals during her career. That five-year period from 2009-14 remains a remarkable run for Canadian wheelchair curling that may never be surpassed.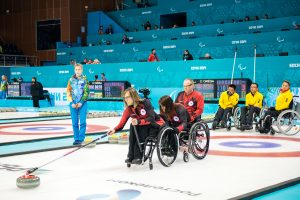 "Team dynamics were our strong point," explained Sonja. "If one person was struggling, the other three came together. Ina, myself and Dennis Thiessen were just really close. We knew what worked for one another, what didn't work. We knew what to say, what not to say. What to do, what not to do. It was a really great connection and it's really hard to find that. And Jim, coming from able-bodied curling, he was miles ahead in terms of strategy of anyone in wheelchair curling. He knew exactly how to get the most out of each and every one of us, how to set us up for success. We all learned so much from Jim. You can put the four best players together, but if there isn't the team dynamics, it doesn't work."
The 2014 Paralympics in Sochi are particularly memorable for Sonja as she was chosen for the honour of serving as Canadian flagbearer at the Opening Ceremonies.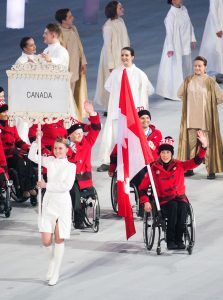 "I was soooo honoured to represent the 54 athletes we had at that time. It was an incredibly proud moment to represent our team. It was overwhelming. I don't get nervous before a curling game—nervous in a bad way—but I was like super nervous, excited, and anxious, all of the above, waiting to wheel up the steep ramp and having everybody behind me, just really encouraging. We were all just so excited to get in there. Ahhh, it was unbelievable!
"I remember looking behind me at one point during the Opening. I wanted my teammates right beside me. I was turning to Dennis and Ina, 'Come on, you guys, come on!' And they'd be just holding back, holding back, just behind me. They wanted to give me my moment, but I wanted it to be OUR moment."
Sonja represented Canada twice more at the world championships in 2015 and 2016 before retiring from competition. "I needed to be at home more," she said simply.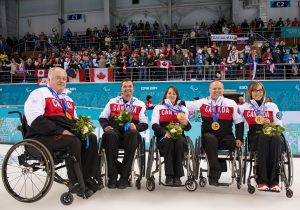 Other than coaching and mentoring some of Canada's up-and-coming young wheelchair curlers in the year after her retirement, Sonja has taken a long break from competing and hasn't even curled recreationally since, but plans to go back one day when she's ready. She's currently working as a regional accessibility specialist for the Thompson Okanagan Tourism Association, helping bring awareness and accessible opportunities in outdoor experiences and the tourism industry in the Thompson Okanagan Region. You can often find Sonja out on the trails with her dog Lina, or on the water kayaking these days. She is working together with Access Revolution and the Vernon Paddling Centre on creating an adaptive paddle boarding and kayaking program.
In 2018, she added one more unique honour to her resume: featured on a Canada Post stamp alongside other remarkable Canadian women athletes who have excelled in winter sports.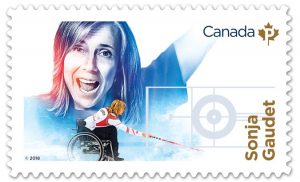 "It's crazy! I wasn't mailing myself on letters, but some of my family members were! That stamp, gosh, it's just such an honour to even be considered. I hope this is just the beginning of more recognition for Paralympic sport and para-athletes. We're not disabled athletes. We're athletes who have adapted and learned to excel with the abilities that we have. We do things differently, but we are not disabled."
I've always believed every athlete has a story worth telling, but there are a few rare ones where you stand back and can only shake your head in wonder and amazement. Sonja Gaudet is one of those.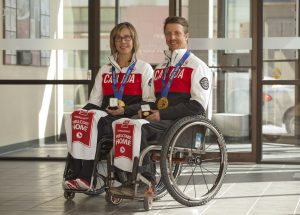 "Honestly I have to shake my head sometimes," she mused. "I sometimes don't understand how the journey has gone the way it has. It can be really overwhelming at times when I think back and go, 'Did that happen? Yeah. How? Oh my gosh. Why?' I do ask the question a lot. What is this journey all about? It's gone this way and it's all come out of a really crappy situation to start with. I just sometimes have a really hard time wrapping my head around it."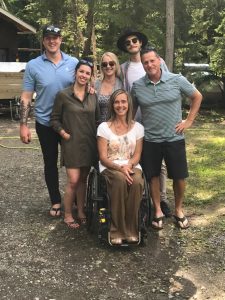 We finish our conversation covering her life's journey to this point with her induction into the BC Sports Hall of Fame.
"It feels pretty great, to elevate and draw attention to our sport and to other para-sport opportunities. For me, it has never been about gold medals or hall of fame inductions. I'm always so amazed though, at how people light up at a gold medal and I absolutely love to see their joy when holding or putting my gold medal around their neck. But for me, it's everything that's attached to that gold medal. It's not the gold medal itself. It's everyone and everything that went into achieving it, everything that it messages, the journey, and what that gold medal says for Para athletes and any person who has a challenge in their life. You can overcome. Giving up is not an option. Always believe in yourself and never give up—on your dreams or your situation!"
Sonja Gaudet will be inducted into the BC Sports Hall of Fame in the Athlete category as part of the Class of 2020 Induction.