Bill Mitchell: More Than A Coach – 2020 Inductee Spotlight
August 28, 2020
By Jason Beck
Bill Mitchell loved to coach.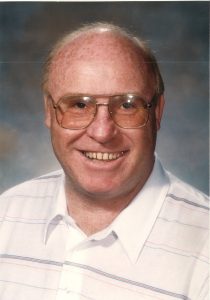 If you take one thing from this profile of the life of one of Canada's greatest wrestling coaches, it is this.
Whether it was high school or club, provincial or national, young or old, even pressed into service in other sports than his bread-and-butter wrestling, Bill put everything into coaching athletes partly because he got so much back in return. He shined particularly with younger athletes.
"He always said the only reason he became a teacher was so that he could coach kids," daughter Cathie said. "He was good with kids. He was also good with the kids that don't fit, the marginalized kids because wrestlers come in all shapes and sizes."
There's an especially moving story that illustrates this about Bill. One day while he was teaching and coaching at Coquitlam's Centennial Secondary, he came across one of his wrestlers named Vance crying in a stairwell after practice. Vance was crying because he was homeless, living on his own in his car and thought he'd have to quit school and give up wrestling. With no second thoughts, Bill brought him home. After dinner, he set Vance up to live in the Mitchell family basement for six weeks until he could find him a place with social services, a good home to go to. Vance continued his schooling, continued wrestling, and he went on to become a chiropractor.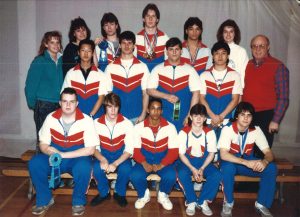 So we're here to celebrate Bill Mitchell the coach, but based on anecdotes such as this, you can make the argument that Bill was much more than that to his wrestlers. He was a father figure, a mentor, a counsellor, whatever his athletes needed. In many cases, like that of Vance, he changed their lives.
"He was most proud of the kids he coached," said daughter Karyn. "He was so proud when they did well. He did everything he could to help these little guys and they've all gone on to do good things. They're good people. I think he's mostly proud of the kids that he coached."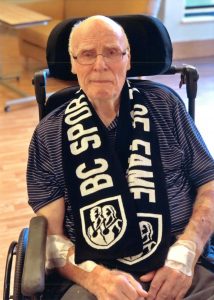 Just turned 85 earlier this month, Bill is currently living in a care home in White Rock with dementia and sadly was unable to be interviewed leading up to his BC Sports Hall of Fame induction. Instead in February, I sat down with Bill's wife of 59 years, Carol, and two of their daughters, Karyn and Cathie, who both live in the greater Vancouver area (the Mitchells also have one daughter Jolynn who lives in Portland, Oregon and a son Mike, who lives in West Vancouver). Stories and anecdotes of Bill and his life in sport bounced back and forth among Carol, Karyn, and Cathie across the BC Sports Hall of Fame's boardroom table like some spirited game of ping pong. Stories were punctuated with laughter, wonder, a few tears. It was quite something to witness for someone who, like many who have followed Canadian sport, knew of Bill's career very generally as a great wrestling coach. It soon became obvious he was much more than that.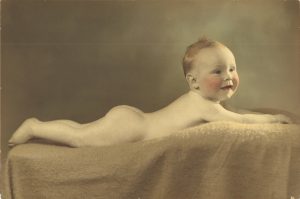 Born in London, England in 1935, as a baby Bill had bright red hair and rosy cheeks. Maybe surprising for someone who later specialized in the tough grinding sports of football and wrestling, young Bill was so cute he won a baby contest.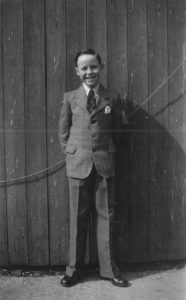 He played rugby and soccer growing up, following in the footsteps of his father, who played soccer and cricket. During World War II, when all children in London were evacuated during 'The Blitz,' nighttime Nazi bombing raids that decimated the city, young Bill went to live with his aunt in a small Yorkshire town named Barnsley. During the war, Bill's dad met someone from Windsor, Ontario and heard good things about Canada, so that was why the Mitchell family immigrated there in 1947 after the war.
In Windsor, Bill continued his interest playing sports, but the soccer pitch in town at that time resembled in his words 'a cow pasture.' That's because it literally was that.
"He didn't want to play a sport where you had to go out and clean off the cow manure, so then in high school he became involved in football," laughed Cathie.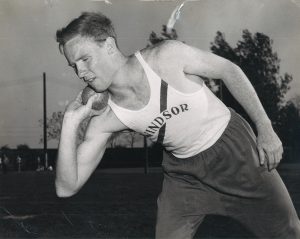 Later 6'2" and 225lbs, he had the size for football and his soccer background meant he could also kick. His all-round athleticism set him apart from most other athletes. Beginning in 1954 at Western University in London, Ontario, Bill starred on the football, wrestling, and track & field teams, finishing as the Mustangs football and Ontario University Association MVP in 1959. In 1960, he received the Dr. Claude Brown Trophy as Western's Athlete of the Year. He remains revered at Western where he was inducted as an individual athlete into the Western Mustangs Sports Hall of Fame in 1979 and later as a member of Western's wrestling team in 2019.
"He just loved sports," said Carol. "He'd sit and watch any sport that was going. He was a great athlete. Even today people say what a great athlete he was."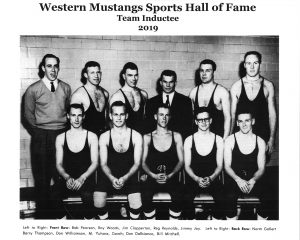 No better example of Bill's athleticism exists than the fact he competed in the decathlon: ten track and field events held over two days which many consider the greatest test of all-round athleticism in sport. Bill competed in the decathlon at the 1957 Canadian track and field championships and finished second to the great Canadian international track athlete Don Steen who edged him by just a few points. When Bill later moved to BC and renewed acquaintances with Don, that remained a running joke between the two men for years.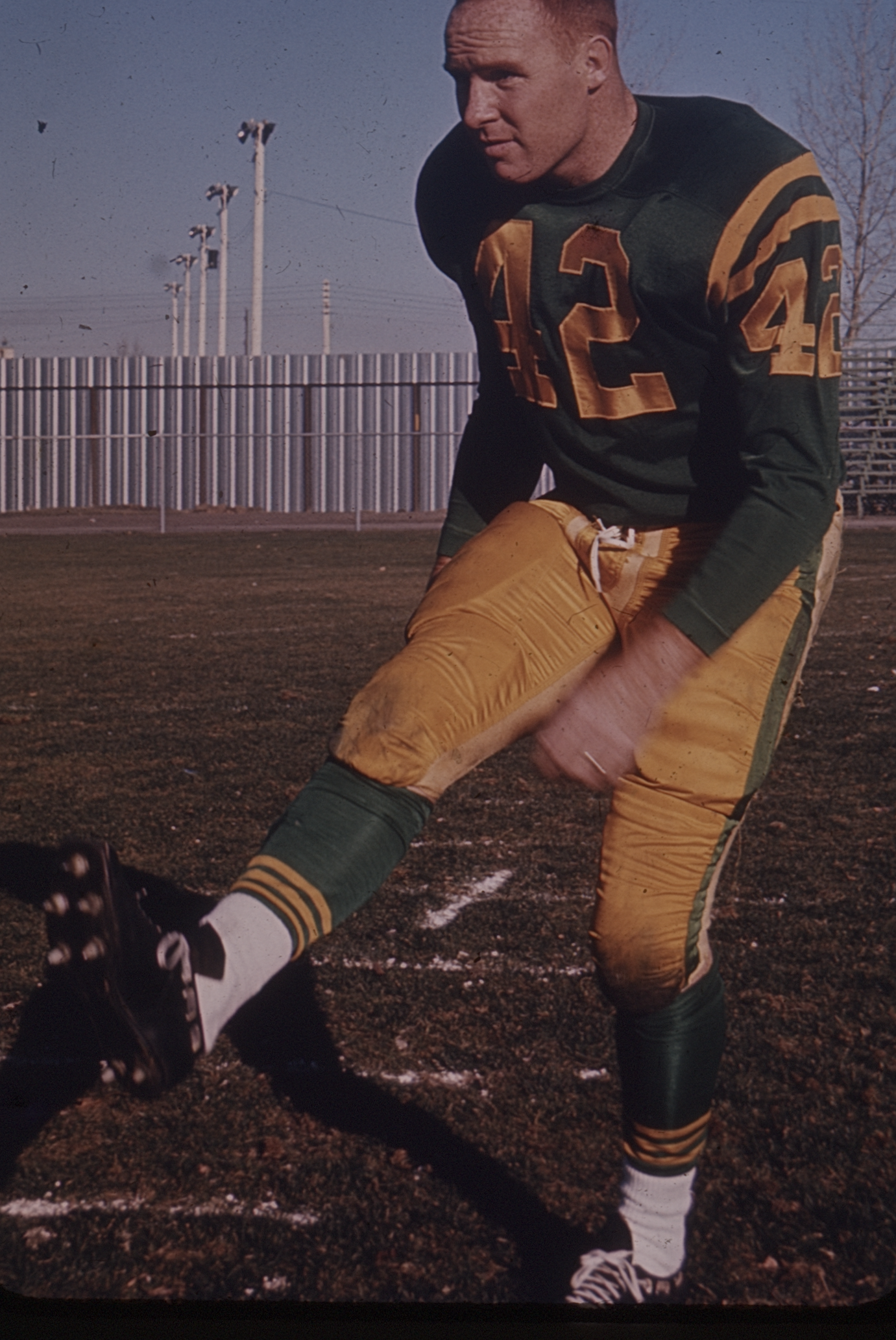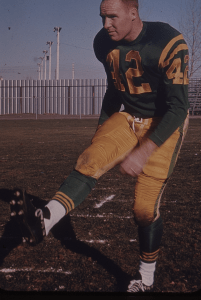 Drafted first overall in the 1960 CFL draft by the Toronto Argonauts, Bill's sheer athleticism shone through as he played on both the offensive and defensive lines and kicked field goals to boot. He was awarded the Gruen Trophy in 1960 as the best rookie in the CFL's Eastern Conference and twice named a CFL all-star in 1961 and 1962. In his final of three seasons in Toronto, Bill scored 60 points as the Argos kicker, before being traded to the Edmonton Eskimos. He kicked for the Esks as well, including booting a CFL and then-world record 58-yarder on August 17, 1964 that was covered in Sports Illustrated. Carol was watching the game on television at home while ironing some clothes. She figured it was such a long kick that Bill wouldn't make it, so she went out of the room to finish a chore and ended up missing it!
In 1966, Bill was traded to the BC Lions and the Mitchell family came west where they largely remain to this day. Bill scored a career high 67 points in his first season with BC, before retiring partway through the 1968 season.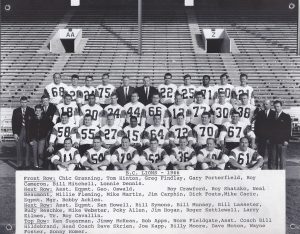 Bill settled the family in Coquitlam and after his first season with the Lions ended, he took a job teaching at Centennial High School, where he'd remain for 28 years until his retirement in 1994. The first three years while he was still playing for BC, he only taught, but in 1969 he decided to begin coaching for the school as well. Centennial already had a football coach at that time, so he was looking around for another team. Paul Nemeth, legendary in BC wrestling circles for decades, suggested Bill start a high school wrestling program as a feeder for the wrestling team up on Burnaby Mountain at the brand-new Simon Fraser University. Bill had never coached wrestling, but being a good wrestler back in his Western days, decided to give it a shot. A perennial powerhouse in BC high school sport was born.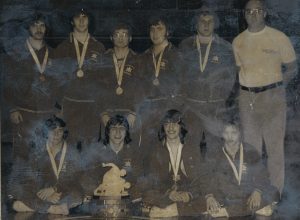 Bill started Centennial's first wrestling team with "two kids he picked out of the hall"—a couple young tough street fighters from the Maillardville neighbourhood.
"The vice principal said they'd been in enough fights," Cathie laughed. "They needed to learn how to fight properly."
Bill went to work teaching them. He built a grassroots feeder program that soon had every junior high school in Coquitlam feeding their best wrestlers to him.
"He made sure other coaches knew how to teach and coach wrestling even if they didn't know how at first," said Cathie. "He invited them to observe his own practices to learn."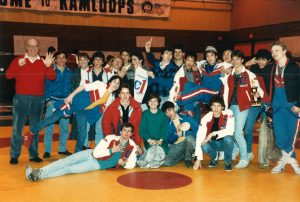 The Centennial wrestling program was soon so successful a small gym was built at the school for the wrestling teams to train in. Nothing made Bill happier than when one of his wrestlers won. He often could be found crying with joy in the aftermath of a victory knowing how hard his athletes worked to achieve this success.
"Whenever his team won, he was just thrilled," Carol said. "Centennial won a lot in the beginning."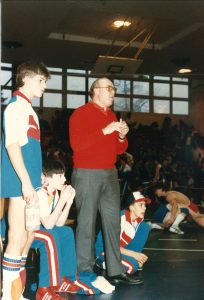 They certainly did. Bill also coached Centennial's track & field team, the cross country team, and even the soccer team for one year when they couldn't find another coach. Each team he coached won provincial championships at various times—including that one soccer team. At one point, Centennial had 35 provincial title banners hanging in their gym and 22 of these were teams coached by Bill.
While he built up Centennial's wrestling program, he also helped other coaches start up programs around BC so his teams had others to compete with. In the early 1970s, there weren't many high school wrestling programs in BC—New Westminster, Port Coquitlam, Britannia, University Hill among the more prominent—but most of those in the Lower Mainland had strong ties to Bill.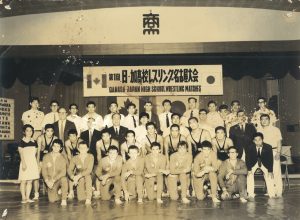 Early on, Bill founded the BC-Japan Cultural Exchange Program which saw hundreds of BC and Japanese wrestlers visit both countries and learn about their respective cultures. There were regular wrestling exchanges with Oregon as well. It was common in those days for wrestlers to be hanging around the Mitchell house. One time 20 wrestlers stayed overnight in their basement when a bunch of billets for a wrestling tournament fell through and somehow they found a way to feed them all breakfast and lunch.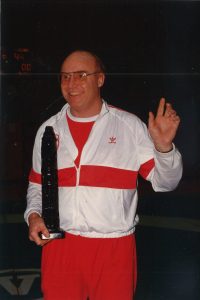 It was from Oregon that Bill brought up Jim Pond to coach wrestling at SFU. Later Jim and Bill brought up Mike Jones to coach at SFU, and Jones turned the Burnaby Mountain Wrestling Club into a factory churning out countless international wrestlers for Canada for years.
As his reputation grew, Bill became more involved at higher levels of wrestling, working with the BC provincial team and the Canadian national team, all the while funneling the best wrestlers he discovered at the high school level to SFU and then the BC team and finally the national team.
He served as a director of the BC Amateur Wrestling Association from 1970-76 and as president from 1976-80. In 1976, he became a director of the Canadian Amateur Wrestling Association and later served as president from 1984-86. After he stepped down as president, he received the prestigious Air Canada Sports Executive of the Year Award in 1987.
Through it all, Bill remained doing what he loved most—coaching. And this love took him to events and tournaments around the world:
• 1975 coach, world junior wrestling championships, Haskovo, Bulgaria
• 1978, coach/manager of the Canadian wrestling team in Goteborg, Sweden and Lausanne, Switzerland
• 1979, coach of Canadian wrestling team CAC Tour, Moscow, USSR
• 1980, appointed manager of Canadian Olympic wrestling team for 1980 Olympic Games in Moscow (did not attend due to western boycott of Games)
• 1983, manager of Canada's Pan American Games wrestling team, Caracas, Venezuela
• 1985 & 1986, team leader of Canada's national wrestling team at the World Wrestling Championships, Budapest, Hungary
• 1986, coach/manager, Canadian wrestling team, Commonwealth Games, Edinburgh, Scotland
• 1988, manager, Canadian Olympic wrestling team, Olympic Games, Seoul, South Korea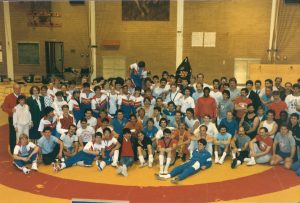 The athletes Bill coached over the years number in the hundreds if not thousands. They often kept in touch with Bill over the years and many returned to Centennial for emotional reunions.
"He always went back to coaching his athletes at Centennial, knowing that his work with those students had the most impact," said Cathie. "He loved them and they loved him. He made them better men and they made him better."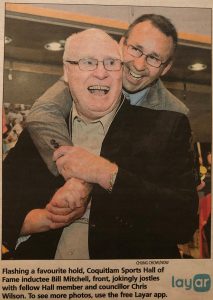 One of Canada's greatest freestyle wrestlers, Coquitlam's Chris Wilson, a two-time world championship medalist, always cited what Bill did for him on his way up. Another protégé of Bill's was Chris Rinke, bronze medalist at the 1984 Olympics. Many of Bill's wrestlers went on to remarkable careers in fields and sports far removed from wrestling. Chris Gill became a BC high school champion in wrestling before going off on a hall of fame professional lacrosse career. Dan Payne is best known as a BC Lion, but was earlier coached by Bill. Another was Dean Shmyr who later played pro hockey. Maybe the largest man Bill ever coached was John Tenta, who later became a sumo wrestler in Japan for a time and wrestled as 'Earthquake' in the World Wrestling Federation. All acknowledge the impact Bill Mitchell had on their lives.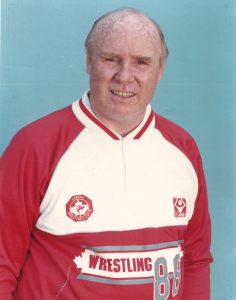 To coach his athletes to the pinnacle of world sport and to develop them into well-rounded, confident and contributing members of society was Bill's lifelong passion. No achievement represented this better than participating in the 1988 Olympics Games, which he often called his proudest moment. Walking into the Seoul Olympic Stadium during the Opening Ceremonies as the Canadian wrestling team's manager alongside wrestlers he'd nurtured and developed over many years was almost too much for him. Bill had tears in his eyes as he waved to the cheering thousands in that stadium. Millions more watched on TV including an army of his athletes thrilled for the man who was so much more than a coach for them.
Bill Mitchell will be inducted into the BC Sports Hall of Fame in the Builder category as part of the Class of 2020 Induction.