Cleve Dheensaw: A Full Circle Story – 2020 Inductee Spotlight
June 11, 2020
By Jason Beck
We've all watched or witnessed the scene before. A championship-winning athlete takes his or her place at the post-game media conference podium or is surrounded by press in a post-event media scrum. The assembled media clamour for quotes on how he or she pulled out the victory, what they felt, etc. But how often have you seen that athlete ask for a media member by name and turn the spotlight on them? It never happens. It's always the other way around.
Here's an extraordinary exception. And it illustrates the impact Cleve Dheensaw has had covering Vancouver Island sports for nearly four decades for the Victoria Times Colonist.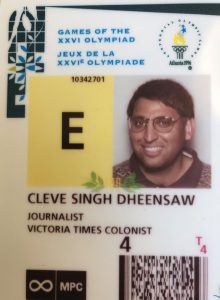 It's July 27th, 1996 at the Olympic Press Center at Lake Lanier northeast of Atlanta. The Olympic rowing events have gone ahead despite an early morning bombing at Atlanta's Centennial Olympic Park that killed one person and injured dozens of others. Victoria's Derek Porter, a 1992 Olympic champion as part of Canada's men's eight crew and a favourite to win gold in the single sculls here, has finished a disappointing second, taking a silver medal behind Switzerland's Xeno Müller and ahead of Germany's Thomas Lange. A healthy contingent of Canadian media are in attendance to record Derek's thoughts on the race. Among them was Tom Hawthorn, then writing for The Province and later a long-time award-winning writer for the Globe and Mail.
"It was a discombobulated morning," remembered Hawthorn. "Porter comes in, looks dejected (and tired). He scans the crowd and asks, 'Where's Cleve?' He then goes on to talk about how Cleve had covered him since he was a boy, how Cleve would be the only reporter on hand as he and other rowers trained in the cold dawn on Elk Lake, how Cleve covered amateur sports even in non-Olympic years."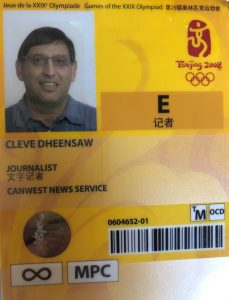 Many nationally prominent sportswriters covering Porter—and rowing for that matter—for the first time sat there silently in amazement as Porter, in one of the few moments in his career where he'd have a national and even international audience, singled out Cleve for the decade-plus of tireless work chronicling the arc of his career.
"I can't recall an athlete delivering such praise after an event," Hawthorn said.
In a phone interview with Cleve in early January, I asked him about this moment. He shyly brushed it off, deflecting the focus back onto Porter and his rowing career. But then he quietly added that this wasn't the only time this happened. It also occurred in 2008 at the Beijing Olympics with another Victoria rower, this time after David Calder had won silver in the coxless pair.
"Well I grew up here so I knew a lot of the people right?" Cleve explained matter-of-factly. "These are the people you grew up with. As you got older, these are the kids you got to know through sports who are coming up. You see their stories through. And you get to be the chronicler of that. Every area or region needs a chronicler or storyteller to tell the various stories whether it's business or the arts or drama. It's been a privilege to be one of the chroniclers of sports on the Island. To do that for 40 years is a real honour. I see myself as a storyteller of Island sports stories and a chronicler of them."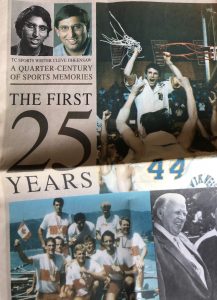 That's Cleve Dheensaw in a nutshell. For decades quietly chronicling in the background, covering every sport imaginable on Vancouver Island, shining the spotlight on amazing amateur athletes who themselves are often toiling away anonymously for years before their moment arrives. No sportswriter in Canada has covered a similar sized region for so long so well, so thoroughly, and without the slightest hint of ego. When asked who his writing influences are Cleve notes Randy Starkman, the revered amateur sports writer for the Toronto Star, as one. Well, it's safe to call Cleve 'the Randy Starkman of Vancouver Island and all BC' considering the number of remarkable Island stories he has elevated to provincial and national attention.
Consider his resume.
Since 1981, he has reported and written for the Times Colonist. He covered three Olympic Games in person (Atlanta 1996, Beijing 2008, Vancouver 2010) and was slated to be in Tokyo this summer covering the Games before their postponement due to the Covid-19 pandemic. He also covered six Commonwealth Games (Auckland 1990, Victoria 1994, Kuala Lumpur 1998, Manchester 2002, New Delhi 2010, Glasgow 2014) and the 2015 Pan American Games in Toronto. But even if he wasn't tasked to travel there himself, he covered every Olympics and other major international events from afar as if he was there because Island athletes perennially represent Canada worldwide. Credit to Cleve's coverage is that most times readers couldn't tell the difference.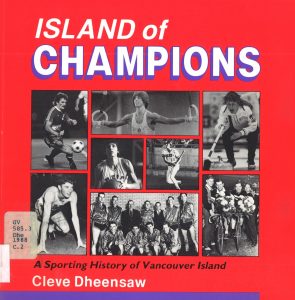 "I remember once someone asked me 'When did you get back from Athens?' I said, 'I wasn't there [at the 2004 Olympics]. It just seemed that way,'" he chuckled at the memory. "We cover them big-time even if we're not there."
To date he has written six books on sport:
–Island of Champions: A Sporting History of Vancouver Island (1988)
–Lacrosse 100: One Hundred Years of Lacrosse in British Columbia (1990)
–The Commonwealth Games: The First 60 Years 1930-1990 (1994)
–Olympics 100: Canada at the Summer Games (1996)
–Celebrate The Spirit: The Olympic Games (Children's book, 1996)
–Simon Says Gold: Simon Whitfield's Pursuit of Athletic Excellence (2009)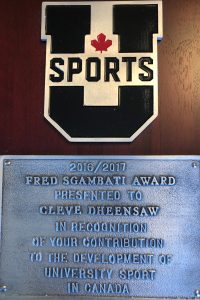 In 2017, he received two career honours: the Fred Collins Award for outstanding coverage of Canada West university sports and the Fred Sgambati Media Award from U Sports for national coverage of Canadian university sport.
The great athletes and teams he has covered over his career could fill a hall of fame and, come to think of it, they literally do. The walls of the BC Sports Hall of Fame are dotted with dozens Cleve has featured over the years. Get him rolling and it's a BC sport who's who:
From basketball, Ken and Kathy Shields, Gerald Kazanowski, Eli Pasquale, the remarkable UVIC men's and women's basketball dynasties of the 1980s, Steve Nash.
From rowing, Silken Laumann, Grant Main, Dean Crawford, Kevin Neufeld, Marilyn Campbell, Derek Porter, David Calder, Kyle Hamilton, Kevin Light, Lindsay Jennerich, basically the entire 1984, 1992, 2008 Olympic gold-medalist and 2012 silver-medalist Canadian men's eight crews who were all based out of Victoria's Elk Lake.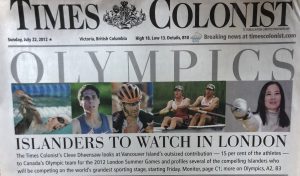 From rugby, Gareth Rees, Mark Wyatt.
From lacrosse, Paul and Gary Gait, Kevin Alexander.
From field hockey, Lynne Beecroft, Shelley Winter Andrews, Nancy Charlton.
From triathlon, Simon Whitfield.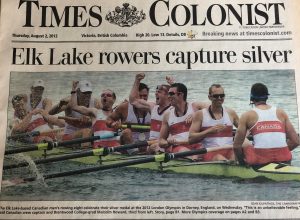 From soccer, George Pakos.
And there are countless others.
"People ask me 'how good is Vancouver Island sport?' and I go 'Well, you just have to say three S's to people: Steve, Silken, and Simon.' And everybody will know who you're talking about right?"
Cleve's interest in sport dates back to his childhood growing up in Victoria. His earliest sports memories include watching the Victoria Shamrocks and Victoria Maple Leafs play lacrosse and hockey respectively at the old Memorial Arena. Cleve himself played lacrosse and hockey growing up, making it as far as Junior B in both sports—as a goaltender in hockey—and got into a few games of Junior A lacrosse before being cut. His younger brother Shawn later won a Mann Cup with the Victoria Shamrocks.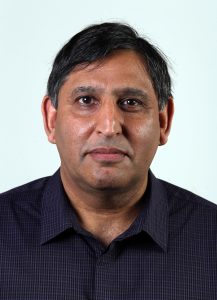 "We were quite a sporting family," Cleve recalled. "Sports were a big part of our background growing up."
His father and mother Jeet and Gurdev didn't play sports, but they were interested in them and loved watching local teams. His grandfather was among the first generation of immigrants who came from India to Canada in 1908 and settled on Vancouver Island.
"We have long established roots on the Island," Cleve explained. "People always ask me 'Why didn't you go to the mainland to write?' Well, I'm just an Island guy. It's home to me."
His first sports hero was quarterback Joe Kapp and remembers watching Kapp's Lions play in the 1964 Grey Cup on television at home. When BC's Bill Munsey picked up a fumble and was running for the end zone, Cleve's uncle jumped on the coffee table in excitement and promptly broke it. Cleve continued following Kapp's career when he moved on to the NFL's Minnesota Vikings in 1967. He remains a lifelong Vikings fan to this day and has watched the purple-and-gold play all over North America.
Another early memory involves the BC Sports Hall of Fame at the Hall's old PNE location in the BC Building.
"The first time I saw it was during the PNE Fair," he recalled. "I remember walking in and there was a huge relief map of BC in the middle of the room. It was unbelievable. But what really got me and I've never forgotten this, was this wax mannequin of Willie Fleming with his jersey on and everything—his real cleats, his real helmet. It really hit me! Never forgot it.
"I also remember a place dedicated to the Patricks and learning for the first time that Victoria won the Stanley Cup in 1925. 'How cool is that?' I thought. The displays on the Pedens, the Chapmans, all the great athletes that came out of Victoria, as well as all the great ones from Vancouver and the Interior as well. What a great history we have here in this province. I'll never forget that first time I visited. And then every time I went to Vancouver I always made a point of going to the old Hall and just looking around and marveling at all the history of sport in this province."
While attending Victoria High School, Cleve began writing for the Camosunet, the school newspaper. Remarkably, Cleve is the third BC Sports Hall of Fame Media inductee to come out of Vic High, the others being the legendary Jim Kearney and Jim Taylor. Like he was for so many BC writers, Taylor became a huge writing influence on Cleve.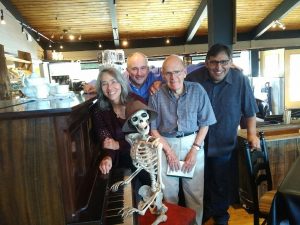 "I think he was probably the greatest Canadian sportswriter of all time because humour is hard to do," he said. "You either have it or you don't. If you don't have it, don't even try it. And it came so naturally for Jim. Sometimes I remember just going, 'Wow, how can he put these thoughts together?' So funny and so telling."
Taylor famously liked to say he was writing for 'Mabel and Fred in Coquitlam,' just an average couple peripherally interested in sports. Cleve took a similar approach to his own writing. "I was writing for a couple in Saanich. How do you get them interested in what's going on locally?"
As Cleve pursued sports through his later high school years and into university, sports writing drifted to the background. He enrolled at the University of Victoria working towards a career as an English teacher.
"But in my third or fourth year I started writing for the Martlet [the university newspaper]," he remembered. "I always liked writing and the idea of newspapers. It just sort of hit me how much I missed writing and how much I wanted to do that."
As Cleve continued on with his teaching degree, he began devoting more of his time to the Martlet, covering sports and entertainment including movie reviews.
"I was actually starting to spend more and more time on my Martlet writing than I was on my other schoolwork," he laughed. "So it became almost to the point of barely getting by in school because I became all consumed at the Martlet, which was not for any credit whatsoever."
His timing couldn't have been better. UVIC's men's and women's basketball teams became his first beat and were on the rise as national powers with fascinating figures. He had stumbled onto the biggest sports beat in the city, arguably one of the best in all of BC. After completing his education degree, he worked as a substitute teacher for two years but continued to write for the Martlet covering the Vikes.
Then everything changed one day.
"I was in the Martlet offices and in walked Michael D. Reid, the entertainment writer from the Times Colonist," Cleve remembered. "He said 'Hey you might be interested in this. One of the sports guys, Stan Cooper, he's moving on to the city desk to be an editor and there's an opening in sports. They're looking for a younger go-getter type guy who can cover high school and UVIC.' So I thought, 'Well, that sounds like me.'"
He went in for an interview at the TC office with editor Gordon Bell and chuckles today at how unprepared he was.
"Gordon said, 'Do you have any samples of your writing?' And I remember tossing onto the desk all these clippings of articles I'd done for the Martlet. They were all creased and yellow and accordioned and Gordon held one up like a dirty dish rag. 'That's fine,' he said, 'Just leave it with me.' I thought I'd never get hired. The next day I got a call, 'Can you start Friday?' I remember saying, 'No, I'm busy Friday.'"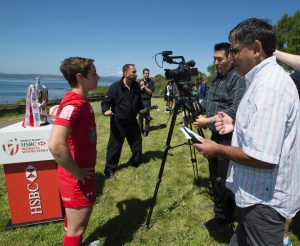 Busy? Too busy for the break any budding sportswriter would die for?! Cleve laughs at the memory. "There was a party I wanted to go to that night! That was funny. You often don't realize what's being offered to you when you're young."
An awkwardly long thirty seconds of silence followed as Bell probably contemplated his sanity before replying. "'Well, would Saturday be more convenient for you?' Then I said, 'Yeah, that's better.' So I started on a Saturday night at the Times Colonist, September 19th, 1981."
And Cleve has been there ever since.
"It's so strange how it turned out," he marveled. "What I went to UVIC for—a teacher—I never became. What I took up as a hobby, became my career."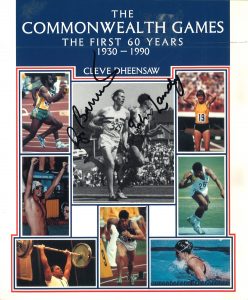 His first story for the TC was on a young UVIC cross-country runner, Debbie Scott-Bowker, who went on to run for Canada at three Olympics. He shakes his head today at how green he was, unsure how to even book a photographer for the story. Bill Walker, a long-time sportswriter with the Times Colonist going back to when the paper was still two separate Victoria dailies in the 1950s, helped Cleve find his feet.
One advantage was he found himself immersed in an unusually deep pool of remarkable Canadian athletes right outside his doorstep. There were the UVIC basketball teams of course, both in the midst of long national championship dynasties and it's fitting that one of those UVIC teams, the 1979-80 men's Vikings, are being inducted in the same year as Cleve, who cut his sportswriting teeth covering them. But in his first three years of coverage, there were also over fifty Vancouver Island-based athletes who would go on to represent Canada at the 1984 Olympics. There was no shortage of stories as long as one kept moving and Cleve never stopped.
Two stories from his career stand out for him personally. One is a series on George Pakos, a local amateur soccer player from Victoria playing in the Vancouver Island Soccer League. To everyone's surprise he walked on to the national team and then went on to score two goals for Canada in World Cup qualifying prior to the 1986 World Cup. His day job in Victoria was as a water meter reader. To play for Canada in the World Cup in Mexico he had to use holiday time from his work. "People joked about not flushing the toilet while George was away," Cleve laughed. "That story really stands out for me for its uniqueness and the fact that it could never happen again."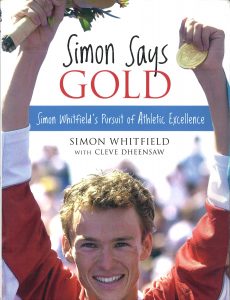 The other story he considers the best he's ever written is on Simon Whitfield's unexpected Olympic gold medal in triathlon's Olympic debut at the 2000 Sydney Olympics. While every other writer in Canada was scrambling to piece together who this Simon Whitfield was, Cleve had already filed his story, a detailed background feature that made the TC's front page and was the envy of every writer in the country.
"Simon's win came out of nowhere," Cleve remembered. "No one had ever heard of him except me. I was able to turn that story around in a really short amount of time, a complete look at this guy, because I'd been covering him for three years. Maybe it was my best work because it made the front page."
Today, he's still typing away, just as he did forty years ago with no plans of stopping just yet. The changes he's seen in the industry have been dramatic, especially in recent years with the shrinking of sports departments. When he started, the TC had 11 people working in sports. Today, it's just Cleve and the Times Colonist sports editor, Brian Drewry. But there are still plenty of Island sports stories to chase and he's lost none of the passion that's carried him this far. The difference is now he viewed as much a legend as many of the athletes he writes about.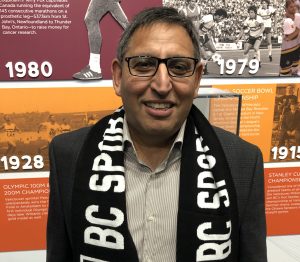 "I have never been out with Cleve at a sporting event or a pub where we have not been interrupted by a reader or a coach or an athlete. He knows everybody on the Island and he's loved for it," summed up long-time friend Hawthorn.
Cleve's induction into the BC Sports Hall of Fame this year as the 21st Media inductee is significant for the fact he is the first media inductee who spent his/her entire career outside of the Vancouver media market. "I'm really proud of that," he says simply.
His induction is also a full circle story, going back to those early visits to the original BC Sports Hall of Fame at the PNE.
"If you'd have told that 13-year-old kid, walking into the BC Sports Hall of Fame and seeing Willie Fleming and all these heroes, the Patricks, all the heroes of the past in BC, and some genie tells you that one day you'll be in this Hall too, that young kid would have never believed you in a million years," he marvels today. "I was an average athlete, right? So what could I have possibly done? It was beyond my comprehension. When I got the call, I was like 'Whoa!' All these memories came rushing back. Wow. Being in that Hall, when you've grown up here in BC, it means that much more."
Cleve Dheensaw will be inducted into the BC Sports Hall of Fame in the Media category as part of the Class of 2020 Induction.