1979-80 UVIC Vikings Men's Basketball: 'You Can't Stop a Train' – 2020 Inductee Spotlight
May 14, 2020
By Jason Beck
Going into the 1979-80 season, the University of Victoria Vikings men's basketball team was feeling the pressure for the first time. The Vikes had come agonizingly close to winning the national title the previous two years, losing in controversial, heart-breaking circumstances in the national semifinals in 1978 and then edged by five points in the national final in 1979. They began the 1979-80 season ranked number one in Canada and were the team to beat. Now all they had to do was deliver.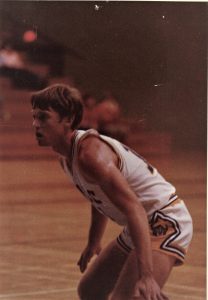 "Just about everyone was returning and there was great expectation," remembered Ian Hyde-Lay while sitting down at the Langley Events Centre earlier this year of his time as a fifth-year Vikes guard and team captain.
"It was almost like every year we kept taking steps and we were ready to win in '79-80," agreed Chris Hebb, then a fifth-year forward, during the same interview.
There was pressure, but just about everything finally fell into place that season for the Vikes. They had one of the great coaches in Canadian sport in Ken Shields who was just coming into his own. They had emerging young talent like Eli Pasquale, Gerald Kazanowski, and Kelly Dukeshire. (Pasquale and Kazanowski would go on to be long-time pillars of the Canadian national team.) They had experienced veterans who'd been around the block and were hungry for a championship like Hyde-Lay, Hebb, Ted Anderson, and Reni Dolcetti. They had an American import in Billy Turney-Loos who could provide offense in a way no one at UVIC had seen before.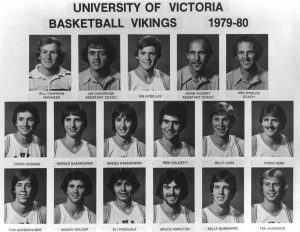 They had the support of the university administration and student populations behind them. McKinnon Gym was regularly packed with 2000 amped up fans fueled by the raging urgings of the team's mascot Jim Hubbard, otherwise known as 'The Mad Viking.' They had great coverage locally in the media and soon became the marquee sports beat in Victoria, one that a young Cleve Dheensaw, then a cub sports reporter at UVIC's university newspaper the Martlet and later the Times-Colonist, latched on to. (Fittingly, Dheensaw is also being inducted in 2020 in the Media category.)
Short story, the Vikings had it all and had everything going for them.
"A bunch of pieces got put together at exactly the right time in the history of the program," emphasized Hebb, who'd seen the team's steady rise first-hand after coming to UVIC from his hometown in Prince Rupert.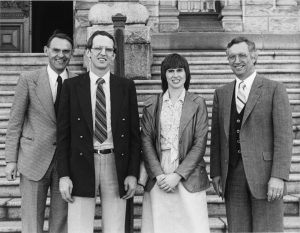 The team's motto was coined by Turney-Loos and summed up everything for that team: "You can't stop a train." It was perfect. They had been gathering speed and momentum for years. They were loaded up with expectations and experience and the drive to win it all. The players screamed this rallying cry in unison after many big victories that year.
And like a freight train pulling a long chain of heavily loaded boxcars, the Vikes' success didn't just come together overnight.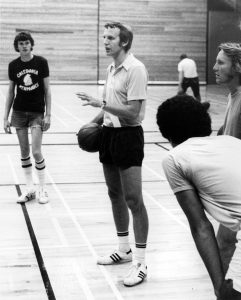 Shields was three years into his tenure at UVIC by 1979 and his fingerprints were all over virtually every aspect of the program's remaking. He had elevated their offensive and defensive systems to new levels of complexity, while improving the on-court intelligence and individual skills of each one of his players.
"Ken invested enormous amounts of time in you as a player," explained Hyde-Lay. "What to do. How to do it. And the biggest thing was why it had to be done like that. Players understood how to play because of what we learned from him."
"He was incredibly specific in his coaching," agreed Hebb. "This is where you put your feet on this play. This is exactly how you do it. You don't do it any other way. This is exactly how you guard the post. He required perfection."
Shields also enforced a deeply-engrained culture of unyielding work ethic and simmering intensity.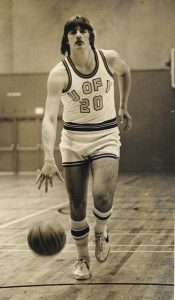 "We had wars in practice," chuckled Hebb. "By the time we got to games on the weekends, it just didn't feel the same because we were playing against our second string, which was good enough to beat most of the other teams in the conference."
Shields would often still play in the practice scrimmages himself, just a few years removed from being one of Canada's best players on the national team.
"The competitive edge came through him and permeated through the whole group," explained Hyde-Lay. "There were some summer scrimmage sessions that were much harder than many of the games in the season."
"Ken literally wouldn't leave the court in practice games," recalled Hebb. "If he did lose, then he'd stay there until he won. And you stayed there until he won. That's just the way it was. So he instilled this kind of insane level of competitiveness in us that I'd never seen before."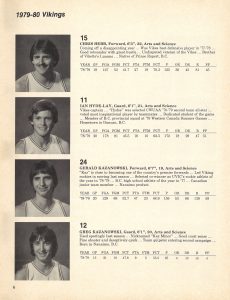 That intensity fed a work ethic perhaps unmatched in Canadian university sport before or since.
"The old saying about 'a team is made in September but a player is made in the summer'—that became the truth," explained Hebb. "The work that happened in the offseason on individual skills and being in the gym just beating the crap out of each other, it's what really grew the team into what the level it was by the time the season arrived. The gym was always open. And we were always there."
The Vikes practiced every day and finished each practice with a timed four-mile run. If a player wasn't improving his time each run, then you had to extra fitness work—as a team. It's remarkable how motivating this was for each individual to not let his teammates down. And when your fitness is superior from the get-go it's such an advantage in any team sport.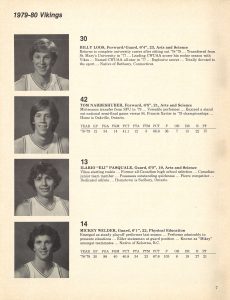 "Fitness was one of the ways Ken controlled us," said Hyde-Lay. "You'd walk out onto the court in the fourth quarter and look at your opponent and just go, 'You're in trouble.' We're better organized. Faster. Fitter. That was just such a great space to be in as a confidence builder."
On top of all of this, Shields had also created a climate of togetherness in the UVIC basketball program. The theme song of the men's and women's basketball teams at that time could very well have been Sister Sledge's 'We Are Family' which began climbing the Billboard charts to #2 in the spring of 1979. Ken coached the UVIC men, while his wife Kathy coached the women's team. Two of Kathy's players were Carol Turney-Loos (married to Billy Turney-Loos) and Luann Hebb (Chris Hebb's sister). On top of that, the assistant coaches were Norm Vickery—Ken's high school coach from Prince Rupert—and Jim Duddridge—one of Ken's former UVIC players. And with just a few exceptions most of the players were from Vancouver Island. In short, the teams were tight and united.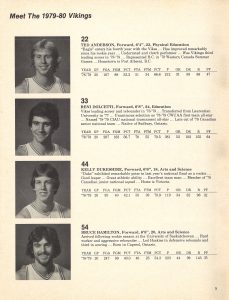 "We were all together as UVIC athletes," remembered Hebb. "There was no men's team and women's team separation. Then to have my sister win the national championship one week and for me to win it the next, I mean my parents couldn't believe it."
Perhaps not surprisingly, the UVIC women were just as successful as the men that year and about to embark on a dynasty of their own under Kathy Shields.
For the men, as the Viking train left the station they did suffer a few bumps before Christmas 1979 losing a handful of tournament games. But once the Canada West regular season was underway, they were all business, winning a remarkable 20 straight games to become the first team in UVIC history to go through Canada West play undefeated, an accomplishment only a handful of schools have ever accomplished. It was a run described as 'magical' by Hebb and Hyde-Lay. If the Vikes ever were threatened they always seemed to know they had another gear and could close things out for the 'W.' They then breezed through the playoffs as well without a loss and advanced to the CIAU national championships in Calgary.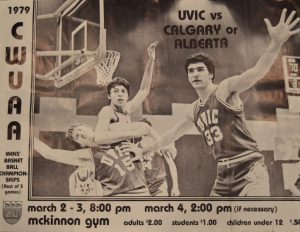 In the national tournament's first round the Vikes faced the University of Windsor. The Vikes players were shocked pre-game when Shields shared his plan to match up their leading scorer, Turney-Loos, one-on-one on Windsor's top scorer. Turney-Loos wasn't known as a strong defender, but he did a great job shutting down Windsor's key offensive weapon as UVIC took the victory 93-75.
Next up was a rematch of the previous year's national championship final as UVIC faced defending champion Saint Mary's Huskies. Exorcising any demons haunting them from their national final loss, the Vikes ran away from their arch rivals, taking a 91-75 victory to advance to the national championship game for the second straight season. There they faced number-one-ranked Brandon University.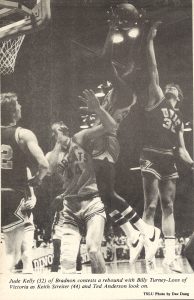 They had shouldered the pressure well all season, but perhaps for the first time it began to wear on the Vikes. In the first half, they seemed tight and tentative, made uncharacteristic errors, and missed free throws. Those magical, effortless games from earlier in the season seemed a million miles away, but in the second half the mental toughness instilled in them by Shields turned the tide against a very strong Brandon team. Turney-Loos began to heat up and injected his winning attitude into his teammates. Everyone raised their games, particularly Reni Dolcetti, who began dominating inside. Ultimately, although they never quite hit their stride in this game, they did what all great teams do: they found a way to win, edging Brandon 73-65 to capture UVIC's first-ever national basketball championship.
"We won the game, it was a deserved win, but it was a relief when we won," summed up Hyde-Lay. "There was a lot of pressure on us."
Turney-Loos and Dolcetti were named CIAU tournament All-Stars, while Dolcetti was also named the tournament MVP and Turney-Loos a CIAU First-Team All-Canadian. Shields was named CIAU coach of the year.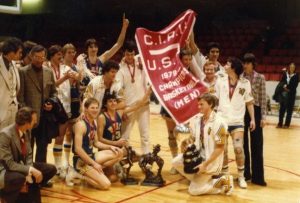 The national title opened an unprecedented run of success for UVIC as this marked the first of seven straight national championships won under Shields. You read that number correctly. It stood as a Canadian university record until matched recently by the Carleton University Ravens.
Asked to place the 1979-80 UVIC Vikings in some sort of historical context, Hyde-Lay, who went on to become one of the most revered high school rugby and basketball coaches in BC history at St. Michael's University School, is unequivocal in his response: "I'm biased totally, but I think it's the best CIAU/CIS team that's ever been on the floor."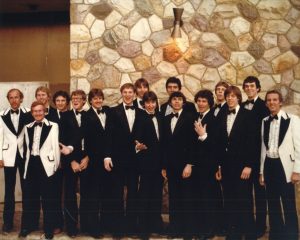 You won't get any argument on that from Hebb, currently the commissioner of the BCHL after impressive stops along the way at CKVU's Sports Page, Orca Bay Sports and Entertainment in Vancouver, and Maple Leaf Sports and Entertainment in Toronto.
"For me, the first probably 23 years of my life were just dedicated to this game. And then for Ian and Ted Anderson and Robbie Parris and Reni and Eli and Gerald and for everybody to end up in one place, that's what it took. That's what a hall of fame team is. Drawing from all of these different disparate backgrounds, but coalescing for the period of time that you needed to be uniquely regarded in history. That's the way I see that team. There will never be another 1979-80 UVIC Vikings and I'm really proud that I was on that team."
The 1979-80 University of Victoria Vikings men's basketball team will be inducted into the BC Sports Hall of Fame in the Team category as part of the Class of 2020 Induction.