Kevin Alexander: Lacrosse's Goal-Scoring Magician – Black History Month Feature
February 24, 2021
By Jason Beck
Steve Nash listed him among the five athletes that he idolized most as a boy. Victoria sportswriter Cleve Dheensaw wrote that he "was to lacrosse what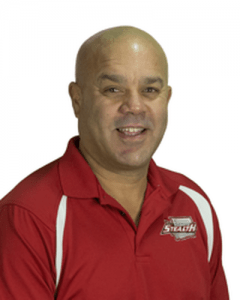 Nureyev was to ballet, Gretzky is to hockey, and Fellini to film." Others have called him the best pure goal scorer they ever saw in lacrosse—both box and field—a magician with the lacrosse stick who could seemingly stickhandle out of any danger and then use otherworldly vision to locate the open man or open corner of the net at will.
His career was short compared to many of his fellow lacrosse legends, but in that time Kevin Alexander left an enormous impression on a generation of Canadian lacrosse fans.
"When I was growing up, I didn't think I'd become some kind of superstar," he recalled during a 2013 interview we conducted prior to Kevin's induction into the BC Sports Hall of Fame. "But the more I played the better it seemed I got and scored goals. You get used to thinking, 'Well I better score four goals tonight or we're not going to win.' I was lucky enough to do that most of the time."
While his lacrosse accomplishments have earned induction into the Canadian Lacrosse Hall of Fame, the Greater Victoria Sports Hall of Fame and of course the BC Sports Hall of Fame, his name often goes unrecognized outside the lacrosse community. We'll take a deep dive into Kevin's career in a moment. Being Black History Month, it's also timely to point out an even lesser known fact: Kevin is a descendent of one of the earliest black families to settle in BC.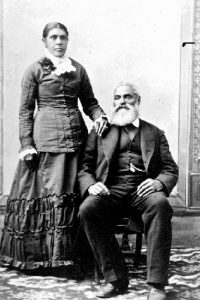 Kevin's great-grandparents, Charles and Nancy Alexander were free blacks from St. Louis who in 1855 travelled with their children overland by oxen-pulled wagon caravan to the goldfields in California. Finding no gold there, in 1858 they journeyed by steamboat north to the tent city of Victoria settling on a site in what later became the downtown core. Charles used his earnings from a more successful gold panning experience on the Fraser River to purchase land in South Saanich where the Alexanders farmed and eventually raised 12 children. He later built the first school and church in South Saanich and served as one of the first preachers. According to the BC Black History Awareness Society website, by 1992 over 400 Alexander descendants could be traced including Kevin and his family who still proudly carry the Alexander name in the Victoria area over 160 years later.
"It wasn't something that was beaten into my brain all the time, but yeah, we always knew that they were the first black settlers in the area of Victoria," he said by phone this month from his home in Victoria, a hint of pride detectable in his voice. "When I was a kid growing up, everybody knew who the Alexanders were, everyone knew us, so we were accepted. It wasn't a big deal."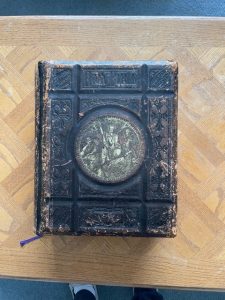 Besides carrying on the Alexander name, the most visible reminder of his pioneering great-grandparents is the Alexander family bible which Kevin is in possession of, brought here across the continent by Charles and Nancy 163 years ago. It lists every Alexander child born to date in a family tree going back to 1824.
"It's a big thick old thing, about a foot wide and tall and four inches thick. I don't know why but it's always supposed to go to the youngest son of the youngest son, so that it was kept up. That's why I have it. It's pretty neat."
Kevin's father Ken Sr. was born in Victoria and ran Alexander's Chimney Service, a chimney cleaning company, for over 35 years. He married Kevin's mother Helen, a white woman who grew up in Moose Jaw and worked for BC Ferries for many years running their newsstand. Although the family was a long entrenched part of the community, examples of racial abuse did occur from time to time. Kevin and his two brothers, Ken and Frank, and sister, Karen, avoided the worst of it.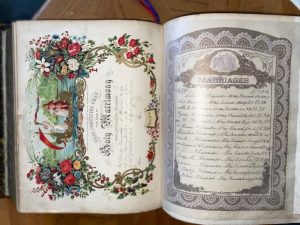 "Well there were certainly some things my mom put up with," he recalled. "She's white, married to a black guy, that didn't always go over big wherever they went, but in general I don't have any of those nightmarish stories. Some of the stuff you live with as you grow up. You could always tell. That guy doesn't like me for some reason and you know what the reason is and you can feel it. But people were never brutal by any means where I was concerned."
The Alexanders were a hard-working, sports-mad family that especially loved lacrosse. All the boys played from a young age all the way up to Sr. A with the Victoria Shamrocks and Ken Sr. seemed to be at every game in town.
"My dad never played, but he was just like a number one fan around here," remembered Kevin. "As a kid we used to go to Shamrock games every Wednesday and basically I knew every player. There was also a really good Inter-City Senior B league that usually played double headers on Sunday nights at Memorial Arena—Port Alberni, Nanaimo, couple Victoria teams. My old man, he loved it, so we went to all the games."
With his dad and two older brothers living and breathing the sport, it was inevitable that Kevin would follow their lead into it as well. He began playing organized minor lacrosse at age five but was tossing the ball around well before that.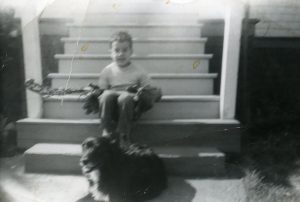 "In the summertime throwing the ball around the yard, my brothers had to watch over me, so I just tagged along with my stick as well," he chuckled. "I wish we had pictures of our old house because we beat the crap out of it with lacrosse balls."
It wasn't long before lacrosse was the center of his world.
"That's what we did in the summer. We would play lacrosse or we'd play baseball. And that's what we did just about every day for a long time. And I think that's why we got so good at it. It's not like we'd be playing video games like you see nowadays. When you got up, you'd go outside and play and you'd come back before dark and couldn't wait to do it again!"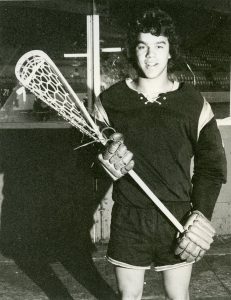 Every Saturday morning Kevin and his buddies would go down to Stevenson Park near Victoria High School and depending on where they lived slip on either a blue sweater for Victoria City or a red sweater for Saanich and face off against each other.
"We didn't have gloves or helmets or any of that kind of stuff. You'd wear your runners and your gym shorts and you'd just go play."
Kevin and his brothers were always top players from a very young age who quickly earned the respect of teammates and opponents alike with their skill and toughness. If they did encounter any issues on the lacrosse floor, they let their stellar play do the talking in response.
"At times there would be name calling and that sort of stuff but I tended to call it part of the game—I guess it wasn't really," he acknowledged. "You know, if that guy can get me off my game, he's doing his job, so whatever it takes…but it never really worked."
He chuckles knowingly at that last line. Pretty easy to make fun of a guy or call someone racial slurs, but not so easy when he's popping four or five goals a game against you and making you look downright foolish.
"That's exactly right. People say, 'Hey, why do you take that crap from that guy for?' Well, if you look at it, if he gets me off the floor, then I'm losing. He's done his job and I'm the guy that's losing. So you pick your spots."
Luckily, from a very young age Kevin had a ready-made response built right into his game: if someone said something to him, he'd just go out and pot a goal. That would silence just about anybody.
"That was the best part of it because you could do that. Most of the time it worked out okay that way for me."
While Kevin was aware that he was carrying on the proud Alexander name, he may not have known it at the time but he was also following in the footsteps of early pioneering black lacrosse players from BC who blazed a trail for him and others to follow. Sadly those who came before often faced harsh discrimination and abuse whenever they stepped onto the lacrosse field or floor—when they were allowed on it at all.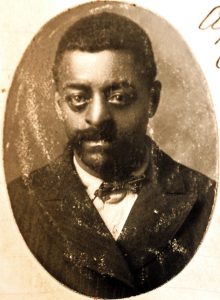 In the early 1890s, one of the great early lacrosse stars in Vancouver was Elijah 'Lige' Scurry, a black player known for his blazing speed and tough, aggressive style of play. In 1891, he reportedly checked a New Westminster player so hard the Salmonbellie ended up stretchered off the field on a door. As Lani Russwurm documented in her Past Tense: Vancouver Histories blog, the BC Amateur Lacrosse Association banned "the playing of Indian or coloured athletes in any match" in 1892, which effectively ended Scurry's lacrosse career. Scurry was the uncle of another Vancouver athlete of legendary speed, sprinter Barbara Howard, a 2012 inductee into the BC Sports Hall of Fame.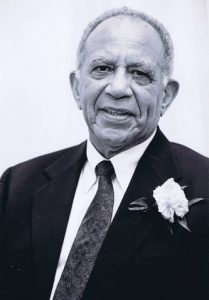 Later, after the colour bar in BC lacrosse was lifted, Ivan Stewart, sometimes called the 'Jackie Robinson of lacrosse,' ran roughshod over hapless defenders for the New Westminster Salmonbellies in the 1950s helping the Bellies to three Mann Cup championships in five years (1958, 1959, 1962). His blistering footspeed and hard, accurate shot were feared, but he was best known for a Muhammad Ali-like shuffle step that he used to lose checkers and find open space. He ended up scoring 301 goals and 441 points in 386 career games and earned induction into the Canadian Lacrosse Hall of Fame in 2005.
As Kevin rose through the minor and junior lacrosse ranks in Victoria, it was clear he was raising the bar for all lacrosse players regardless of background. His brothers Ken and Frank were playing for the Sr. A Shamrocks in the WLA and Kevin wanted nothing more than to join them.
"As a kid growing up in Victoria that was the team you wanted to play for."
He got his chance at a far younger age than most. While his brothers played, he became the Shamrocks water boy at age 13. With the team constantly short of players, he actually suited up for a game the following year at age 14. At 15, he played five games and averaged three goals a game playing against fully-grown men, some of the best lacrosse players in the country.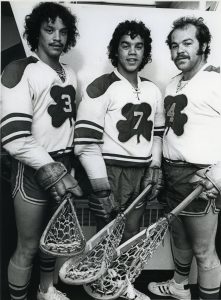 "I was fine, not out of place," he recalled. "My brothers could take care of me."
He wasn't 'out of place' in Junior A either playing for Victoria McDonald's Bread. In his final two years of junior in 1975 and 1976, in 28-game seasons he compiled a remarkable 204 and 217 points respectively. After getting picked up by Burnaby to play in two straight Minto Cup championships which Peterborough won, Kevin led Victoria to the 1976 Minto Cup championship hosted at home, the first time a BC team had won in five years and the first time a Victoria team had won in 14. Kevin was named Minto Cup MVP.
Hardly surprising, he was selected first overall in the WLA draft by Nanaimo and played two seasons for the Timbermen commuting from Victoria for practices and games. The highlight may have been when Nanaimo earned the right to play in the 1978 Commonwealth Games in Edmonton where lacrosse was a demonstration sport. The WLA's top two teams at the season's halfway point were selected to go and Nanaimo sat in first.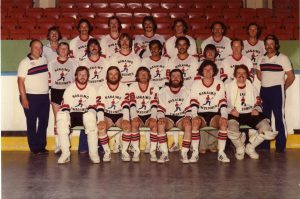 "That was a pretty neat deal. We were fired up for that. So we went off to the Commonwealth Games and life was good. We came back and never made the playoffs! Oh god."
That was typical of Kevin's experience in Nanaimo and he demanded a trade after his second season. In 1979 he was dealt home to Victoria to play for the Shamrocks. In storybook fashion, he scored on his first shift the first time he touched the ball. And from there 'Alexander the Great' never stopped scoring for the next eight seasons as he rewrote the WLA record book.
In exactly 300 career games, Kevin scored 797 goals, added 584 assists, and totaled 1381 points. He played most of his career with nagging knee problems picked up in junior, which ultimately contributed to ending his WLA box career after just ten seasons.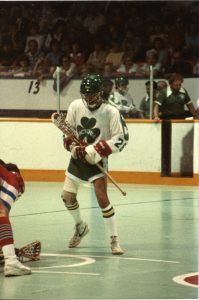 "I wish I hadn't hurt my knee. Would have liked to have seen what I could do if that hadn't slowed me down a little bit. I played hurt a lot of times. Good trainers and good tape jobs. That took some of the fun out of it."
When he originally tore the cartilage in his knee, the doctors removed all of it, which was the standard procedure then. It wasn't long before four or five places in his right knee were rubbing bone on bone.
"That hurt a fair bit," he said in an understatement. There was another reason he stepped away from box lacrosse as well.
"I was also getting tired with the way the game was being played by the end, the way it was being called. I remember one game where I really got mad. There was one guy who was just mauling me, had one arm around me on one side and one hand on my stick. Our coach yelled at the ref, who just said, 'Well, how else are you going to check him?' I thought I must be doing the wrong thing here because that's just goofy. Most games protect their stars right? I mean without them, you're going to be in trouble. I just got tired of the crap after a while."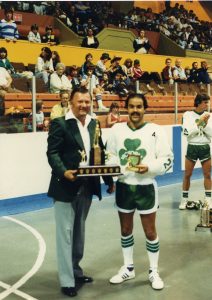 As it was, to this day he remains third all-time in WLA goal-scoring behind only fellow BC Sports Hall of Famers Paul Parnell and Wayne Goss, who played 287 and 165 more games respectively. On a goals-per-game level, no one in BC and Canadian lacrosse history comes close. And even if you didn't see him light the lamp at the Memorial Arena in person, you come to appreciate Kevin's scoring prowess just by glancing at the goal scoring records he holds in the WLA record book (as of 2013):
-Most Goals, Playoff, Lifetime (201)
-Goals in Consecutive Games (48, June 14, 1983 – July 11, 1984)
-Most Game Winning Goals, League, Lifetime (29)
-Most Game Winning Goals, League and Playoff, Lifetime (40)
-Most Goals in One Period (6, 1981)
-Fastest Three Goals in a Game (13 seconds, 1981)
-Fastest Six Goals in a Game (14 minute 20 seconds, 1981)
-Most Hat Tricks, Playoff, One Season (11, 1984)
-Most Hat Tricks, League and Playoff, One Season (24, 1984)
-Most Hat Tricks, Playoff, Lifetime, Excluding Mann Cup (37)
-Most Hat Tricks, Mann Cup, Lifetime (9)
-Most Hat Tricks, League, Playoff, & Mann Cup, Lifetime (156)
You get the idea. There's plenty more and Kevin's in the top-five all-time in many other categories as well despite playing the fewest games of almost anyone on these lists.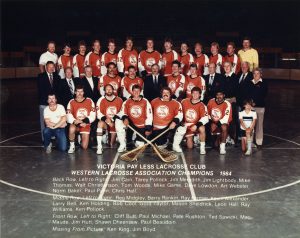 Besides the scoring, he was also a tremendous team player. He led Victoria to two Mann Cup championships, in 1979 and 1983 and one other appearance in the national final in 1984. Victoria always had strong teams in that period with great players like Ivan Thompson, John Crowther, and Kevin's long-time friend since childhood Bob Cool, but Kevin was the critical component. One of his greatest strengths was making his teammates around him better. A lot of that stemmed from Gretzky-life vision, seeming to know where people were going to be before they were there.
"To me, I've always said that's one of the things that made me better is that I had great peripheral vision and great feel for what was going to happen next, around me, beside me, behind me. I don't know how you get it, you just develop a feel for it. You're always on the lookout so to speak and that was one of my strengths for sure."
Speaking of Gretzky and hockey, if Alexander had produced at this clip in Canada's other national sport, he'd have been a millionaire many times over. In lacrosse, especially in the 1980s, the money just wasn't there.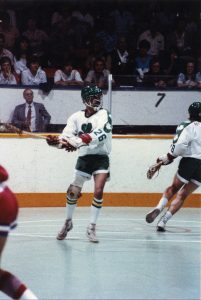 "The players made nothin'!" he laughed. "Some guys were making $100 a game, but everybody worked other jobs. I used to say to the Shamrocks, 'If you guys were paying me a million dollars, this place would be full.' I'm not changing one other thing aside from the fact somebody says, 'This guy makes a million bucks, let's go see what's going on.' I still believe that to this very day."
When Kevin stepped away from box lacrosse in 1986, he focused on field. He'd first played for Canada in field lacrosse back in 1982 at the world lacrosse championship in Baltimore where Canada took the bronze medal.
"As much as you think lacrosse is a big-time sport in Canada, you haven't lived until you've seen lacrosse in Baltimore because it's their number one sport. Unbelievable. I was shaking my head."
Four years later, he suited up for Canada again at the world championship, this time in Toronto. Canada lost to the USA 18-9 in the final. Kevin was named to the All-World team and the tournament's best midfielder. He represented Canada twice more at the worlds in 1990 in Perth, Australia and 1994 in Manchester, England.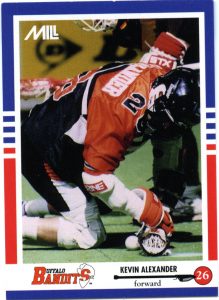 Rarely does a player have so much success in both forms of lacrosse, usually one or the other. The question Kevin is often asked is which did he prefer—box or field?
"Truthfully, it was whichever I was playing at the time. I really didn't have a favourite when I was playing. I probably controlled the game in box lacrosse a little bit better than field lacrosse."
There was a final unexpected coda to his box lacrosse career as well. He had been out of boxla for six years when the phone rang one day in 1992. Buffalo had an expansion Major Indoor Lacrosse League (MILL) team beginning play later that year and were looking for players. The roster deadline was later that day.
"I was sitting at home one summer day and out of the blue they called me: 'You want to come play for Buffalo?' Here I am 35 or 36. I was already in the Canadian Lacrosse Hall of Fame by that time."
It was an intriguing offer but moving to Buffalo for the winter to play wasn't appealing. Kevin turned it down and went outside to mow the lawn. Buffalo called back with another offer to house him for two weeks at a time and then he could return home. He turned that down too and went back outside to the lawn. They called one final time and offered to fly him in for each game and back home after. This time he agreed and the lawn would have to wait for a while.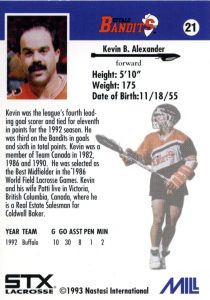 "I was the very first guy in that league to do that. Now they do it every weekend. It was a lot of fun. And I still have a heck of a lot of air miles from that."
He'd leave his house in Victoria at 6:50pm on Friday night, fly out to play Saturday somewhere in the eastern US, and then fly home again by 4pm Sunday. Imagine relating this to his great-grandparents. They crossed the continent by wagon caravan to start a new life and it took them four months; their great-grandson was flying there and back for a lacrosse game in a weekend.
Kevin did that for two seasons as the oldest player in MILL. And like most of his career, success followed him wherever he went. From Kevin's third game on with Buffalo, the Bandits sold out virtually every home game at the old Auditorium, over 16,000 in attendance, and didn't lose a game for the remainder of the season as well as the following season. Kevin was mixed in with many future hall of famers on the roster including a young John Tavares leading the way as the Bandits won the Champion's Cup in both 1992and 1993.
"Got a couple nice rings out of that one," he said fondly. Not bad for something that he almost backed out of.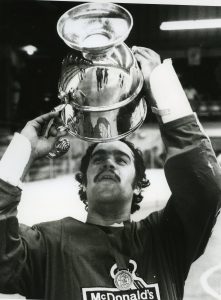 After retiring for good from both box and field in 1994, Kevin turned to coaching. He served as head coach of the Syracuse Smash in MILL and later as an assistant in the NLL with Calgary (2006-07), Portland (2008-09), and the Washington/Vancouver Stealth (2011-18). In 2018, the Shamrocks retired his number 26 jersey, which now hangs proudly from the rafters of the Q Centre in Colwood.
In his day job, Kevin once worked as a postman and for years as a welder in Crofton, Esquimalt, and Wyoming. He spent the last decade or so teaching the trade at Victoria's Camosun College, where he himself went to school to learn how to weld in the 1970s. He officially retired last summer.
"Just in time before all this Covid started. I couldn't have timed it any better honestly."
Knowing now the hardships Kevin's great-grandparents shouldered in journeying across the continent to start a new life here in BC, it's easy to see where Kevin got his will and determination that was so evident on the lacrosse floor and pitch. He comes by it honestly.
"I was one of those 'never give up' kind of guys I can tell you that. Lots of the successes we had, you just can't give up. You might be down, but you're not out. And that goes for anything in life."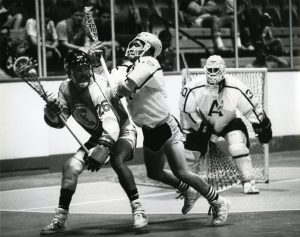 No doubt great-grandparents Charles and Nancy Alexander, as well as over 400 other Alexanders listed in the family bible who came after, would smile with pride and nod their heads in agreement: Amen to that.