Brent Johnson: A Canadian With Something To Prove – 2020 Inductee Spotlight
January 29, 2021
By Jason Beck
If you've ever sat in on a hall of fame selection committee meeting you know they are never dull. Votes can flip with the change of an argument, discussions can get heated, and often voting is extremely tight. At the end of it all, you have a brand new class of deserving inductees to honour.
Rarely do we share details of the BC Sports Hall of Fame's annual Selection Committee meetings, but I'm going to make an exception here as a moment from one highlighted the impact Brent Johnson's career had on Canadian football in particular and Canadian sport in general.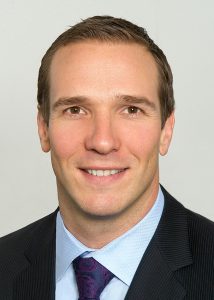 Voting for the final slot in the Athlete category at this particular meeting was incredibly close, in fact so close we found ourselves with a dead heat between several deserving nominees. We needed to break the deadlock. Open discussion among committee members ensued and long-time committee member Ed Willes, then of The Province, put his hand up to speak. Ed argued the case for each of the nominees, but finished with Brent talking about how Brent changed the way we think about Canadian defensive players playing 'skill' positions in the CFL that previously had been almost exclusively reserved for American imports. Ed closed by saying he considered Brent "one of the top two or three Canadian defensive players in CFL history." And Ed would know, having covered the CFL for over 30 years and written about it extensively. The committee voted one final time and Brent emerged as the final Athlete inductee. Rarely can I recall such a decisive shift in voting during a selection meeting, but it speaks to the impact that Brent had on the Canadian game and how Ed was able to crystallize that so perfectly for a room full of knowledgeable BC sport leaders.
If you follow the CFL or the BC Lions, you probably know the basic outline of Brent's career accomplishments. He played 185 regular season games over 11 seasons with the Lions from 2001-11. From his defensive end position, he compiled 225 tackles, a club record 89 sacks, and left an infinite number of winded linemen in his wake, blowing by them in pursuit of the quarterback or ball carrier. He twice led the CFL in sacks, including a career high 17 in 2005. He was also remarkably durable, at one point owning an ironman streak of 184 straight games that only ended when he missed a game to be present for the birth of his son. He was twice named the CFL's Most Outstanding Canadian, in 2005 and 2006, and he stands as the only Canadian in history to win the CFL's Most Outstanding Defensive Player Award, which he received in 2006. He was also a three-time CFL All-Star and a five-time West Division All-Star.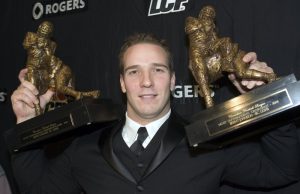 What you probably don't know is how before Brent it would have been almost impossible for a Canadian defensive end to build a resume like this in the CFL. There traditionally were many defensive positions considered 'American' spots by CFL coaches and DE was certainly one of them when Brent broke in with the Lions in 2001.
"I remember thinking, 'I'm going to change the way people think about Canadian football players,' Brent recalled during a phone interview this past fall." Whether it was the defensive end position or just in general. A lot of coaches were coming from the States. It pissed me off early on a few of my coaches were just filling a quota. 'Oh that's right, we've got to put two Canadian players in.' It wasn't like the Canadian talent wasn't there. It was. They just had this thing that [they thought] only good football players could come out of the States. That did piss me off. That did motivate me. When I had my shot I wasn't going to miss it. I was highly motivated and wanted to prove something."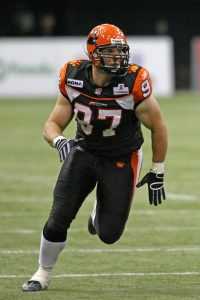 Mission accomplished. See above resume. He successfully pushed back that old way of thinking and remains convinced of the abilities of Canadian players today.
"I'll proudly wave the flag and say a Canadian player can not only come into the CFL and play any position, but they can also dominate it," he said. "That was definitely a driving force for me in my career."
The really amazing thing about Brent's career? It almost never happened at all and his journey to the CFL could have halted at any of half a dozen different points.
Born in 1976, Brent grew up in Greater Napanee, about 30 minutes outside Kingston, Ontario. Like most Ontario kids, beginning at age four every day after school Brent grabbed his hockey stick and joined a road hockey game in progress at the end of his street. "It was constant," he chuckled. "Every day. Through the winter."
Like many, Brent cheered for the Edmonton Oilers in the midst of their 1980s dynasty and his favourite players were Oilers stars Wayne Gretzky and Paul Coffey. He played organized hockey well into his teens. His parents were originally from Nova Scotia and as the only boy among four sisters, football barely registered in the Johnson household.
"We had a football around the house, but it didn't come with a user manual," he laughed. "We clearly didn't understand what it was all about. It was on TV, but it wasn't promoted like it is today. I didn't understand the game at all. Football didn't really even enter my mindset until much later to be honest. I never played until I entered high school."
He attended Holy Cross High School in Kingston and they had a football team. But it took one of his sister's boyfriends who played football to encourage Brent to try out for the team. So he did on the first day of Grade 9.
"I had no clue," Brent recalled. "I didn't know the positions. I didn't know how offence worked. I didn't know defense. I think I knew that a touchdown was 6 points. And that was about it. There was a pile of us, like 90 kids trying out. And somehow I figured out a way to make the team. It was not based on skill, that's for sure."
Success, early on, was non-existent. Brent spent most of the season getting beat up as a tackling dummy in practice.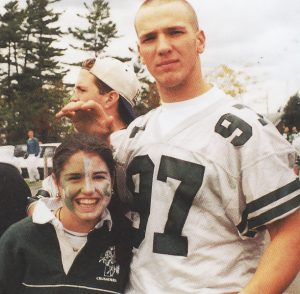 "I didn't come into my own as an athlete until much later," he said. "That Grade 9 year of high school I think I played one down all season. I wasn't good. I wasn't getting better. It was the perfect conditions to not be doing this sport."
And then Brent broke his arm near the end of the season and that appeared to be that. Football wasn't going to work. Time to go back to hockey or try some other sport. But then something weird happened.
"I started growing. I got taller and was getting stronger. I started working out at the gym with friends. I was tired of being picked on."
And Brent went back to give football another try.
"My mindset changed where I think I can go in there and hold my own. The way I grew that summer, it was like I was driving a different machine. Suddenly I was strong, I could run fast, I could catch anyone and tackle them. Suddenly this was really fun."
By his first year of senior football in Grade 12 (Ontario students attended school to Grade 13 then), Brent was an athletic dynamo at 6'3" and 245 lbs. He played both ways, running back on offense and defensive end or linebacker on defense.
"The game at the high school level was fortunately very easy for me in terms of the physicalness and the demands athletically. I kind of had my way out on the field just through sheer size."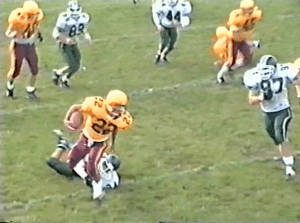 His football coach at Holy Cross, Rob Ball, pushed Brent to pursue football. Interest from dozens Canadian and American universities poured in after Brent's Grade 12 season. After considering several options, he ended up choosing Ohio State, who was the first university to talk to Brent at a combine in Toronto and show true interest. Beginning in the fall of 1996, Brent moved south to go to school and play for the Buckeyes. On the field it was anything but a seamless transition.
"I was back down to being in Grade 9 again," he said. "Literally. Yeah I had the athletic abilities. But to the scope and knowledge that those players had of the game, I was in preschool and they were in university. But it wasn't the end of world. I was kind of a fresh slate to the coaches. I just sat there and absorbed everything and truly learned how to play a position. It was a PhD in learning how to play defensive end."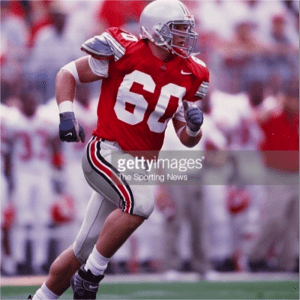 After red-shirting his first year and recovering from ACL surgery, Brent worked his way onto the roster, first on special teams and by his sophomore year had won the starting defensive end position, never relinquishing it until he graduated.
Football was on another level in Ohio from anything Brent had experienced in Ontario. Ohio Stadium held over 100,000 spectators and it would be packed for Buckeyes games every Saturday. Millions more watched on TV.
"I was in a different world in terms of football."
Brent helped the Buckeyes to high national rankings each year, two Sugar Bowl appearances (including a victory over Texas A&M), a Rose Bowl victory in 1997 over Arizona State, and memorable victories over bitter rival Michigan. He even sacked a little-known Wolverines quarterback named Tom Brady, who went on to have a decent career we're told.
Brent and nearly every other senior graduating member from Ohio State in 2001 had a shot or a tryout in the NFL. Although he wasn't drafted, Brent was picked up by the Jacksonville Jaguars for a try-out before getting cut just as the NFL season got underway. By then, he'd been drafted by the Lions in the 3rd round (20th overall) of the 2000 CFL draft and they were encouraging him to come to Vancouver. At the same time, Tampa Bay made Brent an offer for a spot on their practice roster. At that point, his career could have gone in any direction.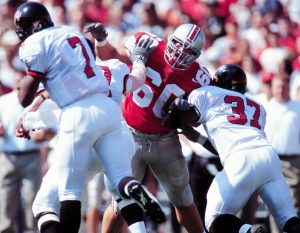 "To be honest with you, after the five years at Ohio State and then getting cut by Jacksonville, I was pretty burnt out on football. I needed to figure out what I wanted not just from football, but out of life in general. What do I want to do here?"
He decided to go up to Vancouver and help the Lions play out the rest of their season. "I'd heard Vancouver was alright. Thought I'd check it out. I heard it was good for outdoorsy stuff. I'd never been to Vancouver."
So on September 11th, 2001, Brent boarded a flight and like many that day across North America didn't get far. "I was on a plane from Ohio with a layover in Minneapolis where I got stuck for seven days after the World Trade Center attacks. Then I made my way to Vancouver, touched down, and didn't look back. But I didn't know what I was getting myself into."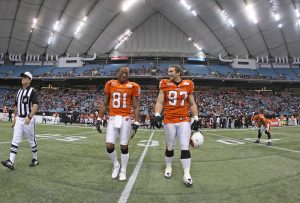 At the very same time, another Lions legend-in-the-making surfaced in Vancouver—'Superman' Geroy Simon. Two of the greatest BC Lions in club history joined within days of one another and changed the course of the team for the next decade. In hindsight, it seems easy to pinpoint this moment as crucial, but it seemed anything but certain at the time for Brent.
"I had a two-year contract and I thought I'd play out the rest of that year and then probably not play again. Walk away from football and see where life takes me."
But something was building in BC and even Brent could sense that, so he stuck around and kept putting the work in to get an opportunity. In 2003, he got his chance.
"Coming to the CFL reignited my love for football. It really did. I was sort of treading water until Wally Buono came here from Calgary. He gave me an actual shot at playing the position I'd always played, defensive end."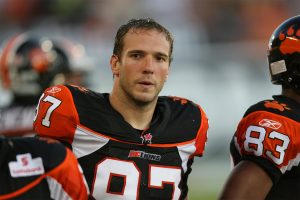 As Brent's fortunes swung upwards, so too did the Lions. Other key franchise cornerstones came on board around that time as well—Angus Reid, Carl Kidd, Jason Clermont, Dante Marsh, Javy Glatt, Dave Dickenson, among others—and the next eight seasons until 2011 may be the best era in BC Lions history.
"We just started getting this group of guys together that were all committed to make this team better. We're going to win games, we're going to put people in this stadium, and we're going to give them something to be excited about. It was definitely a golden time to be with the BC Lions and in this community. It was something special."
After a 13-5 regular season, the Lions made the Grey Cup in 2004 and lost 27-19 to Toronto in Ottawa. After getting released from the Lions just over a year earlier, Damon Allen got his revenge earning the game's MVP award after throwing one touchdown pass and running two more in himself.
"That was a heartbreaker," remembered Brent. It was a sign of better things to come though and many thought 2005 was going to be BC's year, especially with BC Place Stadium hosting the Grey Cup.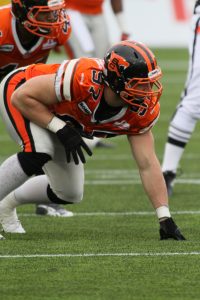 "We were hungry and we wanted to be noticed," said Brent, who had one of the great defensive seasons in Lions history that year. "There were games that year where it wasn't even fair. We blew through teams that year. We had so much talent. And we had a target, a destination, a Grey Cup in our city." The Lions finished with a 12-6 record and earned a bye straight to the Western Final against Edmonton. Then, as Brent admits, they promptly "blew it," losing 28-23.
"We had our revenge in '06," Brent pointed out. That the Lions did. The 2006 season is arguably the single greatest season in Lions history. The Lions finished with the best record in the CFL at 13-5, scored the most points, and allowed the second fewest. Seven Lions were named CFL All-Stars, including Brent; ten were named Western All-Stars. They collected every single major individual CFL award except one, as Brent, Geroy Simon, Rob Murphy, Aaron Hunt, Mark Washington, and Wally Buono all carted off hardware.
"We had so much fun that season," Brent remembered. "We were loose. Dave [Dickenson] was in his prime and it was his team to lead. The Casey Printers/Dave thing had been put on the back burner. We just blew through the schedule, blew through teams. To us, after '04 and '05, we were just at the point where we had to win this thing. We had the team to do it. We had ridiculous amounts of talent. Everyone stayed healthy for the most part. It was like a foregone conclusion. We were going to Winnipeg and we were going to bring home the Grey Cup. There was no doubt in anyone's mind."
And they did, defeating Montreal 25-14.
"I just remember we were so tight. We all got along. It was the most solidified team that I experienced. We were all close. We all played for each other. Everybody loved each other. It was such a joy going to practice and play with them every day. That was one of the best years I remember playing football."
In the seasons that followed, the Lions remained a top team, but were going through a transition and never got back to the Grey Cup. That changed in 2011 with the arrival of quarterback Travis Lulay.
"We had some younger guys learning from our core group of older guys. It was a nice mixture but we got off to a horrible start. Lost the first five straight games early on and six of our first seven. It was really our core group who got together. I remember me, Aaron Hunt, Angus, Travis, Dante, Ryan Phillips, and Geroy saying 'We're not going to have too many more kicks at the can. We've been here a while. I don't know how many more shots as the wily veterans we're going to get at this.' There was just a turnaround of attitude that year and once we got going, got some momentum in the other direction, it was like 'Let's go see what we can do.'"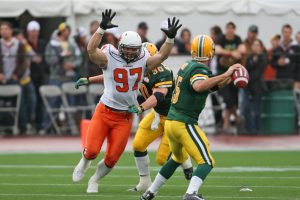 The Lions got on a roll unlike few ever seen in CFL history and won eight straight games at one point to finish 11-7, good for top spot in the West. They took out Edmonton in the West Final and the Grey Cup awaited, back at BC Place that year, refreshed with a newly-renovated retractable roof.
"It just started taking off and by the time we got to the Grey Cup against Winnipeg, there was no doubt in my mind that were going home with the Grey Cup. There was nothing stopping us."
The Lions ended up defeating Winnipeg 34-23 to complete their unlikely dream season, the second and final Grey Cup title of Brent's career. It was a perfect way for the 11-year CFL veteran to go out.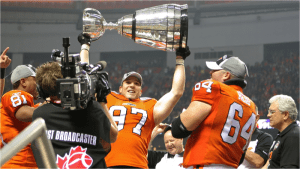 "I was done," he said. "I always wanted to be the person that said, 'I'm stepping away.' I didn't want to be told to leave. I wanted to make that call for myself."
Looking back on those glory years for the Lions remains among his favourite memories in football.
"Getting to play football in this town when it's clicking, it's so awesome. I was so lucky and fortunate to be part of those teams in the 2000s. It was such an exciting time, the fanbase, the community—I'll never forget that."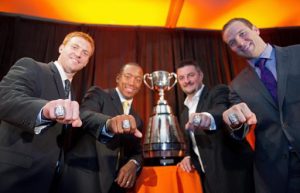 After retiring, Brent and his wife Lara and son Roman stayed in Vancouver and remain here to this day.
"Leaving was never a thought. This was our home."
Today, Brent works for CIBC as an financial investment advisor and portfolio manager.
Getting inducted into any hall of fame is special, but even more so when you're forced to overcome obstacles that threaten to end your career at multiple points along the way. Every small win, every large victory feels earned. Individual awards and accolades, if they come, are an unexpected bonus. That's why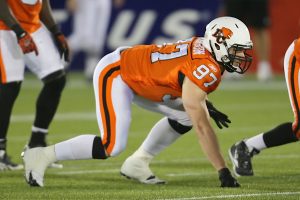 getting inducted into the BC Sports Hall of Fame stands out for him.
"It's surreal. I never thought I'd be here obviously. I never thought in a million years this would be happening to me, even at the end of my career. I never white-boarded this. I never drew this up. I just kept showing up and kept going to games if they'd have me and so to be honoured in this way, to be part of this class that I get to go in with, with the people that came before me, it's a huge honour. And a huge responsibility. You're given the responsibility now of being part of this group of people and you need to hold up your end of the deal. It's pretty special."
Brent Johnson will be inducted into the BC Sports Hall of Fame in the Athlete category as part of the Class of 2020 Induction Class.