Jeff Francis: This Boomer Was More Than OK – 2020 Inductee Spotlight
November 30, 2020
By Jason Beck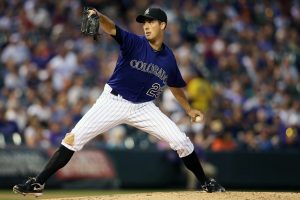 Ask enough great athletes what the favourite moment of their career is and while they're not always predictable, you can usually make an educated guess. An Olympic medal, a championship game, a record setting performance. The answer might seem obvious but you keep asking the question because sometimes an athlete surprises you. Just like Jeff Francis did for me when I spoke with him by phone in September.
"There's a game I pitched in July 2006 at Coors Field against the St Louis Cardinals," Jeff began.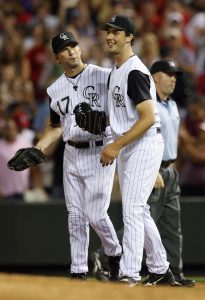 His favourite moment wasn't pitching in a World Series or winning a division title or leading Canada to a Pan Am gold medal—although he does have all of those and we'll get to them in a bit—but rather a mid-season two-hit shutout victory to even his win-loss record at 8-8. July 24th, 2006, a 7-0 Colorado Rockies win to be exact. A gem of a pitching performance no doubt, but upon closer inspection, a game that speaks to his unlikely path to the big leagues, battling every step of the way and then fighting to stay once there.
"I took a perfect game into the sixth inning that night," Jeff recalled. "The hit was a broken bat single that Cory Sullivan our center fielder dove for but couldn't get, a good hit. I think I threw 130-some pitches and the last batter [Chris Duncan] of the game I had quite a battle. It was definitely going to be my last batter. If I didn't get him out, I wasn't going to be able to finish the game. He grounded out to first base and I went over to cover. The first baseman who had just fielded it and touched first was Todd Helton, probably the greatest hitter I've ever seen and a veteran on our team, a guy we all looked up to. He put the ball in my glove and he told me, 'What a pleasure of a game that was to watch.' I still have the picture of him putting the ball in my glove and tapping me on the chest. I have a look on my face like I can't believe I just did that. That, for me, was a cool moment of an older player congratulating you on doing a good job."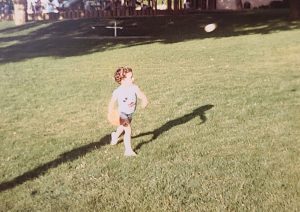 That moment confirmed not only did he belong in the big league, but he had the respect of some of the best in the game. That's pretty special for any Canadian ballplayer. The unlikely road to the Major Leagues was a winding and circuitous one for the lucky few Canucks who followed in Larry Walker's wake in the early 2000s, none more so than Jeff Francis.
Born in 1981, at just a few weeks old he earned the nickname 'Boomer.' His grandfather, a hockey fan, called him 'Geoffrion' instead of 'Jeffrey,' which morphed into 'Boom Boom' before settling on the shorter 'Boomer.'
Growing up in North Delta, Jeff played "every kind of sport that came my way."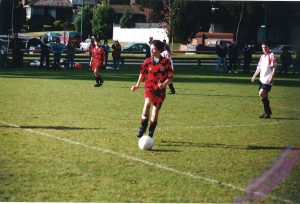 "I was a sports kid," he said. "Depending on the season it was baseball, it was soccer, it was road hockey, it was track and field, anything that came along at school. Sports was my life."
Soccer was his first love and later basketball became his focus while at Burnsview Junior Secondary. Baseball was always there though from age five when he began playing tee-ball.
"Eventually baseball kinda chose me I guess."
It helped his father, Mike, was a huge baseball fan and coached some of Jeff's early teams. Jeff loved watching Jimmy Key pitch for the Blue Jays and he idolized Will Clark and Reggie Jackson. In fact, he even saw Jackson hit a homer and the Angels clinch the AL West Division in person in 1986 during a trip to California.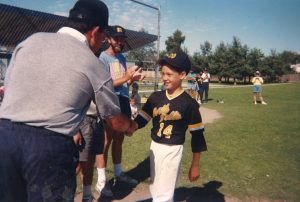 At age 9, Jeff began pitching in mosquito ball, but there were few signs of what was to come.
"I wasn't dominant or anything," he recalled. "I was a kid who knew how to throw the ball and I could throw strikes. I was a good player, but there was definitely nobody predicting that I was going to go on and have a career in baseball."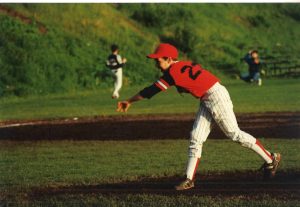 Remarkable to think today, but there actually was a time when Jeff wanted to give up pitching altogether.
"I was about 13 and during the season I took a couple line drives off my leg. It really hurt and I became a little gun-shy on the mound. Then the next year when I moved up to bantam, I didn't want to pitch, but I was too shy to tell my coach that I didn't want to. He put me out there to pitch and I did well, so…I just never quit pitching. [laughs] I was just too shy to tell him."
"Too shy to tell my coach" doesn't come up often in hall of fame pitching career bingo, but, then again, with the determination Jeff displayed climbing the ranks to the bigs, he may very well have made it as a shortstop or outfielder anyhow.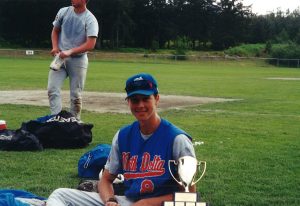 The next step was a critical one: the North Delta Blue Jays of the BC Premier Baseball League.
"To me when I was 15, they looked like big leaguers. They looked huge to me."
Jeff made the Blue Jays at age 16 and played three years for them: over 100 games a season, daily practices and optional workouts, with great coaching from Ari Mellios, Bob Burkmar, and Mike Kelly. It was a huge step up in every way.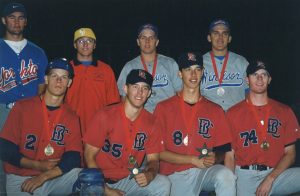 "Baseball became my life at about 16 years old," he remembered. "That team was as well coached as any team I've ever played for. There were some lessons I learned that I took with me until my last day playing baseball as far as discipline and work ethic and how to learn to play baseball. Those are lessons that I try to impart on other kids now that are coming up."
The Blue Jays by that time were becoming a veritable factory turning out a high number of college baseball prospects, some who played NCAA Division 1, and a handful of future professionals like Jeff and teammates Justin Morneau (2006 American League MVP and 2008 runner-up) and Cole Armstrong (10-year minor league career). Later others like current Yankees pitcher James Paxton from Ladner also made the big leagues after starting in North Delta.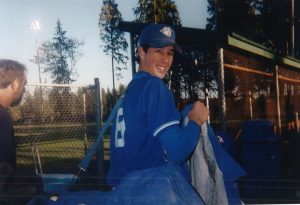 But at that point in his development, the majors seemed so far away for Jeff they might as well have been on Mars. His immediate goal was to play for a US university and even that seemed a stretch. Not many scouts' eyes were turned his way.
"I was a good pitcher, but wasn't lighting up a radar gun. I wasn't catching eyes. I was the kind of pitcher you had to come watch a lot of times to appreciate. I didn't throw hard. I was left-handed. I was tall and really skinny, 6'3" and 130 lbs. I wasn't much to look at on a baseball field I guess. I think if you'd seen me at 15 or 16, you wouldn't have pegged me as the guy to go on to accomplish what I did."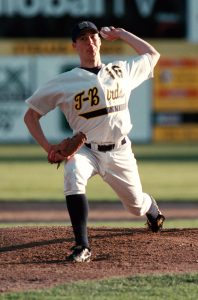 Scholarship offers weren't exactly pouring in. There was some lukewarm interest south of the border, but Jeff's mom Joanne, as moms do, convinced her Boomer to stay close to home and apply to UBC, who had also recruited him.
"It really seemed like the best option for me. I decided on UBC and I'm so glad I did. It just turned out to be the best thing for me. I continue to tell young players, if you're choosing where to go, you should choose somewhere you're going to play. Making mistakes on the field is the best way to learn."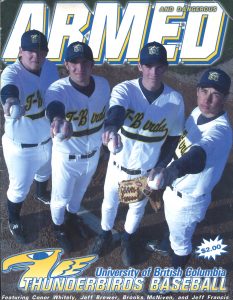 Beginning in 1999, for the next three years, Jeff took the mound for Terry McKaig's Thunderbirds and his development spiked. In his second season at UBC in 2001, he confidence shot up and in his own words he "started to roll." He finished with a 12-3 record, 0.92 ERA, and six shutouts. He carried over that success to the Alaskan Baseball League where he compiled a 7-1 record winning the National Baseball Congress World Series MVP and Player of the Year honours. Suddenly scouts were beating down the door to get a look at one of baseball's top prospects. His subsequent 2002 season was almost as good and only heightened expectations. He wrapped up his UBC career with 11 new team pitching records, twice was named an NAIA First Team All-American and walked off with the Bobby Gaul Award as the university's top male athlete.
"It wasn't something that I saw coming, but I got on a roll and I rode a wave. Next thing I know, I started getting a ton more attention."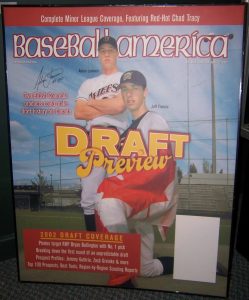 This included landing on the cover of Baseball America magazine (with fellow BC prospect Adam Loewen of Surrey). Ultimately Loewen would be selected fourth by the Baltimore Orioles and Jeff ninth overall by the Colorado Rockies in the 2002 MLB Draft—to this day still the highest Canadian-born players to have been selected by major league clubs.
"That's kind of a cool story: the two highest drafted Canadians picked on the same day. We didn't know one another before that, but spent some time together on Team Canada after. And we've been forever linked since that day in 2002."
From there Jeff began a steady climb up the rungs of the minor leagues in Colorado's system: the Single-A Ashville Tourists of the South Atlantic League and the Tri-City Dust Devils of the Northwest League in 2002; the Single-A Visalia Oaks of the California League in 2003; then the Double-AA Tulsa Drillers of the Texas League and finally the Triple-AAA Colorado Springs Sky Sox of the Pacific Coast League in 2004. Everything came together for Jeff in Tulsa.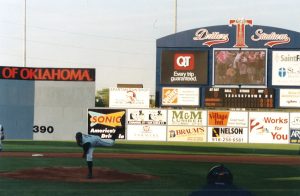 "I struck a lot of people out because I had everything working," he recalled. "Like my second year at UBC I rode a wave that year."
He rode that wave back onto the covers of Baseball America and USA Today as Minor League Player of the Year and all the way to his major league debut with the Rockies. It happened August 25, 2004 against the Atlanta Braves at Turner Field.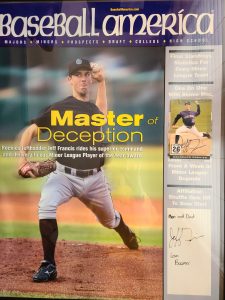 "I remember how much bigger and louder everything seemed as I walked out to the mound. But I had a good outing. I pitched into the 6th inning. I struck out eight guys, but I got myself into trouble with some really great hitters and gave up a three-run homer that knocked me out of the game."
His second major league start in San Francisco was even worse. After so much hype as a top prospect and two bad outings, already questioning whispers of whether he was major league material could be heard in the media. But like so many other times during his rise to this point, Jeff buckled down and came through under pressure. He got his first major league win in his third outing, getting the victory over the San Diego Padres on September 5th and settled in from there, finishing the season with a 3-2 win-loss record.
The following season, having earned a regular spot in the Rockies rotation, Jeff finished with a 14-12 record in 33 starts and 128 strikeouts. The strong numbers hid a constant internal adjustment for the young left-hander.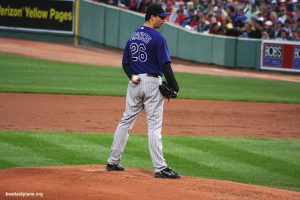 "The pressure of performing in the majors was something I had to get used to. Nobody's comfortable right away—I guess some people are—my first two years, I definitely wasn't. I always felt I had to be better and to prove myself more so that they're not going to send me down, you know? The anxiety and pressure of performing, my first two years I probably did a lot of dry heaving before my starts. Until I got more used to that feeling and was able to anticipate it and use those emotions in my favour, but there was a learning curve on that part."
The 2006 campaign was another strong one for Jeff with a 13-11 record and 117 strikeouts in 32 starts including that complete game shutout over the Cardinals where Helton presented him with the game ball. He was a bona fide big league starter, fast becoming the ace of the Rockies pitching staff, whose strength on the mound stemmed from his control.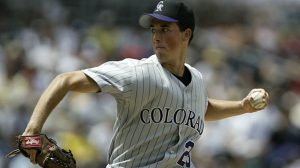 "Even as a 10 or 11-year-old pitcher, I remember trying to move the ball from one side of the plate to the other. As I got older I learned about pitching inside or pitching outside. That was always my strength, being able to control the ball. The story of my career was never about striking people out. It was commanding the ball, moving the ball around, and frustrating hitters."
He was also part of an unprecedented wave of Canadian big leaguers distinguishing themselves to levels never before seen. Walker led the way, but now there was Jeff, Trail's Jason Bay (National League Rookie of the Year in 2004), Gibsons' Ryan Dempster, former North Delta teammate Morneau of course from New Westminster, and Joey Votto of Etobicoke.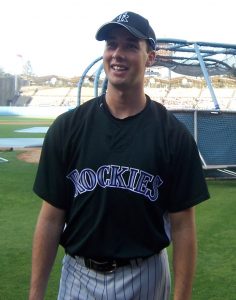 "It was a cool fraternity being one of the few Canadians playing in the majors at that time," he said. "Whenever you go to a city or if a team comes to your city, if there's a Canadian player on that other team, you're seeking them out and saying hello, introducing yourself, or having a short conversation to catch up. Whenever we played Ryan, Jason, Justin, or Joey, whatever team they were on, I made sure we had a conversation. You're kind of an unlikely event, a Canadian making it in baseball. We made sure we all got to know each another. We were all good to each other."
And then came the 2007 season, one they're still talking about in Colorado to this day.
"It's something I'm really proud of. I'm really fortunate to have had my best year and the team had its best year in the same season and that I can remember both of those things at the same time. I was living a success story at the same time as my team was doing really well. It was easy to be happy about that."
Jeff's career season included a 17-9 record, 1 complete game, 1 shutout, 4.22 ERA, and 165 strikeouts in 215 innings pitched over 34 starts, good for 9th overall in NL Cy Young Award voting.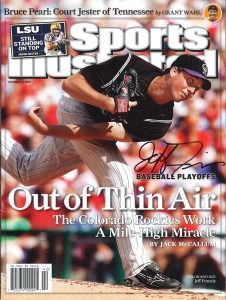 The Rockies had put together an above average season by mid-September of that year, but still only sat in 4th place in the NL West Division at 76-72, 6.5 games behind division leader Arizona and 4.5 games behind the wildcard leader San Diego. And then on September 16th something magical started to unfold: the Rockies began winning and then couldn't stop. In one of the more remarkable late season stretch runs in MLB history, the Rockies won 14 of their final 15 regular season games and inched up the standings day-by-day. Jeff contributed two wins in that run. They finished the 162-game season tied with San Diego, each with identical 89-73 records. The Rockies and Padres then squared off in a one-game playoff at Coors Field which turned into a 13-inning thriller won 9-8 by the Rockies when Matt Holliday tagged up at third on a line-out, sprinted for home, and slid in safe to break the deadlock.
Playoff-bound, the Rockies then went on to sweep Philadelphia in the NL Division Series and Arizona in the NL Championship Series to reach the World Series for the first time. Jeff started on the mound in the first game of each series, earning the victory in both and in doing so became the first Canadian starting pitcher to win a major league postseason game. At the same time he found himself on the cover of Sports Illustrated—a rare feat for a BC athlete.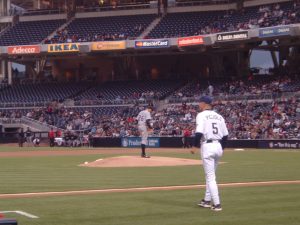 After winning 21 of 22 games, the Rockies found themselves in the World Series against the Boston Red Sox. Jeff against started the opening game for Colorado, becoming just the second Canadian starting pitcher to pitch in a World Series game. Boston's big hitters got to Jeff early and knocked him out of the game after four innings. The Red Sox went on to win the game and sweep the series. Despite the tough ending, Jeff looks back at 2007 fondly.
"Just the way we made it to the World Series. Just the way we made it to the playoffs to begin with was as exciting as you can make it. Whenever us players get together, we all talk about 2007. There's a lot of stories to be told: funny, heartbreaking, joyous. It runs every gamut of emotions. Something I'll never forget that's for sure."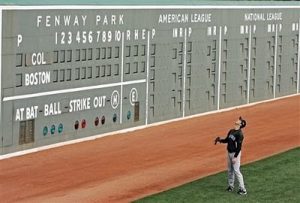 He still hasn't brought himself to watch Game 1 of the World Series though.
"A couple of years ago when the Rex Sox were in the World Series [in 2018], I put the tape in to show my kids: 'Hey your dad pitched in Game 1 of the World Series at Fenway Park!' And of course the second pitch I threw in the game was hit for a homer, so after I saw that pitch I was like 'I can't watch this!' and had to leave the room!"
He laughed out loud before continuing in a more serious tone.
"But as a Canadian to pitch in a World Series, that's still something that I'm really proud of and a career highlight of mine."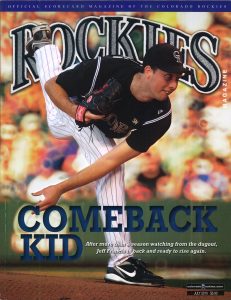 It proved a high water mark for Jeff in the majors. 2008 and 2009 were tough years, fighting through injuries in the former, before shoulder surgery wiped him out of the latter entirely. He returned in 2010, but struggled and left Colorado as a free agent in the offseason, signing with Kansas City.
"It was strange putting on different colours, having been with the Rockies organization for nine years. All I knew was black and silver and purple. Then all of sudden I'm putting on blue and getting used to new training and coaching staff. It turned out to be a good thing. My numbers weren't stellar, but I was a good pitcher for a bad team. It showed that I was back from injury and could pitch an entire season, so that was an accomplishment in itself. I enjoyed Kansas City. I enjoyed playing with my teammates, a lot of whom went on to win the World Series in 2015. It was fun to see them celebrate."
In 2012, he returned to Colorado and played two more up-and-down seasons with the Rockies mostly pitching out of the bullpen.
"It was cool to be back. All of a sudden I was one of the older guys on the team. Even up to 2010 I always felt like one of the young guys, who all came up together. In two years I went from that to one of the older veterans. It happens fast."
By this point Jeff had come to the realization that it was always going to be a battle to stay in the majors.
"I didn't have what I once did. I wasn't pitching at the level I was maybe five years previous."
He bounced between the majors and the minor leagues over the next two years playing for brief periods with Cincinnati, Oakland, in New York with the Yankees, and Toronto, as well as Louisville and Buffalo in the International League. Spending time in the minors isn't always easy for a veteran player used to life in Major League Baseball, but like he always did, Jeff put his head down and kept working.
"I felt I had a good perspective on it. It's really easy for someone to go to the minor leagues and feel sorry for themselves, but I made an effort not to do that and I think in the long run it helped me because I did get more opportunities in the majors with the Reds, A's and Yankees. Even if you're the eighth guy out of the bullpen pitching in the 15th inning, that's still a spot. And if that's my spot, I was going to enjoy it."
Besides briefly suiting up for the Blue Jays, his favourite team as a boy, there was time for one more highlight before the curtains were drawn on his career. The Pan American Games were slated to take place in Toronto in 2015 and Jeff had always missed out on pitching for Canada in the past at World Cups or World Baseball Classics for various reasons. This time he made it a priority.
"I think most of the reason I played in 2015 was I had a goal in mind to play for Team Canada. I regretted missing opportunities like that in the past. To pitch for Canada at an event like the Pan Ams—especially in Canada—was a pretty special memory for me."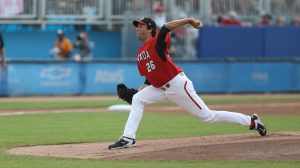 He made the most of it, recording two saves for Canada in preliminary round play as Canada finished atop the table with a 5-1 record and then defeated Puerto Rico in the semifinals before edging the mighty USA 7-6 to take the gold medal. The pitcher Canadian manager Ernie Whitt turned to in the gold medal game? Jeff Francis, the now wily veteran who'd pitched in big games before and knew what it took. He pitched eight gutsy innings that day and kept Canada in it to bring home the gold.
Upon retirement in 2015, Jeff finished his 11-season major league career with a 72-82 win-loss record and 869 strikeouts in 254 regular season games. He stands as one of the greatest Canadian pitchers to reach the major leagues. Not bad for a kid from North Delta, who once wanted to quit pitching but was too shy to tell his coach.
"I was happy with the decision to retire. I haven't looked back once and watched players on the field and wished I was still there."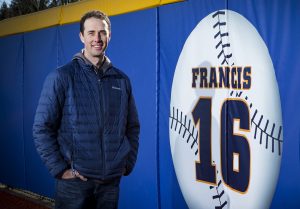 Now living in London, Ontario, Jeff spends a good deal of his time coaching his daughter and two sons in whatever sport they're playing including softball and baseball. He's also helped out coaching the Canadian junior national team, a program that spurred his own development many years ago.
He still gets back to BC from time to time, visiting his parents who still live in the same house he grew up in out in North Delta. One of the more recent visits included a ceremony for the retirement of Jeff's number 16 by UBC baseball, the first number retired by the program.
"I was surprised. It was definitely an honour. That program means a lot to me. We still support it."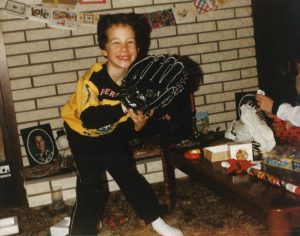 He plans to return to BC once again in the near future for his induction into the BC Sports Hall of Fame, the 2020 Induction Gala currently postponed until 2021 due to the Covid-19 pandemic. Regardless of when that honour is bestowed upon him, to be recognized by his home province means a great deal to him.
"I'm very proud of that even though I've since moved on and live across the country. When I do come back to BC, I love the memories. I'm appreciative of having lived in North Delta, having spent time in Vancouver, and pitching in BC. To be honored for those things, it's something that makes me very proud to be from BC, to be a BC kid. It's something I wear proudly out here in Ontario. To be in any hall of fame is an accomplishment. To represent BC and represent the sport of baseball is something that I don't take lightly."
Jeff Francis will be inducted into the BC Sports Hall of Fame in the Athlete category as part of the Class of 2020 Induction.