Canada's 'Tiger' Nancy Greene Raine: 'Our Nancy', Our Greatest
March 29, 2021
By Jason Beck
With March 8th being International Women's Day and March Women's History Month (in the US), I wanted to focus on one of BC's great female athletes for this month's feature. The internal discussion on whom that would be really only began and ended with one name: Nancy Greene Raine.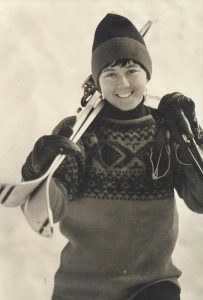 Canada's 'Tiger', as she was nicknamed, for the way she attacked treacherous ski slopes around the world with ferocious courage and joyous zeal.
'Our Nancy' as she was popularly known here in BC, where she remains beloved for her ever-present smile and down-to-earth nature that seemed to represent the best in all Canadians as much as her groundbreaking skiing accomplishments, now over a half-century in the rear view mirror.
Question: has there been from BC (or from Canada for that matter?!) a better ambassador for any sport in any era than Nancy? In her heyday in the late 1960s, she was likely the best-known Canadian figure worldwide, period. Here at home, she was then and remains today among the most revered athletes in the history of Canadian sport. And like Wayne, like Terry, like Christine more recently, all you need to say is Nancy's first name and most everyone knows who you're referring to.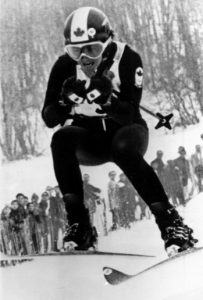 Twenty years after the height of her career and international fame, I remember stories in our household of Nancy (as well as Karen Magnussen and Elaine Tanner) from my Mom and Dad, who shared how it seemed almost inconceivable that the world's very best female athletes in three widely popular sports (skiing, figure skating, swimming) could all come from our small part of the world at the same time. Come to think of it, that still seems remarkable. (My Dad also likes to tell the story of how Nancy came to speak at his high school in Abbotsford in the early 1970s and the students left a Mars bar for her on the lectern which made her laugh—a clever nod to the chocolate bar commercials she appeared in. You can watch an example of one here: https://www.youtube.com/watch?v=b9mFU1ylNd4)
Later on I remember my future father-in-law Roland Cerf telling me that prior to coming to Canada from Switzerland in the early 1970s, Nancy was probably the only Canadian he had ever heard of. In a country where the Alps are practically in your backyard and most everyone skis, the Swiss have always held highest those who carve mountain slopes best. There were few more revered in Switzerland—or other skiing nations around the globe—in the late 1960s than Our Nancy.
It's not hard to see why. The most decorated Canadian skier in history. Olympic gold and silver medalist. Double world champion in 1968 in giant slalom and combined. Two-time World Cup champion. Thirteen-time World Cup event winner—still a Canadian record to this day. Nine-time Canadian champion. Three-time US champion. Two-time winner of the Lou Marsh Trophy as Canada's Athlete of the Year. Named Canada's Female Athlete of the Century by the Canadian Press in 1999. Recipient of the Order of Canada, Order of BC, Order of the Dogwood. Member of Canada's Walk of Fame in Toronto. Induction into countless halls of fame including Canada's Sports Hall of Fame, the BC Sports Hall of Fame, and the United States National Ski Hall of Fame. One of the final four torchbearers who lit the Olympic Cauldron to open the Vancouver 2010 Olympic Winter Games at BC Place. Provincial parks, lakes, streets, ski runs, a Whistler lodge, and a long-running developmental youth ski league have been named in her honour.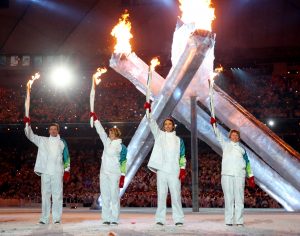 Outside of skiing she married Al Raine in 1969 and raised twin boys Charley and Willy, who later followed in Nancy's ski tracks, skiing for Canada at the 1992 Olympics. She answered Prime Minister Pierre Trudeau's call to serve on the 'Task Force on Sport' for Canadians. She and Al played key roles in the development of Whistler-Blackcomb and Sun Peaks in Kamloops as international skiing destinations. She served as the first chancellor of Thompson Rivers University from 2004-10 and as a Senator in the Senate of Canada in Parliament from 2009-18.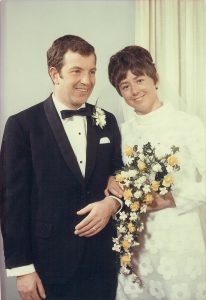 To this day she continues to promote skiing and healthy living in her work with Sun Peaks and it seems every other British Columbian has a favourite story of sharing a ski run or even an afternoon on the slopes with Nancy. Despite all of this, I would bet most people have forgotten Nancy's remarkable rise from a tiny West Kootenay town to the peak of a sport long dominated by European skiing powers. You shouldn't need an excuse to celebrate an athlete like Nancy, so let's dive in.
Nancy was born May 11, 1943 in Ottawa where her father, an engineer, had been recalled to work during the Second World War. Originally from BC, after the war, Nancy's parents couldn't get back to the mountains of BC and 'real' skiing soon enough. Skiing was in their blood—both skied competitively in the 1930s, Nancy's mom reaching the Canadian championships one year. When they married they appropriately went skiing for their honeymoon. They passed this love onto their six children. Growing up in the small eastern BC mining town of Rossland in the shadow of Red Mountain proved a perfect environment to learn the sport. Nancy began skiing at age 3.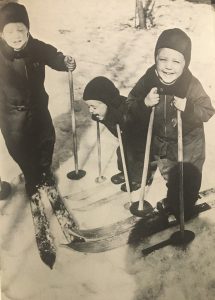 "I can't remember not being able to ski," she said. "I skied every weekend on Red Mountain. It was a big mountain and a tough mountain and so I became a good skier."
Nancy credits her mother with shaping her personality that drove her to pinnacle of the skiing world.
"She was really quite amazing, a very matter-of-fact type of person, who wasn't afraid of anything. She had tremendous courage. She had a handicap all her life, which I didn't even notice until after somebody pointed it out to me when I was going to school. She had an arm that was paralyzed and it never stopped her from doing anything. She skied and she raised six children."
Unlike her older sister Elizabeth, who skied competitively and at first was considered the skiing prodigy in the Greene family, at first Nancy skied just for fun. That changed at age 14 in 1958 when Red Mountain hosted the Canadian junior championships. Top young skiers from across the country arrived to compete, including elder sister Elizabeth. Not slated to compete, Nancy felt envious and for the first time felt the urge to race against the best.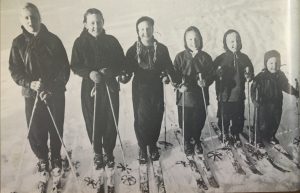 "They were going to race, to be a part of this great event, and I wasn't," she recalled in her 1968 autobiography Nancy. "Racing suddenly seemed very appealing to me. And there was something more…I felt I could beat most of those girls, even if I hadn't been much of a racer up till then."
The night before the races, she received an unexpected phone call from BC's junior team coach who was suddenly short skiers due to injuries. Nancy was a competent skier, not a rising star like her sister, but certainly knew Red Mountain as well as anyone having literally grown up on it since her father helped build the mountain's first ski lift back in 1946. Would she be able to fill a spot? Why not, she thought.
Despite understandable nerves, Nancy skied tremendously well finishing third in slalom and second in the downhill, just behind Elizabeth. Her life changed that weekend and from then on she was a ski racer.
The following year in 1959, Mrs. Greene chaperoned her daughters at the Canadian junior championships at Osler Bluff near Collingwood, Ontario. Nancy crashed in the downhill, separating her shoulder, while Liz won the downhill and was co-winner in the slalom. Despite the crash, Nancy was still invited along with Liz to a Canadian Olympic training camp conveniently located in Rossland and Kimberley. The flying Greene sisters continued to impress and were brought along with other more senior Canadian national skiers to a series of pre-Olympic races in the US. Nancy shocked everyone by winning the downhill at the US national championships at Alta, Utah and finished second in the giant slalom at Aspen, Colorado, just behind Canada's pre-eminent skier of that time Anne Heggtveit. It was enough to earn Nancy a permanent spot on the Canadian national ski team, a position she'd maintain for nearly a decade, and it meant the Greene sisters were both off to the 1960 Winter Olympics in Squaw Valley, California. As a wide-eyed 16-year-old, Nancy was there to gain experience and little was expected of her.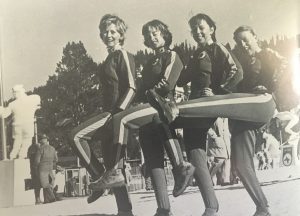 "I was skiing better than I ever dreamt I could, but I hardly expected to win anything, not with all the great European racers for opposition," she said. "I expected to enjoy myself, to soak up the joy and excitement of the great Olympic meeting, and that's the way it worked out."
She roomed with Heggtveit and saw her win Canada's first-ever Olympic gold medal in skiing, taking the slalom, which opened Nancy's eyes to what was possible for a Canadian skier.
"I've never forgotten the experience of watching her stand up to receive her medal and I resolved at that moment that I would one day win a gold for myself—and for my country."
Despite her youth and inexperience, Nancy acquitted herself admirably as well, finishing 22nd in the downhill, 26th in giant slalom (2nd fastest Canadian behind only Heggtveit), and 31st in slalom.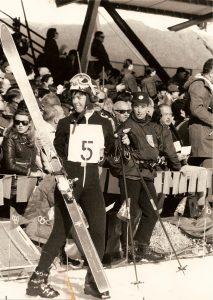 In 1961, Nancy began skiing on the European tour, seeing the sights of Europe for the first time and learning what it took to be an international racer week in week out. She suffered a broken leg in a late-season training run crash just as she was beginning to produce some promising results and it meant she completed her Grade 12 high school exams with her leg in a cast.
The broken leg forced Nancy to focus more on training and ultimately this would elevate her into the world's elite, but first years of work were required to get there. Verne Anderson, from Rossland, who became the first Canadian to coach the national ski team in 1963-64, was guiding Nancy's training and suggested they work out with a former athlete from Rossland, Charlie Cofflin, who still kept in shape through weightlifting in his home-based gym. Cofflin showed Nancy proper lifting technique as they focused on strengthening her weakened leg until it was stronger than before.
From that point on, Nancy lifted weights as a key part of her dryland training, which by any standard was grueling. She was likely the first international skier to weightlift to improve her strength. Some great colour footage exists in the BC Sports Hall of Fame collection (https://www.youtube.com/watch?v=7UEgCa0iiWM) of Nancy squatting and lifting barbells underneath the apple blossoms in Cofflin's backyard. Footage also exists of Nancy bouncing over imaginary moguls on a trampoline tucked tightly in her racing crouch.
"It gives you a tremendous sense of self confidence to know that you're strong and you know you can take chances [in races] and if you fall, you're not going to get hurt," she said.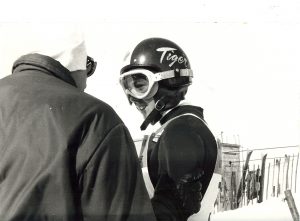 In 1962, Nancy parlayed her new-found strength into her first victory in Europe, winning the downhill at the Toni Mark Memorial Races in Austria. Suffering from a cold, the win was so unexpected that after her last downhill run, Nancy went straight to her hotel room and fell into bed. Her teammates shook her awake later on, alerting her that she needed to head down to the medal ceremony. She did so, "stunned" but delighted.
At the FIS world championships that year in Chamonix, France, she parlayed her growing confidence into a strong fifth-place finish in the downhill and 18th overall in the combined. But overconfidence and failing to notice damage to one of her skis at the Canadian championships led to an embarrassing fifth-place downhill finish when Nancy had been all but expecting victory. There was an even worse dent to her pride: one of the racers who beat her was her younger sister Judy.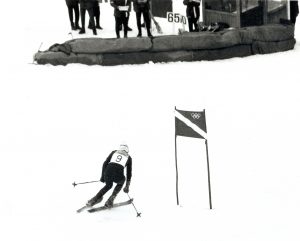 Nancy learned from this and rallied to produce more strong results in 1963, ending the season ranked tenth in the world in the downhill and just outside the top-ten in slalom and giant slalom. She went into the 1964 Olympics in Innsbruck, Austria with extremely high expectations.
"I was convinced I could win one of the medals," she recalled.
She finished a respectable seventh in the downhill, but 15th and 16th in the slalom and giant slalom respectively, mostly due to inexperience and a poor choice of wax in soft snow. It was a long way from the medal podium and the results stung.
"I wasn't improving—I was losing ground. I felt humiliated."
Nancy directed the disappointment of the 1964 Olympics toward preparing for 1965 and it proved to be her breakthrough year. She won both the slalom and giant slalom at the US Nationals at Crystal Mountain in Washington State defeating fields of the best skiers in the world. She followed that up with a hat trick of victories at the Canadian Nationals winning the slalom, giant slalom, and downhill, as well as a series of other North American victories.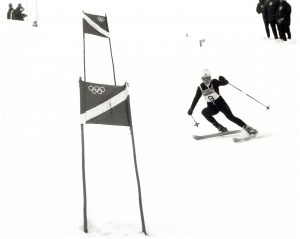 In 1966, Nancy seemed poised for even more success and went into the FIS world championships in Portillo, Chile riding high. It all came to an abrupt halt in the downhill when she gained too much speed, crossed her skis on a landing, cartwheeled three times at over 65 km/hr, and careened into a retaining wall. Her helmet went flying and her skis and poles were smashed. Remarkably she walked away with just torn ligaments in her elbow. Somehow Nancy courageously managed to finish fourth in the giant slalom the next day with her arm frozen and her ski pole taped to her gloved hand. It was the kind of gutsy performance that helped her "never-give-up, just-go-for-it" reputation as Canada's Tiger gain even more popularity.
In hindsight, all of these ups and downs served to prepare Nancy for 1967 and 1968 when she unquestionably became the best alpine skier in the world. Her timing was also impeccable in that 1967 was the first year of the new FIS World Cup competition format.
"I set myself on a crusade to win in Europe in '67," she recalled. "I trained in the fall after we returned from South America with more determination and more drive than I'd ever brought to training before."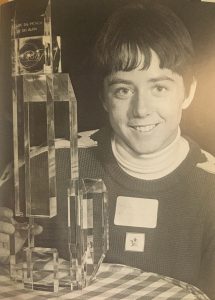 It showed in the season opening World Cup stop in Oberstaufen, Germany where she won both the slalom and giant slalom to roar into the early lead in the overall standings. She followed that up with victories in the downhill and giant slalom at Grindelwald, Switzerland. Then came third and fourth-place finishes at Schruns, Austria and another third at Franconia, New Hampshire, which dropped Nancy to third behind French skiers Marielle Goitschel and Annie Famose, who had dominated the world championships the previous year, Goitschel winning the downhill, giant slalom, and combined, while Famose won the slalom. A victory in the giant slalom at Vail, Colorado closed the gap, but she remained in third going into the season's final event at Jackson Hole, Wyoming. To have any chance of winning the World Cup overall title, Nancy needed to win every race she competed in. It came down to the final run in the slalom and she skied the race of her life to finish just seven hundredths of a second ahead of Goitschel to edge her out for the World Cup title, 176 points to 172, and become the first-ever women's World Cup champion.
"The whole scene on the mountain broke out in the happiest pandemonium I can ever remember. Everyone was laughing and congratulating me, kissing me, taking my picture and telling me over and over again that I was the champion."
It seemed almost impossible just weeks earlier, but she really was. Nancy Greene, a Canadian from tiny Rossland, BC had dethroned the Europeans in one of their chosen sports for the first time. From that point on, Nancy's life was never quite the same. Her name and photo were suddenly recognized worldwide, appearing on the front pages of newspapers and magazines, and on television all over the globe. And as it turned out, her best was yet to come in 1968.
For the first time Nancy felt the pressure of being number one. She trained as hard as she could in the off-season, but more often than ever before her preparations were disrupted by a whole host of new distractions that go along with being the best in the world in your chosen discipline—interviews, appearances, receptions, fundraising—all sorts of new obligations.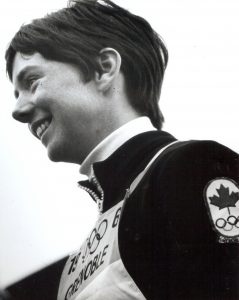 She began the World Cup season with third-place finishes in both slalom and giant slalom in poor snow conditions in Oberstaufen and followed that up with a return to form first-place giant slalom victory at Grindelwald. Then things went off the rails and the timing couldn't have been worse.
At Bad Gastein in Austria, good snow finally arrived, and if anything it caused Nancy to open things up too much in the downhill. All it took was a split-second loss of concentration and she was flying through the air off the course and into some bushes where she badly wrenched her ankle. Doctors feared it was broken at first, but later downgraded that to a severe sprain and torn ligaments. The Winter Olympics in Grenoble, France were just three weeks away. While doing everything possible to rehab her ankle for a chance to still compete in Grenoble, Nancy chose to turn this negative turn of events into a positive that worked in her favour.
"Being hurt before the Olympics in some ways was good because it took the pressure off me," she explained. "When we went to Grenoble, the press were busy saying, 'How's your ankle? How's your ankle?' and it's almost as though I had a built-in excuse. If I hadn't performed well, they would have blamed it on my ankle."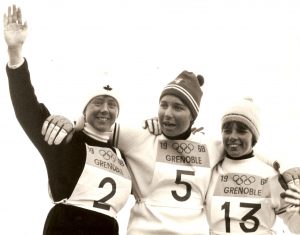 A week before the Olympics and still not 100%, Nancy managed to squeeze in one final test suiting up for a downhill race at Saint-Gervais, Quebec and, if anything, it showed how far the ankle injury had set her back, as she finished 25th overall.
"I was the reigning World Cup champion, but I was in the peculiar position in the eyes of the other skiers, of the press, and, most of all, of myself, of having to make a comeback in the Olympic Games."
After serving as Canada's Opening Ceremonies flagbearer, Nancy went into the downhill in Grenoble determined to win, but rust from the injury lay-off and a waxing mix-up on her skis left her a distant tenth. She went too wide on the gates and that was all it took to take her out of medal contention. In her autobiography, she called it "the worst disappointment of my career, the absolute rock bottom."
"I was really disappointed, but I put it behind me," she said later, firm resolution still evident in her voice.
She rebounded three days later to win a silver medal in the slalom, skiing the fastest time of the competition's second run to slip into second just 0.29 seconds behind France's Goitschel.
"That really gave me a big dose of self-confidence and set me up for the giant slalom."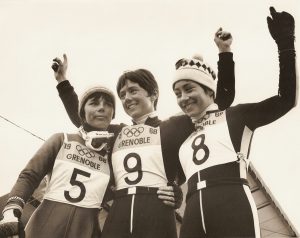 Did it ever. You can watch amazing footage here (https://www.youtube.com/watch?v=KHZ8b-ECR14) of Nancy swiftly and smoothly carving a perfect line through the gates. Skiing is one of those sports where because of speed and technique it's often difficult to appreciate how hard a competitor is working. You can see Nancy's will and determination in this race. She gave it her absolute all.
"I never worked as hard as I did that day. I skated and I poled and I pushed and I had studied the course. I knew exactly where to go and not only did I ski the perfect line, but I did the extra pushing and polling which really made a difference on that hill. And coming into the last pitch where it was very steep and icy, I hung on not too much and I let me skis go at the last moment, pushed to get across. I saw that I was way ahead. I had a big lead and I think at that point the biggest sensation for me was relief because I knew in my heart even though I hadn't said I was going to retire, I knew that it would be my last season and that was my only chance to win [at the Olympics]."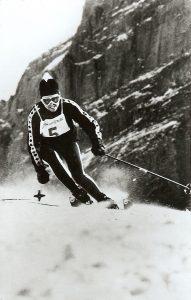 'Our Nancy' had done it, winning the Olympic gold medal in giant slalom by one of the largest margins of victory ever in Olympic skiing competition: 2.64 seconds over silver medalist Annie Famose of France.
Canadians across the country paused whatever they were doing that day, February 15th1968, to watch grainy black-and-white TV footage of Greene's victory. Small celebrations broke out immediately.
"For years afterward, people came up to me and said, 'I remember I was driving along the freeway and I heard you won and I almost drove off the road!' 'I was shaving and I heard you won and I cut myself!' People remember the weirdest things, but it had a tremendous impact."
At the medal ceremony afterwards, her pure joy at realizing a childhood dream was evident to all. Beaming from ear to ear, eyes shining like diamonds, she was so eager to stand atop the podium as Olympic champion that she nearly tripped as she hopped up to receive her gold medal.
"I remember the ceremony and standing up on the podium and trying so hard not to cry."
The Olympics gave Nancy just the boost she needed and she proceeded to rattle off ten subsequent victories at World Cup events and the Canadian national championships.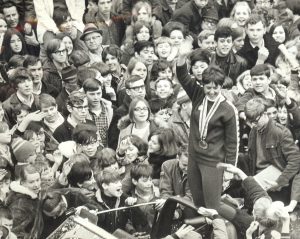 With a short break in the World Cup schedule, Nancy returned home and was celebrated unlike any athlete prior to that time in BC's history. On March 7th, a massive parade was held in Vancouver, from the downtown core to the North Shore, with an estimated 100,000 people turning out to witness Nancy's triumphant return. The street lines were painted "Greene" for the occasion and the Vancouver Sun was printed on "Greene" newspaper, while parade goers wore every shade of 'Greene' possible from their closets.
It all combined to lift Nancy up even higher. Fittingly, it all came to a climactic conclusion later that month right back where it all began for her—Rossland. A victory in front of over 7000 family, friends, and skiing fans at the du Maurier International World Cup event—the first ever World Cup event hosted in Canada—on her home Red Mountain would seal Nancy's second World Cup overall title. You couldn't have scripted it any better if you tried.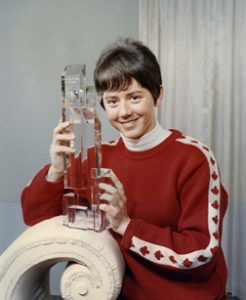 But first there was a bit of drama as Nancy crashed spectacularly in the slalom after catching a ski tip on a gate on her second run. Her ankle felt immediately sore, so she packed her ski boot with snow to dull the pain. More concerning was her neck, which ached. That night, she drove to nearby Trail and had a chiropractor manipulate two vertebrae back into alignment.
There was really no question whether Nancy would compete, but how she would perform in battered condition was another matter. But the next day Nancy came through with flying colours, skiing flawlessly despite the bumps and bruises, winning the giant slalom by nearly two seconds over the next closest competitor. For the second year in a row in late March, she was World Cup overall champion, recipient of the coveted crystal globe.
"It was, needless to say, a magnificently satisfying feeling," she recalled. "I knew I'd showed my home town supporters and friends that I could ski with the best in the world."
One week later, after the 1968 season's final World Cup event in Heavenly Valley, California where Nancy added a second-place finish in the slalom, she announced her retirement from competitive skiing, going out on top as the world's best skier and indisputably one of Canada's all-time greatest athletes.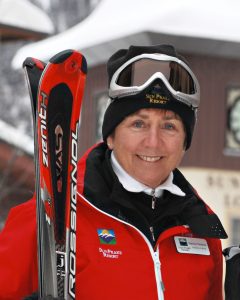 Setting aside all the accomplishments, all the accolades and awards, as is her nature, Nancy wishes to be remembered in a much more modest way.
"I think I'd like to be remembered as a great skier and as a great competitor and a person who helped the sport, who helped the kids out. I've been very fortunate in that I married Al Raine, a passionate skier and head coach of the Canadian ski team for five years after I retired, and together we've been very active in developing the ski industry in BC. It's nice to be remembered for that too. It's just been a lifelong passion for me."
One that took Our Nancy to the peak of world skiing and into the hearts of Canadians from coast-to-coast.