Jake Kerr & Jeff Mooney: A Business Partnership Made in Baseball Heaven – 2023 Inductee Spotlight
August 4, 2023
By Jason Beck
There was a time in the late 1990s and early 2000s when Vancouver seemed to be on a constant losing streak. Widely deemed the 'No Fun City,'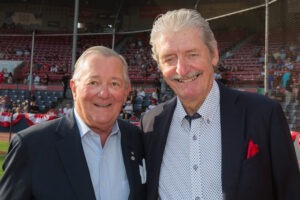 Vancouver was losing major events and teams almost annually over a five-year period: the Grizzlies, the Voodoo, the Ravens, the Molson Indy, the Air Canada Championship. Other cornerstones of the larger Vancouver experience also seemed threatened: the PNE Fair, the Celebration of Light, Nat Bailey Stadium, and of course the Vancouver Canadians. That was when Jake Kerr and Jeff Mooney stepped in and put a stop to this.
In 2007 the long-time businessmen partnered to save iconic Nat Bailey Stadium from imminent demolition and the Canadians from likely relocation elsewhere. Over the next 16 years, it's become clear the two long-time co-owners of the Canadians not only saved professional baseball in Vancouver, but they also elevated it to the point where the C's are now one of North America's model franchises in all of minor league baseball. Taking in a 'Nooner at the Nat' remains one of the quintessential Vancouver experiences today. And on top of that, few have given more back to the community along the way.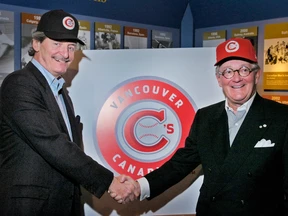 So here's a valid question: has there been a more successful professional sports ownership partnership in BC history than Jake Kerr and Jeff Mooney? The turnaround they engineered with the help of long-time C's president Andy Dunn has been positively stunning, one of the great sports success stories not just in BC but recent Canadian history. It's why the pair were unanimous selections as the 23rd and 24th inductees in the BC Sports Hall of Fame's W.A.C. Bennett Award category and the first ever to be selected as a pair.
Jake and Jeff were born a few months apart in 1944, the former in Vancouver, the latter in Regina, Saskatchewan although his family moved to Winnipeg when he was just a year old. Both grew up playing many different sports and baseball featured prominently. Jake played Little League at West Point Grey, while Jeff played with a team sponsored by St. Boniface Optimist. Jeff loved to watch the Winnipeg Goldeyes, a Class C affiliate team in the Northern League, which featured future major league legends such as Hank Aaron. Likewise, Jake began watching the Vancouver Mounties play at Capilano Stadium (now Nat Bailey) as early as 1956.
"It was a great era for baseball in Vancouver," Jake recalled during an interview at the BC Sports Hall of Fame earlier this year. "Brooks Robinson, Lefty O'Doul. I saw those guys and it had a lot to do with how we ended up buying the baseball team forty years later."
Both went off to university after high school: Jake at UBC and later the University of California, Berkeley, playing on the tennis team at both institutions; Jeff at the University of Saskatchewan. From there both men went on to be remarkably successful in their respective business ventures, albeit taking much different paths.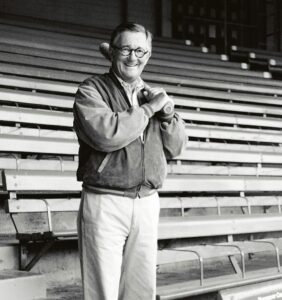 After university, Jake worked in the advertising business in San Francisco from 1966-69, his experience resembling something out of the hit television drama series Mad Men. While in California, he was actually drafted for the war in Vietnam but narrowly avoided service due to a childhood bone disease in his knees. He was drawn back to BC by his father who was in ill health and struggling with his sawmill business. While Jake was helping out, his father suddenly passed away. Although initially Jake had limited interest in the struggling sawmill business and wanted nothing more than to get back to the advertising business in San Francisco, he was unable to sell the business. So as chair and CEO he slowly began rebuilding it using his marketing know-how and relying on those who knew the nuts and bolts of sawmill operations. Lignum Ltd. grew from a company that Jake couldn't sell into one of the largest and most successful privately owned forestry companies in Canada. Jake became so well regarded in the lumber industry that he served as the chief negotiator for Canada in the 1996 softwood lumber negotiations with the US.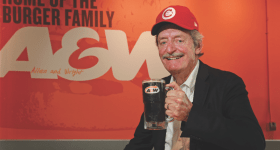 After university, Jeff was working at The Bay in Winnipeg when he was transferred to fill a position in Vancouver in 1970 and has remained here ever since. After short stints with Eaton's and ICBC, he landed at A&W in 1973 with a role in their HR department. As A&W weathered the challenges from American fast-food chains like McDonald's, Burger King, and Wendy's invading from the south, Jeff helped the company solidify its position as one of the top restaurant chains in Canada. He served as A&W's CEO from 1991-2005 and in 1995 along with other management he bought out Unilever to become the company's owner. Jeff still serves as chairman emeritus today as A&W stands as Canada's second largest fast good restaurant burger chain with 1029 franchises across the country as of 2022.
They first met many years before partnering on purchasing the Canadians. It was 1982 and Jake was the membership chair of the Vancouver chapter of the Young Presidents' Organization.
"He made an error in judgement and he allowed me in, that's how we first met," joked Jeff. "Then our relationship and friendship deepened ever since."
They later regularly worked together in the Young Presidents', running conferences and meetings. In fact, there is a group of them called the YPO Forum that has been meeting together about once a month for about forty years now.
"We used to talk about our great big business deals," laughed Jake. "Now we talk about medical problems."
"Well said, partner!" chimed in Jeff.
Outside of this connection, before the Canadians neither ever thought they'd be in partnership together.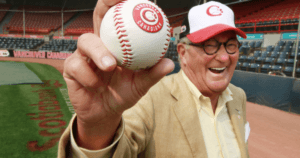 "Not owning a sports team certainly," said Jeff. "We were both businessmen in very different businesses. I don't think we ever thought about doing something together until the baseball thing happened."
So how did that 'baseball thing' happen?
Oregon businessman Fred Herrmann had owned the Canadians since late 1999 when he relocated his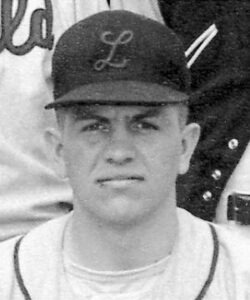 Single-A Northwest League franchise, the Southern Oregon Timberjacks, from his home state to Vancouver. In the ensuing six seasons beginning in 2000, the Canadians saw their share of ups and downs and the city's sporting landscape had changed shape dramatically with Vancouver winning the right to host the 2010 Winter Olympics.
"The long and the short of it was Fred ran a very mom-and-pop ragtag deal," summed up Jake. "It wasn't altogether his fault. He couldn't get a lease at Nat Bailey Stadium. The Park Board was planning to tear it down for the Olympics and build the Hillcrest facility on that site and use the rest for soccer fields. There was a nice group of folks called 'The Friends of Nat Bailey Stadium' and they were trying very hard to save the deal and were a thorn in the side of the Park Board. But they had a budget of about $12 and at one meeting I attended they debated whether they should get pins or just ribbons that season."
Jake's brother Tim heard the Canadians might be for sale and so the Kerr brothers went over to Nat Bailey Stadium one morning to meet Fred Herrmann. It was nothing if not memorable. They met in the bowels of Nat Bailey where it's quite likely Fred lived when staying up in Vancouver.
"There was a big old desk and a chair," remembered Jake. "Fred probably weighed in around 285 lbs. and he was on about his fourth Budweiser. He was also eating popcorn at a high rate of speed. He suggested we sit down, but there was only one chair for my brother and I. So I sat in the chair and Tim stood there, until Fred said, 'You can sit in there.' There was an old, abandoned Coke machine with no innards, just the outside casing and a stool. So Tim sat at the Coke machine and I tried to talk to Fred. Every time I looked at my brother I started to laugh."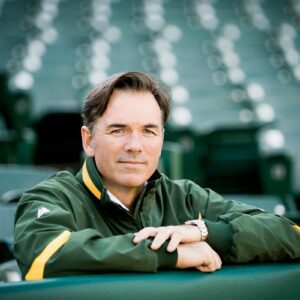 While doing their due diligence Jake travelled down to California to meet Billy Beane, the Oakland A's general manager at that time, who later found fame when portrayed by Brad Pitt in the 2011 film Moneyball. The Canadians were the A's Single-A affiliate then.
"We'd sure like that [if they bought the team]," Billy said to them. "Vancouver's a good market and Fred runs a pretty lean operation. You're gonna have trouble though because Fred knows something that maybe you haven't figured out. He's not going to negotiate with you much because he has something you want and there's only one of them and he knows it."
"Billy was absolutely right," said Jake. "Fred was rock solid. He said, 'This is my price.' I said, 'Could we see your financial statements?' He said, 'No, we don't have any.' So no financial statements, didn't care about asset values, the place was pretty run down. He just said, 'This is my price.' I couldn't figure out where he got it from, just that that was it. I ended up paying that price because I wanted to do it. Thank God for Jeff coming with his A&W people, but it was quite a run at the beginning."
As the negotiations, such as they were, moved along, Jake reached out to Jeff and asked him if he'd consider partne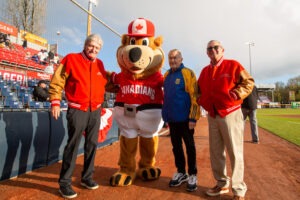 ring with him.
"I thought for a moment, well that could be fun," recalled Jeff. "Two old guys sitting in the sun falling asleep watching their baseball team."
Before committing, as he did with all investments Jeff said he'd need to discuss the idea with his wife Suzanne. Jake had known Suzanne for a long time so thought that was fine.
"So I was driving home that night and thought to myself, 'What an idiot you are?!'" laughed Jeff. "Why wouldn't you just say no?! Now you have to go home and ask your wife if you want to buy a minor league baseball team. Like a good husband I waited until I thought the mood was right. I said, 'Jake wants us to partner with him in buying the local baseball team.' She looked me right in the eye. You could have knocked me over with a feather. She said, 'You mean the one that plays at Nat Bailey Stadium?' I said, 'Yes.' She said, 'You have to do it!'"
"Good ol' Suzanne!" chuckled Jake.
So that was that. Jake Kerr and Jeff Mooney were suddenly new owners of a professional baseball team in Vancouver. All they had to do now was sit back and enjoy the spoils of endless summers of baseball glory. Jake remembered he had an almost childlike vision of what owning the team would be like.
"I bought it almost on a whim," he said. "I just thought, this is great. It's like Yankee Stadium and I'm going to coach third base, all sorts of ideas. Very shortly I realized I had no idea what I was doing. It was quite an operation. We had no accounting."
An example of how the team had been run from those early days of ownership?
"The opening night of the 2007 season, the first game since we'd bought the team, we had a big crowd because we were the n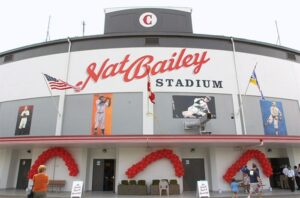 ew owners and made a special deal of it," recalled Jake. "At the end of the game this rather large woman with very dyed blonde hair came up to me and she said, 'Where do you want the bag?' I said, 'What?' She was carrying what looked like a bowling ball bag. I said, 'I don't know, what are you talking about?' She said, 'Well, Fred always told me to put it in the trunk of his car.' I said, 'What's in it?' She said, 'The receipts. The cash.' I said, 'What?! All the cash?!' She said, 'Yeah, all the receipts for tonight.' I said, 'Is there no bank account or don't you deposit those?' She said, 'I don't know, I just gave them to Fred.' Then Fred, who owned a trailer park in Seaside, Oregon, drove back home after every homestand with the bag in the trunk."
They immediately began implementing a more professional approach to all aspects of the club and operations investing millions into the team and the stadium over the years. The team eventually did begin to make money again and has made money for many years now. But Jake and Jeff never thought about taking the profits out. They always reinvested it back in to improve things.
Early on, one of the first problems that immediately became clear were issues with the food services.
"Jeff dropped a line on me that I'll never forget," recalled Jake. "He said, 'Jake, you're not in the baseball business. You have a large fast-food restaurant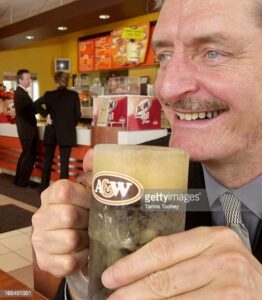 attached to a baseball field.' I then thought, 'Well, who do I know that knows something about fast food?' Mr. Hamburger over here was a perfect choice."
"Right away we felt we had to upgrade the food," agreed Jeff. "The place was pretty run down. It was a failing franchise. I called up our top suppliers and we went out to these test kitchens and decided that we needed the finest beef for the hamburgers and the finest this and finest that. Then a reporter called Jake and he announced proudly on the radio that we weren't going to raise prices. So we were driving the costs up while keeping the prices down. We'd have been dead in the water except that we found Andy Dunn, who saved us."
Jake nodded his head in emphatic agreement at that last point.
"We could do a business comedy special on the number of mistakes we made," he laughed. "We were perfect. In the first six months before we found Andy Dunn, we lost more money than we'd made in the previous five years. The good news is that we didn't know it because we had no accounting system! Suffice to say, we had been around long enough that we woke up to how little we knew and were very fortunate to find Andy, who has been our president and CEO out there for 15 years. He was a very experienced baseball guy who came as a consultant and liked Vancouver, moved here and has been, as we say, the straw that stirs the drink in terms of baseball."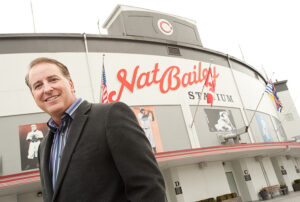 "He really runs the baseball operation completely," agreed Jeff.
Andy had been a vice-president with a number of major league teams prior to coming to Vancouver, including the Montreal Expos, Florida Marlins, and Washington Nationals. His last major assignment was overseeing the move of the Expos to Washington including renovating the ancient RFK Stadium for the return there of major league baseball. Needless to say, he knew the ins and outs of how to successfully run a baseball club. When Jake and Jeff were scrambling for help in their first Canadians season, Andy was recommended to them by Marv Goldklang, a New York Yankees minority owner and involved in minor league baseball for years. Andy was only supposed to come help for two weeks and after just the first week he was horrified by the situation the Canadians found themselves in.
"Fortunately, he stayed," said Jeff.
His two-week contract ended up lasting over 15 years and counting now.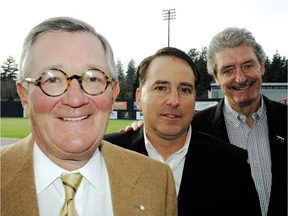 The Canadians triumvirate of Jake, Jeff, and Andy has proven remarkably successful, covering all the bases (pun intended). Jake manages governance of the club, active at both major and minor league levels. Jeff handles the community fundraising side including the Vancouver Canadians Foundation. Andy runs the baseball operations.
"We all know what the others guys are up to," said Jake. "We're not working in separate silos. Without a real plan, it's just sort of the way it ended up. It certainly works for everybody."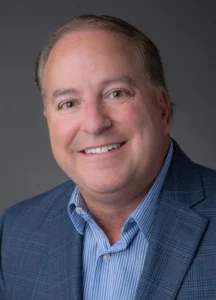 While the Canucks, Lions, and Whitecaps have each experienced their respective ups and downs over the last 15 years, the Canadians have maintained a steady upward trajectory. It's a point of pride for Jake and Jeff.
"Without sounding like a jerk, it sure is," Jake said. "Jeff and I don't meddle [in the operation] and we're very lucky to have Andy."
Jeff agreed.
"Thank goodness for Andy Dunn, who knew what to do. We've basically supported him ever since."
Jake and Jeff very wisely have followed the counsel of the Georgia-born, Florida-raised Dunn on countless decisions and rarely has he led them astray. Many of the trademark elements that make up an afternoon or evening at the Nat originated in this way.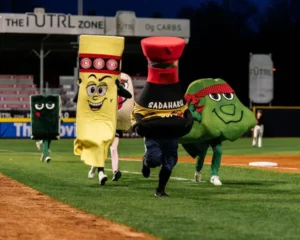 "Every time he's told me about one of his marketing ideas, I've said, 'Andy, that won't work in Vancouver,'" chuckled Jake. "Whether it's the three-foot-long hot dog or the one that really blew my mind was when we built the left field porch. We needed a sponsor and we were going to get a beer company to do it. There was some competition, a couple of them were interested. Andy came to me and said, 'Well, we got a sponsor.' I thought Labatt's or whoever. 'No, no,' he said. 'This is going to be fantastic. It's Hey Ya'll.' I said, 'Hey Ya'll—what is that?!' He said, 'Well, it's southern iced tea with vodka in it.' I said, 'Andy, they may work in Atlanta but people aren't going to drink southern iced tea!' He said, 'You wait.' And within one year, it outsold all of the beer in the stadium. He gets it."
Or before that, the now-beloved sushi races, a key part of every game. Some fans even track the number of races Ms. BC Roll or Chef Wasabi has won over the course of the season.
"He did that as a joke about Vancouver," mused Jake. "Andy had never seen sushi when he got here."
"One of the things we got publicity for was we put sushi on the menu at the stadium and sports announcers got a big kick out of saying whoever heard of sushi at a ballpark?!" chimed in Jeff.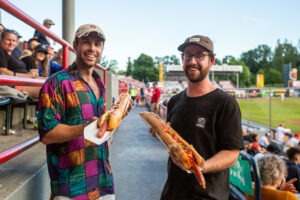 It was a decision that came early on when they bought the team as they toured the US looking at first-class minor league operations to gather ideas. One of the places they visited was Stockton, California, which had deep-fried asparagus on their gameday menu, something neither Jake nor Jeff had ever seen at a ballpark before. The Stockton owner said he'd owned a few teams and he liked to find something that was local. Because Stockton is the asparagus capital of the world, they put it on their menu.
"We looked at each other and said, 'Sushi!' and that's how that came about," said Jeff.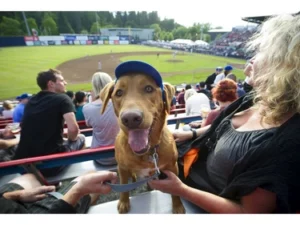 The trio has worked hard at creating memorable add-ons at the Nat like the 'Dog Day of Summer' game, fireworks nights, or the dancing infield grounds crew that enhance the ol' ball game experience. Maybe the most memorable is the nightly 'chicken' dance. Few take to the chicken dance with more enthusiasm than Jeff.
"Yep, I did the chicken dance last night [at the ballpark]," he confirmed.
"That is a particularly Mooney-esque type of thing," Jake chuckled.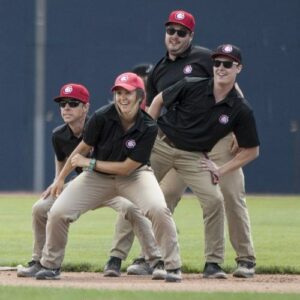 "He was very skeptical and I would even say somewhat critical of my chicken dancing until his grandchildren said, 'We love to see Mr. Mooney do his chicken dance.'"
"It's true! Next to the sushi race, people love to see Mr. Mooney dance!"
It's obvious they both genuinely love the game, love the team, and love the stadium. It comes across in so many of the things you see at the ballpark every game and their regular involvement. You just don't see that typically from owners in sports.
And it's all become part of the whole Nat Bailey experience that they have cultivated. Maybe 'experience' is too narrow of a word to describe it. What they learned early on is that minor league baseball is all about community. Surveys done in the past show 40% of people leaving a minor league ballgame don't know which team won or even what the final score was. Show up at any C's game and you'll see kids running around the stadium and their parents aren't worried about them. It's a family environment and almost no one is on a cell phone. People are having fun, visiting with one another as the game before them unfolds on an emerald carpet. It's almost like going back in time a few decades to a simpler time and place, a totally different world within the confines of the outfield walls.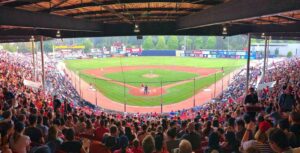 "It's all about family and community and the experience of it," Jeff said. "There's a Nat Bailey community. A lot of the same fans are there, not every game but they come back. The staff are great. Then after a while, it's like family. You get a real lift just being in the place."
They've done everything possible to foster that community. They created the Canadians Foundation shortly after buying the team to give back to the larger local community. To date the Foundation has put more than 3000 underprivileged kids through their first baseball experience and awarded over a hundred university scholarships to young athletes. It's also created the Vancouver Canadians Baseball League, which allows thousands of kids to play ball at Nat Bailey each summer, as well as the Challenger Baseball field, the first wheelchair accessible baseball field and facility in Canada specifically for children with disabilities just an outfielder's throw away from Nat Bailey. The club's annual Hot Stove Luncheon supports all of these initiatives. What started as 60 people munching on A&W breakfast sandwiches in the basement of Oakridge Shopping Centre now regularly draws 700 guests to the Hotel Vancouver.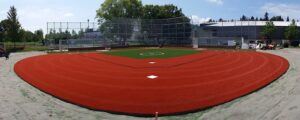 "It's sort of a link to so much we've seen over the last 15 years," summed up Jeff. "We used to take our kids when they were little to Canadians games, so we had all these fond memories of summer baseball games with the children at Nat Bailey Stadium."
"I have a lot of grandchildren and they love to go to Nat so much, it's what we do in the summers with them," said Jake. "If I didn't own the team and had nothing to do with it, I'd still keep buying tickets and probably still be there anyhow."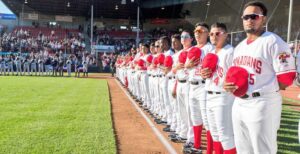 On top of all this, the Canadians have also been extremely successful on the field as well. During Jake and Jeff's ownership the C's have won four Northwest League championships (three consecutive from 2011-13, plus 2017) and five division titles. In 2013, the Canadians received the John H. Johnson President's Award for the top organization in Minor League Baseball, one of the few Class A clubs to receive this award and the first Canadian team ever to win.
Attendance for Canadians games has nearly doubled since they took over the club and records were set almost annually in the first decade. In 2017, they averaged 6300 fans a game and totaled over 239,000 tickets sold for the entire season. In 2019, the last full season before the Covid-19 pandemic, the C's sold 97% of their available tickets. They're back on track to reaching that level of support once again. The club has a reputation as the only team in minor league baseball with scalpers outside the stadium hawking tickets. Most games you can't just walk up to get a ticket at the booths. There are none available. They've already been sold long ago.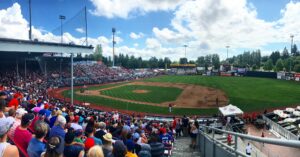 "Our attendance dwarfs a lot of Triple AAA teams," confirmed Jeff.
Usually the only Single A team in North America that can rival the Canadians in terms of attendance is the Dayton Dragons in Ohio.
One of the biggest coups of their ownership run was negotiating the affiliation with the Toronto Blue Jays, which was signed in 2011 and remains in place to this day. Countless Blue Jays prospects who later made the big club have taken key steps in their development on Nat Bailey's lush grass in that time adding another angle of appeal for fans.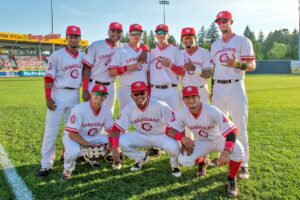 "That was a very fortuitous thing," said Jeff. "It's good for both sides. The Blue Jays really are a Canadian institution and our connection to them helps us both. If you talk to the guys at Rogers, they'll tell you it's been great for them too because it establishes outposts for them in the west."
At its most basic, the C's have helped cultivate Canadian baseball fans. The massive crowds of Canadian baseball fans who travel south to watch the Jays play the Mariners in Seattle each year, sometimes 30,000 of them, are a perfect example of how successful the affiliation has become.
Over the last thirty years, there had been another exodus south of a much different kind: a flood of Canadian minor league affiliated teams relocated south of the border never to return. Gone are the Calgary Cannons, Edmonton Trappers, Winnipeg Goldeyes, Ottawa Lynx, among many others. Today, the C's stand as Canada's last remaining minor league affiliated team and are thriving. If not for Jake and Jeff, who changed the direction and fortunes of the struggling Canadians, this club too would have vanished.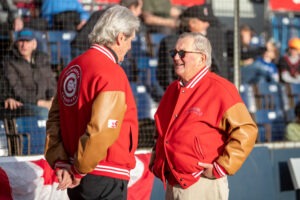 "This team would have been gone if not for Jake stepping up and us doing this," said Jeff, modestly giving his partner the lion's share of credit that he also deserves a portion of. "If we step back, it was a great piece of leadership on his part. There is no question in my mind that the team was gone. Americans had bought every team and moved them. That's what happened to the Triple AAA C's. They moved to Sacramento. It was gone. He stepped in, bought it, as I say, and I'm grateful he asked me to be a partner. It's been an incredible experience."
When tourists arrive in Vancouver in the spring and summer and ask what they should do, most recommend Stanley Park, Grouse Mountain, or Granville Island as quintessential Vancouver experiences. Over the last 15 years, high up on that list—maybe right at the top—is taking in a Nooner at the Nat, which fully refurbished is considered by many among the best minor league ballparks in North America.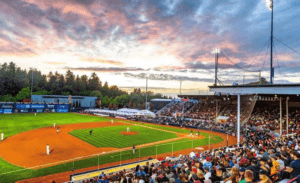 During the pandemic Major League Baseball took over the minor leagues and shrunk the number of teams down to 120. The Canadians were fortunate to be among the remaining 120 as the last Canadian affiliated minor league team. MLB sent their people out to inspect Nat Bailey and they came back saying, "Oh my god, it's like Wrigley Field or Fenway. We're not touching that."
Even with the recent sale of the Canadians to New York-based Diamond Baseball Holdings, that's not going to change. Nor is the golden triumvirate of Jake, Jeff, and Andy, who will each remain in their roles overseeing their respective areas of the Canadians that they have guided for the past 15 years. They've been assured the character of Nat Bailey won't change despite new additions planned to upgrade player facilities, one of the conditions MLB has imposed on minor league clubs.
"DBI are committed to financing, along with the city, major expansion down the right field line, a 10,000-square-foot building with batting cages, weight rooms, and all sorts of player wellness amenities," explained Jake. "The sophistication of minor league baseball has gone up phenomenally. Example was when we bought the team, there were three people sent to us by the Oakland A's: the manager, the coach, and the trainer. Today the Blue Jays have 14 staff in Vancouver including two nutritionists, all sorts of strength and training people. MLB will no longer let you play a 'mom-and-pop' game."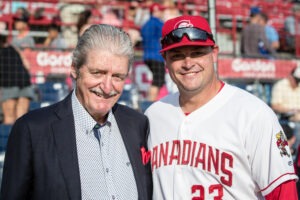 The sale, announced just a week before Jake and Jeff sat down for this interview at the BC Sports Hall of Fame, takes some of the pressure off both of them to maintain the club's strong recent history as they look to the future.
"We took a dying franchise, turned it into the best in baseball, and now we've managed to transition, which doesn't happen all that often," said Jeff. "It will only make it better. After we're gone, that was our worry. We're both 78 years old. We're not going to be here forever. Another generation will be enjoying the things we just talked about."
"We both exhaled a massive sigh of relief that ensures baseball remains here in Vancouver," agreed Jake.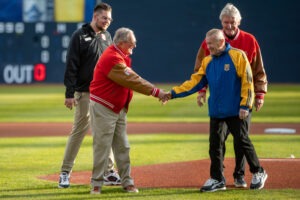 It was just another crucial decision in a long chain guided by a key principle, one they both have lived by and may explain much of the success they have achieved.
"I think the secret to the success is both of us throughout our careers in our business lives have known there is a right way to do things," explained Jeff. "Early on, we didn't know how to do that—we found Andy Dunn—but we've been very supportive of doing it the right way. If it takes investment to do it, you make the investment, because in the long term if you do it the right way, it pays off well. I think a big thread in our friendship is that's who we are. We know that's how you do things. There's a right way and you do it."
Perhaps the most surprising part of owning the team which neither man expected was the praise each would receive almost on a daily basis. They could be walking down the street or in an elevator and a complete stranger will bring it up and thank them.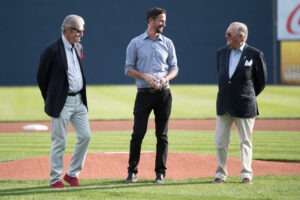 "Jake has the same story just a different industry," said Jeff. "A&W does $2 billion dollars in sales a year. We employ 24,000 Canadians. We have over a thousand restaurants. We're the second biggest customer next to McDonald's for most suppliers of food and packaging in Canada. We pay taxes and are big charity givers. Not once has someone come up and said, 'Excuse me, Mr. Mooney, I just want to thank you for all you do for our community through A&W.' We buy this broken-down baseball team, fix it up, and not a day goes by someone thanks us. It's a joy. It's a joyful thing. Going to the games, all the connections and so on. It's just a delight."
This is undoubtedly also partly the fuel that has sustained them both through their ownership run.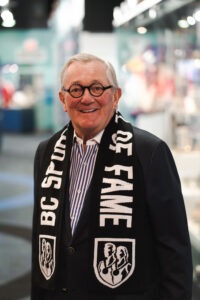 "We thought owning a ball club was going to be a walk in the park," said Jake. "It wasn't. We also didn't realize it would be as fulfilling owning the team as it's been."
Both Jake and Jeff have been recognized with various awards for their contributions to business and sport in BC. Jake received the Order of Canada in 2002, while Jeff was awarded it in 2019. Jake received the Order of BC in 1997, while Jeff was inducted into the Business Laureates of British Columbia Hall of Fame in 2015. Both men were named the 2013 recipients of the Jack Diamond Award by the Jewish Community Centre. They can now add induction into the BC Sports Hall of Fame with the Hall's most prestigious honour, the W.A.C. Bennett Award.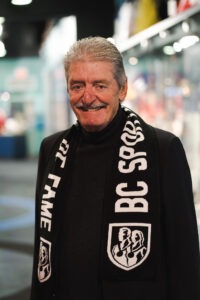 "It's just terrific," said Jake. "For a sports guy that was never that good at anything much, it's a fabulous honour. I mean, I know a number of people who are in the Hall for a variety of reasons, but I never dreamt either one of us would get near the place."
"It's an honour," agreed Jeff. "One of the things we both believe, and Andy does too, and why it's such an honour and so exciting to be in the Hall, is we believe deeply that sports really affects in a positive way young people. The things I learned through sport that I've carried through my life, my career, my personal life, I learned on the playing field or hockey rink. You learn how to win, how to lose, you learn how to show up, teamwork, and carry your share of the responsibility and it sticks with you through life. So the Hall does a great job of that and so it's a great honour. It's one of those things when I stop and think about it, I think 'is that really happening?! You're going to be in the Sports Hall of Fame.' So it's a great honour."
As part of the Class of 2023, Jake Kerr & Jeff Mooney were formally inducted into the BC Sports Hall of Fame in the W.A.C. Bennett Award category at the annual Induction Gala held June 1, 2023 at the Fairmont Hotel Vancouver.