Hally Jolly Christmas Memories
December 16, 2019
With the holidays upon us, I went searching for some Christmas inspiration for the final Curator's Corner installment of 2019. I found it in a photo in one of my Mom's meticulously organized family photo albums. It may be my favourite sport-related Christmas moment.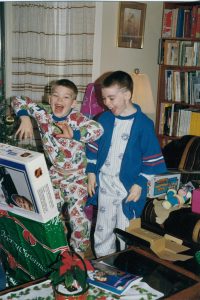 Christmas 1991. I was nine years old. While other kids were dreaming of a Super Nintendo or Teenage Mutant Ninja Turtles action figures, my younger brother Travis and I were hockey crazy. And that year we wanted nothing more than a Wayne Gretzky table hockey game (especially one with the Canucks team set). Lo and behold on Christmas morning, although we were wild farm kids always up to mischief, we must have somehow scraped onto Santa's 'Nice' list as we unwrapped a large box and found our coveted table hockey game.
My Mom snapped an amazing photo of the instant we erupted in excitement and glee. (This photo is also amazing for the fact I briefly had a super rad lightning bolt shaved into my head, something I had long ago forgotten. Hey, it was the early nineties…) Trav and I played that game like it was going out of style for years after, even going so far as to play full season schedules and keep team standings and player stats.
I wondered if some of the BC Sports Hall of Fame's Honoured Members may have a sport-related Christmas memory of their own and put the question out to a handful. Their responses are as entertaining as they are varied:
Nancy Greene Raine (inducted 1969)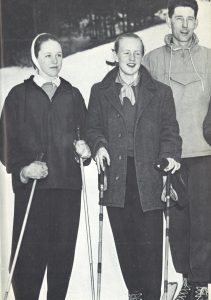 "When I was 15 I asked for new skis for Christmas. My older sister, Elizabeth and I were keen at ski racing and we really wanted proper racing skis. Christmas morning there were two pairs of new skis behind the Christmas tree, but they weren't racing skis. I looked at Liz, and she didn't say anything — so I blurted out, "These aren't good enough, we need racing skis."  My father explained that they were expensive and it would not be fair to our other sister and brothers if we got something more expensive than they did.  I can't remember if it was me or my sister who said, "We'll never be able to win with these skis."
But I know I was almost in tears.  My father, bless him, relented and said that if we wanted to pay the difference in price from our allowances, we could get the race skis. The next day, we got the skis, and I remember taking mine to bed with me.  It was a great Christmas — and both of us did use them well, eventually making the 1960 Olympic team a year later."
Darcy Rota (inducted 2002)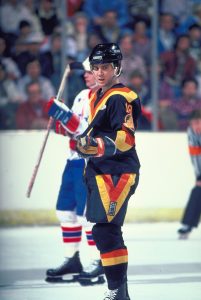 "In the fall of 1964 when I was 11, my family moved to Prince George. I had started playing minor hockey in Kelowna a few years earlier and my younger brother Brad and I just loved hockey. We were very concerned we wouldn't be able to play minor hockey in Prince George that year. Luckily, we were able to sign up late and play house hockey.
My parents really wanted to do something special for our first Christmas in Prince George and I remember they gave me and my brother Brad, who was one year younger, three Victoriaville hockey sticks. The idea was we'd have one stick to play with for minor hockey, one to play with on the outdoor rinks, and if we broke one, the third stick could be used for either as a back-up. A great memory!"
Howard Kelsey (inducted 2012)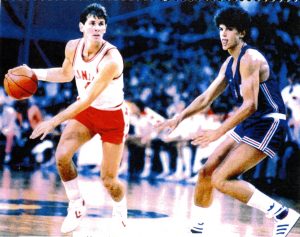 "One of my favorites is to go to a few random basketball courts in town (Kits Beach court is my favorite), pop my trunk, and drop off a new basketball or two to a kid or kids shooting hoops and watch their faces light up."
Marni Abbott-Peter (inducted 2007) & Richard Peter (inducted 2010)

"One of our very favorite Christmases was the one we spent in Germany when Rich was playing basketball over there.  All of the wonderful Christmas markets, the amazing food and drinks, and the lovely RSV Lahn-Dill fans who hosted us on various occasions over the holidays.
We attended the team Christmas party wearing these German outfits and were a huge hit!  it is certainly one we will never forget!"
Ted Hunt (inducted 1972)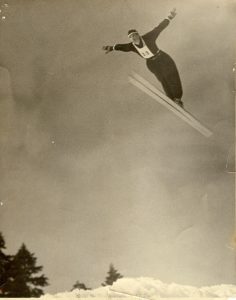 "I have a Christmassy story from 1949.  My father was away in Europe for five years with the Canadian Army, and so, he often complained in letters that he had never seen me ski jump—and neither had my mother.  So when he got back home at war's end, he took my mother up picturesque Hollyburn Ridge on the North Shore mountains where the Sons of Norway Ski Club had built a replica of the famous Holmenkollen jumping hill just across Vancouver's Oslo-like harbour.  Then, on a perfect Christmas Day, my Mum and Dad hiked up to the Hollyburn Lodge where they first saw me jump.
My mother took out her old 'box' camera and in beautiful weather caught a shot of me climbing proudly up the side of the landing hill, skis over my 16-year-old shoulder.  Three years later I was selected to the Olympic team going to Norway."
Thelma Wright (inducted 2000)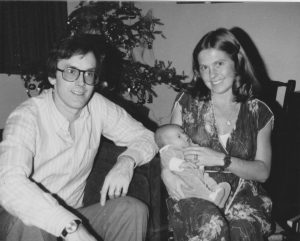 "Lee and I got married on Christmas Eve 1971. It sounds crazy, but Christmas looked like the only time we would have for a wedding. I was running in my third year for UBC and was writing my exams. Because of my training, racing indoors, then the outdoor season coming up and it was going to be an Olympic year, we decided to get married on Christmas Eve (also so Lee wouldn't forget our wedding day because it's his sister's birthday too!). We went to the Caribbean for our honeymoon, which was amazing. I thought about quitting track after we got married, but Lee convinced me to continue on and try for the Olympics. I did go to Munich Olympics in 1972 and subsequently Montreal '76, so it was good news that I didn't cut more than ten days off my training.
Our 10th Christmas was even more special. After ten years of marriage, after earlier being told we may not be able to conceive, our daughter Lindsay was born on December 10th, which happened to be Lee's father's birthday. What a Christmas present that was! With all four of our children, their spouses and two grandchildren, all together with us in Vancouver, Christmas 2019 will be grand!"
'Dr. Sport' Greg Douglas (inducted 2010)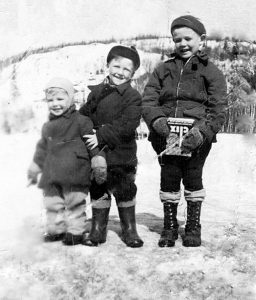 "The three Douglas boys – Tom, Greg & Norm – known to their parents as Cod, Liver & Oil – grew up in Sault Ste. Marie, Ontario.  We lived in a two-bedroom war-time house and the family survived on my Dad's humble salary as a bookkeeper with a small construction company while Mom kept the home fires burning.
On a snowy December day just prior to Christmas, without our parents' knowledge, Tom and I staged a Santa Claus landing on the roof of our home to convince little brother Normie that Santa was in the area and had parked his sleigh up there to check out the neighbourhood and to see who had been naughty and who had been nice. We used an old pair of snowshoes to make it look like Santa's footprints and pressed hockey sticks into the snow to simulate the runners of his sleigh and the reindeers' hoofprints.
It appeared to be the perfect caper until Tom accidentally (I think) bumped me and sent me flying off the roof.  While I did land in a snow bank, I severely twisted my ankle and Tom had to yell out for help.  Mom & Dad were visiting next door and had left us to keep an eye on Normie, who was first on the scene.
In the spirit of Christmas, our well-intended plan went sideways but thankfully saved us from Santa's naughty list."
From everyone at the BC Sports Hall of Fame, have a very Merry Christmas and wishing you a Happy New Year!