When We Painted The Town Red: Vancouver 2010 10th Anniversary
January 13, 2020
By Jason Beck
It's hard to believe it's already 10 years since the Vancouver 2010 Winter Olympic and Paralympic Games. Time is flying faster than snowboarder Johnny Lyle soaring through the massive Olympic rings during the Games' Opening Ceremony.
Ten years ago at this time we were following along to the progress of the Torch Relay as it ran, drove, surfed, rowed, snowmobiled, and dog-sledded its' way across the country. We watched as preparations around Vancouver, as well as Richmond and Whistler, built to a hectic frenzy in the final few weeks before the Opening Ceremonies on February 12th, 2010 here at BC Place Stadium. Buildings were dressed with massive fabric drapery depicting Olympic athletes and sponsors. Security barriers seemed to be everywhere. Those signature red mittens began warming Canadian hands. And we wondered when it was going to snow on the North Shore mountains. It was an incredible time after years of build-up and anticipation. The world seemed to be focused in on us maybe unlike any other time in BC's history.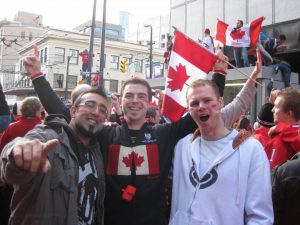 When I think back to my personal memories of the 2010 Olympics and Paralympics, I immediately think of the overwhelming sense of spirit. Everyone was riding a high. The sun was shining seemingly every day. People were out wearing red and white, high fiving strangers on the sidewalk and breaking out into impromptu street hockey games in the streets.
I remember dancing with strangers one night at the Ontario House as we celebrated Alex Bilodeau winning Canada's first-ever Olympic gold medal on home soil. I met Bobby Orr outside of the BC Sports Hall of Fame the night of the Opening Ceremonies dress rehearsal after he carried in the Olympic Flag with other legendary Canadians. He offered me a piece of licorice from a bag he had. I couldn't say no to number 4 Bobby Orr!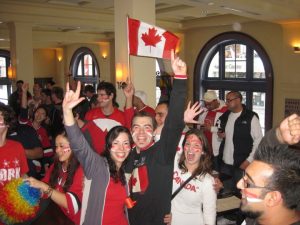 I remember watching the men's gold medal hockey game at the Rogue Kitchen in Waterfront Station—literally the only place our group of friends could find tables with TVs in downtown Vancouver. It was packed. They'd snaked extension cords everywhere to add TV's in any corner possible because food was secondary. The game was all that mattered. The tension of another epic Canada-USA battle exploded with Sidney Crosby's now-legendary Golden Goal and we all poured out into the streets to celebrate. Somehow everyone knew to go to the epicenter of Robson and Granville and, yes, I was amongst the estimated 150,000 delirious Canadians nearly crushing one another to death, but not really caring as we celebrated a victory for the ages. Later I watched my first-ever sledge hockey game live at the Doug Mitchell Sports Centre and marveled at the skill, speed, and toughness of sledge hockey players.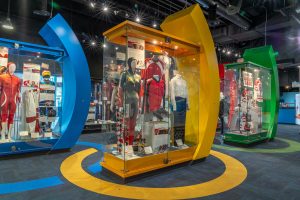 Less than a year later, we were in the midst of a massive renovation at the BC Sports Hall of Fame led by Sue Griffin, Allison Mailer, and myself. We decided that one of our new signature galleries would be devoted to the Games and it became what is now our Vancouver 2010 Gallery. Working with trustee Joanie McMaster, our staff began building the largest collection of Vancouver 2010 memorabilia in the world. We used our contacts in BC and Canadian sport to approach many of Canada's top athletes for memorabilia to display. We combed athlete webpages and Facebook, while sending out direct messages via Twitter to reach international athletes. We mailed a formal letter to all 82 National Olympic Committees who competed in Vancouver. The response was incredible. Every day seemed like Christmas as packages containing Vancouver 2010 treasures from around the globe turned up at our door. So many athletes contributed saying their time in Vancouver meant so much to them they had to be part of this project.
Highlights included:
Nancy Greene loaned her 2010 Torch used to light the cauldron at BC Place during the Opening Ceremony. She later signed it herself and had the other final four torchbearers do so also: Rich Hansen, Steve Nash, Catriona Le May Doan, and Wayne Gretzky.
German luger Tatjana Hufner donated her entire luge strip including boots, singlet, and helmet, which utilized a Canadian dime as the face shield holder. Tatjana told us she found this souvenir 'Year of the Volunteer' dime on the sidewalk in Vancouver during training and found it so meaningful she wanted it to accompany her on each of her luge runs on her way to winning Olympic gold. I later toured her parents, who barely spoke a word of English, through the gallery upon its' completion as they sobbed and burst with pride while viewing their daughter's display. Tatjana later visited the gallery as well several years later during a break from a World Cup event at Whistler.
Alex Bilodeau had given almost everything he used at the 2010 Games away when we contacted him, but he said he still had his snow pants worn on his gold medal run. Did we want them? Even just the pants—you bet! They came complete with magnetic knee panels that helped keep his knees together while hammering down the moguls.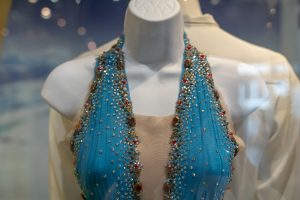 Tessa Virtue, Scott Moir, and Joannie Rochette each donated their figure skating costumes worn in Vancouver. Joannie later returned twice to see the gallery and even borrowed her costume once to wear for a special exhibition skating performance in eastern Europe before returning it to the gallery.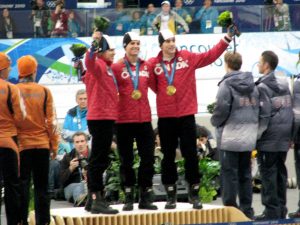 We were on the hunt for one of the 23 Olympic podiums used during the Games but kept running into roadblock after roadblock. One day I received a phone call from a VANOC board member, who instructed me to rent a five-ton truck and show up at a specific time at VANOC's Clark Street fabrication shop. Once there, I backed the truck in and a forklift deposited a team podium into the back. This podium escaped the fate of the others that were dismantled into small chunks and sold for $20 a piece at The Bay. Later we learned this particular podium, constructed from wood from the Mission area, had been the one Fort St John speed skater Denny Morrison and his 3000m Canadian relay teammates had received their gold medals on. Five years later, Denny, on crutches from a motorcycle accident, conducted interviews with local media while sitting on 'his' podium leading up to his Hall of Fame induction.
Opening a package from skeleton gold medalist Jon Montgomery—famous for his chug-a-lug from a pitcher of beer handed to him by a fan in Whistler while walking to his gold medal ceremony—and finding inside not just a beer pitcher, but his red and white Canadian skin suit 'pouring' out from inside.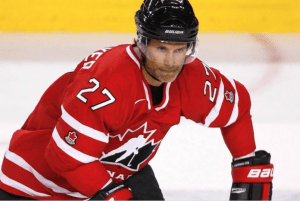 At our 2011 Banquet of Champions, Canadian men's hockey team captain Scott Niedermayer presented me with his gloves worn during the gold medal game. But he looked disappointed. On the flight up from Anaheim, the airline had misplaced his stick used in that same game. He figured it was long gone and apologized profusely. The next day I arrived at my desk at 8am to find his Bauer Supreme One95 stick sitting across my keyboard. He later told us the airline had located the stick and somehow he'd rushed over at the crack of dawn to get it to us before his early-morning flight back to California.
Now COC president Tricia Smith arrived one day with 82 separate gifts from the competing National Olympic Committees given to her and Rick Hansen upon each nation's arrival at the Athletes Village, of which Tricia and Rick were co-mayors.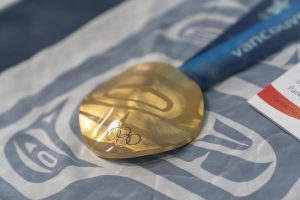 Meeting Olympic gold medal-winning snowboarder Maelle Ricker at a North Vancouver coffee shop and receiving all sorts of curious looks from those nearby as she gave me her snowboard and race suit worn while becoming the first Canadian woman to win Olympic gold on home snow. Later she would loan us her Olympic gold medal as well.
Perhaps my favourite items are the hand-carved wood skis used by Pakistan's first-ever Winter Olympian Muhammad Abbas while learning to ski as a boy on a hill near his home. With his son wanting to emulate the search and rescue officers who trained on the hill, Muhammad's father made these rudimentary skis from wood planks, nails, rubber strips, and wire found at the garbage dump. Later the officers took pity on the young, enthusiastic skier and gave him an old pair of their skis to use, which proved key to his development into Pakistan's first-ever Winter Olympian. Getting those skis to Canada through his coach Zahid Farooq was a whole other story. They lived in Islamabad, Pakistan, not far from where Osama bin Laden's compound was located. Zahid explained to me that getting material in and out of the area was extremely difficult because of this. He managed to convince a Pakistani military officer friend to bring Muhammad's skis and his Olympic uniform to a Toronto hotel and somehow—I'm still not sure how to this day—they ended up on our doorstep one day unexpectedly. Not long after, Osama bin Laden was assassinated by US forces.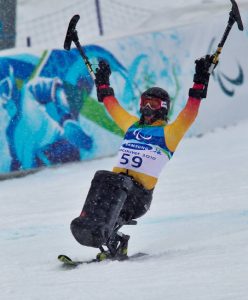 And there is so much more to see in our Vancouver 2010 Gallery. Come stand on a real Olympic podium. Get a close look at 'Fernando,' Helen Upperton's Canadian bobsleigh she piloted to silver. See Shaun White's snowboard, Roberto Luongo's goalie mask, and Josh Dueck's sit skis. See how many Olympic pins you collected or are missing. We have all 700+! Relive Sidney Crosby's Golden Goal. To celebrate the 10th anniversary of the Games, we're undertaking a refresh of the gallery to be completed by February 12th to showcase new equipment, memorabilia, and clothing from the 2010 Games, some of which has never been displayed publicly before.
'With Glowing Hearts,' we look forward to experiencing some of the magic of Vancouver 2010 with you all over again.