A Most Remarkable Week of Artifact Acquisitions
December 1, 2019
Like most museums and sports halls of fame, the BC Sports Hall of Fame acquires artifacts and archival documents in a variety of ways that then become part of our permanent collection, which numbers over 27,000 artifacts and well over 100,000 archival documents. In an average year, we'll receive approximately 75 separate donations often numbering several hundred items collectively.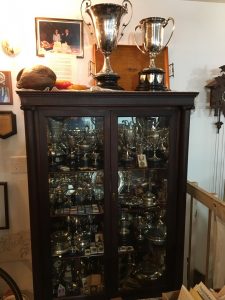 Many items are donated outright by Honoured Members and their families and can be among the most significant and valuable items in the world of sport—Olympic medals, championship-worn jerseys, or priceless equipment. Items are also donated by the public, who may have found a trophy won by their grandfather, a jersey worn by their mother, or something else completely unexpected. I'll never forget the visit to a donor in New Westminster several years ago who'd found a great collection of 1910s-1930s baseball material belonging to his father in the attic: everything from programs and guide books to bats and an early mitt. When we flipped through a stack of programs, I noticed several Vancouver Millionaires hockey scorecards from the old Denman Arena—filled out during games from the Millionaires 1914-15 Stanley Cup championship season. I knew these were incredibly rare, but learned later local Millionaires experts weren't even aware that this kind of scorecard existed!
Some items are taken on temporary loan for special exhibitions or short term displays, while in special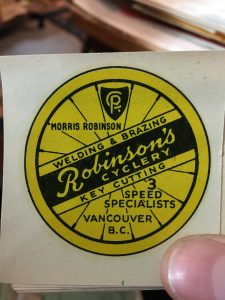 instances significant collections are placed on long-term loan, such as the collections belonging to Terry Fox, Nancy Greene, or Greg Moore. We also have a limited budget to purchase items. I try to visit sports memorabilia and antique shows throughout the province as much as possible, while also keeping an eye on various auctions throughout the year and even popping into antique stores from time to time. I've also built a strong network of collectors and friends who keep an eye out for items that might interest us. You never know what can turn up and I'm constantly amazed at the BC sports treasures that find their way to us one way or another.
Which brings me to a most remarkable week in late June earlier this summer. There have certainly been more significant individual donations to our Hall of Fame, but I can't recall a single week of artifact acquisitions in my 16 years with the BC Sports Hall of Fame that ranked higher in terms of collective quality and variety.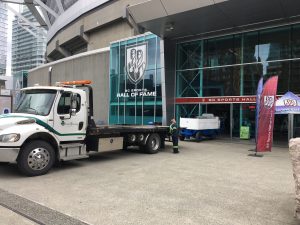 It started on the Monday with the delivery of a 5,500 lb. Model F Zamboni—the first used in British Columbia and the Pacific Northwest by the PNE back in 1956—donated to our Hall of Fame by Kendrick Equipment in Surrey. The Frank J. Zamboni Company in Paramount, California informed us that this was the 53rd Zamboni ever made and one of just a handful from the first 60 machines known to still exist. John Mackie from the Vancouver Sun helped us fill in some of the gaps on this Zamboni's unique backstory which you can read here. Moving this behemoth, the heaviest artifact in the Hall of Fame collection, proved a particularly tricky undertaking.
On Tuesday, I paid a visit to the long-time location of Ace Cycles at 3155 West Broadway, for decades a constant in the heart of Kitsilano, the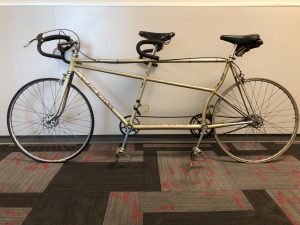 home and cycle shop of the legendary Lorne 'Ace' Atkinson, inducted into the BC Sports Hall of Fame in 1997 as a Builder and Athlete. After Ace passed away in 2010, his children Dan and Jan Atkinson and their partners kept the shop going until 2018 when health issues intervened and they made the decision to sell the building. I met Jan at the shop and she toured me through the empty showroom and workshop which looked foreign to me now with all the familiar bicycles and parts and tools gone. I sensed her sadness and I felt it too. It was the end of an era. It was here that thousands of Vancouverites bought their first bike, learned to ride, or had their rims repaired by the kind man with the hunched back and easy smile, who always had a nugget of cycling wisdom to share. I thought of the first time I'd met Ace here in the workshop, crouched over a bike frame and covered in gear grease, surrounded by nuts and bolts and gears and handlebars and the hustle and bustle of bikes coming and going and loving every minute of it. I came back many times and we became friends.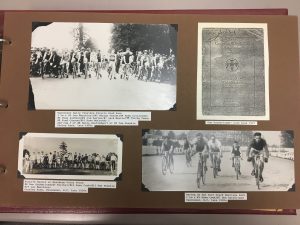 I interviewed him upstairs for my first book The Miracle Mile (in which he features prominently) where he and his loving wife Evie lived for decades. Ace showed me his darkroom where he developed photographs and the most amazing carefully constructed scrapbooks that I came to view as the bibles of BC cycling history. The staircase up to their apartment was now bare, but somehow I missed the cobwebs and bike frames and tires that lined the wall on one side. It was standing on those steps one day I asked Ace whatever happened to the bike he raced to Canada's best cycling result on the steeply banked yellow cedar track at China Creek Park during the 1954 British Empire and Commonwealth Games. "It's right above your shoulder," he replied. "Made it myself on my lunch breaks that winter." That bicycle with the ornate steel lugs he hand-filed is displayed proudly in our Hall of Champions today.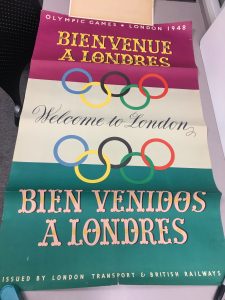 Jan showed me boxes of Ace's material that had been put aside for our Hall of Fame. There were cycling trophies from the 1940s, dozens of black and white race photos, race results and correspondence going back decades, even the 1948 London Olympic Games poster that Ace pulled off a wall in an underground subway station when no one was looking, the colours still as vibrant today as 70 years ago. Ace's treasured scrapbooks were loaded up and I'm certain these will be a constant reference for any future cycling research we conduct. His leather 'crash hat'—"Not a helmet," he told me once, "can you fold up a helmet and stick it in your back pocket?" which he then demonstrated to prove his point—that resembled a web of sausages and protected him during countless crashes was in one box. And of course, there were bikes. Besides Ace's 1954 CCM, I came back to the Hall of Fame with another of his trademark black and yellow racing bicycles, a tandem Claud Butler he set numerous records on with partners, and even an unsold, never-ridden beautiful red and silver Type Luxe 'Lorne Atkinson' model from the early 1970s that still bore his name and Ace Cycles decals.
It was an emotional visit for both Jan and I to say the least, but we departed positive Ace would be happy knowing his items were going to the BC Sports Hall of Fame, a place he loved and was very proud to be an Honoured Member of.
The following day, Wednesday, I drove out to Ladner to view Bill Lambert's program and magazine collection. You get used to seeing a lot of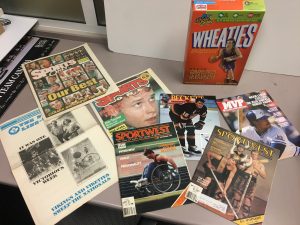 programs and magazines if you work long enough at a sports hall, but Bill had gathered a very unique collection of rare and in many cases almost completely forgotten BC and Canadian sports magazines, some of which lasted only a few issues. Beyond carting out a few more common Sports Illustrated and Sport issues for the Hall's library, there was also a large stack of Sports Only issues from the mid-1990s, a few selected Beckett price guides, several issues of MVP magazine, a handful of the short-lived Sportwest magazine, and a nice collection of a Canadian basketball magazine called The Starting Line-Up. All were welcome additions to our sport library.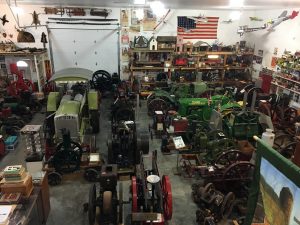 And then it was Thursday, and a drive south into Washington State. After a complete vehicle search at the Pacific border crossing by US officials (in hindsight, innocently explaining you were a museum curator in an empty transit van visiting the family of one of your Hall of Fame's Honoured Members may have seemed a tad suspicious to me too if the shoe was on the other foot…) I headed for Sedro Woolley to visit Morrie Robinson, the son of 1930s Vancouver cyclist Morris Robinson, inducted as a Pioneer in our Hall of Fame in 2002. Turning into his driveway, a graveyard of various rusting pieces of antique farm equipment lined the gravel path up to the house and warehouse. Morrie met me at the door and welcomed me inside his shop and I was not in any way prepared for what I saw next. The floor of this shop was covered with dozens of restored machines—tractors, engines, saws, mills, of all kinds. The walls were lined with toy trains, toy tractors, sleds, model airplanes. One area was themed as a heritage barn with all sorts of hand tools and milk cans. Another area up some stairs to a mezzanine had various rooms of a house themed with antiques you may find in a 1940s kitchen, living room, bedroom, or garage. It was like walking back in time and as good or better than what you'd find in any civic museum.
Morrie saved the best for last, taking me over to an area he'd set aside for his Dad's cycling career. There were nearly a dozen different bikes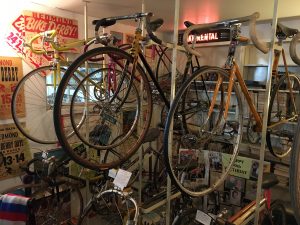 Morris had rode or raced back in the 1930s on tracks and roads all over BC and at the 1938 British Empire Games in Australia. One bike had a unique stopwatch mounted to the handlebars for timekeeping.
There was a formidable cabinet containing countless silver cups and trophies won by Morris. All sorts of cycling race posters and photos and other ephemera covered the walls. I spotted Morris' BC Sports Hall of Fame induction certificate in a place of honour, which made me smile. Morrie told me many stories of the connection his Dad shared with Ace Atkinson and they appeared in photos together here and there.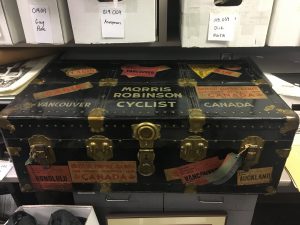 All of it represented an amazing competitive cycling career and later a successful lifetime of managing cycling shops, including one in Vancouver—Robinson's Cyclery—and then later in Washington State. Morrie wasn't ready to part with most of his Dad's material just quite yet, but he did donate a large collection of 1920s and 1930s Vancouver cycling posters, written cycling material gathered by his father, and the topper: the large trunk used by Morris when steaming by ship to the 1938 British Empire Games in Sydney, Australia. "Morris Robinson – Cyclist – Vancouver Canada" was painted in gold on the lid alongside a remarkable collection of decals detailing the various stops on the ocean journey across the Pacific. Inside were two pairs of leather cycling shoes, each with steel clips on the soles to snap onto a bike's pedals.
After saying goodbye to Morrie and his wife with the promise to return one day soon, I drove north marvelling yet again at the BC sport treasures tucked away in the most disparate of places and a week I don't think I'll ever forget.