Gerry Gilmore: Always First to the Ball – 2021 Inductee Spotlight
May 24, 2022
By Jason Beck
It's an accomplishment to be one of Canada's best athletes in any sport. It's downright remarkable to be among the best in three different ones.
Gerry Gilmore did just that, competing at a national and international level in three sports: softball, basketball, and field hockey.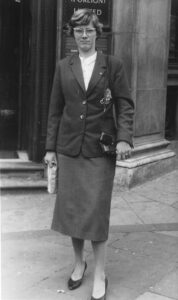 Which begs the question: how did she get so good at three very different sports?
Practice, of course. Being in good physical condition. A passion for sport. All of that is important, but for Gerry it often came down to one key trait that overlapped all the sports she played: the drive to be the best and a fierce will to win.
"I always said that if I'm in a flat race, I'll probably come in last," Gerry mused in a recent phone interview from Victoria, her home for the past 40 years. "But if you roll a ball in front of me, I'll get to it before you do."
Hearing the conviction and determination still evident in the voice of one of BC's best all-round athletes of the 1950s and 1960s, you don't doubt her for a moment.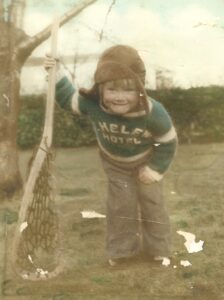 Gerry Gilmore was born in 1934 and grew up in the Marpole area of south Vancouver near the Oak Street Bridge. The Gilmores were one of the most lacrosse-centric families around. From the time an infant Gerry was wheeled to lacrosse games in a baby buggy, the sport seemed to dominate their family's life. Gerry's father Ed was a well-known coach who guided the Richmond Farmers to the 1941 Mann Cup Final. Her mother, Mickey, was a very good player in her day and her brother Jim played too. One of her uncles, Les Gilmore, was inducted in the Canadian Lacrosse Hall of Fame. A lacrosse box in Richmond was named after another uncle.
"Richmond used to be filled with Gilmores, all playing lacrosse," she chuckled. "That's why I got started playing lacrosse, banging a ball against the wooden steps. No one bothered me, but I must have drove them crazy. It was an athletic family, so they knew it had to be done. It was just something we did all the time."
No one wanted to play lacrosse more than Gerry. She could hold her own playing against the neighbourhood boys, but she desperately wanted to join a real team. So she answered a newspaper ad for a 10-year-old boys lacrosse team needing players.
"I was told I couldn't play because I was a girl," she said. "I thought my name might fool them, but it didn't. That coach should have put me on his team honestly!"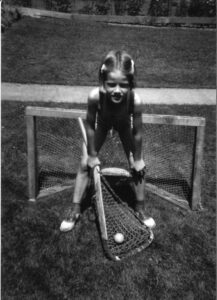 She's right, of course. Knowing what was to come for Gerry as an all-round athlete, she likely would have wiped the floor with those poor boys. But lacrosse's loss would be the gain of other sports.
Gerry turned to softball. Her first of countless sports teams over the course of her career was the Marpole girls softball team. She was 11 years old and "the shortest, skinniest, and keenest player on that team."
"That was a big deal because we got sweatshirts for uniforms," she recalled with a laugh. "We didn't have much money, so I needed to play team sports where a uniform was provided for you. We didn't have the money for an individual sport like tennis where you needed your own all-white outfit to play."
At David Lloyd George Elementary and later at Magee High School, Gerry played every sport she could—badminton, tennis, volleyball, plus the three that she ultimately excelled at: softball, basketball, and field hockey.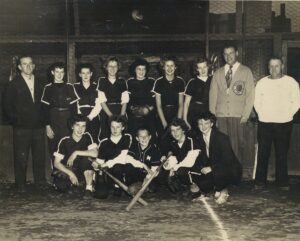 "Anytime I had any spare time I just thought it was the thing to do, you had to play something," she said. "I loved my teammates. And it was something to do. I'm not an academic. I wouldn't enjoy sitting and reading. I really wanted to get out."
By her early teens, Gerry had already mastered juggling a busy practice and game schedules of multiple sports all at once. She loved every second of it.
"You couldn't do that today. It's so specialized and the coaches are all organized," she reasoned. "I'd come home from doing one sport, have something to eat, and take off for another sport. One time the bus broke down at 37th and Oak and a friend of mine and I ran down to King Edward High School on 12th to play basketball. So we were young and foolish!"
Maybe, but Gerry was also picking up all the cross-over skills for any sport you can imagine without even realizing it. She continued playing multiple sports at once throughout her career, but for simplicity here we'll look at her three primary sports individually starting with softball.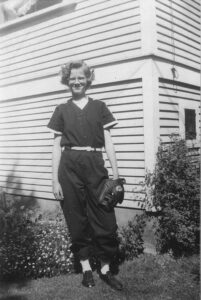 As a young girl, Rita (Panasis) Bell, a 1975 BC Sports Hall of Fame inductee, was Gerry's idol in softball.
"She played second base and I just loved the way she flipped the ball over to first," Gerry recalled. "I imitated her and imitated her until I realized all that wind-up was taking time. So I decided to practice whenever I got the ball throwing it the minute I caught it to cut down the time. But she was my idol."
For most of her career, Gerry played second base too, often with teammate and 1998 BC Sports Hall of Fame inductee Shirley Ann Topley at first. The pair made a formidable infield combo.
"I could throw anything at her and she could catch it," said Gerry. "I didn't even have to think."
Other teammates said much the same thing about her.
"No throw was too high or too much in the dirt for Gerry to catch," said Gillian Thomas, a teammate on various teams in the late 1960s. "She was able to scoop balls at a half-bounce, which requires precision timing and natural athletic talent. In the case of wild throws, she was able to snatch them out of thin air for an out. With Gerry's timing and hand-eye coordination she was able to make many outs which easily could have become runs."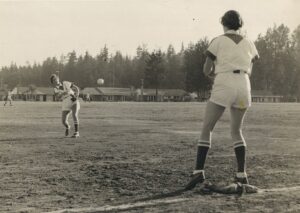 The best illustration of how strong a fielder Gerry was occurred in 1960 when she went the entire Vancouver Senior A Women's League season at second base without committing a single error. That same year the Oregon Journal named her a Pacific Northwest League all-star at second base.
"I couldn't believe it," she recalled. "At the end of the game the team all rushed over to me. I thought, 'Oh god, what's going on?' And [coach] Bobby Peters told me I'd played the entire season without an error."
At the plate, Gerry was a strong, versatile hitter as well, usually batting second in the lineup.
"I could hit a long ball or, because I'm left-handed, a drag bunt," she explained. "Pitchers hated me. They did! I've been told that. Bunt and run, that was my specialty."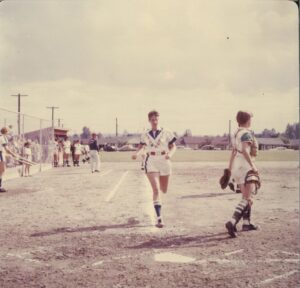 Darlene Currie, a 2019 BC Sports Hall of Fame inductee, and teammate of Gerry's on the 1960 South Hill Queens, agreed.
"I remember Gerry as a dependable infielder and an aggressive batter," Currie said. "At second base she caught anything that came her way, and at bat she could beat out a bunt, or hit the long ball. She was also great with the younger players, and a real team leader."
In her early teens Gerry played for the Marpole North Stars in the Vancouver Senior B women's league before replying to another newspaper ad and playing a season for Pacific Meat's Senior A team. That was where coach Bob Peters spotted both Gerry and Topley and convinced them to join his Crowhurst Motors team based out of North Vancouver. The Crowhursts, sponsored by an independent gas station, played most of their home games at South Memorial Park in the Vancouver Senior A league and the Pacific Northwest League, which took them on weekend road trips all over Washington State and Oregon.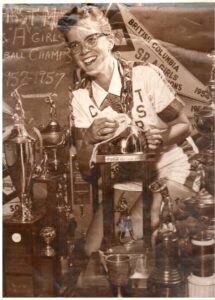 "We usually arrived at the border around midnight on our way home," Gerry remembered. "Canada Customs found it hard to believe that two carloads of females had spent time in the US and didn't have anything to declare."
With Gerry and Topley leading the way, the Crowhursts were a dynasty in BC women's softball, qualifying for the 1952, 1953, and 1955 World Women's Softball Championships in Portland, Oregon. Later in the decade when the Crowhursts morphed into the South Hill Queens, Gerry and her teammates made it back to the world tournament two more times in 1960 (in Stratford, Connecticut) and 1961 (in Portland). As the BC or Western Canada rep in the tournament, the teams were always solid and competitive, never a finalist, but often finishing in the top ten.
Later in the 1960s, Gerry played in four Canadian championships in five years: 1965 in Winnipeg with the Victoria Vicettes; 1966 in Toronto where she captained the Vancouver Texacos and was named a tournament all-star at first base; 1967 in Vancouver with the Texacos again; and 1969 in Fort Erie, Ontario with Vancouver Eldorado. That same year she led Team BC to a bronze medal at the first Canada Summer Games in Halifax. At the provincial-level Gerry was a member of a remarkable 11 BC championship teams in 17 years (1952-58, 1960, 1963, 1965, 1968). One of her crowning achievements came in 1967 when she was nominated for the BC Athlete of the Year award. In 2018, Gerry was inducted into the BC Softball Hall of Fame.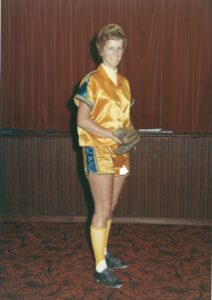 Switching to basketball, Gerry began playing on a community girls team in Marpole and later in elementary school, before joining a Dunbar team. As she did in all sports, Gerry stood out and caught the attention of Vancouver Eilers coach Gordie McDonald, who recruited her to play on one of the most dominant women's basketball teams in Canadian history.
"I was very lucky to play with them," said Gerry. "I wasn't a high scorer, just a little guard that gave the ball to everybody else."
Beginning in 1950, the Eilers, sponsored by the Vancouver jewelry store chain of the same name, would win nine straight Canadian women's basketball championships. Then when the team changed its name to the Richmond Merchants in 1960, the team won another three national titles in five years. Gerry played a major role in three of those Canadian championships, helping the Eilers win in 1957 and 1958 and the Merchants in 1960.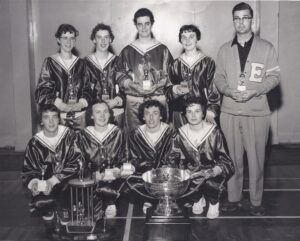 Basketball began to conflict with her field hockey obligations, which later led her to drop the sport. The tipping point came in 1959 when both Gerry and Eleanor Whyte, a 1987 BC Sports Hall of Fame inductee, made the difficult decision to skip the entire season to focus on field hockey, knowing the Eilers would be representing Canada at the 1959 Pan American Games in Chicago. Their hope was to make the Canadian women's field hockey team that would tour England, Wales, and Scotland and then play at the International Federation of Women's Hockey Associations (IFWHA) world tournament in Amsterdam.
"It was a tough choice, especially because the Eilers only had about seven or eight regular players," she recalled. "But we thought, 'No, I've never been on a plane and I've never been to Europe, so…' That was a hard choice but we both made it and I'm glad I did. No regrets, I would do it again."
That choice would lead to what Gerry considers the biggest surprise of her athletic career. When first learning to play field hockey cross-handed in high school at Magee, her coach taped her hand to the top of her stick to force Gerry to play right-handed, the correct form in the sport. It wasn't an easy transition for left-handed Gerry.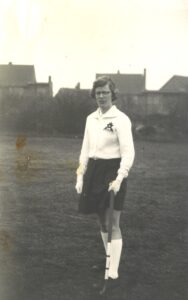 "I didn't like it and I would just drag the stick behind me, but I know now that it was for the better. I would never have made anything playing cross-handed."
After high school Gerry played with Topley on the Ex-King Edward team in the Vancouver women's league, usually at one of the three positions she typically played: center half, left half, or inside right. As mentioned above, she took a big chance dropping basketball to focus on making the 1959 Canadian touring team, not fully believing she'd make it.
"The officials had us play a game and the selectors were watching," she recalled. "On the final day they gathered us round in a circle and they were going to announce the team. And when they called my name, I looked down at my shoes and thought, 'Well, they're my shoes and that's my sweat pant there. It's got to be me.' That was the biggest surprise. I couldn't believe it. I just thought it was someone else's body they were calling out."
But just because she'd made the team that would tour Europe and play at the world tournament, the work didn't end there. There was virtually no support for amateur athletes at that time.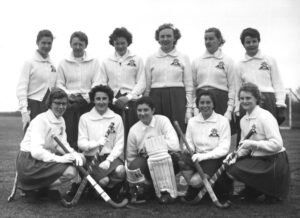 "I didn't have a penny to my name, so I had to sell my car and count pennies until we went away. We had to pay for a lot of it."
The 1959 Canadian women's field hockey team was just the second ever to represent Canada abroad. Joining Gerry on the team were fellow Vancouver stars Whyte and Moira Colbourne, a 1985 BC Sports Hall of Fame inductee. The team played 17 matches touring Great Britain on what Gerry called an "amazing trip."
"I'd never been out of the country except for the US. My diary was filled with all sorts of things I saw that were different from home."
Highlights included trying haggis one night in Scotland and seeing Buckingham Palace while in London. The team grew close travelling as a unit and staying with billets and occasionally in hotels.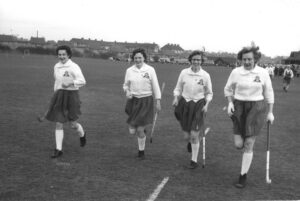 "We had a good time. In Amsterdam we all bought wooden clogs and woke up the whole hotel when we came back to our rooms that night."
On the field Gerry earned the respect and admiration of all around her as one of Canada's top players.
"Our team appreciated her positive attitude on and off the field," said teammate Colbourne. "She was an excellent team player. We respected her fair, honest, and friendly personality."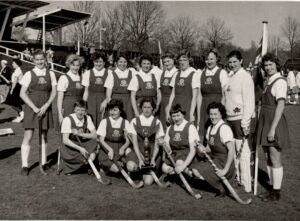 Another Canadian teammate, Barbara Harris, who often played against Gerry at home in Vancouver, appreciated now having her on the same side.
"When we played against each other, I found Gerry to be a formidable opponent; she seemed to be able to control the ball for yards in almost every direction!" said Harris.
At no point was Gerry's play more noteworthy at the 1959 IFWHA tournament than in Canada's first game against the host nation Netherlands, always one of the top field hockey nations in the world. Canada held the Dutch scoreless until halftime and only surrendered a single goal in the second half in a close 1-0 loss.
"This was in no small measure due to our halfbacks, spearheaded by Gerry, who showed amazing strength, perseverance, and dedication," said Harris. "Gerry's physical attributes of a long stride, an ambidextrous reach, and split-second timing (honed through years of playing international softball) stood her in good stead in overseas hockey."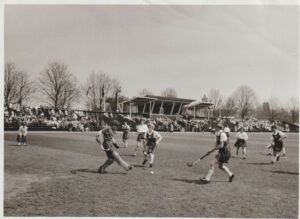 "I was fast off the mark and I think it was from banging the lacrosse ball against those wooden steps," explained Gerry of her performance. "But I was always put opposite the big hitter on a corner. I would always have to move opposite the girl that could hit the ball a zillion miles a minute. I just jabbed at the ball. That was my job."
At that time Canada was still very much a developing nation when it came to field hockey at the international level and struggled winning just two of six matches in the tournament. The team used it all as a learning experience.
"We didn't have games on TV that we could watch," said Gerry. "We had nothing to go by. Some of those other teams had been playing for years and years together. They were so much better than us. We had never seen a good stickhandler in Vancouver. I couldn't believe you could play like that. We were at a disadvantage because we were inexperienced. We had good players on our team, but the other teams were just so experienced. But, boy, we sure learned a lot."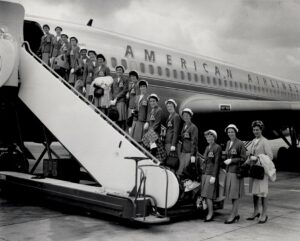 Four years later Gerry was back with the Canadian team for the IFWHA world tournament, this time in Baltimore, Maryland. A sign of her rising prominence in the squad came when Gerry was named the team's vice-captain and flag bearer for the tournament's opening ceremony. At the request of Canadian team captain Harris, Gerry was also made the team's on-field captain.
Having learned from the 1959 tournament and with four more years of experience, the Canadian women did much better, earning three ties and three losses against tough opposition. Gerry was one of the few Canadians to score a goal in the tournament.
"I'd been playing center half in the first half against Switzerland and it was 0-0. So Chris Grant, our coach, moved me up to right inner and, god, I got a goal! We didn't score many goals, but that was thrilling to do it on a corner. It was a big deal. People in the stands and at home finally had something to cheer about."
Canada hung on for a 1-1 tie against the Swiss. It was likely the biggest goal Gerry ever scored for Canada.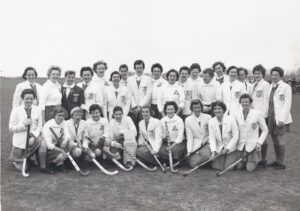 Also in 1963, Gerry served as Canadian vice-captain in the Three Nations Tournament in Toronto and while hosting world tournament champion New Zealand for a match at Stanley Park's Brockton Oval in Vancouver on their North American tour. Later, Gerry captained the Canada West team to the Canadian championship in Toronto in 1966.
Christine Grant, who served as the University of Iowa's athletic director for 27 years and coached Gerry on the Canadian team in 1963, held Gerry in the highest regard as an athlete.
"Gerry is one of the most gifted athletes I have ever coached…" said Grant. "Over the decades I have known hundreds and hundreds of athletes, including many outstanding athletes at the Olympic level. Gerry deserves to be classed with the most elite."
They didn't know it at the time, but in many ways Gerry and her Canadian teammates were breaking trail for the generations of Canadian international field hockey players who came after. By the late 1970s, Canada was considered a top field hockey nation, which it remains today.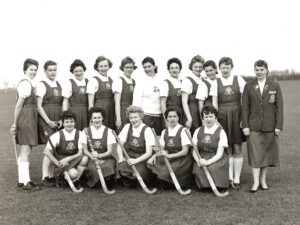 "It all paid off, so I'm glad we did it," Gerry said.
Even while still active as an athlete, Gerry began coaching teams mainly in basketball and field hockey. It was a natural extension as both an athlete and a schoolteacher in her day job. From 1962-64 she coached the UBC women's basketball team and was awarded an Honorary Big Block Award.
"Lots of good athletes take but never give back. Gerry was truly great because she gave back to the community as a teacher and a coach for many, many years," said Lynda Brennan, UBC basketball team manager.
Later Gerry coached Point Grey Secondary's girls field hockey team to the BC high school provincial championship in 1971 and the BC U-21 junior girls field hockey team to the Canadian championship in 1974. That same year Gerry took on coaching the UBC women's field hockey team for two seasons while Barbara 'Bim' Schrodt, a 1999 BC Sports Hall of Fame inductee, was away on sabbatical and led them to back-to-back Vancouver City League championships.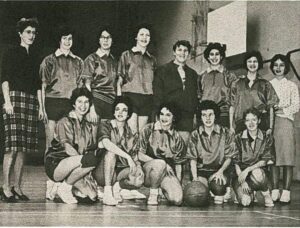 "She excelled as a coach, and one of the wisest decisions I ever made was to persuade here to take my place coaching," said Schrodt.
One of those Gerry coached at UBC was the great Shelley Winter Andrews, one of Canada's all-time best field hockey players and a 2015 BC Sports Hall of Fame inductee.
The improvements Gerry has witnessed in women's sport today compared to her era as an athlete are significant.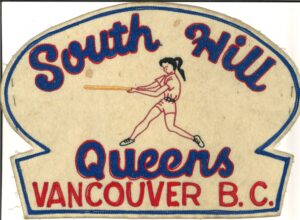 "Oh enormous changes. It's just a complete turnaround. There's no comparison. It's all for the better."
The media coverage is much better, she notes, especially for women's soccer.
"We would get in the paper very rarely, if at all."
When Gerry was coaching, she was one of the few women's coaches who obtained her national coaching certification in field hockey and volleyball. Today women's coaches and referees all the way down to the grassroots level are now certified.
"Sometimes when I was coaching high school basketball I had to grab any kid who was wearing running shoes to be the referee."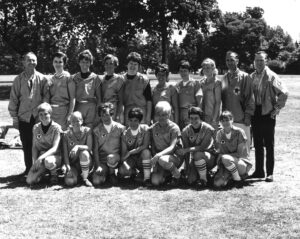 And there are just more opportunities for women to compete at the highest level. Most sports have a world championship every year now.
"How many world tournaments could we have played in basketball, softball, and field hockey?" she mused thinking back to her era.
Few athletes embody the 'sport for life' concept better than Gerry. One day in her sixties she pulled out of the closet her dusty beat-up ball glove after answering yet another newspaper ad for a Victoria mixed seniors slo-pitch team needing female players. She ended up playing many years on ball diamonds all over BC and Washington. She also played competitive tennis well into her seventies. And she even continued playing pickleball until just recently but has been forced to stop because of arthritis in her hands and knees.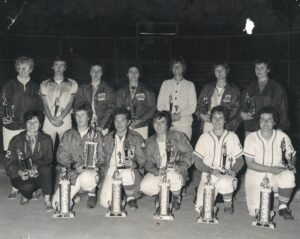 "So I thought that's it. The girl would hit the ball over the net at me and a year earlier I could have gotten it. I thought, 'I'm not having any little girl on the other side jumping up and down because she got a point on me that at one time I would have put right back past her ears.' My playing fields have finally shrunk to a crib board."
But Gerry remains as active as possible these days in her Victoria home doing fitness twice a week. And make no mistake that quiet competitive fire she always had for sport continues to smolder beneath the surface. When she learned of her induction into the BC Sports Hall of Fame last fall, there it was all over again.
"Well, it's a thrill. It really is. I'm surprised that I got it. I've been exercising and practicing for months and months now ever since I learned of it so that I can walk up the stairs [to the stage]. Hide me backstage maybe! I don't want to go up for a sports award and I have to hobble up the stairs."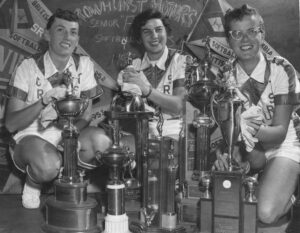 Just before our phone interview ends, she pauses for a moment and the driven athlete in her comes out one final time before we hang up.
"I'm still active. I'm not a 'little old lady,'" she laughed before summing up. "I will still beat you to that ball!"
As part of the Class of 2021, Gerry Gilmore will be formally inducted into the BC Sports Hall of Fame in the Athlete category at the annual Induction Gala to be held June 9, 2022 at the Vancouver Convention Centre.