Don Arnold: Brother of the Oar – A Tribute
August 27, 2021
By Jason Beck
When I received the call you could have knocked me over with a feather.
It was mid-July and the familiar digits of "DJ Arnold" came up on my call display. I always looked forward to Don's calls. Who wouldn't?!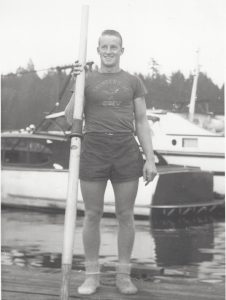 Many of you will know Don Arnold as a giant in Canadian rowing. An Olympic gold medalist in 1956 in the Four—Canada's first-ever Olympic gold medal won in rowing—a 1960 Olympic silver medalist in the Eight, 1958 gold and silver medalist at the British Empire and Commonwealth Games, multiple time Canadian champion, plus a lifelong supporter and contributor to the Vancouver Rowing Club, UBC Rowing, Rowing BC, and Rowing Canada. Over the last 15 years I'd had the honour to call Don a friend.
But this call was different. Don's wife Linda was on the line, which wasn't unusual as especially in the last four years I'd also gotten to know Linda well too and considered her a friend. But Linda had the unenviable task of informing a few of Don's teammates and friends of his passing on June 27th just a few days shy of his 86th birthday. First came a wave of shock and then as we shared some memories, a few stories, and some tears too, it began to sink in. A great friend to so many had left us.
Don and I shared a special bond. Although separated by many decades in age and raised in much different parts of the province (he in Winfield; myself in Abbotsford), we recognized in one another a common background of honesty, hard work, and toughness that often comes from growing up and working on a family farm. It's funny, I don't think we talked about our respective backgrounds to one another in great detail until much later, but it's like we already knew. When you see it in others, sometimes you just know.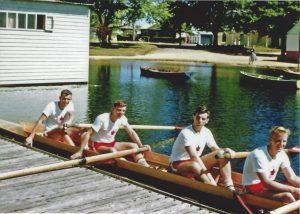 The bond that we shared grew particularly strong in the last four years when Don was a massive reason why I took on writing my second book on the great UBC-VRC rowing crews of the 1950s and 1960s that he was a part of. For those interested, the working title is The Cinderella Crews: Coach Frank Read, the University of British Columbia – Vancouver Rowing Club Crews, and the 'damndest spirit you ever saw'. Don was the first and biggest supporter of the project. He was my first of over 35 interviews. He opened up his personal vault of invaluable rowing memorabilia to me. He put me in contact with countless teammates and others who would have an interesting or unique take on that first golden era in Canadian rowing. Rarely did a couple weeks go by when we didn't talk about the book's progress.
In fact that was what we spoke about in early June, the last time we talked. Don called me one Saturday while I was working away in my office at the BC Sports Hall of Fame and we got caught up as we always did. He sounded in particularly good spirits that conversation I remembered thinking after the call. I learned later from Linda that Don had struggled with some serious health issues in the months prior, serious enough that he spent several weeks in the hospital. He rallied enough to be able to go home and our last call came during two weeks of his last run of good health. Not long after, his health took a turn from which he never recovered. True to form, as we talked Don glossed over his medical issues then as he did in the past. Olympic champions often have a habit of doing this, I've learned. After conducting five interview sessions with Don totaling over 10 hours of recordings in the spring of 2017 (plus another 3-4 research trips out to the UBC Archives together with Linda), it was only after interviewing some of his closer teammates that I learned the entire time he had been valiantly undergoing chemotherapy with that characteristic strong, silent resolve of his—the same trait that he used stroking his crews to victories around the world. You never would have guessed it if you didn't already know.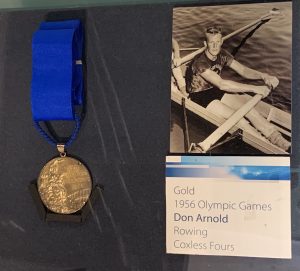 One of my biggest disappointments in recent years is that I didn't finish this book in time for Don to read it. Finishing it for him in his memory has become my primary motivation this summer and will drive me through the long rainy days of the coming fall and winter. The goal is to have the manuscript complete by the end of the year.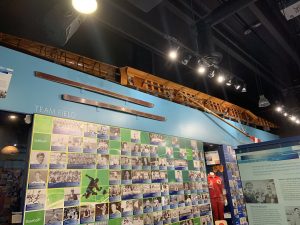 This past Saturday I had the opportunity to tour Don's brother-in-law Ren Amor, his sons Graham and Andrew and his grandsons Cameron and Nathaniel around the BC Sports Hall of Fame. It was an honour to meet everyone and give a rowing-themed tour of the Hall with many stops devoted to Don himself. We're proud to display Don's gold and silver Olympic medals, the cedar Pocock Fours rowing shell known as the Warren that Don and his crew rowed to Olympic gold in 1956, as well as many pieces of his Canadian Olympic and UBC-VRC clothing and souvenirs. In a way, it was a little like having Don with us, which was fitting as he was so proud to be twice inducted into the BC Sports Hall of Fame as a member of the 1956 UBC-VRC Four and the 1960 UBC-VRC Eight, as well as later serving on the Hall's Board of Trustees and even giving school presentations as part of our Hero in You program. As the tour went on, a few stories were shared of Don and it made me think of how fondly I remembered our many times together.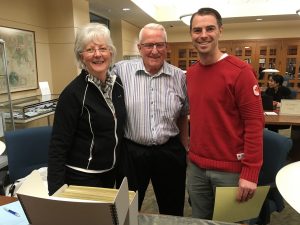 I thought of three in particular. One was of the trips out to the UBC Archives Linda, Don, and I made together in 2017. We'd spend most of the day looking through documents and scrapbooks from Frank Read's collection. Frank had been the coach of those great UBC-VRC crews of the 1950s, but he was a father figure to many of his oarsmen. To this day many speak of him in revered tones, as the lessons he taught and his rowers learned under his guidance shaped most aspects of the remainder of their often unusually successful lives thereafter. We'd turn another page of Frank's scrapbooks and another memory or story would come pouring out of Don. A few times these memories left Don's eyes welling up to the brim. One in particular got to me—still gets to me—from the 1956 Olympics. It's minutes before the Olympic gold medal final on Lake Wendouree and just before Don and his teammates Lorne Loomer, Walter d'Hondt, and Archie Mackinnon left in their shell from the boathouse to row to the start line, Frank pulled his four young rowers in for one final word. I'll let Don take it from here:
"'Boys,'—Frank always called us boys—'you've raced this race many times before. Through training and through time trials. It's just another race. That's all it is. It's not the Olympic Games, it's just another race.' So the anxiety for the Olympic Games had all of a sudden vanished. We were nervous and we were jittery, but we still had confidence because we knew one another so well. So he continued and he said, 'Just go out and have a race. I'll be here when you come back.'"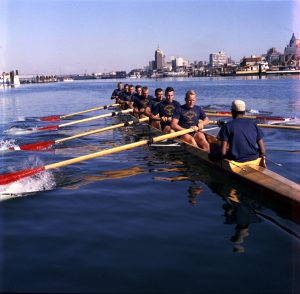 The recording goes silent for several moments as the emotion of that scene got to all three of us because we knew what happened next. Those four scared boys went out and shocked the rowing world, winning Canada's first-ever Olympic gold medal in rowing. And Frank, he was right there back at the boathouse waiting for them just like he said, smiling and proud as they ever saw him.
Then there was a quiet moment at the 2009 Banquet of Champions. The BC Sports Hall of Fame's annual induction dinner was one of the first events held in the then-brand-new Vancouver Convention Centre built for the Vancouver 2010 Winter Olympics. Over the course of that evening we found many of our guests gazing out the floor-to-ceiling windows of the building's north side lost in the Convention Centre's now signature view of the waters of Coal Harbour below and the snow-capped North Shore mountains off in the distance. It was later in the evening when I found Don standing off to one side looking out on those waters he knew so well from thousands of hours training upon them. It was dark by then and the lights of the North Shore were twinkling. Don began sharing stories of the many adventures he and his teammates shared on those waters and for a moment I felt like I was right there in the boat with him, stroking in time with seven other teammates pushing to the finish line of a 2000m time trial, an oil lantern hanging off the shell's bow lighting the way, cold salty water splashing all around, Frank Read urging on the crew from behind his megaphone in a trailing motorboat. Ahead there seemed to be nothing but open water and anything seemed possible. I remember one of my co-workers coming over and reminding me of something happening on-stage that I couldn't miss. Whatever it was I can't remember now. All that really mattered at that moment was being there with Don.
The final memory is the one that set me on this rowing journey over four years ago now. My first book The Miracle Mile: Stories of the 1954 British Empire and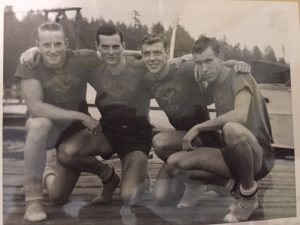 Commonwealth Games had been published in the spring of 2016 and I spent the next year giving dozens of presentations and readings on the book all over southern BC. Even before The Book Tour That Never Ends (as it came to be known) actually did come to an end, I found myself itching to start work on a new book. The question was on what? There were a good number of potential topics and I rolled these around in my head for several months. Late in 2016, I went out for dinner with long-time friend Fred Hume, who had read every word of every version of The Miracle Mile and had come to be a trusted literary advisor. After discussing each of the potential new book topics, I came away from the dinner settled on writing a book on the 1950s and 1960s Frank Read UBC-VRC rowing crews. The 1954 crew had been a key story in The Miracle Mile that resonated with readers, so I knew it had great potential. No one beyond Fred and my wife Nicole knew of this decision.
The next day at the BC Sports Hall of Fame, Don came by for an unexpected visit. This wasn't that unusual as Don would often stop by two or three times a year just to say hi if he found himself in our neighbourhood. I asked him if there was anything I could do for him today. He said there was one thing.
"I want you to write a book," he said.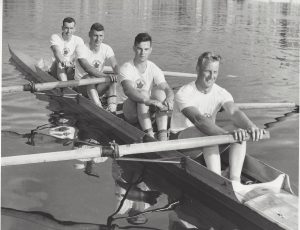 I remember goosebumps running down my spine. I told him that as a matter of fact just the previous night I had decided to start writing a book on his rowing crews. There was a long pause as we both looked at one another dumbfounded, maybe thinking the other was joking. Don cracked a smile and I'll never forget what he said next.
"Well, I guess we're on then!"
We were and I guess we still are. Sometimes moments like these might be passed off as coincidences and sometimes they are just that. But sometimes these things happen for a reason and mean much more. I took that moment with Don as a great omen for what was to come. Little did I know that over the next few years of digging through decades of archival material and recording interviews with over 35 rowers, I would uncover the largely forgotten story of one of the greatest dynasties of any Canadian team in any sport over the last century. It's Canada's 'Boys in the Boat' story and it turned our country into the world rowing power it's been for the past 60+ years. I can't wait to share it with all of you when it's finally finished.
For now though, I'll keep plugging away at this manuscript, getting a stroke closer to the finish line each day, just like Don and his teammates out on Coal Harbour working toward their ultimate goal.
In the meantime, if you'd like to read more about the amazing life of Don Arnold, please see Tom Hawthorn's obituary that ran in The Globe and Mail earlier this month: https://www.theglobeandmail.com/canada/article-bc-rower-don-arnold-and-his-crew-of-underdogs-won-canadas-first/
The public obituary compiled by Don's wife Linda can be read here: https://vancouversunandprovince.remembering.ca/obituary/donald-arnold-1082970884
Or enjoy the article below I wrote on Don for the West Vancouver Beacon in September 2020.
A great husband, father, grandfather, teammate, and friend, he will be missed by many.
Rest easy, Don.
Community Personality: Don Arnold
Rowing into Canada's Hall of Fame
By Jason Beck
From humble beginnings in small-town Winfield, BC to the peak of international rowing and later directing the sport at the administrative level, sport has been a constant for Don Arnold for as long as he can remember.
"I've been involved with sports pretty much all my life, one way or another," he said when summing up his 85 years.
Life was hard growing up on a fruit farm in dusty Winfield, north of Kelowna, in the latter days of the Dirty Thirties and through the 1940s. The Arnold family had no running water, no electricity, and no telephone, and still used an outhouse.
"We eventually got electricity when I was about 12 and did away with the coal oil lamps. That was a big celebration!" he laughed.
Despite the lack of modern conveniences, there was no shortage of sports for young Don to play. His earliest memories are of playing scrub softball and skiing. Later he'd play soccer and became quite serious about badminton. On weekends he'd ride his bike through the brush to the local tennis courts and work at rolling the clay surface.
His family were pioneers in the Winfield area with roots stretching back to 1906 when his grandfather John Wesley Arnold arrived and built their homestead house, which still stands today along with some of the orchards he planted. At the beginning there was nothing but acres of dry uncultivated rocks, but with the help of two Clydesdale workhorses and some irrigation, soon apple, cherry, apricot, and peach trees were bearing fruit.
By the 1930s, Don's father Nelson and mother Mary had built up a substantial trucking business and established a refrigeration plant in Winfield that orchards in the area brought their fruit to before going to market. Don began driving a truck for the company by age 15 and could often be found out in the family orchards chasing away gophers, fighting off the debilitating codling moths or thinning fruit in the trees by hand.
"My apple knocking days were left behind in 1954 though," he chuckled. That was when he and childhood friend Waynne Pretty left home at age 18 to attend UBC in Vancouver. To say it was culture shock moving to the big city is an understatement. Recognizing two out-of-towners, the bus driver who dropped them off in Vancouver joked that a horse and buggy would be along soon and take them to UBC. Don and Waynne waited and waited and waited. Finally another bus came and Don asked the driver, 'When does the next horse and buggy come to take us to UBC?" The driver just about fell out of his seat laughing.
"A couple of greenhorns that's for sure! Green as grass. That was our introduction to big Vancouver and UBC," he chuckled.
While working towards his diploma in Agriculture, Don and Waynne stumbled on the rising UBC-Vancouver Rowing Club rowing program in 1955 led by the hard-nosed coach Frank Read, a long-time resident of West Vancouver. It changed the direction of their lives. "That was the magic turning year for me," said Don.
Early every morning he'd meet his teammates down at the Vancouver Rowing Club and Read would put the boys through epic workouts to Second Narrows and back, always finishing with a hard 2000m time trial. Everyone wanted to be in the Varsity Eight crew, but most had to work their way up, Don no exception. He spent 1955 in the Junior Varsity and in 1956 he found himself plunked in a Fours crew with Archie McKinnon, Lorne Loomer, and Walter d'Hondt. Don's Four spent every training session scrambling to keep up with the Eight to glean whatever scraps of Read's coaching wisdom they could get. This constant chase would have unexpected benefits later on.
Read placed Don in the stroke seat of the Four, charged with setting the stroke rate for his teammates. "Frank was calling to me and I had no idea what a 32 stroke rate was," Don recalled of daily struggles in this role. One night he had a breakthrough. His family had always been very musical. Don himself played three wind instruments and the piano. He decided to adapt his musical background to rowing.
"I tried to apply the principles of making music together in a duet in 2/4ths time or 6/8ths time to rowing at various stroke rates as a crew," he explained.
"Because I knew from playing these for years what the rhythm was like. That was in here [pointing to his chest]." It was engrained in him. And soon the rowing stroke would be as well.
All those training sessions on Coal Harbour rowing from behind trying to keep up with the Eights had impressed Read and other VRC officials enough that they decided to send Don's Four along with the Eight to St. Catherines for the 1956 Canadian Olympic trials. There they shocked the rowing establishment—and to some degree themselves—by blowing all other crews out of the water. They defeated all other crews by several boat lengths and unofficially set a world record of 6min 5.6sec over 2000m. Along with the UBC-VRC Eight, who also was victorious at the trials, they found themselves flying to Australia later that year to represent Canada at the Olympic Games in Melbourne.
On Lake Wendouree in the small town of Ballarat, Don and his teammates easily won their first heat just off Olympic record time and advanced to the final. There disaster struck in the opening strokes. They all washed out and quickly fell behind their opponents. Don settled the crew and they took off in pursuit. By 1000m, miraculously they had pulled even with the leading Italian crew and soon built a large lead. They simply refused to slow down. They crossed the finish line five lengths ahead to claim a most unlikely Olympic gold medal. The press dubbed them 'The Cinderella Four' and to this day Olympic historians consider it one of the most impressive rowing results in history. Don, Archie, Lorne, and Walter were suddenly household names around BC.
Don continued rowing under Frank Read for the next four years and added further accolades to a rowing resume that soon would be unmatched in Canada. In 1958, he stroked the Canadian Eight to gold at the British Empire and Commonwealth Games in Cardiff, Wales, while also leading the Coxed Four to a silver medal. After the Games, he took a Four over to the prestigious Bedford Rowing Regatta in Britain and walked off with the Grand Challenge Trophy. To cap the year off, he finished as runner-up for the Hector McDonald Memorial Award as BC's athlete of the year. After a short break, Don returned in 1960 as stroke and helped the UBC-VRC Eight to another Olympic highlight, taking the silver medal on Lake Albano at the Rome Olympics, Canada's only medal won during the Games.
After the 1960 Olympics, Don retired from rowing and focused on family and his education. He was married to Wendy, his first wife, by that point and they soon welcomed three boys—Malcolm, Graham, and Andrew—to their growing family. Don completed a Bachelor's degree in Physical Education with a Recreation major at UBC in 1962, where he was honoured with the Bobby Gaul Memorial Trophy as UBC's top male graduating athlete.
After completing his Masters in Science degree in 1964 in San Francisco at the University of California, Don and his family moved to North Battleford, Saskatchewan where he worked for four years as a parks and outdoor recreation regional consultant for the province's Ministry of Education.
Another challenge beckoned in 1968, when he decided to take on a Doctorate in Recreation and Park Administration at Indiana University. He built a 4×8 trailer, loaded it up with everything he needed behind their Ford station wagon, and the Arnold family was off on another adventure. Don completed his PhD in 1970 and was the recipient of the Liebert H. Weir Award as the university's top graduating doctoral student.
Next, it was off to the University of Waterloo in Ontario where Don worked as a professor and co-founded the department of recreation and leisure studies. When the family returned to Vancouver in 1976, Don took a job teaching at UBC, where he co-founded the Outward Bound Mountain School of BC and the Outdoor Recreation Council of BC.
In the 1980s Don found himself back involved in rowing, managing the Canadian team at the 1986 Commonwealth Games in Edinburgh, Scotland and the world rowing championships that same year in Nottingham, Britain. In 1987, he co-founded Rowing BC and served as the organization's first executive director for 13 years, while also serving on Rowing Canada's board of directors for nearly a decade.
During his career, Don has been honoured with multiple inductions into Canada's Sports Hall of Fame, the BC Sports Hall of Fame, the Central Okanagan Sports Hall of Fame, and the Rowing Canada Hall of Fame.
He and his second wife Linda, married for 42 years now, have lived in West Vancouver since 1994.
Even today, 60 years since he last pulled an oar through water, the teachings of Frank Read and his years in the rowing shell stay with him in everything he does.
"Every challenge in my life has its origins in rowing," he summed up. "When I was doing my degrees, when we were raising our family, whatever we were taking on next, Frank was right there in my mind, his thinking, lecturing and encouraging me on."
And with few exceptions, Don has navigated whatever vessel he found himself in to the finish line ahead of the pack.