Kirk McLean: 'I Bleed the Colours' – 2020 Inductee Spotlight
July 29, 2021
By Jason Beck
When we announced the BC Sports Hall of Fame's Class of 2020 inductees back in November 2019, no one could have predicted that it would be 21 months until this amazing group of individuals and one team would be formally inducted. If you missed it, a very patient Class of 2020 was inducted by a virtual live stream broadcast on July 15th. You can watch a recording of the broadcast here: https://www.youtube.com/watch?v=bQLFCpiWRyE
One of the silver linings of the Covid disruptions was it allowed us the time and opportunity to look at each of our 2020 inductees in a much deeper way with an extended feature article under the Curator's Corner umbrella. When I began writing on 2020 Pioneer inductee Robin Bawa way back in February 2020 just before the pandemic shut most things down, my plan was to cover 4-5 inductees before the annual springtime Induction Gala if time allowed. Well, as it turned out, time allowed us much more than that. Every month or so we shone the spotlight on another of the remarkable figures that make up this induction class. Here we delve into the career of our twelfth and final 2020 inductee, Vancouver Canucks goaltending legend Kirk McLean.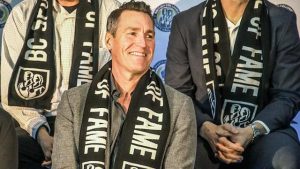 Before we dig in, allow me to share a personal anecdote involving Kirk. I've had the honour and privilege to work with hundreds of BC's greatest athletes in my time with the BC Sports Hall of Fame. But long before joining the Hall of Fame's team, Kirk McLean was the first professional athlete I had the opportunity to meet in person.
It was 1993. I was 11 and had grown into a full-fledged sports fanatic. Knowing this, my Dad had bid and won a silent auction prize at an Upper Sumas Women's Institute fundraiser: two tickets to a future Canucks home game, a signed Hespeler goal stick, and the chance to meet Kirk at Willowbrook Chrysler in Langley. Needless to say, our entire family was buzzing about this.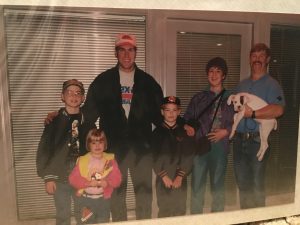 I still remember the date we all piled into our GMC Astro van and made the trek out to Langley to meet Kirk: October 20, 1993. How do I remember that? It was the same day as Game 4 of the World Series that year when the Toronto Blue Jays downed the Philadelphia Phillies 15-14 in both the longest and highest-scoring World Series game in history. We actually ended up watching a good chunk of the game with Kirk at Willowbrook Chrysler as one of the dealership's salesmen put the game on a large TV in their showroom.
Meeting one of the Canucks' best players of that era—and ultimately any era in the club's history—was everything you could ask for a starstruck 11-year-old. Kirk went out of his way to make everyone feel welcome and comfortable, asking us questions about what sports we played, signing all sorts of souvenirs for us, and posing for photos. He even managed to charm our sometimes moody boxer Kaela, who didn't take to everybody she met. I remember being surprised when he appeared in regular civilian garb—blue jeans and a ball cap. In my 11-year-old mind I guess I just thought the Canucks wore their team jerseys 24/7. I don't recall much more other than the fact that I was struck by the fact that Kirk seemed like such a friendly 'regular' guy who you could tell enjoyed being around people. I guess I just expected the superstar goaltender I had previously only read about in the newspaper or watched on television to be something different than that. In fact, I've found Kirk set the pattern for the vast majority of BC's greatest athletes I've met since who almost without exception tend to be genuine, down-to-earth people.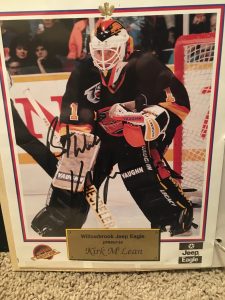 When Kirk and I sat down for an in-person interview at the BC Sports Hall of Fame in September 2020, I shared my memory and a few photos of that long ago meeting with him. He chuckled that it made him feel old and that he did vaguely remember watching that World Series game. I didn't expect him to remember my family because we were just one of hundreds if not thousands he's met over the years. If you've followed the Canucks for any period of time you know that Kirk always seems to be out in the community. Perhaps no Canucks player has ever been so active so consistently for so long in the Vancouver area and around BC with the Canucks Alumni and his own personal interests. And it's always been that way for Kirk.
"To me it's a no-brainer," he said. "I'm so happy to do it because of what the community has given me. It's automatic to do that. I have fun doing it. It's not work."
The point is there are literally thousands of people around BC who have similar stories to mine. The impact Kirk has had on the community at large whether by simply signing an autograph or sharing a conversation with those he's met has been immeasurable and it's something that sometimes gets overshadowed when he is profiled.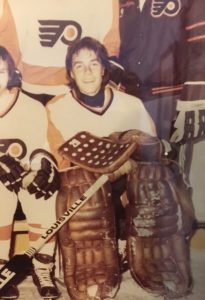 Long before his stellar 17-season NHL career—11 of those between the pipes for the Canucks—and being revered as one of the most beloved Canucks in club history, Kirk McLean grew up in Scarborough, Ontario, the son of Allan and Shirley McLean, who worked for TD Bank and Consumer's Gas respectively in Toronto. His only sibling was an older sister, Tracy, who shares the same birthday as Kirk—June 26th.
Growing up Kirk played minor hockey in the winter and soccer in the summer and at one point it appeared soccer may be the direction he'd go. A skilled midfielder, he played high level soccer until age 19 in the Toronto area.
"When I had some speed I was a winger, but when my feet got a little slower, I moved into the middle and became more of a disher and a scorer too," he recalled. "I watch soccer to this day."
At age 12, he was scouted as a schoolboy transfer overseas, but his parents weren't willing to let him leave home and move to Europe to play at such a young age. He continues to follow Glasgow Rangers and Manchester United today.
Canuck fans can thank his parents' hesitation as one key reason Kirk continued to pursue hockey. He began playing at age five in the Scarborough Lions Hockey Academy, a year-long hockey school. In his second year there his team needed a goalie, so Kirk volunteered and split netminding duties with a teammate for the rest of the year. At the end of the season, he was named to the house league's all-star team and he was hooked.
"I was fascinated by this goaltending position," he said. "I just fell in love with the position. I don't know why. I just stuck with it."
His first mask was basically an old-school baseball catcher's mask with the Butch Goring-style helmet on the back. Later he went to a Tretiak-style cage and helmet.
Although it pains us—and even Kirk now—to admit it, he grew up a Toronto Maple Leafs fan (but he is firm where his allegiances lie today: "I bleed the colours as a Canuck to this day"). He looked up to legendary goaltenders Jacques Plante and Bernie Parent.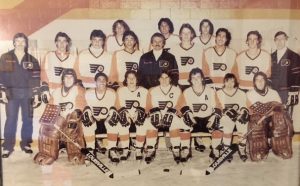 "I patterned myself after them," he said. "I was lucky enough to have a certain amount of pure talent and carry it a long way and not work too hard at it."
Playing for the Don Mills Flyers, coach Ed Robicheau was a huge influence on Kirk. When he reached midget with the Flyers, he had his own goaltending coach, Dean Dorsey, the long-time kicker for the Ottawa Rough Riders in the CFL and who also had short stints with Green Bay and Philadelphia in the NFL.
Alongside fellow future NHLer Scott Mellanby, Kirk led the Don Mills Flyers to the 1983 Air Canada Cup tournament, the national midget championship, where Don Mills finished fifth out of 12 teams and Kirk was named the tournament's Top Goaltender.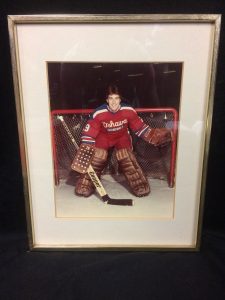 Drafted as an underage 16-year-old by the Oshawa Generals in 1982, Kirk played three seasons with Oshawa. Under Ian Young, the Generals' goaltending coach, Kirk developed into one of the top young goaltending prospects in the country. Young remained a huge influence on Kirk throughout his career from then on.
At the 1984 NHL Entry Draft, the New Jersey Devils were clearly fishing for goaltending prospects drafting Craig Billington in the second round and then Kirk in the sixth with the 107th selection overall. The Devils called him up from Oshawa for the final three games of the 1985-86 season. His first game versus Quebec in New Jersey he didn't see the ice, as he sat on the bench backing up starter Alain Chevrier, who allowed five goals but still got the victory in a 6-5 Devils win.
Three days later, April 5th, 1986, versus the New York Islanders at Nassau Veterans Memorial Coliseum on Long Island it started the same way with Kirk on the bench. Although the glory days of the Islanders early-1980s Cup dynasty were receding in the rear view mirror, they still could pack a punch with legends like Bryan Trottier, Denis Potvin, Mike Bossy, and a new young star Pat LaFontaine. It was 3-0 Isles after just nine minutes and needing to staunch the bleeding, Devils coach Doug Carpenter looked down at the end of the bench and gave the nod to his 19-year-old starstruck back-up netminder. Kirk skated into the crease and abruptly was thrown into the fire of NHL action.
"My first save was Clark Gillies on a breakaway," he chuckled, as the Islanders kept coming at the Devils in waves that night, adding four more in a 7-1 rout. Reports of the game gave praise to Kirk as he made 28 saves despite the loss.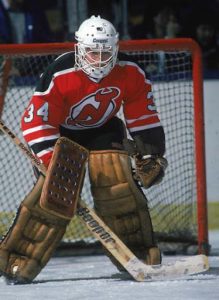 It was enough to earn his first NHL start in the last game of the season the very next day, once again against the Islanders, but back at home in New Jersey at Brendan Byrne Arena.
"Billy Smith came over in the warm-up while I was stretching," Kirk recalled. "He tapped me and said, 'Just enjoy the moment.' I thought, 'Wow.'"
The Devils came out flying in front of their young goaltender and built a 5-1 lead by halfway through the second period. And then a classic 1980s shooting gallery broke out as the Isles scored four straight goals to tie the game at 5-5 by the second intermission. The Devils scored three more in the third before the Isles clawed two more back and New Jersey added a late one to end it at 9-7. Wasn't pretty, but your first NHL win is still your first NHL win.
"Classic. Got the win," Kirk laughed at the memory. "Got the win. It was a thrill to play against the end of a dynasty like that."
The following season Kirk spent most of the season with New Jersey's AHL farm team, the Maine Mariners, but got into four more games with the Devils. However New Jersey was loaded at the goaltender spot at that time with a group that in addition to Kirk included Craig Billington, Chris Terreri, Sean Burke, Chico Resch, Ron Low, and Chevrier. Kirk was expendable and it ended up being the best twist of fate of his career.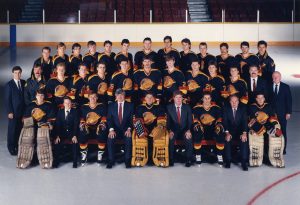 On the first day of training camp in September 1987, Kirk got the call: pack your bags, you're heading to Vancouver. New Canucks general manager Pat Quinn had swung his first major deal with Devils counterpart Lou Lamoriello, New Jersey's new GM who was making his first major trade for New Jersey as it turned out as well.
"I had never been to Vancouver," Kirk remembered. "Furthest west we ever got was in Calgary for the Max Midget tournament which we had success in. Get on the flight and I still don't know who I've been traded with. Back in my seat and then I see Greg Adams walking in and we laughed."
Kirk and Nelson, BC's Adams were going west, while Swedish scorer Patrik Sundstrom went the other way. At that moment Kirk knew very little about the city that was about to become his on-ice home for the next 11 seasons and his permanent year-round off-ice home to this day.
"I knew nothing about Vancouver other than when my dad used to listen to the Leafs play the Canucks on the radio at 10 o'clock at night with Foster Hewitt calling the games," he recalled. "It was quite eye-opening, coming in at night and seeing the mountains and the layout—this is cool!"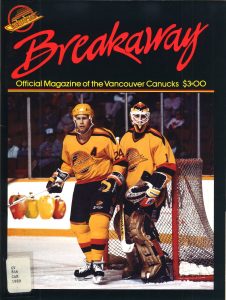 Kirk made the team out of training camp and ended up splitting netminding duties that first season with Richard Brodeur (in his final season with Vancouver), Frank Caprice, and Steve Weeks. Kirk's first game in a Canucks uniform came in the season opener at the Pacific Coliseum versus the St Louis Blues, an 8-2 blow-out victory.
"Remember the win obviously," he recalled. "First win as a Canuck. Greg Adams had a stellar night."
Did he ever. Adams netted four goals as both he and Kirk had sparkling Canuck debuts. There were other highlights in his first Canucks season that also stand out.
"First shutout was against Pittsburgh. Stopped Mario [Lemieux] on a breakaway. First game against New Jersey here at home, we shut them out. So that felt good."
But on the whole it was a tough season for the Canucks as they struggled throughout finishing last in the Smythe Division. The Smythe was a tough place to find yourself in those days with Edmonton and Calgary perhaps the two toughest teams in the NHL during the height of their 'Battle of Alberta' days, while Winnipeg and Los Angeles fielded solid underrated teams. Coached by Bob McCammon and led by captain Stan Smyl, the Canucks were a tough, hard-working but undermanned group that Quinn was just beginning to reshape. Young Kirk gravitated towards teammates Garth Butcher, Doug Lidster, and Smyl as he adjusted to everyday life in the NHL.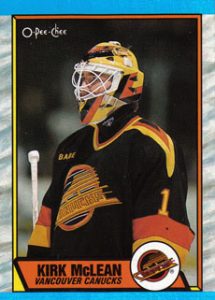 "They were my leadership group."
Fellow netminder Steve Weeks was another big influence early on with the Canucks, Kirk calling Weeks one of the hardest workers he'd ever seen.
"A new young goalie coming in, I was a little lazy at the beginning. I had to learn how to be a professional and Steve taught me how to do that."
One of the biggest early adjustments coming to the West Coast was the travel. The Canucks were still flying commercial on road trips at that time and there always seemed to be some delay extending long travel days even longer.
"Middle seats. That was tough. We'd turn an hour flight out of Edmonton into four days. We called it 'The Canuck Zone.' The plane would be late or there was a malfunction so we'd be stuck in the airport for days it seemed."
Despite the struggles on the ice and on the runways, one of the positives was the great working atmosphere that the Griffiths family and Quinn had fostered within the team. Kirk picked up on it almost right away as unique.
"You know, it was simple: everybody ropes, everybody rides. Everybody has a role, doesn't matter if it's the stick boys, secretaries, management or players, everybody plays a part. I try to remind the younger players on the team today of that from time to time. We had a staff of 30 then, not the 300 now that runs the show, but every once in a while get up in that office, say hello, and appreciate what's going on because they're the ones that arrange your mail for you, that do things that make it easy for you so you don't have to worry about all that stuff. Just go say hi and thank you."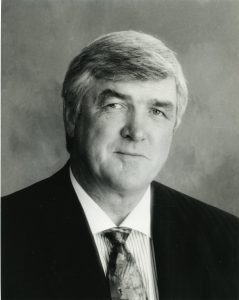 Quinn became a massive influence on Kirk as he was for most every player in that era that played under him.
"He was a leader, that's what he was. He had such a great demeanor and presence. When he walked into the room, everybody knew. He just glowed of confidence and knowledge. Incredible speaker, to the point where he'd almost make you cry. He had great stories and his delivery and his thinking behind his talks were amazing. You could hear a pin drop when he talked. Some of his pre-game speeches, you'd almost start crying before you went out on the ice. He was so inspiring.
"Sometimes if he was mad, he'd come into the room between periods and give the Gatorade bottles on the table the old forearm shiver and they'd go flying across the room. Guys would be like, 'Ok…' Then guys would go out and be excited—sometimes too excited. He became like a second father to all of us at the end of the day. He was a father figure. It was all about family. He created a family environment. He loved the game. He loved his players. He was the ultimate players coach. Guys would go through the wall for him."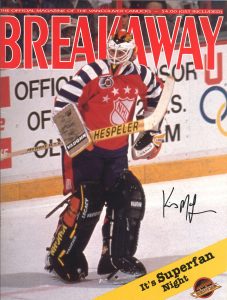 It was an environment that would allow many Canuck players to thrive for long periods and one of the best examples was Kirk. He provided the Canucks with some of the best goaltending in the NHL and in the process became one of the most popular athletes in recent BC history. By the time of his departure in 1998, he was the Canucks' all-time leader in virtually all goaltending statistics: 516 regular season games played, 211 wins, 20 shutouts, and a 3.28 goals against average. He added 34 wins and six shutouts in the playoffs. He was twice selected to the NHL All-Star Game in 1990 and 1992, winning the goaltenders' Skills Competition in the first. A two-time Vezina Trophy finalist and a 1992 2nd Team NHL All-Star, he was also a two-time winner of the Cyclone Taylor Trophy as Canucks MVP and a three-time winner of the Molson Cup for most three-star selections.
Often overlooked in Kirk's career is that he was chosen to play for Canada at the 1990 IIHF world hockey championships in Bern, Switzerland. McLean earned the starting spot in net for Canada playing in front of a Canadian team that was loaded with talent: Steve Yzerman, Joe Nieuwendyk, Al MacInnis, Gary Roberts, Theo Fleury, and Doug Gilmour, along with Canuck teammates Greg Adams and Jim Sandlak. Kirk ended up seeing action in ten games, winning four as Canada finished fourth.
"Probably one of the best experiences I had. It was my first experience seeing Europe. We had a good enough team to win it, but we came up against a hot Sweden team and lost in the quarterfinals."
That tournament was also a memorable introduction to future Canuck teammate Pavel Bure, who hadn't yet arrived in North America as the Canucks and NHL debated on Bure's eligibility after being drafted the previous year.
"That was the first time I saw Pavel. Pavel was playing for Russia. He was underage and was wearing a cage. But he was pretty electrifying even by that time."
Bure would soon arrive and join a rising Canucks team built around captain Trevor Linden and a solid group of scoring, gritty forwards, a mix of tough and skilled defensemen, and some of the best goaltending in the NHL courtesy of 'Captain Kirk,' who fast became known around the league for his cobra-quick glove hand and characteristic stand-up style.
"That's the way we played back then. I could butterfly if I had to in the right situations. The philosophy then was cut down the angles and stand up as long as you had to. A completely different game than it is now."
He was also known as perhaps the best puckhandling goaltender in the league and modified his equipment to benefit this skill.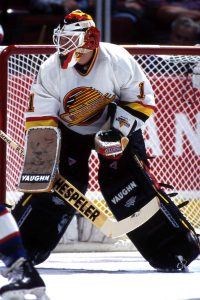 "My glove was basically nothing. It was like a baseball glove, so it was really easy to grip the stick. My stick had a lower lie, rounded heel, more like a hockey stick. But I was a big believer in actually trying to make a play or pass, rather than just wiring it around and out."
There was no better performance that put all of Kirk's best traits on full display than one night in Montreal at the Forum in December 1991. Although there are other games he's better known for, without hesitation he calls this game against the Canadiens the best he ever played.
"3-0 shutout win at the Forum in Montreal. Fifty-some odd shots. Another rink where I never really had success. Greg Adams scored all three goals. I got first star. He got second star. Standing ovation from the crowd, which blew my mind. I still get tingles thinking about it. Just the appreciation from the fans, knowing what went on. That doesn't happen very often. I was really taken aback by it. Pretty amazing night."
But if you're going to talk about the career of Kirk McLean with the Vancouver Canucks, ultimately you have to give ample time to the spring of 1994 when riding his white-hot goaltending, the Canucks went on a magical run to the Stanley Cup Final.
With foundational cornerstones of Linden, Bure, and McLean and a supporting cast that featured the likes of Geoff Courtnall, Adams, Cliff Ronning, Jyrki Lumme and Jeff Brown among others, on paper Quinn had assembled what appeared to be a team that could challenge any in the NHL.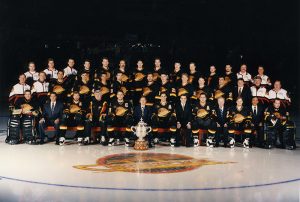 "We had a heckuva hockey team. We were big. We were strong. We were fast. We were skilled. But we were tough as nails too. Not too many teams wanted to get super physical with us. In '94, we came together as a team."
That last part came later. The problem was the Canucks sleepily stumbled through the regular season with a ho-hum 41-40-3 record to finish just seventh in the Western Conference and sneak into the playoffs against the heavily-favoured Calgary Flames who'd won the Pacific Division 12 points ahead of Vancouver. By now, we almost know the story by heart it's so ingrained in Canucks and BC sport lore. McLean stands on his head in Game 1 shutting out the Flames 5-0, who then roar back to win the next three straight and put the Canucks on the brink of another early playoff elimination. But overtime winners by Courtnall and Linden in Games 5 and 6 set up a Game 7 that will live on in Canucks history as long as ice is frozen.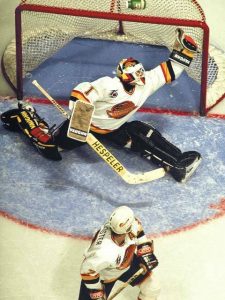 There are a couple moments from that game involving Kirk that sometimes get overlooked. In the third period of a back-and-forth game, the Flames held a 3-2 lead on two goals by Theoren Fleury. In the dying minutes, Al MacInnis unloaded his feared howitzer from the top of the circle and Kirk calmly gloved it.
"Then we went down and without Greg Adams scoring with three minutes left to tie, we don't get into overtime. He scores a huge goal to get us there and I think people forget that."
In overtime, Kirk also made a fantastic glove save on Gary Roberts that gets overshadowed by what came next: a moment that no one in BC will ever forget. The Save on Robert Reichel.
"Well it's definitely without a doubt a defining moment in my career. It was a situation where I'd been scored on earlier in the game with Theo Fleury coming down the same side, shot between my legs, and scored. So I'm thinking that: 'Is he going to shoot it?' He's such a tricky player. He had so many options: to shoot it, to pass it, or to bring it across and freeze Jyrki Lumme. So all these things are going through my mind. Jyrki ended up forcing him to make the pass, so I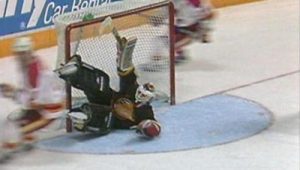 was able to anticipate that and really jam Reichel on the shot. It would have been pretty tough for him to get it over me from in that close. But a two-pad stack, which in those days was part of the arsenal. That was something you worked on and were taught as a kid. And it worked. We held them off for the rest of that overtime and then Brownie makes that unbelievable pass up the middle to Pavel and Pavel basically skates it into the net at 100 miles per hour."
The Canucks had pulled off the unlikeliest of comebacks, being down 3-1 and winning three straight in overtime to advance to the next round.
"It was a huge, huge deal. After, we're back in the dressing room celebrating, everyone's mentally spent because of what just happened. Pat came in and banged me on the shoulder and said, 'You finally did it.' That was a nice thing to hear."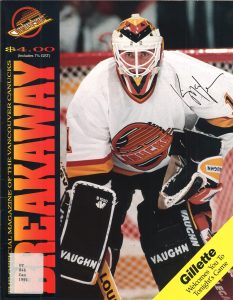 It was a nod to the fact Kirk and by extension that era of the Canucks had often up short when the games counted in the playoffs despite a good deal of regular season success.
"Prior to that we had lost some series we were expected to win and we just couldn't get over that hump. People were starting to talk and I tried not to listen to that stuff, but it does start to creep in: 'Can they win? Is he a playoff goalie?'"
Quinn had no doubt Kirk and his teammates could pull off the upset.
"I always remember after we won Game 6 and we were on our way back to Calgary for Game 7, Pat said, 'Everybody pack your bags because we're moving on to Dallas after the next one.' He obviously had the confidence to say that."
After the Calgary comeback and The Save, what little doubt remaining in the minds of anyone about the Canucks was wiped away in the next two series against Dallas and Toronto. The Canucks took out the Stars in five games as Kirk notched another shutout in Game 2. Next up it was the Leafs as the two teams split the first two games in Vancouver at the Pacific Coliseum. Then it was off to Toronto for Games 3, 4, and 5 in Kirk's hometown.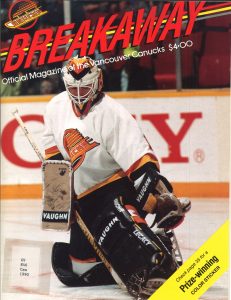 "It was a really weird feeling, it really was. I'd never had any success at Maple Leaf Gardens all through my junior career and my pro career. I don't know what it was. The only time I had success was the Timmy Tyke tournament! Weird shaped arena—no corners, high boards, lots of shadows from the TV lights on just one side. Family and friends were all there and having to deal with that."
Kirk proceeded to get the Gardens monkey off his back with back-to-back shutouts in Games 3 and 4.
"I don't want to say that was the dagger, but it helped," he chuckled.
In Game 5, Adams scored another clutch goal in the second overtime to send the Canucks to just their second Stanley Cup Final in club history. Facing the league-leading New York Rangers loaded with superstars like captain Mark Messier, defenseman Brian Leetch, and goaltender Mike Richter, the Canucks were once again the decided underdogs. Not that the Canucks minded. They were used to that role by then and if anything relished that position.
"Pat would often keep the team loose with a joke between periods. Everybody knew what had to be done at that point. There was no point drawing it up on the board."
Until recently Kirk had never seen the broadcast of the 1994 Final.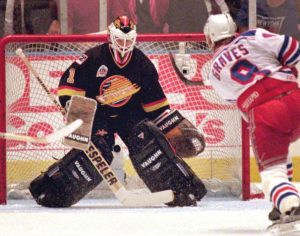 "I'd never really watched it. I'd seen clips of it. But during Covid, they were replaying some of the old games, so I watched a few. Caught myself critiquing my play. You know, the goals that went in: 'Oh I could have done way better on that.'"
And even over 25 years later, the '94 Final games hold up.
"Oh, for sure they do. Fast games and they had everything. Scoring. Physical. Ups and downs. The referees just let the guys play."
Again, most know this story off by heart and again Kirk plays a massive role at the heart of it all.
"We go into New York, have an amazing Game 1," he said, actually downplaying what might be the greatest goaltending performance in Canucks history stopping 52 shots, many of the jaw-dropping variety.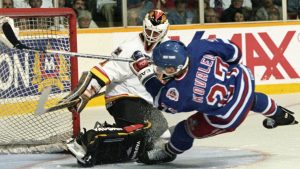 "The circumstances, the stage, the shot amount, the quality of shots, all of that. Absolutely, it's right up there with one of my best."
But then the Rangers flexed their muscles frustrating the Canucks with three straight victories. The Canucks again found themselves down 3-1 in the series. But this plucky team didn't know how to quit and came back with two resounding victories in Games 5 and 6 to force a deciding Game 7.
In the moments after the 4-1 Canucks victory in Game 6 in front of an electrified sell-out Pacific Coliseum crowd—arguably the greatest Stanley Cup Final game ever played in Vancouver—as they did 15 times that magical spring, Canucks captain Linden skated over to congratulate Kirk after a victory, one of the prime reasons the Canucks found themselves on the edge of glory. It resulted in perhaps the best-known BC sports photograph of all time, taken by photographer Chris Relke and rivalled only by Charlie Warner's famous 1954 Miracle Mile shot.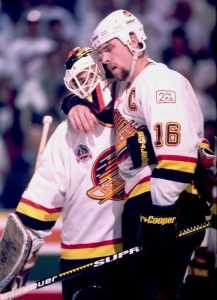 "The picture tells the story right? Trevor's got the blood everywhere and we're both emotionally spent. He's leaning over and my mask is halfway over my face. It was just, 'Ok, we won this game, but we still got a lot to do to win that Holy Grail.' At the time you're not really thinking about it until you see it afterwards, but now, like you said, everyone seems to have this picture. It's the picture that everybody seems to think about. I often tell Trevor when I see him, 'Gosh we should do a tour around BC—the Interior, Island, and Lower Mainland tour—because there's a lot of people that have that photo that don't have our signatures on it or only have one person. That's a good one. I have it obviously and it certainly brings back those memories, that's for sure."
We don't need a reminder that Game 7 didn't go how the Canucks and their fans wanted. It wasn't for a lack of trying as the team battled to the final whistle in arguably the greatest Stanley Cup Final in history. Many have speculated if the Canucks had pulled out the victory in Game 7 about who the Conn Smythe Trophy winner as playoff MVP would have been. Some would put their money on Bure, a few on Linden, but most would bet on Kirk. No one contributed more to the Canucks remarkable success that spring and no one felt the loss more. It's clear when talking to him about this subject, the wound of defeat, of coming that close never really heals completely.
"We have all those pleasant thoughts of the '94 run and getting that close, but we didn't reach our ultimate goal. We didn't achieve it… Bridesmaids. Nobody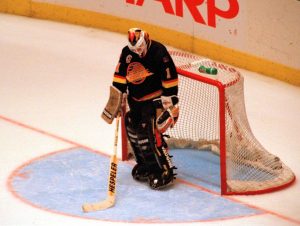 wants to be the bridesmaids. I think we all appreciate the fact that people hold us to this certain level to this day and sometimes we wonder. We've [members of the '94 team] been at functions where the people just gravitate to us. Probably more than the '82 or '11 teams. We had such personality and character on that team. Maybe it was the era where there was no social media, so we were able to go out in the community and hang out with the locals, so to speak, without worrying about anything. We were just people. Good old boys. Go to the local pool hall and play pool and have a couple beers with the locals and laugh. It still amazes us though that people gravitate and hold onto that '94 team. It's pretty humbling. It really is a good feeling. I can't say that it's not. To be able to walk around town and still have people recognize you and talk about where they were and what it meant to them that whole run, it's a super nice feeling. But us, collectively, we know that we didn't get to what we wanted to do and that's what you play for, right?"
The Canucks of that era were never able to get that close again and after several seasons of uneven play, the team's core was gradually dismantled. First Quinn was let go, later Linden was traded, and in between Kirk was unceremoniously dealt to Carolina. Those three moves signaled the end of an era. One of the most popular players in Canuck history, Kirk understandably took that incredibly hard.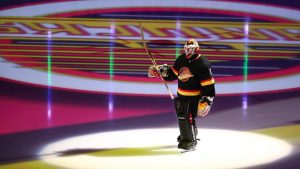 "Well, it killed me. Still to this day, it breaks my heart. I bleed the colours. I'd been here 11 years basically. Myself being there for that length of time, maybe I got a little bit too at ease, thinking I'm going to finish my career out here in Vancouver, which I always wanted to do. But it devastated me. I was never the same after that moving on. I bleed the colours as a Canuck to this day. I still consider myself a Canuck."
And when most think of Kirk, despite late career stops in Carolina, Florida, and New York, they see him as a Vancouver Canuck and always will.
Thinking back on it all, he's most proud of that '94 run specifically but also the length of his professional career in general.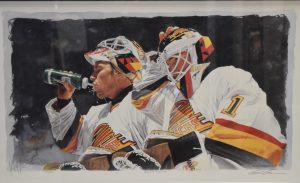 "Probably the longevity. Going through the injuries and still being able to play 16, almost 17 years of professional hockey. Playing a sport that you loved as a kid—a game—and making a nice living and all the relationships you made along the way with the hockey community and the city of Vancouver, BC in general, that's pretty cool."
Attend a Canucks game today and you'll see Kirk's likeness up in the rafters of Rogers Arena as part of the Canucks Ring of Honour. In 2010, he became just the second Canuck so honoured. In 2014, Kirk added induction into the BC Hockey Hall of Fame. And just recently, he, of course, was inducted into the BC Sports Hall of Fame. These latter two honours in particular hold special meaning for him.
"Growing up in Ontario, being inducted into a BC hall of fame is pretty cool," he mused. "Never really thought of it. I'm obviously very honoured and humbled by it, to follow all the different athletes who have gone in this Hall. The great BC-born athletes and/or transplants being inducted into these halls is an incredible honour."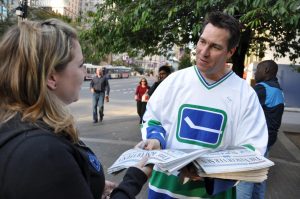 Today, newly married to Genevieve Duford, working for the Canucks as a team ambassador, and heavily involved with the Canucks Alumni, you'll often see Kirk out at public events. You might also catch him walking down the street. Or jogging on the Seawall. Or playing a round at Marine Drive Golf Club. If you get the chance, shake his hand and thank him for all that he's done for sport in BC. You won't regret it. Few athletes have that rare spark with people like Kirk McLean. Whether you're 11 like I was or any age for that matter, it's always a special gift when you meet your heroes and they turn out to be even better people than you'd hoped.
Kirk McLean was inducted into the BC Sports Hall of Fame in the Athlete category as part of the Class of 2020 Induction Class.