2019 Inductees: Orphans, Outtakes, Snippets, and Spare Bits
April 1, 2019
Every year after interviewing each of our new inductees and then writing several different versions of biographies I inevitably encounter a collection of amazing and interesting anecdotes and stories that I just can't use for a variety of reasons. These little snippets are often not central to an inductee's story, but fascinating none the less and it pains me that most never are known beyond my desk. But no longer.
I just needed to find a name for them. So I was sitting in Toronto's Pearson International Airport, killing time before boarding a flight, and stumbled upon a tweet by Julia Buck, an assistant professor at the University of North Carolina Wilmington, that had gone viral on April 18th:
"When writing, do you have a "graveyard" section at the end of your manuscript where you dump all of your murdered darlings?"
Some of the responses included names people gave this section and could be appreciated by any writer:
Orphans. Outtakes. Spare Bits. Leftovers. Compost. B-sides. Offcuts. Scrap heap. Parking lot. Primordial soup. Flotsam and Jetsam. Boneyard. Fallen Beauties. Bonus Content. The Holding Pen. And my personal favourite: Manuscraps.
This tweet and subsequent responses made me think of these 'orphan' inductee snippets I encounter every year. Here are my favourites from the BC Sports Hall of Fame's 2019 inductee class:
When Ralph 'Hunk' Henderson's plane was shot down over Nazi Germany during World War II, he barely managed to survive the crash. Seconds before impact he leapt out of his plane less than 500 feet from the ground with a partially deployed parachute.
He broke both legs and badly injured his back when landing hard, but the Germans actually took good care of Canadian POW's and he healed in a hospital for many months. After he had recovered, Henderson was placed in the German POW camp Stalag Luft III, which became famous for the mass escape of British Commonwealth prisoners of war and was later celebrated in the 1963 Hollywood film The Great Escape starring Steve McQueen.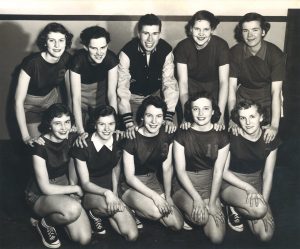 When Darlene Currie was attending Crescent Heights High School in Calgary, in her Grade 11 or 12 year, her basketball team's coach was a slightly older student named 'Tex' Taylor. Darlene remembers Tex was a good coach as her team won the city basketball championship every year, but it wasn't until many years later she realized he had inadvertently become a central figure in an international incident. Tex's full name was Kenneth D. Taylor, a diplomat, who by 1979 was serving as the Canadian ambassador to Iran. He became one of the key individuals involved in a covert operation known as the 'Canadian Caper', working with the CIA to help six Americans escape Iran during the 1979 hostage crisis. Taylor hid the Americans in his home, then helped them acquire Canadian passports, and fooled the Iranian Revolutionary Guard by posing the group as a Canadian film crew. The operation has since been celebrated in several films, most recently the 2012 Hollywood film Argo, starring Ben Affleck and Victor Garber as Taylor. Taylor was awarded the Order of Canada in 1980 for his role in the escape. But to Darlene, he's still 'Coach Tex.'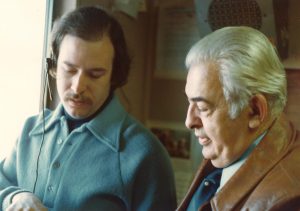 Dan Jukich's start in calling his first few horse races is interesting, but I just couldn't find space to include it in detail in his bios. One day in 1978 his dad, Roy Jukich, a long-time Vancouver Sun sports reporter, came home from work and told Dan that Cloverdale Raceway (today known as Fraser Downs) was looking for someone to call races on Saturdays. Cloverdale's regular announcer was a butcher by trade and had to work Saturdays preparing cuts in his shop. Dan was interested and gave it a try. He doesn't remember much about the first race he called, other than it was difficult. "It was very trying to start with, not the public speaking part, that wasn't the problem," he recalled. "It was gaining the rhythm. Where you wanted to start and how you wanted to portray the action that was happening on the track." After three or four races, Dan's dad came down from the media box to see how he was doing. Dan told him, "Tell Mr. Keeling (Cloverdale's general manager) I don't want to do this anymore." Dan's dad told him to hang in there. "So I did," chuckles Dan today. He's hung in there for over 40,000 races now and counting.
A quote from Henrik Sedin during my interview with Henrik and Daniel several months ago was revealing in explaining what drove the Sedin twins to the elite of the hockey world. I asked Henrik and Daniel what they considered their strengths and weaknesses as athletes. Henrik replied, "For strengths, we were never satisfied. We never looked at ourselves as being good, we always looked at us as lesser than all the other top players in the league, so that really made us push. That's been a real secret to our success, never being satisfied." Seeing they both recently ran the BMO Vancouver Marathon together—their first marathon attempt—and both finished in sub 3hr 30min times, they continue to push themselves even in retirement.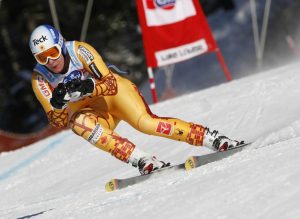 Emily Brydon expressed a very similar thought in our interview, displaying how humble many of the world's top athletes actually are and how this drives them to their potential and beyond. "I was always amazed that I had made it," said Emily, "whatever 'made it' means. I never thought I was talented. I didn't really understand how I got so lucky. Was always so grateful for it." Emily also has a crazy story about the 2002 Winter Olympics, her first. In February 2001, a year out from the 2002 Olympics in Salt Lake City, she blew out her right knee in a crash during a race tearing virtually every ligament. The injury was so severe doctors feared her career was over and that she'd never ski again. Emily had never suffered an injury of any kind up to that point. But after surgery, she began rehabbing and strengthening it with the faint hope she may be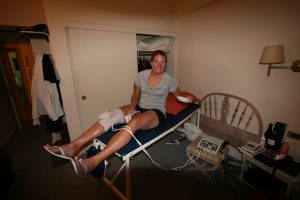 able to compete again and achieve her Olympic dream. When she was making real progress on her right knee rehab, in November 2001 she promptly blew out her left knee in a training accident. Three months before the Olympics, this time she thought her Olympic dreams were over for sure. But Dr. Pat McConkey, one of Canada's leading knee surgeons based in Vancouver and Whistler, thought otherwise and tried a new form of surgery on Emily's knee that had never been attempted before in the hope she may be able to recover and compete. So essentially while still rehabbing her right knee, she also began working on her left knee. She wasn't able to enter any races prior to the Olympics, but miraculously she competed in Salt Lake in the giant slalom and slalom, finishing 38th and 27th respectively under horrendous icy conditions—particularly for someone coming off double knee surgery—literally her only races of the 2001-02 season. As Emily summed up: "It was a very bizarre Olympics for me."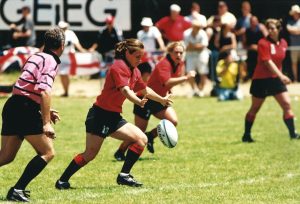 Kelly McCallum's story of how she was introduced to rugby is wild (recounted in the previous Curator's Corner entry), but how she first made the Canadian national team is almost as unlikely. After playing for Douglas Rugby Club and Team BC, by 1997 Kelly had gotten to know the coaches selecting the first Canadian women's national sevens team that would travel to the prestigious Hong Kong Sevens tournament that year. They were holding a try-out camp at Burnaby Lake and needed extra players—"basically a tackling dummy" she recalled—so they asked her to come out to make up the numbers. "I was nowhere near making the team," Kelly said. "Others had been asked too and they said 'why would you go out and be a tackling dummy?' I thought, 'why wouldn't I go out?'" So she went to every training session, worked hard, and learned a ton. She wasn't selected to the team, but wasn't disappointed as she knew that wasn't why she was there in the first place. But then the night before the Canadian sevens team was to leave for Hong Kong, Kelly received a phone call at the New Westminster Moxie's restaurant, where she was working as a server. It was the national team's coach. One of the women on the team had broken her arm and couldn't play. "Do you want to come to Hong Kong?" he asked. "YES! Yes!" Kelly responded. And that was how she made her first national team without actually being selected for it. She also ended up leading the Canadian team in scoring at the tournament and a Canadian rugby star was born. "I was just a tackle dummy for three weeks and hung in there," she recalled. "That actually started my whole career. That was a pivotal moment."