2019 Inductees: First Steps
March 15, 2019
By Jason Beck
The 2019 BC Sports Hall of Fame Induction Gala on May 23rd is still two months away, but the work for that night by our staff and board is well underway. A good deal of my last six weeks has been spent gathering biographical material on each of the 2019 inductees including conducting recorded interviews with each either in person or over the phone.
I've always been a big believer in oral histories and when I first started here at the Hall of Fame I was pleasantly surprised to see staff had been occasionally recording interviews with our Honoured Members going back to the early 1970s. I restarted this effort in 2005 and have conducted several hundred interviews since then, trying to sit down with each new inductee and as many past Honoured Members as possible.
Some might question why do this, when these days Wikipedia entries for most well-known athletes and coaches are just a click away. It's really simple in my mind. It's one thing to read about what BC's great athletes accomplished, but it's another thing entirely to hear them tell it in their own words, especially for those individuals no longer with us. And no matter how well known or how fully you may think you know an individual's story, there are always surprising facts or amazing anecdotes that come out of these interviews that most people have never heard before. Historically these interviews are priceless. This year has been no different.
One of my staple questions of every interview is learning how an athlete first discovered or became involved in the sport that became their career and ultimately landed them a place in the BC Sports Hall of Fame and often other halls of fame as well. Most times these 'first steps' in sport came from following family, either parents or often brothers or sisters who played. Sometimes individuals first discovered their sport on television or the newspapers. Occasionally, some inductees fell into their sport completely by accident and there's no better example of this than 2019 inductee Kelly McCallum, one of Canada's all-time great rugby players.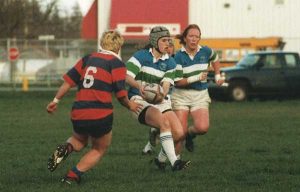 In 1992, Kelly was 19 years old and playing soccer for Douglas College. Her friend Stuart Jette had asked her to come watch his rugby match at Queens Park in New Westminster. "I didn't know anything about rugby," Kelly remembered. "I'd never even seen it before." She came straight from her own soccer game still dressed in her Douglas College kit, arriving at the park only to find two women's rugby teams warming up. He'd given her the wrong time. While trying to figure out what to do next with her younger brother who'd come along, one of the players warming up on the field came over to them. We'll let Kelly describe what happened next:
"She said, 'Hey! Hey you.'
'Who me?'
'Yeah, do you want to play?'
'I don't actually even know what rugby is, I've come to watch it for the first time.'
She said, 'That's alright, you can just stand on the field. You don't have to do anything. Just stand on the field so we can play.'
They only had 11 players and they needed 12 for the referee to allow them to play the game. So my brother, who'd just started rugby in Grade 8, was pulling on my shirt, telling me, 'Come on Kel, I'll run up and down the sidelines with you and tell you what to do.' So I stood right on the sideline at first. Someone threw the ball and I literally ran to the end zone, because I thought they were going to throw the ball like football. My brother was trying to get me back and two of the coaches came over and told me you have to pass backwards in rugby. It was comical. My coaches love telling that story. Then I did a tackle and I was like, 'Whoa!' and it was just an unreal experience tackling someone when you've never done it in your life. It was really empowering, really challenging. And that was it! That girl that first came over and got me, Lisa McLeod, she has been one of my best mates now to this day. That was the Douglas Rugby Club I joined."
Within a decade Kelly would be playing for Canada at the Rugby World Cup and well on her way to becoming a Canadian rugby legend.
Sometimes some of the best and most respected athletes to have competed in our province didn't have the smoothest of starts in their chosen sport as one might expect. That certainly was the case with Henrik and Daniel Sedin. When asked what their earliest sports memory was, the Sedins' response was surprising:
Daniel: "Probably stepping on the ice for the first time. I know we tried skating once, didn't like it at all [laughs] so we stopped for a year and then we started again the next year. I think we were maybe 5 or 6 when we first started. Then we took a year off and tried again. [laughs] That's probably my first memory."
Henrik: "Same here. We didn't enjoy skating the first time, so it took a little bit for us to get going. We played hockey and soccer growing up and we played all different sports in school or with friends."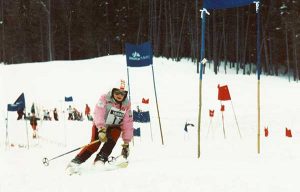 Like so many successful BC athletes, Emily Brydon's impressive international skiing career had its' start based around family and community and isn't linked to any specific memory. "I started skiing when I was two-and-a-half to three years old," she recalled. "It's always been part of my life, I don't really remember the first time I was on skis."
But Emily does remember how skiing quickly became an integral part of her life:
"You either played hockey or you skied in Fernie. Those were your two options. I remember playing outside a lot and playing a lot of sports… Skiing was just the thing that most people did. It was part of the culture of the community… I just remember skiing with my friends on the weekend…skiing the little trails through the trees, I remember doing that with my dad and my friends… One of my first races you had to race your parent and I remember racing my dad. We got a 'speeding ticket' because we were so fast and I thought that was the coolest thing ever! [laughs]"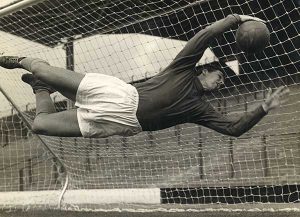 Before Tony Waiters became arguably the most successful and respected coach in Canadian soccer history, as a young boy growing up in northwest England he learned the game playing with his brother. But how did Tony become a goalkeeper?
"Easy. Very easy. I've got a brother who is three-and-a-half years older than me and we used to go out and play just on the local field five minutes from our home. He said, 'You get in goal!' [laughs] It turned out great because between us we had a game. He would shoot from outside the penalty area—couldn't shoot from inside—and if he scored he got a goal, of course, and if I made a good save, it was up to brother Mick to decide whether it merited a goal for the save. So it had to be a very good save to get a goal! He was Liverpool because we lived near Liverpool and he had first choice and I was Newcastle United because they were quite a prominent team in those days. And that's the reason I became a goalkeeper!
As we approach the two-month countdown to the BC Sports Hall of Fame's 2019 Induction Gala, we look forward to digging even deeper into the remarkable back stories each of our 2019 Inductees have lived on their respective paths to the tops of their sports.
_____
If you have a historical item you are interested in donating to the BC Sports Hall of Fame or if you own a sports item and need help identifying its' history, please contact Jason Beck at "jason.beck@bcsportshall.com":mailto:jason.beck@bcsportshall.com or 604.687.5520 ex 30.