The Jim Peters Collection
May 6, 2013
In 1954, Britain's Jim Peters was considered the greatest marathon runner in the world. Holder of the fastest time ever for the grueling 42.2 kilometer test of endurance, Peters lowered the world's best time by nine minutes in just three years. In Vancouver for the British Empire and Commonwealth Games, Peters appeared a lock for the marathon gold medal.
The hottest day of 1954 and Vancouver's hills took its toll on every competitor, none more so than Peters. Minutes after the finish of the famed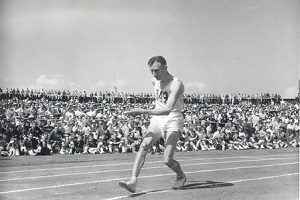 'Miracle Mile' in which England's Roger Bannister passed Australia's John Landy on the final corner, Peters entered Empire Stadium on near-world-record pace, nearly twenty minutes ahead of his nearest rival, Scotland's Joe McGhee.
Jogging down the steep ramp to the track Peters lost his balance and fell. Righting himself, he staggered forward and fell again. Crawling on the cinders, falling at least a dozen times, the semi-conscious, badly-dehydrated runner silenced the 35,000 in attendance watching in horrified disbelief. Women wept and at least one hardened news reporter was physically sick. English teammates implored him on from the infield. Others called for someone to remove him from the race and end this sickening spectacle. Officials were afraid to assist him lest it lead to his disqualification similar to the Dorando Pietri situation at the 1908 London Olympics. No one seemed to have the authority to do anything and so it went on.
After taking over ten minutes to complete half a lap, the English trainer, Mick Mayes, caught Peters at the finish line for track events and placed him on a stretcher, ending his attempt to complete the race. The marathon finish line was still some 220 yards around on the other side of the track. After the brutal struggle, it seemed almost too cruel that the determined Peters was disqualified. An ambulance rushed him to Shaughnessy War Veterans Hospital where he was placed in an oxygen tent and given a saline drip for extreme dehydration. Released from hospital a week later, Peters, the greatest marathoner the world had ever known to that point, never ran again. Today, many still consider him amongst the greatest marathoners of all time.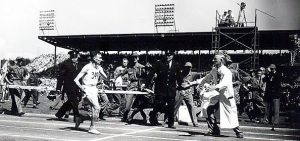 In July 1967, the BC Sports Hall of Fame's curator Eric Whitehead organized a return to Vancouver for Jim Peters, his first visit back to the city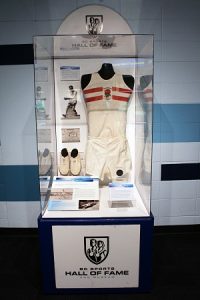 since that fateful summer's day in August 1954. At halftime of a BC Lions football game at Empire Stadium and wearing his 1954 English singlet, shorts and Woolworth's plimsolls, Peters trotted out the final 200 yards around the track to finally complete his Vancouver marathon. Afterwards, Peters permanently loaned to the BC Sports Hall of Fame the items that now comprise the Jim Peters Collection: English singlet, white cotton shorts, white canvas plimsolls, medal encased in plexi-glass stand, and 1954 British Empire and Commonwealth Games commemorative medal. These items have remained on display at the BC Sports Hall of Fame ever since.
Interesting details surround each item. For instance, the singlet wasn't actually worn by Peters during the marathon, but while competing in the 6 Mile event a week earlier. Peters won a bronze medal in the event, while using the race as a "training run." The plain white singlet he wore on his marathon run was snipped off by ambulance or hospital staff and discarded. The cotton shorts, however, are the pair he wore on his marathon run, as are the Woolworth's plimsolls.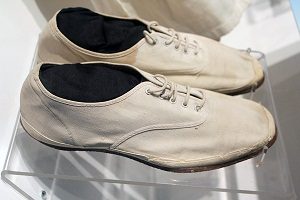 In today's world of technically advanced footwear, it's hard to fathom someone running as far and as fast as Peters could in such thin shoes with virtually no arch or heel support. Tennis shoes such as the Woolworth's brand were commonly worn by athletes of all types as very few other athletic shoe options existed then. Peters would often add thin strips of foam to the insole to cushion his heel from the constant pounding of hundreds of training miles every month. To extend the life of his shoes, he also would often wear them on opposite feet, switching left foot to right and vice versa, so the soles would wear down evenly.
The medal encased in plexi-glass was awarded to him by His Royal Highness Prince Philip several months after the marathon in 1954. Philip was in attendance at Empire Stadium that day to officially close the Games at the Closing Ceremony. He could be seen in the Royal Box cringing and turning away as Peters struggled below on the track. The medal had been given to Philip by the BEG Society while in Vancouver, as a token of their appreciation. Philip was so moved by Peters' courage, he had the medal mounted and a plaque engraved, "This Gold Medal was given to H.R.H. THE DUKE of EDINBURGH at Vancouver and presented by him to J. PETERS as a token of admiration for a Most Gallant Marathon Runner." Peters called the medal his most prized possession.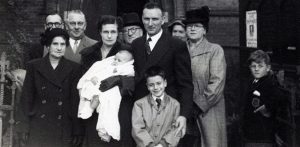 After decades working as an optician, Peters retired to a quiet life. He passed away in 1999 at the age of 80.
If you have a historical item you are interested in donating to the BC Sports Hall of Fame or if you own a sports item and need help identifying its' history, please contact Jason Beck at jason@bcsportshall.com or 604.687.5520 ex 30.