Greg Moore: A Legacy of Spirit
September 30, 2022
By Jason Beck
Like many British Columbians, I can still remember exactly where I was when I first heard the news on October 31st, 1999.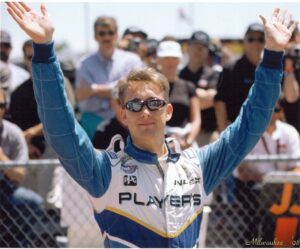 I was tinkering away at something at the workbench in the machine shed of our family's Abbotsford chicken farm. The radio was on when the announcer's words stopped me cold.
Greg Moore, the pride of nearby Maple Ridge and all of BC for that matter, age 24 and just starting to light it up on the CART circuit had been killed in a crash at the season-ending Marlboro 500 at Fontana's California Speedway.
You could have knocked me over with a feather.
I was never a motorsport fanatic, but Greg made me a devoted fan. Mildly hooked at first with the rise of Jacques Villeneuve and his startling win at the 1995 Indy 500—the first and still only Canadian to win this historic race—Greg arrived on the scene in 1996 and changed everything. Suddenly I was watching every Indy Car / CART race to see how Greg fared and getting caught up in the weekly race drama as it related to him. When he won races—five in total; two in 1997, two in 1998, one in 1999—our household celebrated. When he didn't, we looked forward to next week and hoped for a better result.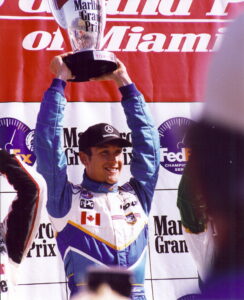 For four years, Greg's races for the Player's Forsythe Racing Team were appointment viewing and with all the potential in the world the sky seemed to be the limit for this young racing prodigy. He had already signed with Team Penske for the 2000 season and whispers of a future jump to Formula One seemed to be gaining steam.
Yes, Greg had been a go-kart prodigy, a superstar driver who rocketed through all development series to the top flight of North American open-wheel racing. In the fiery tradition of the Villeneuves and Paul Tracy, he was one of the most promising young drivers in the world, the heir apparent next great Canadian racer. Best of all, he was ours, a bright-eyed BC boy, Maple Ridge's favourite hometown hero.
But there was more to Greg than that. He raced through life with a spirit and passion that would have driven him to the front of any pack.
A playful prankster with a Hollywood smile and a genuine down-to-earth personality amidst a sports scene bursting of egos, attitude, and greed, he lived the fast life of celebrity without ever losing sight of the important things—family and friends, in whose company he felt most comfortable. The world of a professional racecar driver flies by at 220mph, but he was always willing to halt his wild ride for moments with those that mattered most.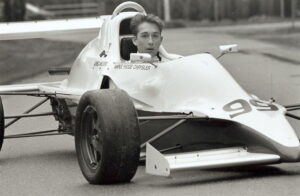 In his short time on this planet, the swath Greg Moore cut into everything and everyone he touched was deep, wide, and lasting.
"The lesson to be learned is that he taught us to be passionate, to love and not to waste a single day of your life," fellow driver Jimmy Vasser said soon after Greg's death. "Everybody knows he was one hell of a race car driver, and ten times a human being."
Everything changed after Halloween 1999. People mourned Greg's death all over the world, but particularly here in BC. To this day, people still mark his passing each year. Myself, I don't think I've ever watched a full motorsport race since. I really don't know why, I just can't.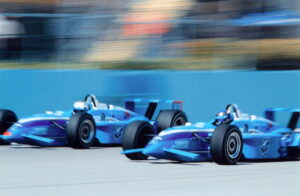 Fast forward five years and I found myself working part-time at the BC Sports Hall of Fame while finishing my university degree. Greg's Player's Forsythe Indy car—the one he raced to his first CART victory in 1997 winning the Miller 200 in Milwaukee as one of the youngest winners in North American open-wheel racing history—had been given to the BC Sports Hall of Fame by Greg's father Ric Moore and stepmother Donna and was prominently displayed in our front entrance window. There had been talk of building a permanent gallery to Greg, but it only began to come together around 2005. Without knowing it, I found myself at the right place at the right time.
Ric and Donna through the Greg Moore Foundation were keen to fund a gallery devoted to Greg. The Hall's executive director Allison Mailer and board chairs Anna Nyarady and Dann Konkin were enthusiastic to make this idea a reality. Later, new CEO Sue Griffin, who joined us as the gallery neared completion, strengthened that support. Bob Graham, former executive director and curator of the BC Sports Hall of Fame, who designed the new Hall at BC Place, returned from a painting sabbatical to design the gallery. We locked down Glen Clark (not the former BC premier) as our carpenter and Chris Sia for electronics, while Robert Stanners from Sidney's VRX Simulators came on board to contribute a racing simulator for the gallery.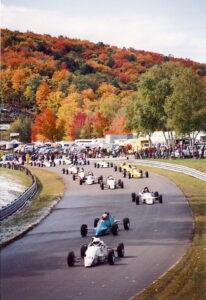 That left me to curate the gallery under Bob's guidance. I couldn't have had a better instructor. It was like learning from a master. By that time I had been hired as the Hall of Fame's first full-time curator in almost a decade and Greg's gallery would be the first big project I would work on. The fact I had a vested interest in Greg's story was a definite plus, but I was as scared as I was excited. Part of me didn't think I was experienced enough for a project this big and important. That I was just too young at age 24. And I can honestly say that doubt fueled me throughout the year-long project to prove to myself—and others—that I was up to the task. I learned later from Ric and Donna that they liked the fact that the person who would be closest to Greg's story building this gallery was the same age as Greg when he left us.
So we went to work for the next 12 months. Looking back now, having designed, built, and curated galleries and exhibits of all sizes and kinds since, it was one of the smoothest builds we've done in my time at the BC Sports Hall of Fame. One of the most satisfying for everyone involved and still one of my very favourites. And that's not to say it wasn't without major challenges.
Situated in the middle of the Hall of Fame's footprint in BC Place Stadium, we had to delicately demo the space while remaining open to the public. How do you move a full-size Indy Car from one end of a museum to another without knocking out half a dozen walls? The answer is you remove as many pieces of bodywork from the car as possible, sit your young curator in the driver's seat with a pair of vice-grip pliers on the steering column, and have four people—one per wheel—roll the car up and down ramps a quarter of the way around the stadium on a circuitous route to wedge the car into the space, cover it, and then build everything around it.
The biggest challenge by far was how do you accurately yet respectfully tell the life story of a promising young athlete who is tragically killed participating in their chosen sport while working closely with that athlete's loved ones who were still grieving his loss. That was a tough one, but to be honest I think it came down to the fact that everyone involved in this project was in it for the right reasons and had pure intentions in simply honouring and celebrating Greg. We were constantly collaborating closely with Ric and Donna and later Greg's birth mother Donna, who also threw her full support behind the project.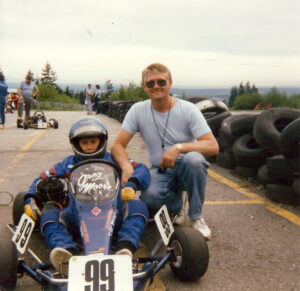 I remember the emotional weight of material we were working with was a lot to bear at times. I worked side-by-side with Greg's stepmom Donna in our collection storage room unpacking dozens of boxes of Greg's memorabilia from all parts of his racing career. There were moments of wonder as we pulled one of his eye-catching Troy Lee Designs racing helmets from a box and then other moments that brought a lump to your throat, like finding the unworn red Team Penske racing suit that Greg never had the chance to drive in. I remember Greg's mother Donna delivering to us one of Greg's go-karts and his little red wagon that she told us he insisted had to be painted gold. It was the first vehicle he'd ever drove, she said, bombing around in it in the backyard. All of these items ended up displayed in the finished gallery.
Maybe the most emotionally charged item in Greg's collection is one we've never actually displayed: a book containing thousands and thousands of messages the Player's Racing Team received on their website in the days following Greg's death. Some are personal. Some are funny. Some bring tears to your eyes. The book is so thick it could not be bound with string or glue. The three inches of paper were bolted to a thick piece of steel. It illustrated the impact Greg had on an untold number of people all over the world he touched in different ways. Bob had the unenviable task of sifting through these messages and selecting about fifty for a large mural of Greg in the gallery. I walked in on him in the office one day as he was working on this, his eyes welling up. I've since witnessed countless visitors in Greg's gallery reading these messages in a similar state.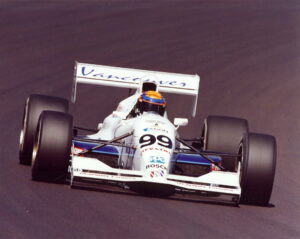 The truth is as Bob and I worked closely with Greg's remarkable collection, as well as Ric and Donna and Donna and many of Greg's friends and family and other drivers, we came to know Greg well, even though Bob and I had never met him ourselves. As we worked through problems we encountered in the gallery, we began talking about Greg as if he was actually there with us. 'What would Greg want this to be?' 'Would Greg like this installed this way or that way?'
In a way, he was with us: items from his life and what he loved most, represented in artifacts, photos, video, quotes, his story, and remembrances from others were all around us. This might sound strange to some, but I truly believe Greg's playful spirit was with us while we worked on his gallery. Funny things would happen that we couldn't explain. Tools would mysteriously move from one side of the gallery to the other but no one had touched them. 'Greg is up to his antics again,' we'd laugh. When Shelby McCannel and I worked on the Moore Gallery refresh in early 2020, these things began happening again. It wasn't disconcerting. It actually was comforting. His spirit was still with us in more ways than one.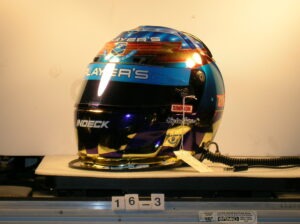 Sometimes I think Greg was trying to tell us things and point us in the right direction. On January 5, 2007, Bob, myself, and our trusty volunteer Ron Hope were installing the final of nine display cases detailing Greg's life and racing career. This case was by far the hardest as it dealt with Greg's passing. We went back and forth on many details to make sure we had it right and even then we weren't sure. As Ron and I were lowering the sheet of tempered glass into place to close the case up one final time, it suddenly shattered. I remember it inexplicably burst outward somehow and we were peppered with thousands of glass pebbles. Luckily, we were unhurt. Bob and I immediately looked at one another and said at the same time: 'Greg's not happy with this case.'
And then, an hour later, BC Place's air-supported Teflon roof ripped wide open during an ice storm and deflated.
Yeah. That was one strange day.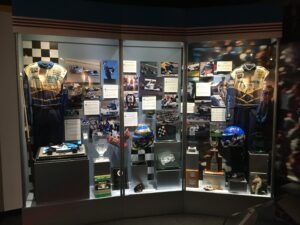 It meant the unveiling event for Greg's gallery, then just days away, was postponed by a month. It gave Bob and I chance to modify that last display case. We must have gotten it right, or at least to Greg's liking, as no glass shattered when we closed it up the second time.
I remember Allison Mailer and I were slightly terrified when Ric and Donna came for a preview of the completed Greg Moore Gallery. We collectively held our breath as we let them view the gallery alone out of respect. They found us after and except for one small change needed to one of the videos they loved it. We were relieved, but also very proud of the job everyone had done.
The completed gallery featured over two hundred artifacts from Greg's life. The little Radio Flyer wagon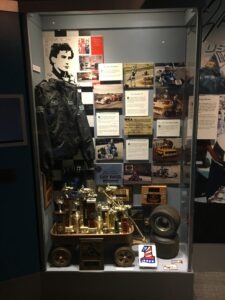 he raced around the backyard fending off imaginary Andrettis and Sennas sat near his 1990 Emmick Go-Kart that he drove to win the North American Championship. Nearby was the gallery's most impressive artifact, the Player's Forsythe Indy car Greg raced to his first CART victory at Milwaukee in 1997. There was also a hockey stick signed to him from high school friend and future Vancouver Canuck Brendan Morrison, a signed Fender guitar given to him backstage by Metallica, who were fans of Greg, and pairs of his signature red racing gloves. 'Red gloves rule,' Greg always said, and they certainly did in this gallery among the nine display cases also housing trophies, racing suits, helmets, and other memorabilia. There were also dozens of rare photographs, video from his go-karting years at Westwood to his CART victories like at the US 500, a wall-size mural of remembrances, and a remarkably realistic racing simulator courtesy of VRX.
Combine it all and it honoured the memory of Greg in such detail that visitors could walk away feeling as if they'd actually met the young racing prodigy. It was the story of how a little boy from Maple Ridge who liked to drive reached the pinnacle of his sport, made his dream come true, and was such a great, caring person he seemed to be universally loved by all who entered his orbit.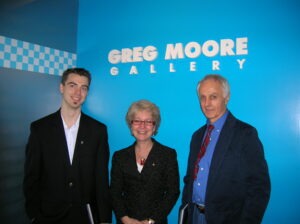 The opening of the Greg Moore Gallery in February 2007 was understandably emotional. It was a reunion of sorts for family, friends, competitors, crew, media, and fans who'd all knew and loved Greg. I recall a real feeling of joy in the air.
Over the years thousands of visitors from all over the world have come to the BC Sports Hall of Fame and experienced the Greg Moore Gallery. We discovered later that Greg's friend and fellow driver Dario Franchitti and his wife Ashley Judd, the famous Hollywood actress, had visited the Hall one day, quietly paid their admission, and paid tribute to Greg in his gallery without anyone knowing until we saw their signatures weeks later in the guest book. I remember touring 2009 BC Sports Hall of Fame inductee and fellow Maple Ridge boy Larry Walker through Greg's gallery as we walked to his media conference in another part of the Hall. Larry stopped and asked if we could spend a few moments there before moving on. He was genuinely moved by it all and so were we.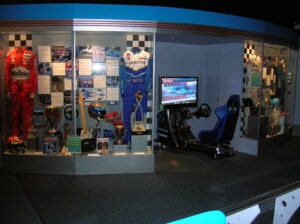 The Greg Moore Gallery survived BC Place's roof renovation in 2011 and was back after the BC Sports Hall of Fame reopening in 2012. Robert Stanners and his VRX crew built and donated a second new racing simulator for the gallery demonstrating again how committed he was to Greg, the gallery, and his story.
After we passed the 10-year anniversary of the Greg Moore Gallery opening, with so much traffic over the years, the gallery was admittedly looking a little worn. We'd kept in contact with Ric and Donna over the years and they'd been steadfast in their support not just of Greg's gallery, but also the Hall of Fame in general. One quick meeting with them in 2019 and we had their support to complete a refresh of the Greg Moore Gallery and keep it a permanent part of the BC Sports Hall of Fame experience for years to come.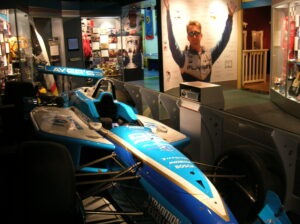 So in early 2020, we went to work again with a few familiar faces. Bob made a special guest appearance and suggested key improvements. Chris Sia came back to improve the lighting and audio-visual elements. Robert Stanners and VRX generously committed to a third brand new Greg Moore racing simulator.
And some new faces joined our team. New BC Sports Hall of CEO Nicholas Cartmell saw the importance of this gallery and trusted us to revitalize it. Trevor Bath and Renaissance Contracting took care of new carpeting and other repairs. Shelby McCannel, the Hall's Collections & Community Engagement Manager, was now the youngest and one of the most important members of our project team. Working beside her and teaching her many of the things Bob had taught me working on this gallery the first time around is fond memory I'll treasure for life.
We wrapped up work on the Greg Moore Gallery refresh in early March 2020 excited to welcome visitors back to Greg's revitalized space after a four-month closure. But then Covid-19 hit and everything, literally, was put on hold and disrupted after that. We did a soft re-opening of Greg's gallery later in 2020 when it was safe to reopen the Hall of Fame to the public again on a more limited basis. And then in 2022 with life gradually returning back to something more resembling pre-Covid, Robert Stanners and VRX delivered their third and most impressive Greg Moore racing simulator yet.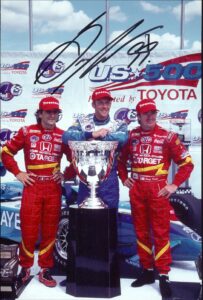 So 25 years after Greg's historic first CART victory, we've decided to celebrate Greg's story and the revamped Greg Moore Gallery at the BC Sports Hall of Fame with a special online racing event on October 3rd we're calling Greg Moore: Lap of Honour. The public is welcome to join in the online racing portion of the event which gets underway at 12:30pm. Link to join is: https://discord.gg/vrxworld
If you can't join us that day, come visit the Greg Moore Gallery any other day the Hall is open and learn about one of the great British Columbians taken from us far too soon. Looking back, Greg's story is still as amazing and relevant today as it was when we first opened his gallery over 15 years ago. For those that like numbers, Greg packed more than a few of the impressive variety into his 24 years:
-five career CART wins
-youngest CART race winner ever at 22 years 1 month and 10 days
-12 career CART podium finishes
-33 career CART top-10 finishes in 72 races
-10 wins in 12 Indy Lights races during the amazing 1995 season, in which he won the driver's championship by 102 points, led 375 laps, and finished every lap of every race, while setting a points record of 242—30 more than any previous Lights champion
-a record 13 career Indy Lights victories
-1992 USAC Formula 2000 West Champion and Rookie of the Year, winning 4 races and 4 pole positions
-1991 Esso Protec Formula Ford 1600 Rookie of the Year and 4th in overall championship with 1 win, 4 seconds, and 2 pole positions
-1990 North American Enduro Kart Champion
-1989 North American Enduro Kart Champion at age 14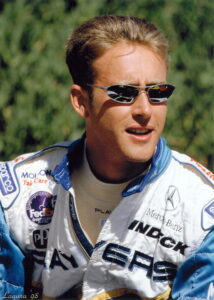 Many times over the years when trying to explain the significance of Greg's story and career to someone, I pose a scenario. Imagine if Wayne Gretzky left us at the age of 24, before all the Stanley Cups, MVP awards, NHL records, hall of fame career, and everything else he did elevating the game of hockey. Greg had the potential to be that for motorsport. He'd been the best at every level on his rise to CART and was just starting to show the world his unlimited potential. Who knows where he would have gone from there. His closest friends in CART—Dario Franchitti, Tony Kanaan, Max Papis—all went on to win big races all over the world and they all agree that not only was Greg going to be even better than they were, as great a driver as he was, he was an even more remarkable person.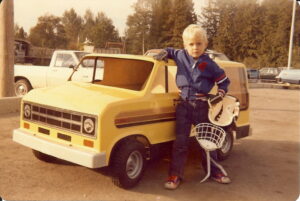 After viewing thousands of photographs of Greg over the years, there is one in the Greg Moore Gallery that stands out strongest in my mind. It is of a young blonde-haired boy, age six, wearing blue sneakers with orange laces. In his left hand he clutches a caged hockey mask, while his right hand, wearing tiny racing gloves, confidently leans against the body of a small yellow van. It was Greg's first go-kart and the kid looks in his element already. He took to cars from the beginning. Within a dozen years, he was astonishing seasoned race observers with his speed and natural ability.
Somewhere out in the small towns of this province lives the next great BC athlete, as yet unknown. Maybe he or she will see this photograph of the young boy proudly leaning against his first car in the Greg Moore Gallery and think that can be me and the road to my wildest dreams starts here.
He's not with us anymore in person, but he's here in spirit and somewhere out there I want to believe Greg loves the fact that kids, young and old, are still being inspired by his story every day.