Kathy Newman: Quietly Leading The Way – 2020 Inductee Spotlight
March 24, 2020
By Jason Beck
We're sitting at a large round table near the entrance of the Red Velvet Café in downtown Langley and Kathy Newman is sharing stories from her remarkable long career leading wheelchair sport in BC.
The BC Wheelchair Sports Association (BCWSA) today enjoys a leading reputation worldwide and Kathy deserves a boatload of credit for that. She's made an enormous impact on the lives of thousands of athletes with disabilities from the recreational to the Paralympic level. She successfully won bids to host major international events here in BC and other parts of Canada and then successfully organized them. It struck me as customers strolled by with their coffee and danishes how few likely realized that a true world leader in her profession and community was sitting right here in their midst. More definitely should know.
But after speaking with Kathy for close to two hours about the arc of her life and career, you get the sense that this lack of public recognition doesn't matter one bit to her now and never has. For almost forty years she's always been focused on helping lead the BC wheelchair sports community forward. That's all that really mattered.
"I like a project and a challenge and I'm usually able to deliver," she summed up. "A lot of what we've done is groundbreaking and very innovative. I'm very proud of the staff and athletes we've worked with."
Most British Columbians would almost certainly recognize some of the athletes she has helped along the way: Rick Hansen, Marni Abbott, Richard Peter, Garett Hickling, Kelly Smith, Sarah Hunter, Trevor Hirschfield, to name but a few. You could fill a hall of fame with their Paralympic medals and international accolades.
Kathy was there at the beginning for many of them, helped propel them forward, and watched them reach often historic heights. When she started with the BCWSA as their office volunteer coordinator—on August 4th, 1981, she remembers the precise date—for instance, Rick Hansen wasn't even, well, Rick Hansen yet. He was an unknown UBC summer student intern working in the BCWSA office helping organize the BC Games for the Disabled in Kelowna. She watched Richard Peter grow from a shy teenager who stayed at her house during local wheelchair basketball tournaments into 'Bear'—one of the world's best, a three-time Paralympic gold medalist. She was there at the 2004 Paralympics in Athens, pausing between filing stories on BC athletes for the BCWSA to watch with tears welling in her eyes as Kelly Smith pushed to a silver medal in the T54 marathon knowing everything he'd overcome to get there.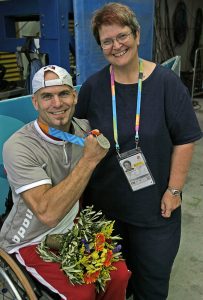 Kathy was an athlete herself growing up in Richmond. She played baseball and tennis and spent a lot of time hiking up and skiing down Hollyburn Mountain where her dad owned a cabin. Swimming, though, was her sport. She was the first junior life guard at Richmond's Centennial Pool in 1965 and earned her bronze medallion from the Royal Life Saving Society. Competitive swimming was difficult for her, admitting "I'm a bit of a choker when it comes to the competition side of things," but lucky for BC sport, it led her to the administrative side.
After she and her husband moved out to Langley in the mid-1970s, their daughter ran track for the Langley Mustangs Track and Field Club. Soon she was helping organize and eventually became the club president by 1979. At the same time, she was president of her daughter's school's PAC group, a commissioner in Girl Guides, and a camp advisor for the Langley district.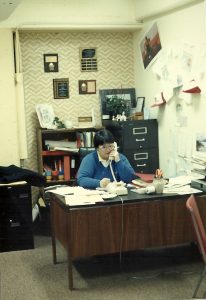 "I naturally gravitated toward leadership roles," she chuckles.
While helping the Mustangs organize their big annual track meet in 1981, Kathy decided to help celebrate the United Nations' International Year of Disabled Persons by inviting wheelchair athletes to compete. It became one of the first track meets in BC and possibly Canada to invite athletes with a disability to participate in an inclusive environment and proved highly successful. Young athletes like Rick Hansen and Daniel Wesley competed. It was Kathy's first introduction to wheelchair sports and led to a lifelong passion. After the meet, Laurel Crosby advised her that the BCWSA was looking for help. She applied for a job, was hired, and began working her way up toward a leadership role as she always did. By 1987 she was the BCWSA's executive director, a position she'd hold for 25 years until 2012.
In that time, Kathy built a reputation around the world as a pioneer and leader in the development and growth of wheelchair sports, world-class event hosting, and mentoring a generation of para-sport administrators and programmers. The international events she led bids for and successfully hosted in BC and Ontario is remarkable as it is long: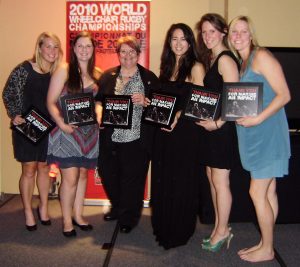 • 2009 Americas Cup Wheelchair Basketball Tournament (Richmond, BC)
• 2010 World Wheelchair Rugby Championships (Richmond)
• Canada Cup International Wheelchair Rugby Tournament (held 2004 to present, Richmond)
• 2011 U25 Women's World Wheelchair Basketball Championship (St Catherines, ON)
• 2014 Women's World Wheelchair Basketball Championship (Toronto, ON)
• 2017 U23 Men's World Wheelchair Basketball Championship (Toronto)
She explains her event hosting rationale with compelling simplicity.
"Hosting events is a platform to do so much more than simply delivering an event," she said. "Whether it's broadening awareness, developing partnerships, training volunteers, improving your reputation—there's so many legacies that come out of event hosting. It's extraordinary."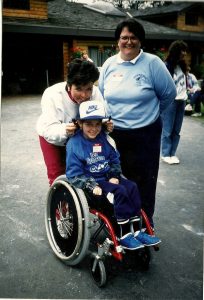 Welcoming athletes and coaches from around the world is always a highlight, but just as often Kathy witnessed unforgettable moments at small regional competitions here at home. Often these were even more meaningful and got to the heart of what the BCWSA was trying to accomplish with Parasport participation.
"I remember going to the BC Winter Games in Kitimat one year and you've got these little kids trying their darndest to shoot that ball up into the basket," she remembered. "The game is just going on and on and on and they're shooting away. The score I'm going to say was maybe 10-8 at the end. But every basket was just a joy to see. The crowd would go wild. That was their Paralympic moment and to me that was just as big a thrill as seeing one of our athletes medal at the Paralympics. To watch those kids with the grins on their faces, getting a basket. We were thrilled. How much better does it get?!"
The changes Kathy has witnessed in her time in wheelchair and Paralympic sport are just as dramatic. The equipment improved from rickety wheelchairs to sleek carbon fiber technological marvels. The awareness of wheelchair sport increased tremendously. Kathy developed programs like Bridging the Gap and 'Have A Go' days that encouraged individuals who had been recently injured to try participating in a sport, that they could be successful at it, and, heck, you might be good enough to represent Canada one day.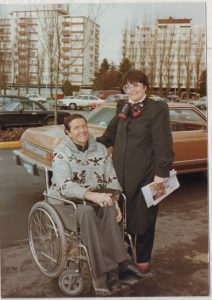 "It shows what is possible," she said. "I have a story I like to tell. If you go down to the gymnasium and the Bridging The Gap session is going on, you've got a group of people actively trying new activities out on the floor. You've got a group of people leaning up against the wall, just sort of watching, hesitant to try. And then you've got people at the door just peering in, curious about what this is all about. The next time you come back, the people that were leaning up against the wall, they're now in sport chairs playing. The people that were in the doorway are now leaning against the wall. And you've got a new group of people out in the hall. It takes a lot of willpower and desire to want to try the sport. It's life-changing. In a fun, positive environment, it shows people that you can do what you want to do in your life."
She became an advocate for athletes with a disability and if she saw a policy, procedure, or situation that wasn't fair, she was there to fight it and right it. And there is a great example that involves our very own Hall of Fame. In 1991, Kathy nominated Eugene Reimer, the internationally-renowned wheelchair athlete from Abbotsford who was named Canada's outstanding male athlete of the year in 1972, to the BC Sports Hall of Fame in the Athlete category. Two years later, she heard back from the Hall.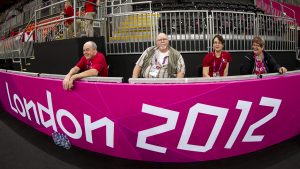 "We got a notice saying: 'Great news, Eugene is being inducted into the WAC Bennett Award category.' But not in the Athlete category—because he wasn't eligible there. I couldn't believe that."
It's hard now to conceive an 11-time Paralympic medalist being considered anything but an athlete, but the Hall of Fame's selection criteria was a product of its time when athletes with a disability simply weren't given the recognition they deserved in almost all areas of society. That still didn't make it right. So Kathy wrote polite, but firm letters, talked to the appropriate people, and she argued the point that the policy needed to be changed to be more inclusive. It took a few years, but change eventually arrived. In 2002, Eugene was the first individual to be inducted into the BC Sports Hall of Fame a second time, this time, rightly, as an Athlete. A steady stream of other BC Para athletes have been inducted since then.
"A big part of my career was trying to influence change and policy," Kathy explained. "And I tried to do it in the right way."
It's somehow fitting that Kathy is now herself being honoured with induction into this same category, the WAC Bennett Award, that she found fault with almost 30 years ago.
"It's pretty funny eh?!" she laughs. "It's almost like what goes around comes around! I hope I was able to make a difference in people's lives and do it in the right way, morally and ethically. It feels good. Crazy actually. It's pretty damn special."
Kathy Newman will be inducted into the BC Sports Hall of Fame in the WAC Bennett Award category as part of the Class of 2020 Induction.