Karin Larsen: Athlete & Broadcaster, The Best of Both Worlds – 2021 Inductee Spotlight
April 11, 2022
By Jason Beck
Earlier this year my wife Nicole and I sat down at the end of a long workday to watch the CBC's Winter Olympic coverage from Beijing. We settled on biathlon, a sport we both enjoy each quadrennial, but admittedly understand just the basics of. Thank goodness for the world class commentators the CBC offers and in this case we were treated to one of the very best.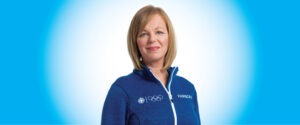 At one point in the race Nicole turned to me and asked, "Who is this commentating? She's really good."
"That's Karin Larsen," I replied.
"Isn't she one of the Hall of Fame's new inductees…" Nicole asked turning to me, seeing her question already answered mid-sentence by the grin on my face and then smiling herself. "Thought so. She's so good."
The thing is, Karin Larsen isn't just good. She's remarkable.
Over the past thirty-plus years, Karin has built a reputation as one of the most versatile, knowledgeable, and respected members of the BC sports media. Few have covered more varied sports in more varied locations in more varied roles and done so with such "grace, integrity, and aplomb" as 2016 BC Sports Hall of Fame media inductee Wendy Long put it recently. "A true professional in every sense of the word as a sports broadcaster."
But the really remarkable thing about Karin Larsen? How many people have had two separate hall of fame careers? In her past life before becoming a CBC sports broadcaster, she crafted a hall of fame career as a world champion synchronized swimmer representing Canada.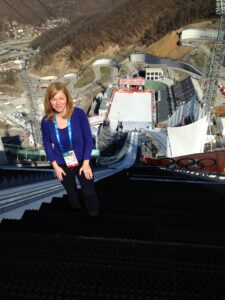 "They really are the two obsessions of my life, I have to say, in probably not a healthy way sometimes," Karin said recently in an interview at the BC Sports Hall of Fame. "Honestly, a person couldn't be any luckier than me to have these two pursuits and something that you're excited about every day. I do have a passion for them."
That passion comes across to the viewer. Whether it's interviewing one of Canada's best athletes post-race in the mix zone at an international event or calling the play-by-play of a Covid-era Olympic event off a television monitor at 3am in a sanitized sound-proofed broadcast booth on the other side of the world. It comes across. Maybe because as an elite athlete she's been there before herself and knows the struggle, the journey, the pressure, and the significance of it all.
Perhaps one of her CBC colleagues, the recently retired Steve Armitage, himself a 2006 BC Sports Hall of Fame Honoured Member who shared many a broadcast booth with Karin, put it best: "Karin has dedicated her entire adult life to both participating in and covering sport and she has done both with great passion and skill. Her contribution to sport in BC is matched by very few."
Karin grew up in a sports-minded family in the Maillardville neighbourhood of Coquitlam. Her father had been a very good soccer player and rower back in Denmark, while her mother was active in track and field in Holland. They brought their interest in sports to Canada and passed it on to their four daughters, of which Karin was their third. In the 1960s, there were few opportunities for girls to play sports in the Coquitlam area. The first girls soccer teams were just beginning to form and there was no girls hockey or lacrosse to speak of. One of the few offerings was the swimming programs at the YMCA in New Westminster, where Karin and her sisters first learned to swim. She was a very good age-group swimmer at every level with the Coquitlam Sharks and soon also got into lifeguarding. Because the Y in New West doubled as a YWCA, they also offered a new program for synchronized swimming. And of course, the Larsen sisters and their friends did that one too.
"I just loved it," exclaimed Karin. "I was one of those kids that was bouncing off the walls all the time. I just needed something active and physical. And this is the thing that made the difference. All my friends were in it. I never didn't not want to do it. It was just a super fun way to grow up."
And then in the summer of 1976, like so many young women around the world, Karin's eyes were opened to something even bigger.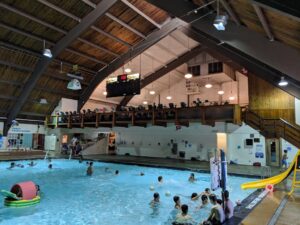 "I just remember riding my bike to the local pool for swim practices and watching the Olympics all day," she recalled. "I don't ever remember seeing women do sports on TV until the 1976 Olympics, at which point Nadia Comăneci, the great Romanian gymnast who scored a perfect 10 in competition, sort of blew my mind! She was a big story at those Games and I was just gobsmacked and smitten by this athlete and the fact that she could be perfect, like the idea that you could be perfect at something. And she was! She was like nothing I'd ever seen before. That really captured my imagination."
Suddenly Karin was dreaming of going to the Olympics herself.
"It seemed like the most amazing thing a person could do."
Even though it wasn't even an Olympic sport yet, Karin threw herself into synchronized swimming as a member of the Coquitlam Coralinas Synchro Club and the Surrey Aquatic Club under coach Charlotte Tutte and quickly progressed up the ranks.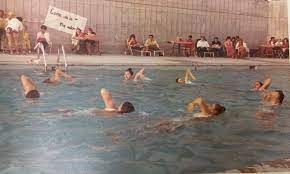 "I just stuck with it and got better and better. And I was slightly competitive."
After just missing out on the last spot on the Canadian national team the previous year, in 1981 at age 18 Karin made the national synchro team and would remain a fixture in the national program for the next seven years. Canada was a world power in the sport for much of the decade and a BC athlete earning a spot on the national squad was a big deal for the sport here. After graduating from Centennial High School, Karin moved to Calgary where Canada's national synchro coach Debbie Muir was based to train. She would compete all over the world representing Canada mostly in the duet or team event.
"I was never the best, but I was always among the top group," she said of those years. "It just captivated me. Took up all my time and brain space all the time. It was the only thing I wanted to do."
Karin was a member of the Canadian team that won gold at the FINA World Cup in Tokyo, Japan in 1985. In 1986 she helped Canada to the world championship in the team routine event at the World Aquatics Championships in Madrid, Spain. With teammate Traci Meades, she took gold in the duet at the 1987 Moscow Invitational and another team gold at the Pan Pacific Championships that same year.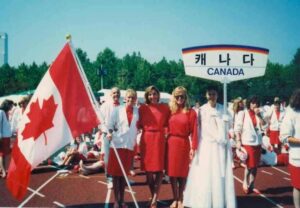 The first inkling of her future second career came to her at the 1986 world championships.
"That was the first time I met Fred Walker from the CBC," she recalled of the just recently deceased reporter who was at those Games filing synchro stories. "It made me think, 'They have reporters covering swimming? What?! I want to do that!'"
It was also around that time that she first met Vancouver Sun sportswriter Wendy Long, which only got Karin thinking about sports media as a possibility even more.
"That again ignited my imagination. There's someone who's doing it! I really admired her. I wasn't interviewed by a lot of reporters when I was an athlete, but Wendy was one where she just seemed really thoughtful and came at it from a different place. I really respected that, and I really respected her and the work she did."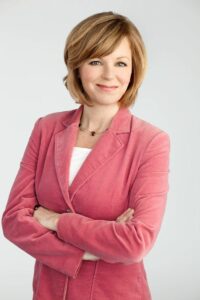 The feeling was mutual.
"What was great about Karen was that not only was she willing and able to answer questions, but she was really happy to educate about her sport," recalled Wendy. "She saw it as an opportunity to further her sport and educate the public about her sport with thoughtful and insightful answers to questions. I wasn't surprised that she went on to such a long career in the sports media. The seeds were planted early. In our interviews you could see she was thoughtful and articulate. That ability really carried over into forming her career as a sports broadcaster."
Like watching Nadia Comăneci on TV many years earlier, Karin needed to see it to dream it. Seeing Wendy writing for the Sun was all the inspiration that she needed.
"Even though she was really the only one I really saw in Vancouver, I thought she was amazing," Karin said. "I got to know her a little as well and I think she really made me realize that maybe I could make a career out of this."
But first there was that Olympic dream to attend to.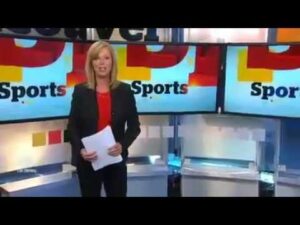 For a year leading up to the 1988 Olympics, Karin trained as the alternate for Canada's duet team behind Carolyn Waldo and Michelle Cameron, who ultimately would win Olympic gold in Seoul, South Korea. Ask Karin about this and she modestly dismisses her contribution to the team's success.
"They really only needed two people," she laughed. "They only needed a third person in case someone fell down the stairs, so that was me."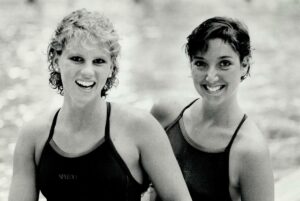 But in reality Karin played a massive role in the team's success. She had to learn the routines for both positions and be able to step in and perform them flawlessly while managing the pressure of never knowing when she might be called upon. In some ways, that's even tougher than one of the two duet positions.
Regardless, Karin went to Seoul as a full member of the Canadian Olympic team fulfilling that childhood dream. She swam in the compulsory figures event and finished in the top eight. Carolyn Waldo won the solo gold to go along with the duet gold with Michelle Cameron—two of the three gold medals Canada won in the entire Games.
"That's a lot to be proud of," said Karin. "Being in Seoul was beyond anything you could have imagined. It was very exciting."
During the Games, Karin turned 25. As someone offered her a piece of birthday cake, she looked around at all the teenagers in the pool. Twenty-five is definitely not old in the great scheme of things, but in synchro it seemed that way. There were other things in life that she wanted to do and it seemed like the right time to retire.
"Some of the other little pressures of life were beginning to creep in," she said. Following retirement from her synchro career, Karin was inducted into the BC Swimming Hall of Fame in 2001 and the Coquitlam Sports Hall of Fame in 2019.
Some high performance athletes struggle with the transition to their next career and while it was no picnic at times, Karin seemed to handle it better than most and before long she was on the road to her second hall of fame career. She began attending Simon Fraser University working towards a media communications degree and taking night courses in broadcasting at BCIT. Even before the end of 1988, she was offered a part-time weekend job at CBC Vancouver as a sports researcher. She was hired by another future BC Sports Hall of Famer, J. Paul McConnell.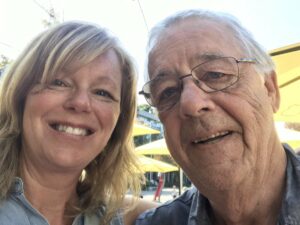 "Karin gives me far too much credit for having any part of getting her started. I may have pried open a door or two, but I also had a lot of helpers," said JP recently. "We managed to steer her down the hall and into the into the sports department, where she was truly 'a rose among the thorns.' It just seemed the right thing to do and it would have to be the very best thing I did in my ten years with the CBC. I am totally delighted to be among the many who are so excited to see Karin elected to the BC Sports Hall of Fame."
"That was my foot in the door there," Karin recalled. "I ordered everyone's dinner and made sure it was delivered. I did a few interviews and ran around with the camera and just learned. Making all the terrible mistakes you make when you have no clue what you're doing, but at a low level so the embarrassment is kept at a minimum."
Over the next few years Karin soaked it all up learning and teaching herself as many different jobs as possible as a researcher, production assistant, floor director, reporter, in the control room as a script assistant even occasionally getting on-air as a host. Early on she worked on the CBC's NHL Breakaway, a Canucks-focused show that came on before Hockey Night in Canada and did well in the ratings. For a year she even branched out and worked as a story producer for a horse racing show on BCTV called Down The Stretch. All of the skills she picked up served her well later on when called upon to take on bigger and different roles either locally or nationally for the network. One of those included co-hosting CBC Vancouver's Seeking Stanley with Shane Foxman, a nightly Canucks wrap-up show that followed the 2010-11 team through their remarkable run to Game 7 of the Stanley Cup Final and regularly pulled in over 350,000 viewers—"incredible for a local show."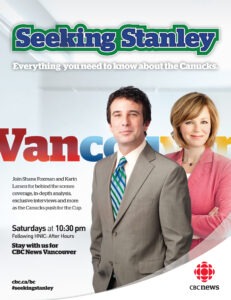 She couldn't have asked for a better team in the sports department at CBC Vancouver to learn from at the beginning. Besides JP, there was also Steve Armitage, Barry Macdonald, Greg Shannon, and Eric Dwyer who all were big influences.
"Everyone in the office was really great and supportive," she said. "I fell in love with the people and the job. I just remember laughing and having so much fun early on working in sports."
The sports media landscape in BC and across Canada was overwhelmingly dominated by men through the 1980s and early 1990s. Sharol Josephson and Laura Ornest had worked as a sports reporter and on-air host at CBC Vancouver in the mid-to-late 1980s, while Diana McDonald had been a sports anchor at CBC Charlottetown and later TSN around the same time. Wendy Long, of course, was well established in the sports department at the Vancouver Sun. Norma Wick, Jody Vance, and Karis Sengara arrived not long after in the Vancouver market. Karin was among the early wave and among the first women to work regularly in sports media for an extended period in BC. Despite the support from colleagues, it wasn't always easy.
"I did feel it a little bit out in the field," she admitted. "When you were a sports reporter then you covered predominantly men's professional sports and so there are some points of tension as a female going to these situations where they may not have been used to seeing women. There was some of the dumb stuff you had to navigate so it doesn't become a distraction to you doing your job. If these are workplaces for men, then I should be able to go in there and it shouldn't be impossible for me to do my job too. But these are the sorts of silly things I had to navigate in the beginning as well in different places."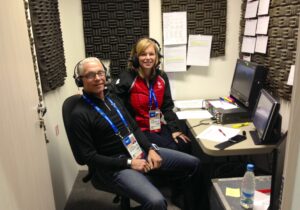 There is still a lot of work yet to do to achieve true gender equality in sport, but so much has changed for the better in the ensuing three decades of Karin's career.
"Massive changes," she emphasized. "It just heartens me so much. It just makes me so happy. There is just so much more representation and it's just so much more normal. I cried my way through the last Women's World Cup because it was an all-female crew. So you see things like that. You wouldn't have seen that even ten years ago. Now it just seems normal and that's great."
In 1993, Karin began to be called upon for CBC network broadcasts of major sports events around the world. Even as she has moved from daily sports onto the city side at CBC Vancouver recently, these international assignments continue to this day.
"I get to do the best of both worlds, work at home, while travelling the world."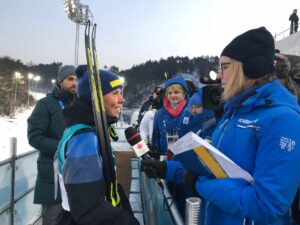 Early on she was assigned a lot of swimming and diving, like sideline coverage at the world championships or World Aquatic Games in Australia, but her versatility has shone through as she's worked everything from World Cup downhill skiing, world snowboarding, equestrian show jumping, and wrestling among many others. Since 1996 she has covered 11 Olympics, at least five Paralympics, several Grey Cups, the NHL's Stanley Cup playoffs, as well as countless Canucks and BC Lions games. In 2006, alongside Ron MacLean Karin co-hosted the CBC's coverage of Closing Ceremony of the Winter Olympics from Torino, Italy. Two years later, she served as the CBC's lead announcer for the men's triathlon at the Beijing Olympics calling Simon Whitfield's courageous come-from-behind silver medal finish, at the time one of the first women granted the opportunity to announce a network-wide event and a career highlight.
Certain places she travelled to blew her mind, like the 2001 FIS Snowboarding World Championships held in Madonna di Campiglio in Italy—"this gem of a place"—or the 2001 FIS Alpine World Ski Championships in St. Anton, Austria at the height of the great Hermann Maier's legendary skiing career.
"Just seeing a sport that means so much to a country close up," she marveled. "There were 50,000 drunk Austrians in the streets there. Just such a scene. It was amazing. It was like the 2010 Olympic men's hockey victory here where you're just high-fiving people all over the place you're just so happy."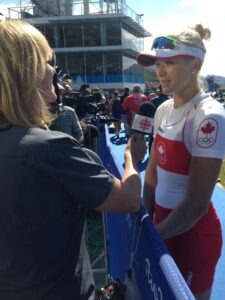 But maybe Karin's most memorable event was one of the very first she covered at an Olympics. Her younger sister Christine had followed in her footsteps in making Canada's national synchro team and she was part of Canada's synchro squad at the 1996 Olympics in Atlanta. Christine and her teammates, including the great Sylvie Frechette, 1992 Olympic solo champion, captured silver behind the Americans. A bundle of nerves for her younger sister, Karin was in the booth commentating on the action.
"It was my first Olympic Games [working for CBC] and I was new," she recalled. "I was really nervous for her. I also wasn't sure how to navigate this properly, the whole situation being related to a person and not cheering for her. I was a mess. It was fine for what it was, but it was also kind of weird."
Her mixed feelings on the event notwithstanding, it still stands as a landmark moment in BC sport.
"Not many broadcasters can claim they called a medal winning performance of a family member," noted long-time media veteran Brian Pound, who nominated Karin to the BC Sports Hall of Fame. And it's not like Karin had much time to dwell on the moment, as the very next day she was sent off to another sport at another venue in Atlanta.
"I was what was called the 'Various Reporter'," she chuckled. "There were a couple of us. What does that mean, various?! It means you're doing a different sport every day! They'd send us binders of research to prepare because it was pre-internet. So I had a suitcase of binders and had to do all these sports. It was fantastic though, I loved it! If you want to have the Olympic experience, that was it, just getting out and going places every day."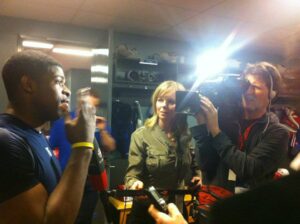 Another day at those Games she was sent out to the cycling road course and post-race she interviewed a young Clara Hughes fresh off her second bronze medal of the Olympics and quickly becoming a national star. Ten years later, Karin was there at the finish line in Torino, this time for speed skating, interviewing Clara again after her Olympic gold medal in the 5000m as she became the first athlete ever to win multiple medals at both the Summer and Winter Olympics.
"She's another athlete and person who I really, really admire."
There have been so many interview highlights for Karin before and since. From Wayne Gretzky, Gordie Howe, and Danny Gallivan to tearful Canadian kayaker Adam van Koeverden, absolutely crushed just moments after taking a disappointing bronze medal in a race in which he was heavily favoured at the 2004 Olympics in Athens. She was there at the 1998 Commonwealth Games in Kuala Lumpur, Malaysia and witnessed the first international plunges of a 13-year-old diving sensation named Alexandre Despatie, then largely unknown, but who would literally grow into another Canadian legend.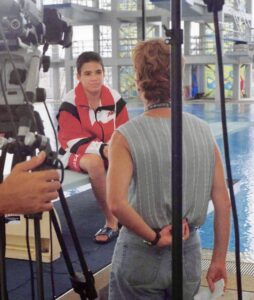 "Here's this little boy, like little boy! He looked like someone's little brother had snuck into the pool and what's he doing on the 10m board?! The guy who came second was this totally jacked up English diver [Tony Ally], who gave him a big hug and little Alex disappears. Then he phoned home to tell his mom he won the gold medal. He was obviously just incredible and then to watch how his career developed."
Karin, who with husband Brian has two children now both adults, Kai and Kate, laughs while recounting an interview with Canadian snowboarding superstar Mark McMorris:
"I interviewed him, did a story and he was great, a nice kid. I came home and my kids are usually so unimpressed with what I do. They're just like, 'Whatever…' So I told them I talked to Mark McMorris and they FREAKED out! 'MARK MCMORRIS!!!' That's who their generation is. I should like that interview the most because it's the interview that impressed my children the most."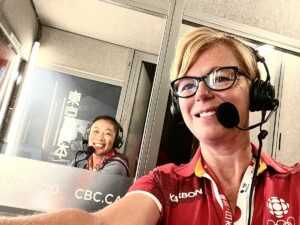 But asked to narrow things down to the most memorable moment she has covered, Karin cites the dramatic wrestling gold medal won by Hazelton, BC's Carol Huynh at the 2008 Beijing Olympics.
"Because of her story mostly. Such rich storytelling. Because she's from my home province as well. Also being in the venue, calling it live, doing play-by-play which is something I don't get to do very often, but I like doing. Very exciting to be there in the moment. A great moment, a happy moment, a beautiful moment, all of those things. Carol also went to SFU, so I felt a tiny bit of kinship there as well."
Thirteen years later Karin was back doing play-by-play for wrestling at the Tokyo Olympics and Carol was alongside her providing commentary.
"I think it's also started to stand out more because I've gotten to know her and gotten to work with her! Isn't it insane how things work out?! And she's lovely, thoughtful, and ferocious under a very calm surface. And I like her. I get her. I get what she's about. I know why she's Olympic champion. So I really value that moment."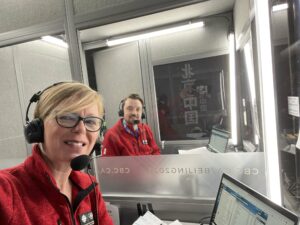 There will be more moments to come too as Karin, the 1999 recipient of the Leo Award for Best Sportscaster in Vancouver, has no plans in the near future to stop covering local stories at home in Vancouver and international sports events around the world.
But more immediately there is induction into the BC Sports Hall of Fame.
"It feels amazing. It really is something I never could have imagined—ever. Just absolutely tickled and I hope I've said this before but the BC Sports Hall of Fame is a place I've admired for a long time, going back to when it was back at the PNE. Just from being a kid and walking around, it made an impression. But I admire this place, the job the Hall does to bring the stories to the public is I think second to none. I wish everyone knew about it. I'm a sports geek. I'm geeked out by all the stories and I love that part of it. So to be inducted seems kind of ridiculous, but just fantastic."
As part of the Class of 2021, Karin Larsen will be formally inducted into the BC Sports Hall of Fame in the Media category at the annual Induction Gala to be held June 9, 2022 at the Vancouver Convention Centre.