Harry Jerome & Willie Fleming: The Fastest Runs in the West – Black History Month Feature
February 28, 2022
By Jason Beck
This article started with a simple enough premise.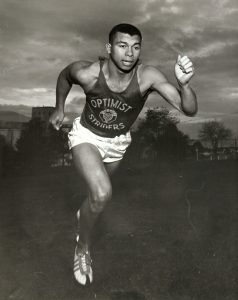 What if the revered sprinter Harry Jerome met the legendary BC Lions running back Willie Fleming in a foot race—who would win?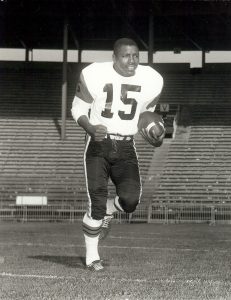 One was a world record holder considered one of the fastest men on earth. The other was known as 'Willie The Wisp' for the way he made would-be tacklers miss with his sheer speed and remarkable agility. It was a tantalizing enough question that I decided to dig into it and see what could be unearthed.
British Columbians may not have realized it at the time—some may have—but from 1959 until 1966, Vancouver was home to possibly the two fastest men (in different sports) certainly in Canada, probably in North America, and possibly the world. I can't recall any other instance in BC and possibly Canadian history to match this.
Open the sports section of the Vancouver Sun or The Province on any given day in the early 1960s and chances are two names will jump out in bold from opposite corners of the page: Harry blazing across the finish line first in another race against the world's best sprinters and Willie scoring another highlight reel touchdown with a pile of frustrated defenders left in his wake.
My hope was to discover that at some point these two superstar athletes had faced off against one another in some sort of celebrity one-on-one foot race perhaps for a local charity. However, after much searching it appears that the Jerome-Fleming showdown remains just a daydream in the mind of one curious BC sport-centric curator.
The question of who would have won a race between Harry Jerome and Willie Fleming remained though. I contacted long-time Vancouver sportswriter Brian Pound, who covered both men for The Province in the 1960s, in particular Jerome who became a friend of Brian's.
So who would have won in a race? Brian didn't hesitate for a moment.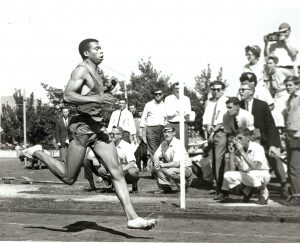 "Harry," he said decisively. "Oh yeah, in those days before his leg injuries he was considered the fastest man in the world. Willie would have given him a run though."
I then flipped the question around. Of the two, who would have been the better rusher on the football field? That is a much harder proposition to debate than a straight-ahead sprint, but Brian offered a few interesting tidbits, which got us thinking.
Harry did play football in high school growing up in North Vancouver, so he wouldn't have been a complete newcomer to the gridiron. Brian also noted that BC Lions general manager Herb Capozzi once offered Harry a $5000 a year contract to play for the Lions although Harry turned it down. Could Harry have been a star between the hash marks as well as on the track?
"Well, Capozzi certainly thought he could run," said Brian.
It's a particularly tantalizing fantasy. Can you imagine a Lions backfield featuring both Willie Fleming and Harry Jerome? Poor Joe Kapp and his offensive lineman would all be fighting constant sore necks from turning to watch these two speed merchants flash by them down the field, not to mention the severe wind burn. And that's to say nothing of the hapless defenders who would be tasked with stopping them. If only it had happened…
Sprinters who went on to success in pro football aren't unheard of. In fact, 'Bullet' Bob Hayes, the great American sprinter who edged out Harry by two tenths of a second to win the 1964 Olympic 100m final, later went on to play over a decade as a wide receiver in the NFL with the Dallas Cowboys and San Francisco 49ers, winning a Super Bowl with Dallas in 1972. Harry had similar speed to burn as Hayes, so it's certainly possible.
As I dug into the lives and careers of Harry and Willie, I found it remarkable the number of similarities between these two extraordinary athletes. In fact, their careers almost mirror one another in many ways.
Willie was born in February 1939 in Atlanta and grew up in Detroit. Harry was born just a year-and-a-half later in September 1940 in Prince Albert, Saskatchewan and grew up in North Vancouver. Willie was 5'9" in height, while Harry was two inches taller.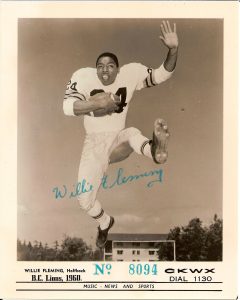 Both starred at universities in the US on athletic scholarships. Willie played football for the University of Iowa from 1957-59 where he led the team in scoring in 1958 and scored two touchdowns in the 1959 Rose Bowl as his Hawkeyes defeated the University of Minnesota, who coincidentally had at quarterback Fleming's future BC Lions teammate Joe Kapp. Here's a short video clip of Willie scoring a 72-yard touchdown for the Hawkeyes in 1958: https://www.youtube.com/watch?v=eF0pfHDMPhg
Harry attended the University of Oregon from 1961-64 and ran on their venerable track team under the legendary coach Bill Bowerman. He won NCAA championships in the 220-yards in 1962 and the 100m in 1964, while also helping the Ducks to two NCAA team championships.
Both burst onto the BC sports scene in 1959 at the same Vancouver venue. Willie quickly established himself as the most dynamic rusher in the BC Lions' short history to that point, electrifying the Empire Stadium faithful every time he touched the football. The Lions' first true game breaker finished the season with 774 yards rushing, impressively averaging 7.0 yards per carry. He also caught 26 passes for 517 yards. And he scored eight touchdowns—three rushing, five receiving.
Harry flashed down the cinders at Empire Stadium on May 27th that year running the 220 yards in a sizzling 21.9 seconds at the Vancouver & District Inter High track meet breaking Percy Williams' Canadian high school record in the event that had stood for 31 years. The crowd of 19,000 were also thrilled by Harry in the 100 yards, which he won in 10.1 seconds, just one-tenth of a second off Williams mark set in 1927. Hall of Fame coach Lloyd Swindells predicted to the Vancouver Sun, "With proper training and the right coaching, Harry could become one of the greatest sprinters of our time."
Swindells, of course, would be proven right but no one expected it to happen so soon. Later that same year Harry ran the 100 even faster clocking 9.5 seconds, the fastest time ever by a Canadian sprinter and only two-tenths of a second off the world record.
Speaking of records, both Willie and Harry accumulated them by the boatload. Settle in for a recap here of just some of their most impressive.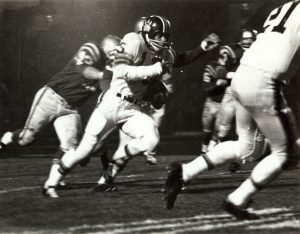 In 1960, Willie became the first BC Lion to break the 1000 yard rushing mark in a single season, running for 1,051 yards on 125 carries, an amazing 8.4 yards per carry. That year Willie also set the Lions club record for most points scored in a single game with 25 (four touchdowns and a single extra point) against Saskatchewan on October 29th, 1960. Willie's four touchdowns are also still tied with several other Lions for most touchdowns scored in a single game.
On September 24, 1962, Willie helped the Lions to a 27-24 win over Winnipeg and had just one reception, but what a catch it was, still considered one of the greatest in Lions and CFL history. On the Lions four-yard line Joe Kapp threw to Fleming who caught the ball without breaking stride and sprinted untouched to the end zone on a pass and run play that covered 106 yards, one of the longest in league history. Willie matched this 106-yard reception a year later in a game against Calgary. Both remain BC Lions club records to this day.
In a 1963 game against Winnipeg, Willie set the Lions club record for most combined rushing and passing yards in a single game with an amazing 328 total yards. This game is a perfect representation of Willie's 1963 season, which truly was one for the ages. Nearly 60 years later the numbers still are eye-popping. He rushed for 1,234 yards in 16 games averaging a superb 9.7 yards per carry. He also caught 28 passes for 639 yards, averaging 22.8 yard per catch. He scored 12 touchdowns on the season. Province columnist Ed Willes said in 2013 that "you could make the case…that the Fleming of '63 was the greatest back in CFL history." No arguments here.
Willie's name is littered throughout the Lions club record book. He stands as the 5th all-time leading scorer in club history with 523 points and 2nd all-time for non-kickers behind only the great Geroy Simon. He ranks second all-time in touchdowns scored with 87 (38 rushing, 48 receiving, 1 kick return) again behind only Geroy. He still stands as the Lions all-time leading career rushing leader with 6,125 yards. And perhaps most remarkably, Willie still owns the Lions five longest runs from scrimmage in club history—yes, all top five: 109 yards vs Edmonton in 1964 (still a CFL record), 98 yards vs Edmonton in 1960, and then 97 yards vs Calgary in 1962, Calgary in 1963, and Winnipeg also in 1963. It illustrates better than any other stat just how fast, how elusive, how agile, and how Willie could accelerate like no other.
There is one more stat for Willie though that stands out above any other. To this day, he holds the CFL record for career rushing average with 7.1 yards per carry.
"I'll always be proud of that rushing average," he told the Vancouver Sun's Lyndon Little upon his induction into the Canadian Football Hall of Fame in 1982, just the third BC Lion to be inducted. "That's what it's all about. It shows how effectively you could move the ball."
Harry's list of records is shorter, but perhaps even more impressive. On July 15th 1960 at Saskatoon's Griffiths Stadium, Harry equaled the 100m world record of 10.0 seconds flat at the Canadian Olympic trials. Harry would share the world record with Germany's Armin Hary, who later that year would win the Olympic gold medal in Rome in the 100m.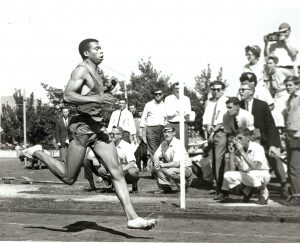 But Harry was just getting started when it came to world records; he would hold six world records over the course of his career. In 1961, he matched the world mark in the 100 yards, sprinting to the finish in 9.3 seconds. One year later, he again matched the world mark a tenth of a second lower at 9.2 seconds. Also in 1962, he helped the University of Oregon's 4×110-yard relay team to a new world record of 40.0 seconds. In 1964, he tied the world indoor record over 60 yards with a time of 6.0 seconds. In 1966, Harry again matched the world 100-yard record, this time to 9.1 seconds, making him the oldest 100-yard world record holder in history at 25 years of age. Perhaps most remarkably Harry remains the only human in history to hold both the 100m and 100-yard world records simultaneously.
Perhaps most remarkably Harry remains the only human in history to hold both the 100m and 100-yard world records simultaneously.
Despite their extraordinary careers, both Harry and Willie were unfairly criticized as athletes in the local and national newspapers in ways that either hinted at racist undertones or were explicitly racist.
After Harry pulled a muscle in the 100m semi-finals at the 1960 Olympics in Rome and then severely tore thigh muscles in the 100-yard final of the 1962 British Empire and Commonwealth Games in Perth, Australia, the press labelled him as "a quitter." This despite the fact the latter injury required surgery and rehab that kept him out of competition for the entire 1963 season and threatened whether he'd ever be able to run again, let alone compete at an international level. The award-winning National Film Board documentary The Mighty Jerome released in 2010 covers the media's harsh treatment of Harry well. I encourage anyone who hasn't seen this film to check it out: https://www.nfb.ca/film/mighty_jerome/
Willie's treatment in the press hasn't been covered as thoroughly. One example comes from the 1966 season, his last with the Lions. He was struggling with a severe wrist injury that needed surgery, but he continued playing through it while wearing a bulky cast. Naturally his play was affected, but rather than supporting his star running back, Lions coach Dave Skrien told local sports columnists that he thought Willie was "goofing off" as the explanation for his slump. The local press piled on from there. Willie retired at the end of that season and the negative press treatment ultimately ran him out of town.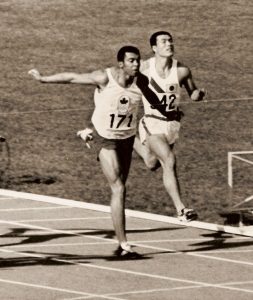 One of the most amazing similarities between these two giants of BC sport though is the fact that their career defining moments occurred within just days of one another in 1964. On October 15th of that year, Harry sprinted to the 100m bronze medal at the Olympic Games in Tokyo in a time of 10.2 seconds. It was the culmination of one of the most improbable comebacks in Canadian sport history recovering from the ruptured thigh muscle discussed above just two years earlier. You can watch Harry sprint to his Olympic bronze in this video clip: https://www.youtube.com/watch?v=c9a6XjTanKA It was also redemption for Harry, answering any critics who unfairly questioned his character. It's hard to argue with an Olympic medal in the most hotly-contested event of the Games, especially given the tough road Harry had run to get there.
Just two days later on October 17th, 1964, Willie produced one of the most remarkable performances of his career as well. In a 24-14 victory over Edmonton he scored two touchdowns, rushed for 186 yards, and compiled 106 yards receiving at Clarke Stadium in Edmonton. It sounds like a pretty standard Willie Fleming scoreline, but what distinguished it was one of those touchdowns was a CFL record 109-yard run, still to this day the longest touchdown run from scrimmage in league history. From their own one-yard line, Kapp gave the ball to Willie and after blocks from Tom Hinton and Leo Holland he dashed and danced past all defenders in what reporters called "a dazzling display of speed and deception."
Then just over one month later, Willie also earned a sense of redemption like Harry. The previous year in the Lions first-ever Grey Cup appearance, in front of a home crowd no less at Empire Stadium, Willie was knocked out of the game injured by a late hit on the sideline by Hamilton's Angelo Mosca as the Tiger-Cats went on to win 21-10. A sign of Willie's widespread popularity at that time was that Mosca instantly became one of the biggest villains in Canadian sport and even he admitted he made his career off that one questionable hit on the Lions star. The 1964 Grey Cup was a rematch of the Lions and Tiger-Cats, this time at Toronto's Exhibition Stadium and this time Willie and his teammates powered BC to its first-ever Grey Cup championship winning 34-24. In the second quarter Willie broke the game wide open scampering 47 yards for a touchdown, sweet revenge as one of the Hamilton defenders he deked out of his shorts was Mosca. It was one of Willie's six carries in the game for 68 rushing yards. He also added 33 yards on two pass receptions. Lions fans, long thirsty for Grey Cup glory, finally had their first taste and a lot of the reason for it was thanks to Willie. You can watch the full 1964 Grey Cup game here: https://www.youtube.com/watch?v=X58Dwj21EsM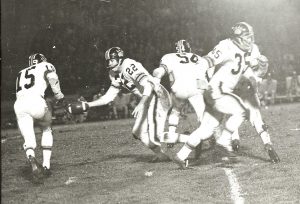 The fall of 1964. What a time to be a BC sports fan. Harry and Willie ran away from all competition and sprinted off to hall of fame glory. For the careers of two athletes from two different sports that match up in so many ways, if only someone could have matched them up one-on-one in person, on the track or on the field, to settle who was the fastest of them all. Guaranteed, Empire Stadium would have been filled to the brim that day to witness the match-up. A guy can dream, right?
Regardless of who would have won in a foot race between the two, Harry Jerome and Willie Fleming remain two of the greatest athletes ever to call BC home. We were lucky to have them when we did and they both have been appropriately honoured in the years since.
A testament to how impactful Harry's running career was the fact he was inducted into the BC Sports Hall of Fame in 1966 while still an active athlete. He retired from competition in 1968 after competing at his third Olympics in Mexico City.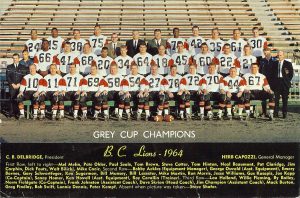 Willie had to wait longer for his BC Sports Hall induction, mostly due to the Hall's BC residency criteria at the time, which limited induction to individuals born or raised in BC. Those athletes who starred here on pro teams but were born elsewhere like Willie were initially ineligible and meant some massive contributors to BC's sport history were being excluded, Willie being one of the most glaring omissions. In the mid-1990s, the BC Sports Hall of Fame's Board and Selection Committee revised its' selection criteria to allow consideration of athletes who played on pro teams or trained in BC for induction. The first such inductee? You guessed it: Willie Fleming in 1998. Some still refer to the residency change in our Hall as 'The Willie Fleming Rule.'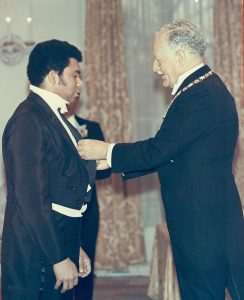 In 2008, Vancouver Sun sportswriter Gary Kingston ranked BC's top 10 male and female athletes of all time, as well as the top 10 male or female athletes to star in BC but born elsewhere. Harry came in at #9 all-time on the former list, while Willie ranked #3 in the latter list.
Willie was also voted to the BC Lions All-Time Dream Team at the running back position in 2003 on the club's 50th anniversary. In 2006, he was voted as one of the CFL's Top 50 players of the league's modern era by TSN. His number 15 jersey was retired by the BC Lions, one of only 10 players in club history to be so honoured.
Harry is memorialized today with a dramatic statue of him breasting the finish line in Stanley Park and Canada's premier track and field meet, the annual Harry Jerome Track Classic held in Vancouver, is named in his honour. Also bearing his name are the Harry Jerome Sports Complex in North Vancouver and the Harry Jerome Sports Centre in Burnaby, as well as the weight room at the University of Oregon and the track in Prince Albert, Saskatchewan. Also noteworthy is the Harry Jerome Awards, a national awards dinner for Canada's black community organized by the Black Business and Professionals Association. An Order of Canada recipient and inductee into Canada's Sports Hall of Fame, Harry Jerome was also named a Person of National Historical Significance in 2010.