First Families of BC Sport
January 31, 2023
By Jason Beck
Who is the greatest family in BC sports history?
I've been asked this many times over the years and it's led to some interesting conversations and debates. The first question is what constitutes 'the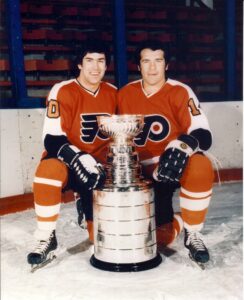 greatest'? Is it the most family members involved in sport? The highest achieving collectively? Does the family include a single generation of athletes or multiple generations? Did they all play the same sport or were they involved in multiple sports? All of the above?
The one thing for certain is that athleticism and sports participation run in many BC family trees. In fact there is no shortage of BC sports families who can claim multiple members who have performed at elite levels and sometimes over multiple generations. But is there a definitive 'First Family' of BC sport? In advance of Family Day in February, we'll survey the field and try to find out.
Now one thing I should point out is that this list is not meant to be comprehensive, but we've tried to identify as many prominent families as possible, particularly those who include Honoured Members of the BC Sports Hall of Fame. (Note: if an individual mentioned in this article is inducted into the BC Sports Hall of Fame, their year of induction will be included in brackets beside their name). Inevitably, some will be missed. But if you think we're missing a family that belongs here, send me an email (jason@bcsportshall.com) and if we can verify your claim, we'll add them to this article.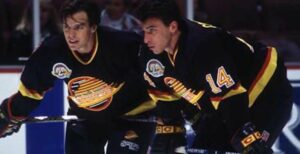 Many of my earliest sports memories involve my younger brother Travis and a little later my sister Marin. It's a common theme in sports-centric families. Your siblings are often your first teammates and opponents in backyard games. So, no surprise there are no shortage of amazing brother and sister acts in BC sport.
The number of BC brothers who have made the NHL is actually quite impressive. There's Jim and Joe Watson (inducted BCSHOF 2002) from Smithers, who both won Stanley Cups with the Philadelphia Flyers in the mid-1970s. The Courtnalls, Geoff and Russ, from Victoria, both had long NHL careers including several seasons each with the Vancouver Canucks although they only overlapped briefly in Vancouver for 13 games in 1994-95. The most famous Canuck brother duo must be the Sedin twins, Henrik (2019) and Daniel (2019), who both cited their older brothers Peter and Stefan back in Örnsköldsvik, Sweden as massive influences on their remarkable careers.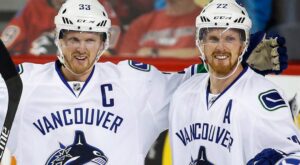 The three Warwick brothers, Grant, Bill, and Dick, were born in Regina, Saskatchewan, but all three helped the 1954-55 Penticton Vees (1976) win the IIHF world hockey championship, often all three playing on the same line. Grant and Bill had earlier played in the NHL.
Cranbrook's Scott Niedermayer was one of the NHL's best defensemen of the 1990s and 2000s, winning four Stanley Cups, the last with the Anaheim Ducks when as team captain he passed the Cup to his younger brother Rob, who had a solid 17-season NHL career. Two of Scott's sons, Jackson and Josh, have both played in the BCHL recently.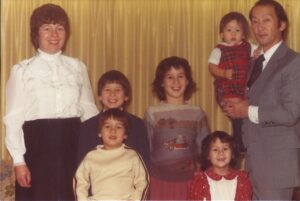 Then there's the Kariyas from North Vancouver. Paul (2015) of course was one of the NHL's most dynamic players of the 1990s and early 2000s, but many forget that his younger brother Steve played parts of three seasons with the Canucks from 1999-2002 before playing in Europe. Most won't know that their younger brother Martin was also a professional hockey player in Europe including one season in the KHL. Steve and Martin are actually the only brothers to win the Veli-Pekka Ketola trophy as the leading scorer in Liiga, the Finnish Elite League. And their sister Noriko was a professional boxer in the US in the mid-2000s compiling a 9-3-1 win-loss-tie record. The Kariya kids inherited their athletic genes from their parents, both great athletes themselves—Sharon, an award-winning Highland dancer, and T.K., a Canadian national rugby player.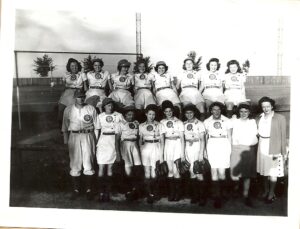 It's harder to find sister duos in BC sport, but the ones we know of are spectacular.
Let's start with the Callaghan sisters of Vancouver, Helen (2008) and Margaret (2008). Both were stars in the All American Girls Professional Baseball League in the 1940s. You've seen the 1992 film A League of Their Own, right? The one starring Geena Davis, Madonna, Rosie O'Donnell, and Tom Hanks? Yeah, that movie is based on the story of Helen and Margaret. Helen's son Kelly was so inspired by a scrapbook of his mom and aunt's careers that he produced a PBS documentary, which in turn inspired the full feature film. Helen's other son, Casey Candaele, played in the major leagues with Montreal, Houston, and Cleveland, making them the only mother-son combination to both play professional baseball. Casey recently managed the Vancouver Canadians and the Toronto Blue Jays farm team in Buffalo.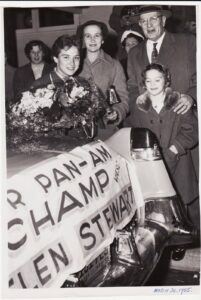 Another set of Vancouver sisters, Helen (1968) and Mary Stewart (1966), both swam to Hall of Fame careers. Helen swam for Canada internationally in the 1950s and later played on the national women's volleyball team. Mary swam for Canada internationally in the 1960s and on the side performed as the BC Lions mascot Leo the Lion at home games. Helen later married Ted Hunt (1972), one of BC's great all-round athletes in rugby, lacrosse, football, and ski jumping.
How about the Larsen sisters from Coquitlam? Karin (2021) was just inducted last year for her impressive media career, but she was also one of Canada's top synchronized swimmers in the 1980s, a member of Canada's 1986 world championship team. Her younger sister Christine followed in her footsteps and won an Olympic silver medal at the 1996 Olympics in Atlanta. And who was commentating Christine's victory on the CBC? You guessed it: older sister Karin.
Many today know Vancouver's Tricia Smith (1992) as the president of the Canadian Olympic Committee. Some realize she was one of Canada's top rowers in the 1970s and 1980s winning a silver medal at the 1984 Olympics. But most forget that Tricia was actually the second person to win an Olympic medal in the Smith family: her younger sister Shannon swam to a bronze medal at the 1976 Olympics in the 400m freestyle.
Victoria has produced a remarkable number of brother duos over the years. It started with the Peden brothers, Torchy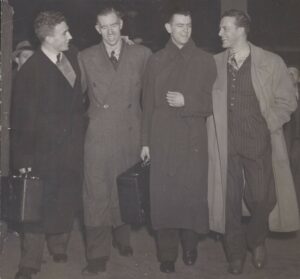 (1966) and Doug (1967). Torchy was one of North America's highest-paid athletes in the 1930s as a six-day cyclist and often teamed in races with younger brother Doug, who also played basketball for Canada at the 1936 Olympics winning a silver medal. Also representing Victoria on that Olympic silver-medal winning Canadian basketball team were the Chapman brothers, Art (1969) and Chuck (1968).
More recently from Victoria, the Gait twins, Gary (2011) and Paul (2011), revolutionized the game of lacrosse, while the Kazanowski brothers, Gerald and Gregg, helped ignite the University of Victoria Vikings men's basketball team (2020) to an unprecedented seven-year national championship dynasty. And we haven't even mentioned the Nash brothers. Steve (2016), of course, was a two-time NBA MVP and generally regarded as the greatest Canadian men's basketball player of all time, but people sometimes overlook his younger brother Martin, who played professional soccer for 15 years on various teams around North America including the Vancouver Whitecaps and suited up 38 times for Canada's national team.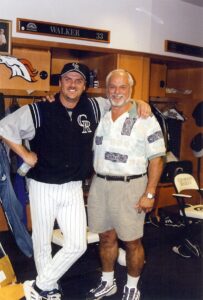 Growing up in Maple Ridge, brothers Carey and Larry (2009) Walker were both goaltenders playing hockey. Carey won two straight Memorial Cups in net for the New Westminster Bruins before being drafted by the Montreal Canadiens and having a solid minor league career. Younger brother Larry, of course, gave up the goal stick for a bat and glove during a Hall of Fame career in the major leagues with Montreal, Colorado, and St. Louis. And word amongst long-time baseball experts in BC is that their father Larry Sr. was a strong pitcher in his day in local senior amateur leagues.
Some great BC brother duos flew under the radar. Reg (1984) and Roy Stone (1984) of Trail dominated BC curling from 1945 until the early 1960s. Vancouver's Brian (1997) and Pat Philley were both standouts in Canadian soccer throughout the 1950s, both earning international caps when Canada attempted to qualify for the Men's World Cup for the first time in 1957. Staying on the soccer front, Burnaby's Brian and Bruce Gant both played for the Portland Timbers in the North American Soccer League for several seasons (Brian also was an original Whitecap from 1974-76), but their soccer fame has since been dwarfed by that of their niece Christine Sinclair, also from Burnaby, an Olympic gold medalist, the world's leading international goal scorer and only the greatest soccer player Canada has ever produced.
And here's a pair I only first learned about last week: the Dawson brothers, Rex and Joe, born in Washington State, but who grew up in North Vancouver. Both pitched in the major leagues: Rex briefly for the Washington Senators in 1913 and Joe for Cleveland and Pittsburgh from 1924-29.
But we can do better than just two brothers here in BC. The Gerela brothers from Powell River had a hat trick of exceptional careers. Oldest brother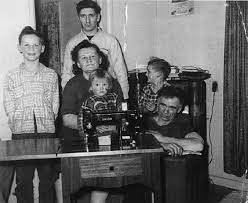 Metro was a top soccer player in BC in the 1960s who also had a brief stint as a punter for the Montreal Alouettes in 1968. He later married Silvana Burtini, who was a star on Canada's national women's soccer team from 1987-2003. Ted Gerela starred with the BC Lions from 1967-73 as their kicker and punter, one of the first players to specialize in just kicking. Youngest brother Roy (2019) played in the NFL for over a decade, mostly as the kicker for the Pittsburgh Steelers, still the only Canadian to win three Super Bowls to this day.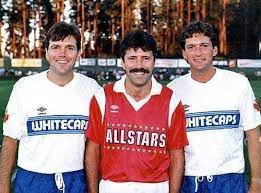 We can't forget the three Lenarduzzi brothers from Vancouver, of course. Bob (1992) is best known for his lifelong hall of fame career with the Whitecaps as a player, coach, and general manager. But before Bob, older brother Sam also played professionally in the North American Soccer League (including the Whitecaps from 1974-78) and on the Canadian men's national team. Youngest brother Dan played three seasons with the Whitecaps from 1978-80. In fact, in 1978 the Lenarduzzis became the first trio of brothers to all play in the same game on the same North American professional team when the Whitecaps defeated San Jose at Empire Stadium in a NASL regular season match. One of the Whitecap goals scored that day by Bob was actually set up by Sam and Dan.
Less well known, but no less impressive are the fabulous four Moberg brothers (Buster, Vern, Ted, and Don) from North Vancouver, who all distinguished themselves in softball. Buster (2012) is probably the best known for his hall of fame pitching career. And then there are the five Burns brothers who were well known in the Penticton Ironman triathlon scene in the 1980s and 1990s. The Gifford name is well-known in New Westminster Salmonbellies lore as five Gifford brothers (Bill, Tom, Jimmy, Hugh and Jack) distinguished themselves on BC lacrosse fields prior to 1930. Three of the Gifford boys (Hugh, Jimmy, and Tom) would be inducted into the Canadian Lacrosse Hall of Fame.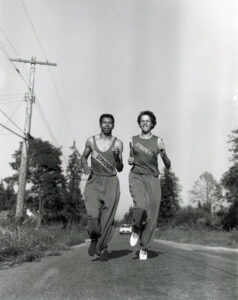 I thought I'd find more brother-sister duos, but surprisingly so far can only list two here. Probably the best known is North Vancouver sprinters Harry (1966) and Valerie Jerome, who both faced terrible racism as they ran for Canada at the 1960 Olympics. Harry went on to win a 100m Olympic bronze medal in 1964. Many don't realize that Harry and Valerie's grandfather was John 'Army' Howard, who sprinted for Canada at the 1912 Olympics, and is considered the first black athlete to compete for Canada in the Olympic Games.
And then more recently, there are the Lawries from Langley. Danielle starred while pitching at the University of Washington and recently helped Canada to an Olympic bronze medal in women's softball, while Brett played seven seasons in the major leagues, most memorably with the Toronto Blue Jays.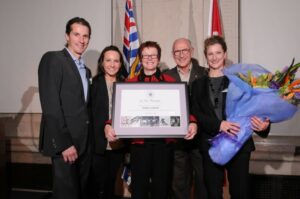 Power couples seem to proliferate in BC sport however. Dig deep enough and nearly every sport has at least one pair who devoted their lives to each other and to their chosen sport. A quick sampling includes: Vancouver's Diane (2016) and Doug (2000) Clement in athletics, Abbotsford's Jane (2005) and Gerry Swan also in athletics, Victoria's Kathy (2013) and Ken (2013) Shields in basketball, Allison (2016) and Mike McNeill also in basketball, Langley's George and Dianne Tidball (2017) in equestrian, North Vancouver's Louise and Barry Soper (1979) in figure skating, Eileen (1970) and John (1968) Underhill in badminton, Vancouver's Marni Abbott-Peter (2007) and Richard Peter (2010) in wheelchair basketball, Vancouver's Marilyn (2004) and Jack (1971) Pomfret in multiple sports, North Vancouver's Joan and Bill Parnell (1969) in swimming and athletics respectively, Vancouver's Theresa and Kevin Hanson in university sport, and Judy (2021) and Eric Broom in field hockey.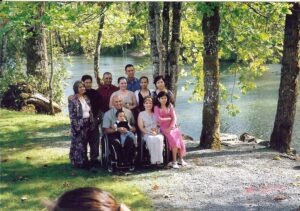 A well-worn line about championship teams is that they were as "tight as family." A few in our Hall of Fame were literally family boasting multiple members of multiple families.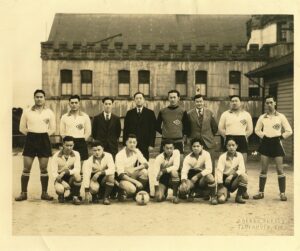 The 1933 Chinese Students soccer team (2011) boasted no less than five Yips (Art, Dock, Gibb, Horne, and Quene), plus two Louies (Charles and Jackson) and two Wongs (Frank and Shupon). Similarly, the 1936 North Shore Indians lacrosse team featured five Bakers (Dominic, Frank, Henry, Ray, and Simon), as well as two Bomberrys (Oscar and Stu), two Johnstons (Fred and Joe), two Josephs (Moses and Stan Sr.), and two Smiths (Hubie and Russell). There have been Bakers and Josephs on North Shore lacrosse teams pretty much ever since and currently Yul Baker and Tewanee Joseph are now distinguishing themselves as top coaches. One of our new 2023 Team Inductees, the 1971 Richmond Roadrunners featured three Taskers (Bob, Brian, and Dave), two Breganis (Gary and Jim), two Pinders (Gerry and Ron), two Safianuks (Mike and Pat), and two Phillips (Larry and Ron).

They always say the apple doesn't fall too far from the tree and there are many parent and children combos in BC sport that prove it beyond a doubt.
Rossland's Nancy Greene (1969) turned the skiing world on its ear with dominant World Cup and Olympic victories in 1967-68. Her son, Willy Raine competed for Canada at the 1992 Winter Olympics. Vancouver's Len Walters (1995) was one of Canada's top amateur boxers in the 1950s competing at the 1952 Olympics. His son Dale (2006) won Canada's first Olympic medal in boxing in over 50 years, a bronze at the 1984 Olympics. Vancouver's Sandy Robertson (1971) was one of BC's top basketball and baseball players in the 1940s and 1950s. His son Bruce (1978) became one of the world's top swimmers in the early 1970s, winning silver and bronze medals at the 1972 Olympics. Vancouver's Bob Pickell played for Canada's men's basketball teams at the 1952 and 1960 Olympics. His son Steve swam to an Olympic silver medal in 1972 as a member of Canada's 4x100m medley relay team. Vancouver's George Hungerford (1966) won a surprise gold medal in pairs rowing at the 1964 Olympics. Rebecca Marino, one of Canada's top women's tennis players since 2010, is his niece.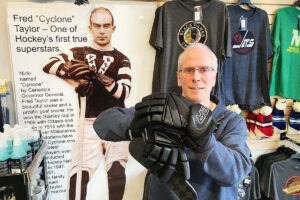 Vancouver's Frank (2017) and son Casey Smith both coached the UBC men's football team to national titles. Vancouver's Harry Warren (1990) was a top sprinter for Canada in the 1920s and later a key builder in field hockey. Both of his children Victor and Charlotte Warren later excelled in field hockey as top players. All three are inducted into both the UBC Sports Hall of Fame and the Field Hockey Canada Hall of Fame. Vancouver's Dave Black (1966) and his son Ken (1966) were both outstanding golfers and both inducted into the BC Sports Hall of Fame's inaugural class. Vancouver's Gladys Hartley (2002) was one of Canada's key builders in gymnastics over several decades, while her daughter Sandra competed for Canada in gymnastics at the 1968 Olympics.
Cyclone Taylor (1966) was known as hockey's first superstar and brought Vancouver its one and only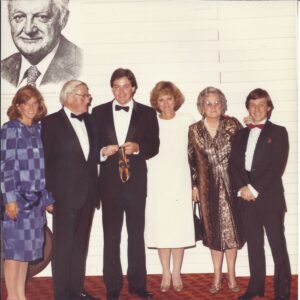 Stanley Cup to date. Few realize his grandson Mark Taylor played five seasons in the NHL with Philadelphia, Pittsburgh, and Washington and still runs Cyclone Taylor Sports in Vancouver today. Ernie Gare served as the athletic director of Notre Dame University College in Nelson. His son Danny (2008) played 13 seasons in the NHL where he captained two teams (Buffalo and Detroit) and twice scored over 50 goals in a season. Babe Pratt won the NHL's Hart Trophy in 1944 and finished up his long career with the New Westminster Royals in the early 1950s. His son Tracy later played for the Vancouver Canucks in both the Western Hockey League and NHL. And speaking of the Canucks, arguably the most stable ownership of the team came under the Griffiths family, led by Frank Griffiths Sr. (1997) and son Arthur Griffiths (2016). Parksville's Bernie Pascall (2008) was one of BC's most recognizable faces on BCTV over several decades. His son Brad worked for Hockey Canada and is currently the assistant general manager with the Calgary Flames. Brad is also married to Cassie Campbell, who captained Canada's women's Olympic hockey team to gold medals at both the 2002 and 2006 Winter Olympics.
And then we get to some truly remarkable BC sport families, most you've probably heard of a family member or two, but were probably unaware of their larger sporting family tree.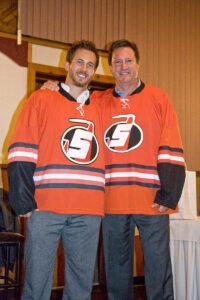 Trail's Tambellini family has three generations of hockey players who reached the game's highest levels. It began with Addie Tambellini who was a member of the 1961 Trail Smoke Eaters (1976) that won the world ice hockey championships representing Canada, the last amateur club team to do so. His son Steve played in the NHL for 11 seasons, including three seasons with Vancouver, and for Canada at the 1988 Olympics, as well as later serving in management for the Canucks and as Edmonton Oilers general manager. Steve's older son Jeff played six seasons in the NHL, including one with the Canucks, before finishing his career in Europe. He later served as coach and general manager of the Smoke Eaters before moving on to become a pro scout with the Tampa Bay Lightning. Steve's younger son Adam was drafted by the New York Rangers and played mostly in the American Hockey League and the Swedish Elite League. He followed in his dad and grandfather's footsteps in 2022 representing Canada internationally at the Winter Olympics in Beijing where he totaled seven points in five games as Canada finished sixth overall.
Three members of Vancouver's Bardsley family each had hall of fame careers. Jim Bardsley (1979) was one of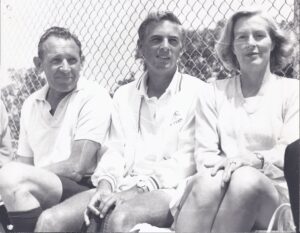 Canada's top basketball players in BC in the 1930s and 1940s winning five national championships and a top tennis player winning BC and Canadian titles. He married Jean, who excelled in badminton and tennis at UBC, winning city, provincial and national titles. She was later inducted into the UBC Sports Hall of Fame. They had two tennis playing sons, Tony (2007) and Bob, both of whom played professionally and occasionally teamed up as doubles partners. Tony would be remembered as one of Canada's best players of the 1970s winning the 1975 Canadian singles title, three national doubles titles, and compete on Canada's Davis Cup team for six years.
Lacrosse is one sport that tends to be passed on to generation after generation. The Dickinson-Gill family is a great example of this. Robert 'Les' Dickinson was an early lacrosse player in Vancouver before moving into coaching. His son Bill Dickinson (1967) was one of BC's top lacrosse players of the late 1930s through the 1940s. Bill's daughter Carol married Sohen Gill (2009), a top player himself in the 1960s, who later became one of the most important figures in BC lacrosse as a coach, general manager, WLA commissioner, and BCLA president. Their son Chris Gill was one of North America's top players in the 1990s and 2000s winning WLA championships, Mann Cups, and NLL championships. Most recently he served as head coach of the NLL's Vancouver Warriors. Robert, Bill, Sohen, and Chris—four generations of BC lacrosse royalty—have all been inducted into the Canadian Lacrosse Hall of Fame.
The Hartley family from North Vancouver might cover the most widely varied sports of any family on this list. Michael Hartley, who was the brakeman on Canada's 1972 Olympic two-man bobsled team that finished 14th overall, married Mary Ann Hartley, an accomplished distance runner. They had four children, each of whom became a standout athlete. The best known is likely Blythe Hartley, a two-time world 1m diving champion, who also won a bronze medal at the 2004 Olympics in 10m synchro with partner Emilie Heymans. Her sister Aimée-Noël was a two-time NCAA giant slalom skiing champion while attending the University of Colorado, and who competed on the FIS World Cup tour for several years. Brother Wyatt played football at Queens University and UBC. Their other brother Strachan captained UBC's football team to the 1997 Vanier Cup national championship.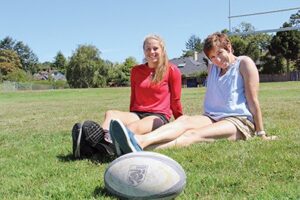 The members of the De Goede family of Victoria who have participated in rugby at high levels could nearly fill a full 15-position starting line-up. Let's start with Hans De Goede (2007), who captained Canada at the inaugural Men's Rugby World Cup in 1987 after over a decade on the national team. Hans has four brothers—Jim, John, Mike, and Dick—who like Hans all played rugby for the James Bay Athletic Association and remain heavily involved in the club today. Hans married Stephanie White De Goede, who played on Canada's women's national team for a decade from 1987-97 and captained Canada at three Women's Rugby World Cups (1987, 1991, 1994). Remarkably, their daughter Sophie De Goede also just captained Canada's women's national team late last year at the delayed 2021 Women's Rugby World Cup and remains an active member of the national team today. Hans and Stephanie also have two rugby-playing sons, Thyssen, who earned international caps on Canada's men's 15's side, and Jacobus, who plays for James Bay per family tradition.
As impressive as this lengthy list up to this point has been, there are five families in BC sport that stand apart. In my opinion, in no particular order, these are the top five 'First Families' of BC sport based on high levels of achievement and contributions to sport by multiple family members over multiple generations.
The Steen Family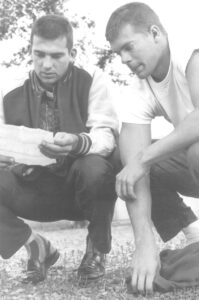 In 1956 Burnaby's Don Steen (2003) was the Canadian decathlon champion, who later went on to become one of the great track coaches in BC history. His brother David was one of Canada's top throwers of the 1960s, winning Commonwealth Games gold medals in the shot put in 1966 and 1970 after taking home a bronze in 1962. Like father like son, Don's son Dave (1991) developed into one of the world's greatest decathletes winning a bronze medal in the event at the 1988 Olympics and silver medals at the 1982 and 1986 Commonwealth Games. Dave married Canadian international hurdler Andrea Page, who competed at the 1984 Olympics. One of Dave and Andrea's four children, Jordan Steen, recently competed for Canada at the 2020 Olympics in Tokyo in freestyle wrestling, finishing 10th in the 97kg weight class.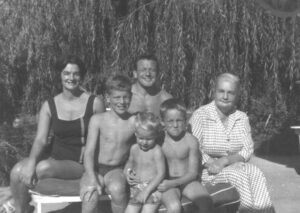 The Athans Family
Kelowna's George Athans Sr. (1968) was one of Canada's top divers during the 1930s and 1940s, competing at the 1936 Olympics in Berlin and the 1948 Olympics in London, and winning gold and silver medals at the 1950 British Empire Games. George married Irene Athans, who was a Manitoba swimming and synchro provincial champion. They had three boys—George Jr., Greg, and Gary—who each became among the world's best in their respective sports. George Jr. (1976) won the world water skiing championship in 1971 and 1973 to go along with ten Canadian championships. Greg (2014) was considered the world's best freestyle skier over a six-year span from 1976-81 winning four World Overall Champion titles, two World Mogul championships, one World Ballet title, and more than twenty World Cup victories. He also finished fourth at the 1977 world water ski championships and won eight Canadian national water ski titles. Gary spent eight years on the Canadian national alpine ski team and competed at the 1984 Winter Olympics in the men's downhill. Gary's two sons, Marcus and Isaac, are carrying on the Athans family athletic legacy today. Marcus is a member of the BC Alpine team, while Isaac is a three-time Canadian water ski champion who is playing football for the University of Calgary Dinos.
The Todd Family
Vancouver's Todd family might have the most impressive athletic history of any one family at a single university in Canada. Dr. Otis J. Todd taught at UBC for over thirty years beginning in 1918 and until the early 1950s was the biggest supporter of UBC's men's soccer team while also serving as president of the Dominion of Canada Football (Soccer) Association from 1947-49. Each of Dr. Todd's seven children—Duncan, Alan, Lois, David, Laurie, Doug, and Stu—played on UBC sports teams varying from football, soccer, and field hockey to tennis, track and field, and boxing. Six Todd grandchildren—Ian, Mike, Brian, Judy, Hugh John, and Cathy—then participated on UBC teams through the 1950s and 1960s. UBC Athletics historian Fred Hume estimated that over five decades 14 members of the Todd family participated on 45 different UBC teams spanning eight sports.
The Wright Family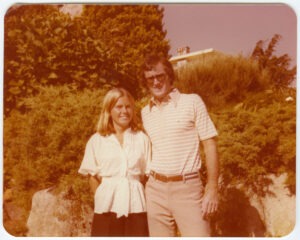 From Vancouver, the Wrights might just be Canada's most accomplished Olympic family. No less than five members of the family spanning three different generations have competed at the Olympic Games and a sixth just missed out on joining them. It began with Harold Wright (1979) who competed for Canada in the sprints at the 1932 Olympics in Los Angeles and later became the president of the Canadian Olympic Association from 1969-77. His son was Lee Wright who represented Canada in field hockey at the 1964 Olympics in Tokyo and the 1976 Olympics in Montreal. Lee married Thelma (Fynn) Wright (2000), who was one of Canada's top distance runners of the 1970s and ran for Canada at the 1972 Olympics in Munich and the 1976 Olympics in Montreal. Thelma and Lee had two sons who both played on Canada's men's national field hockey team—Anthony played for Canada at the 2008 Olympics in Beijing, while Philip earned more than 150 caps for Canada and was a reserve on the 2008 Olympic team, while also playing in the Commonwealth and Pan American Games. Philip married Kate (Gillis) Wright, one of the greatest women's field hockey players in Canadian history. The daughter of former Canucks general manager Mike Gillis and Canadian international long jumper Diane Coffey, Kate earned 228 international caps for Canada, captained the national team for nine years, and nearly led Canada to the qualification for the 2020 Tokyo Olympics until Ireland beat Canada on the last shot in a shootout to claim the final berth. Kate and Philip have a young son named Charlie who based on genes alone has to be a contender for the Canadian team competing at the 2040 Olympics.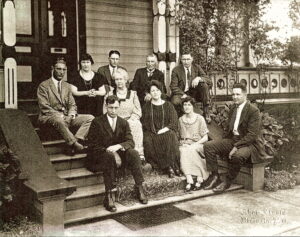 The Patrick Family
Finally, we have the pioneering Patrick family of Victoria, sometimes called 'Hockey's Royal Family,' who over several generations changed how the game of hockey is played around the world and continue to be involved in the game at the highest levels today. The patriarch of the Patrick family, Joseph Patrick (1998), sold off his lumber operations to finance the building of Denman Arena in Vancouver (the largest indoor arena in Canada at the time) as well as the Patrick Arena in Victoria and the creation of the Pacific Coast Hockey Association. The PCHA was run by Joseph's two hockey-playing sons Lester (1966) and Frank (1966), who had also been two of the best hockey players in Canada. Frank led the 1914-15 Vancouver Millionaires (1977) to the city's only Stanley Cup to date, while Lester led the 1924-25 Victoria Cougars (1977) to BC's last Stanley Cup. Frank and Lester used the PCHA to experiment with rule changes that are now key parts of the modern game including the blue line, forward passing, uniform numbers, and the penalty shot among others. Both Frank and Lester later managed NHL teams, the Boston Bruins and New York Rangers respectively. Two of Lester's sons, Murray or 'Muzz' (1968) and Lynn (1968), starred in the NHL under his direction for the Rangers. After retiring, Muzz later served as Rangers coach and general manager. Lynn, meanwhile, coached the Rangers, served as coach and general manager of the Bruins, and was the first general manager of the expansion St. Louis Blues. Muzz's son Dick Patrick, who was born in Victoria, has served as part-owner, president, and alternate governor of the Washington Capitals since 1982. Dick's son Chris Patrick is currently the Capitals assistant general manager. Lynn's son Craig Patrick played eight seasons in the NHL but is best known for his time as general manager of the Pittsburgh Penguins leading the team to two Stanley Cups in the early 1990s. Lynn's other son Glenn Patrick also played a handful of games in the NHL in the 1970s. To date, seven members of the Patrick family have won the Stanley Cup: Lester, Frank, Muzz, Lynn, Craig, Dick, and Chris.