Argus: The New Guardian of the BC Sports Hall of Fame Collection
November 30, 2021
By Jason Beck
In Greek mythology Argus was a 100-eyed giant, a servant of the goddess Hera, who tasked him with guarding the heifer Io from Zeus. So what does Argus have to do with sport and the BC Sports Hall of Fame?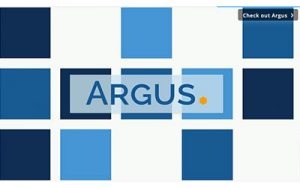 Well, in early 2022 a much different kind of Argus will be unveiled to the public here on the BC Sports Hall of Fame's website. It, too, will be tasked as a kind of guardian, but also an organizer and a guide. This Argus is an online content management system designed by Richmond-based company Lucidea, who, although local to us here in Vancouver, work with museums and organizations all over the world. For the first time in the BC Sports Hall of Fame's 55-year history our artifact collection, which numbers over 27,000 three-dimensional items presently, will be accessible to the public online through a searchable portal.
Once complete, each artifact will have updated background and description information, up-to-date location information, at least one photo for visual reference, plus easier ways to search items from the same object type, sport, individual or team. Not only will the collection be more accessible to the public, on the back end it will be easier for our staff to manage and use this enormous and varied collection of items in traditional ways for new displays and exhibitions, but also for educational programming and social media. We're incredibly excited about this project, one that has been a year in the making already after applying and later successfully receiving a federal Museum Assistance Program (MAP) grant to fund the project.
Our project team, which includes Rebecca Kirkham, Shelby McCannel (who just recently departed for a new opportunity with Squamish Nation), Catriona Webber, and Ephrem King, in addition to myself and our CEO Nicholas Cartmell, began working on this project in April of this year. We began working closely with Lucidea's team, most notably Emma Hathway, in July. Our hope is to have the new online portal launched by March 2022.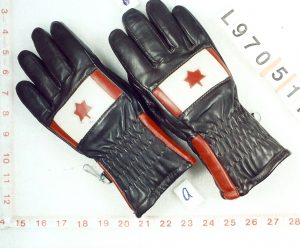 When I started at the BC Sports Hall of Fame in 2003, the only way to access information on our artifact collection was through a basic Microsoft Access database, which while serviceable was sometimes difficult to search and lacked any visual references. When searching for artifacts I was unfamiliar with—which were many early on—I often found myself searching the database, consulting a room of filing cabinets containing written collection file records in the hope that the file I needed may contain a 5×7 inch photograph of the artifact I was searching for. If it didn't, I often resorted to slowly scanning the shelves of our massive collection storage room in person, hoping that I may stumble upon the item I desired. Sometimes I was lucky; other times I could find myself searching for 30-40 minutes for a single item, occasionally without success. Argus changes all of this. A similar search now can be completed in just seconds—and you don't even need to be at the Hall of Fame in person to do it.
Eight months in, the project has already moved through several phases and has required a great deal of prep work to gather and organize the photographs and information that will be available on the portal. Rebecca began by scanning several thousand 5×7 artifact photographs taken of items acquired in the Hall's first thirty years of operation. Shelby gathered and organized any digital artifact photographs from the past 15 years. We created what amounted to a massive checklist to determine which artifacts had photos, which didn't, and which needed re-taking.
Once completed, we then worked away at photographing any artifacts that needed photos, starting with any items currently on display in the Hall of Fame itself. After developing a new display case code system so we could also note artifact locations, once a week Shelby, Rebecca, and I set aside a day for photography and slowly moved artifact-by-artifact, display case-by-display case, gallery-by-gallery over several months. We also found a boatload of problems and inconsistencies but managed to solve many along the way. This is the third time I've undertaken this enormous task of systematically opening almost every display case in the Hall of Fame and handling every artifact (the first from 2006-10 to note locations; the second in early 2010 with Vancouver police officers as part of a BC Place pre-Olympic bomb inspection) and while the first two go-rounds were enlightening, this third time has been the most enjoyable as we developed into a well-oiled trio, efficiently sourcing, photographing, and problem solving hundreds of items a day. Those photography days collectively became our favourite day of the week as at some point during each we discovered some new aspect to an item we thought we knew well.
"My favorite part of the project was discovering items I had never seen before and discovering stories I had never heard," said Shelby. "It allowed me to expand my BC sport history knowledge but also to know and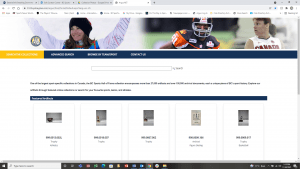 understand the BCSHOF collection better. In a collection that encompasses over 27,000 artifacts it can feel overwhelming to learn about but the process of going through items in collection storage and on display allowed for that process to be fun and enjoyable."
In amongst the thousands of photos taken, dozens of display cases opened and closed, and hundreds of tags created there were moments of laughter. Like the time we encountered a cryptic description of a participation medal from the 1968 Mexico City Olympics on the old database that was so lacking information it could have been anything. I guess you had to be there in the moment to appreciate the humour in it, especially after collectively working through thousands of artifact entries. At the close of each day there was a mutual feeling of satisfaction that we were making a real difference in improving our knowledge of this collection and moving a step closer to the finish line.
"Photographing the entire collection has let us spend time on so many individual artifacts that I might not have paid a lot of attention to or even noticed before," said Rebecca. "Our collection is so varied and unique and this is such an opportunity to work with it more."
At the same time, we were also working closely with Lucidea staff to organize, improve, and upload the database information to the new Argus portal. For weeks we plodded through endless lists and spreadsheets, going cross-eyed as we cleaned up info, caught errors, and added new info in, while wrestling with what term or name to use consistently going forward for thousands of objects, teams, events, and individuals.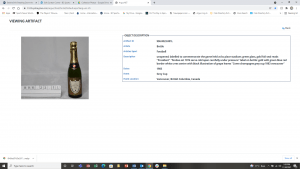 "I feel like I've really learned a lot during this process about how collections are organized, particularly when it comes to thinking about what is useful information and what ends up being superfluous," explained Rebecca. "With a collection this big but also so niche in subject, there's a really delicate balance you have strike in having a system that allows for sufficient detail while maintaining usability."
It was enough to make our heads spin at times, but we quickly realized how critical this work was.
"I learned that taking the time to focus on the small details of this project is a very important step to the process," said Shelby. "These small details are the ones that create a user-friendly, functional, and accurate database."
After we completed photographing artifacts in the Hall of Fame galleries, we moved into collection storage and at present are hard at work there photographing artifacts, while reorganizing the room's shelving at the same time to make better use of precious space, which is always at a premium it seems. Additionally, we've begun scanning thousands of collection documents from the paper files, another layer of information associated with every artifact that will be digitized and more readily accessible. We expect to have these tasks completed in the first two months of 2022.
We all seem to be in agreement on what the two most significant impacts of this project will be: the collection will be far more accessible to the public and more easily accessible to staff.
"The Hall has an amazing collection of items and the majority of them have not been seen by the public," said Shelby. "Having items that we don't know anything about accessible to the public also means that the Hall has the possibility of learning new things on items that have been in the collection for years."
"Obviously the creation of the collection portal allows us to share so much more of our collection," said Rebecca. "From an everyday use, internal perspective, I really think that having all of the information about an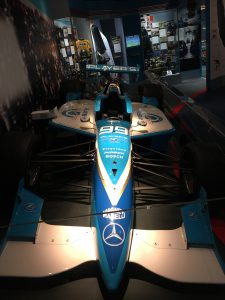 artifact in one place is so invaluable. The system will also make finding our own artifacts so much easier with location information and included photos. Overall, the collection is so much more accessible both internally and to the public."
So you might be thinking why devote so much time and effort to a project like this? The answer to me is obvious, but then I've had the privilege to work closely on a daily basis with this collection and grow it for nearly two decades. The BC Sports Hall of Fame artifact collection is not only one of the largest sport-specific collections in North America, it's also one of the most varied and significant.
Where else can you find the Player's Indy Car raced by the late Greg Moore to his first CART victory in 1997—at the time the youngest North American open-wheel motorsport winner in history—or the first vehicle a much younger Moore ever raced: a little red wagon he bombed around the backyard in and convinced his parents to paint gold. You'll find significant trophies like the original 1979 North American Soccer League Soccer Bowl trophy won by the Vancouver Whitecaps, the Air Canada Championship PGA Tour event trophy featuring a beautiful soapstone orca, the gorgeous silver McKechnie Cup actively awarded for regional rugby play for over a century, or Cyclone Taylor's 1917 Pacific Coast Hockey Association trophy as "Champion All-Round Hockey Player & Leading Scorer"—an MVP trophy before the MVP term existed. You'll also find the occasional small blank cup—no engravings, markings, or identification—but significant for that fact these humble trophies were often one of the first won by a young athlete who later became a world champion hall of famer.
Important uniforms? How about a game-worn Edmonton Oilers jersey worn by Wayne Gretzky in his second NHL season and given as a gift to Terry Fox. There are items as small as a golf tee and as large as a 40-foot-long rowing shell. Items as old as kendo masks from the 1500s, hickory golf clubs from the 1830s and snowshoe racing medals from the 1870s. Items as recent as the last Whitecaps jersey and boots worn by Alphonso Davies before departing for Bayern Munchen and a torch from the 2018 Pyeongchang Winter Olympics. From the puck Barry Wilkins fired into the net on October 9, 1970 for the Vancouver Canucks' first NHL goal to a chunk of the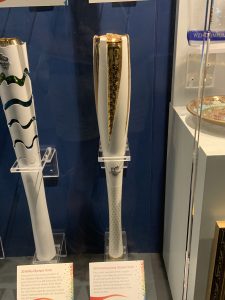 Empire Stadium goalposts jubilant BC Lions fans tore down in the aftermath of the team's first-ever victory in 1954 to the red Rossignol skis Canada's female athlete of the 20th century Nancy Greene wore while winning Olympic gold and silver medals in 1968. You'll find the pink figure skating dress Karen Magnussen wore while winning the 1973 world championship, the garden trowel used by sprinter Percy Williams to dig his starting holes before winning two gold medals at the 1928 Olympics, even 'Fernando' the Canadian bobsleigh nicknamed by pilot Helen Upperton as she and Shelley-Ann Brown raced to silver at the Vancouver 2010 Winter Olympics. There are one-of-a-kind items that will make your jaw drop in every display case, on every storage shelf. And it just goes on and on from there. We haven't even scratched the surface of the surface in the past two paragraphs.
So that's why this project is important. So we can better organize, protect, and care for this remarkable collection of some of the most significant items in BC and Canadian sport history while also learning more about the individual items within the collection and, by extension, better understand the history and development of sport in BC as a whole. Stay tuned for news of the Argus portal's launch in the early months of 2022.
I'm often asked what my favourite items are in the BC Sports Hall of Fame collection or what I think are the most significant. There are so many my answers might change depending on the day of the week. Working on this project has once again made me think of individual items in the Hall of Fame collection and the collection itself as a whole in new ways. That's an exciting thing 18 years into this job. So as a way to close this article up and to also give you a teaser of some of the artifacts you'll be able to search and learn more about from the comfort of your own home on the new Argus portal coming soon, here are a few Top 5 lists I've compiled that feature some of the more remarkable items from the BC Sports Hall of Fame artifact collection.
Top 5: Most Significant Artifacts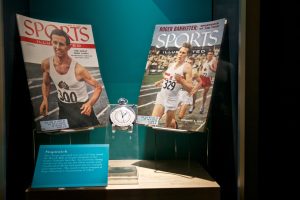 1) Omega stopwatch used to time the famed Miracle Mile in Vancouver between Roger Bannister and John Landy at the 1954 British Empire and Commonwealth Games, the first time two men ran a mile in under four minutes in the same race. The watch is still stopped at Bannister's winning time of 3min 58.8sec.
2) Player's Forsythe Indy Car, raced by Greg Moore to his first-ever CART victory, the 1997 Miller Genuine Draft 200 at the Milwaukee Mile. At the time Greg was the youngest driver ever to win a CART race at 22 years, 1 month, and 10 days old.
3) Red Rossignol skis, used by Nancy Greene, Canada's female athlete of the 20th century, while winning Olympic gold and silver medals at the 1968 Grenoble Winter Olympics.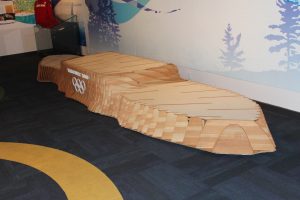 4) Vancouver 2010 Olympic podium, one of only three still in existence, used at BC Place for team medal ceremonies, including for the gold-medal-winning Canadian 3000m team pursuit speed skating team featuring Denny Morrison, Mathieu Giroux, and Lucas Makowsky. Tens of thousands of Hall of Fame visitors have now stood on this podium as well.
5) 1979 NASL Soccer Bowl Trophy, won by the Vancouver Whitecaps after defeating the Tampa Bay Rowdies 2-1 at New Jersey's Giants Stadium before over 50,000 spectators, arguably the most significant North American professional championship won by a BC team to this day.
Top 5: My Favourite Artifacts
1) Miracle Mile stopwatch (see above for description). Inspired me to take on writing a book on the 1954 British Empire and Commonwealth Games.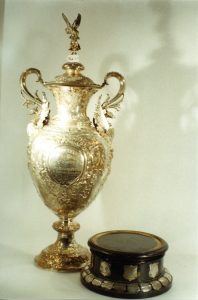 2) Lui Passaglia's shoulder pads, the only pair of shoulder pads Lui ever wore during his four-year SFU university career and 25-year CFL career with the Lions.
3) Leather soccer boots, worn by Vancouver player Ted Enefer in the 1930s, complete with hardened toe cap and leather strip/disc cleats nailed into the sole. Still has grass clippings from a local field stuck to nooks and crannies. Amazes me what early soccer players wore compared to boots today.
4) The Buchanan Cup, gorgeous sterling silver trophy, awarded annually by the North Pacific Association of Amateur Oarsmen to the winning senior four rowing crew at the annual NPAAO regatta beginning in 1904. The very first item acquired and catalogued in 1966 of the over 27,000 three-dimensional items that have come in the 55 years since.
5) Tape wraps, used and signed by legendary three-time world heavyweight boxing champion Muhammad Ali during his 1972 match versus Canadian George Chuvalo at Vancouver's Pacific Coliseum.
Top 5: Strangest Artifacts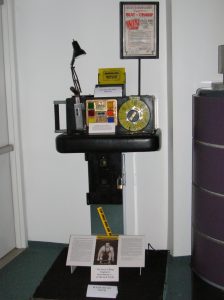 1) Cup of red dirt, from the track used at the 1960 Olympics in Rome, which North Vancouver's Harry Jerome ran on.
2) Sumo wrestling four-piece figurine set, sold as a souvenir to those attending the 1998 Sumo Basho Canada tournament at Vancouver's Pacific Coliseum.
3) Arm Wrestling Machine, coin-operated, designed and built by world champion weightlifter Doug Hepburn. User is able to adjust the setting of the machine to test their arm strength against various weight classes and champions. Requires a forklift to move due to extreme weight of the item.
4) Pocket watch, belonging to umpire Pearl Casey, smashed by Vancouver playing-manager Bob Brown in 1914 during an on-field argument. After Casey gave Brown "one minute" to leave the ballpark and Brown responded by grabbing and smashing Casey's watch, Brown reportedly said, "No way that watch will tick off its minute now." Casey had no reply and Brown stayed in the game.
5) Countless rolls of cloth bathroom hand towels sewn together into one extremely long length, signed by hundreds of Canucks fans during the height of 'Towel Power' during the 1982 Stanley Cup Finals. This long towel was stretched through the crowd and all around the Pacific Coliseum in Games 3 and 4 as the Canucks played the New York Islanders.
Top 5: 'Firsts' Artifacts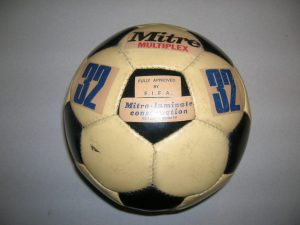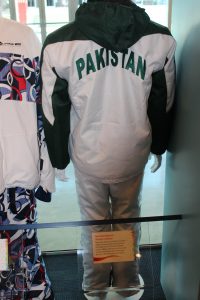 1) First Vancouver Canucks NHL goal puck, scored by Canucks defenseman Barry Wilkins during their inaugural 1970-71 NHL game at the Pacific Coliseum, a 3-1 loss to Los Angeles.
2) First Vancouver Whitecaps NASL goal ball, scored by Whitecaps defender Neil Ellett during their inaugural 1974 NASL match at Empire Stadium, a 2-1 loss to San Jose.
3) First BC Lions victory goalpost, chunk torn down by fans who stormed Empire Stadium's field celebrating the Lions first and only win during their inaugural 1954 season, a 9-4 win over Calgary.
4) First Vancouver 2010 Olympic torch, used by Simon Whitfield and Catriona Le May Doan in Victoria, November 2009, first of 12,000 torches used for the 2010 torch relay.
5) First-ever Pakistani Winter Olympic uniform, worn by skier Muhammad Abbas at the Vancouver 2010 Winter Olympics.
Top 5 Largest Artifacts: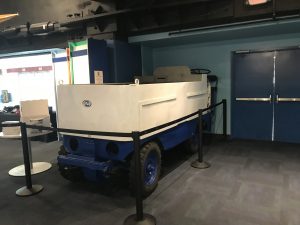 1) The Warren, a 41-ft fours cedar rowing shell, used by the 1956 UBC-VRC rowing crew that won Canada's first-ever Olympic gold medal in rowing at the Melbourne Olympics.
2) Model F Zamboni, the first ice resurfacer used in BC beginning in 1956 at the Vancouver Forum.
3) Pocock 33-ft pairs rowing shell, used by George Hungerford and Roger Jackson to win gold at the 1964 Olympics. Earlier this same shell was used by the American pair Duvall Hecht and James Fifer who won gold at the 1956 Olympics.
4) Scottish caber, nearly 19 feet in length, donated by Scotland's Braemar Royal Highland Society to the New Westminster Highland Games for Scottish heavy events competition beginning in 1978.
5) Silken Laumann's 27-ft single scull rowing shell, used by Laumann during training leading up to the 1992 Olympics where she won a bronze medal after overcoming a horrific injury just weeks prior, one of the greatest comebacks in Canadian Olympic history.