Dale Mitchell: The Ultimate Professional – 2021 Inductee Spotlight
April 26, 2022
By Jason Beck
From the time he was a toddler, a soccer ball always seemed to be at the feet of Dale Mitchell.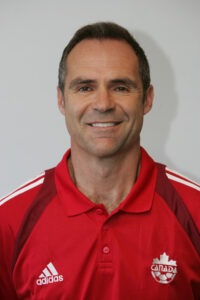 The only time that wasn't the case seemed to be when he cracked a pinpoint strike at goal. And if you played with or against Dale, or watched him play, you know that the shot of one of Canadian soccer's all-time great finishers more often than not found the back of the net.
When Dale's playing career came to an end in 1994, he stood tied with Canadian national team teammate John Catliff at 19 goals scored in international competition, then the most ever by a Canadian men's player. They both still rank tied for fourth all-time today nearly 30 years later. Dale remains one of the greatest soccer players this country has ever produced, one of the few truly clinical finishers in Canadian history.
"Dale had a wicked shot, as well as the very unique ability to score goals out of nothing," said Les Wilson, much like Dale another Vancouver-area soccer legend who probably hasn't been given his due outside the BC soccer community.
Between his playing career for Canada, as well as in the North American Soccer League, the Canadian Soccer League, and the Major Indoor Soccer League, and later his coaching career again with Canada and the Vancouver 86ers/Whitecaps, Dale has as impressive a resume as you can find anywhere in Canadian soccer. Former teammates don't mince any words when it comes to their opinions of him as a player.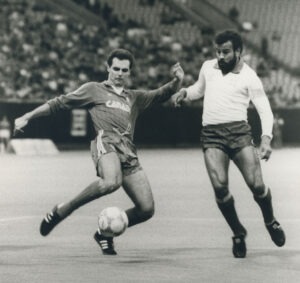 "Dale is undoubtedly one of the most skilled soccer players Canada has ever produced. For both club and country, he excelled," said Bob Lenarduzzi, inducted into the BC Sports Hall of Fame in 1992.
"At his peak, Dale was Canada's best player by a mile," said Glen Johnson.
"Let me offer one simple fact," said Mike Sweeney. "Dale Mitchell is the best soccer player to ever play for Canada. Ever. Case closed."
Given the challenges he faced and subsequently overcame and what he ultimately achieved, you'll get no argument here.
Born and raised in East Vancouver, when still barely a toddler Dale remembers watching his dad Bill Mitchell play for local club Pilseners FC in the old Pacific Coast Soccer League at Callister Park. Bill was a very good player, but before you assume that young Dale inherited his touch and goal scoring ability from dad, let's shut that down faster than a shin-clattering slide tackle.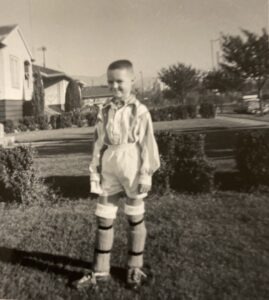 "He was a center back ironically," laughed Dale. "He was a very aggressive ball winner and if ever there were any sort of mix-ups he was usually involved. Different end of the field and completely different type of player than I was because I was an attacking, creative, more offensive player. But I like to think that the competitiveness that he had, I think that part of it did definitely rub off. That was a big part of his game, the competition part."
"I am sure that I still have the bruises that Dale's father gave me playing against him," said Les Wilson, who played against Bill in the mid-1960s. "Dale's dad took no prisoners. He had to be one of the hardest tacklers in the Pacific Coast Soccer League and also a gifted soccer player."
Seeing his son's early interest in the game, Bill made Dale a goal in the backyard out of an old swing set and some parts he borrowed from his work at BC Tel. "I remember doing a lot of shooting out there," Dale recalled.
At age five Dale began playing youth soccer for Grandview Legion, first at Nelson Park and later at Clinton Park in Vancouver. He also played baseball at Trout Lake coached by his uncle Nick Sita.
Later when attending high school at Van Tech, Dale grew pretty serious about basketball as he played against a whole host of spectacular athletes in a great era for the high school game in BC. Some of those he faced went on to hall of fame careers on the hard court like Point Grey's Howard Kelsey (a 2012 BC Sports Hall of Famer), while others put together noteworthy careers in other sports like hockey's Barry Beck, who played for Templeton, and football's Kevin Konar, who suited up for Vancouver College.
In 1975 Dale's Van Tech team went to the BC High School Boys Basketball Championships as the third-ranked squad in the province. But it was unheralded Prince Rupert High School, led by another future BC sports legend, Chris Hebb of Sports Page fame and current BC Hockey League commissioner, who took down Van Tech in a major upset. "To this day I hold that over Dale as we took Van Tech to the woodshed in an unexpected drubbing," chuckled Hebb.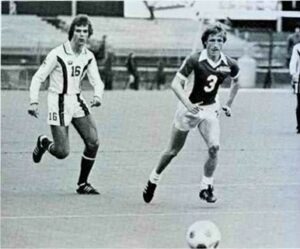 But as much as Dale enjoyed basketball, soccer was always going to be his path. Grandview Legion had plenty of quality players for a young player to look up to, many of whom went on to distinguished careers in the pros or for Canada including the Lenarduzzi brothers, Sam and Bob, and Victor Kodelja. Closer to Dale's age was a young Lui Passaglia, who played for Grandview on a team with Dale's cousin Nick.
"It seemed every year at Grandview was really strong, a great era," he recalled.
Dale played on Grandview teams that went to a couple Sun Tournament of Champions, otherwise known as the BC youth soccer provincial championships, and his standout play earned him a spot first on the BC U-18 provincial team and not long after the Canadian U-18 national youth team. Then, in his first year after graduating high school he was invited out to train with the Whitecaps and was signed in 1977.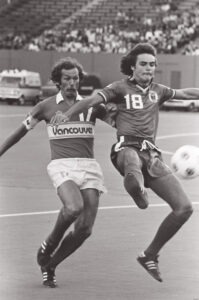 Barely 19 years old, Dale impressed Whitecaps coach Eckhard Krautzun enough that early in the 1977 season, before most of the Whitecaps' European imports had arrived, Dale was put on the roster for a match at Empire Stadium against Portland. Late in the game he came off the bench as a sub to make his North American Soccer League debut.
"I actually had a decent chance too," Dale recalled. "I remember a ball was cleared and I controlled it on the edge of the box. I hit a volley that just missed the post. I still remember it to this day. It was a thrill to get in and play, but the next game was against Team Hawaii in Honolulu. I remember thinking, 'If I had scored, I might have gone on that trip to Hawaii.' But in any case, that was it. I got that one opportunity."
For a bunch of reasons, that appearance and four brief ones in the 1978 season were the only first-team NASL minutes the hometown East Van boy who followed the team in his teens would ever log for the Whitecaps. Halfway through the 1977 season, Krautzun was replaced by the great Tony Waiters, who went about bolstering the Whitecaps roster with so many quality English League players like 'King' Kevin Hector, goalkeeper Phil Parkes, and a young Carl Valentine that the media dubbed them 'The English Mafia.' Then you throw in the group of top BC players on the Whitecaps roster like the Lenarduzzi brothers, Bob Bolitho, Buzz Parsons, and Bruce Wilson and it was a tall order for any young player to break into this line-up for much-needed minutes necessary for development. The majority of this group would comprise the Whitecaps legendary 1979 NASL Soccer Bowl championship squad.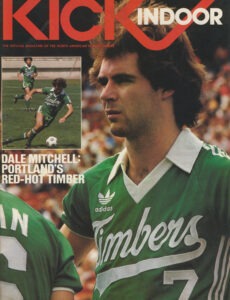 Until midway through the 1979 season, Dale continued training with the Whitecaps, but by then it was obvious a change was needed to get a chance to play regularly at that level.
"I just wasn't going to get playing time in Vancouver and I talked to Tony," he remembered. "He really didn't want to let me go, but he agreed to halfway through 1979. I felt like I could play in the league. I ended up getting a trial and signing with Portland Timbers that season."
The timing of Dale's arrival in Portland couldn't have been better as they were desperate for a striker owing to injuries. Dale immediately stepped into the Timbers startling line-up and was playing right away. In fact, later in the 1979 season, that young East Van prospect the Whitecaps let go nearly came back to haunt them when the Caps and Timbers squared off at Portland's Civic Stadium (today's renovated Providence Park).
"We ended up losing that game 3-2 in overtime," Dale recalled. "[The Whitecaps] Alan Ball scored the winner, but I scored both goals for Portland. That was a big thrill."
It was just a taste of what was to come for Dale in the NASL with Portland, as over the next three-and-a-half seasons with Portland and one season with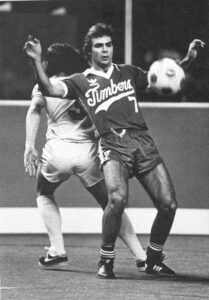 the Montreal Manic (after Portland folded in 1982), Dale would make 125 appearances and score 43 goals. His best NASL season came in 1982 when he scored 10 goals and added 11 assists finishing just outside the league's top-10 in scoring. In the end, for his own development as a player leaving Vancouver was the best decision he made.
"Although I missed out on the Soccer Bowl [in 1979 with the Whitecaps], it ended up being a good move because I got a chance to play right away," he said. "And then if you can keep your spot, you can improve a lot. I think that's why going to Portland was a good move for me."
After Portland folded in 1982 and then Montreal did the same in 1983, Dale was in the unusual position of seeking his third team in three seasons. If he had chosen to stay in the NASL, he ultimately would have made it a hat trick as the entire league came crashing down following the 1984 season. Sensing this was coming and seeking some stability, Dale instead decided to leave the NASL entirely and signed with the Tacoma Stars of the Major Indoor Soccer League in 1984.
It's not well remembered today that indoor soccer was incredibly popular in North America in the 1980s. The MISL was a strong league with top North American players and aging European stars. Crowds of 10,000+ were not uncommon and games were usually played in major hockey arenas like the old Chicago Stadium.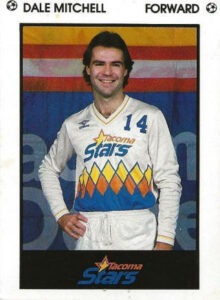 "The MISL allowed me to make a good living," said Dale. "It was the best league to play in North America at the time."
He would play two seasons with Tacoma, then suit up for the Kansas City Comets and Baltimore Blast, before finishing up once again back in Tacoma. In those nine MISL seasons, Dale established himself as a prolific scorer and one of the best indoor soccer players on the continent. He ranks tied for third all-time in MISL goal scoring with 406 goals and combined with his 280 career assists he stands fourth all-time in MISL points with 686. He finished in the top-ten in MISL scoring seven times during his career and was named an MISL All-Star five times. In 2014, he was inducted into the Indoor Soccer Hall of Fame.
"I really didn't like playing against him, he scored too many goals!" laughed Kim Roentved, a top MISL defender who played against and later with Dale in Kansas City. "When we ended up as teammates, different story, now he scored goals for me and our team, Kansas City Comets, and we became great friends."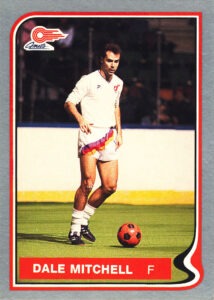 Playing indoor also helped Dale's outdoor game immensely.
"It made me very fit. It was like interval training. You'd be out there [on a shift] for 30-60 seconds, but it would be a full sprint. The transition back to outdoor wasn't that difficult. I think I was able to excel at both games, indoor and outdoor. I had the technical ability to play both. The sharpness and playing quick, I could do that. I also understood indoor I think because of my background in basketball. That helped. Indoor was a game I really thrived in."
Playing indoor also allowed Dale to continue playing on the Canadian national team and later with the Vancouver 86ers in the Canadian Soccer League and American Professional Soccer League, essentially playing year-round and earning a living solely from soccer, not an easy thing to do for all but the very best Canadian players in the late 1980s and early 1990s.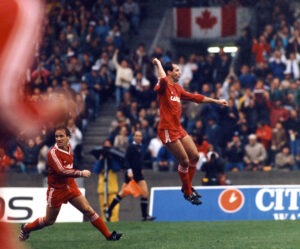 Speaking of the Canadian men's national team, to this day if the conversation comes up about the best-ever players to don the maple leaf on the pitch, Dale's name must be in the mix. Beginning with his debut in 1980 against New Zealand at Vancouver's Empire Stadium (in which he scored twice in a 4-0 win), Dale remained a national team fixture for the next 13 years until retiring at the conclusion of Canada's unsuccessful World Cup qualifying campaign just missing out on making it to USA 1994. Canada had played more qualifying matches than any nation in the world for that World Cup and lost a home-and-home playoff to Australia. That was the fourth of four World Cup qualifying campaigns Dale participated in for Canada.
He was also part of the qualifying campaign for the 1982 World Cup, which people often overlook as another which Canada nearly qualified for. For the final round of qualifying, CONCACAF held a six-team tournament with all matches held in Honduras.
"We were there for a month. It was not a nice place to be for a month-long tournament. A tough environment."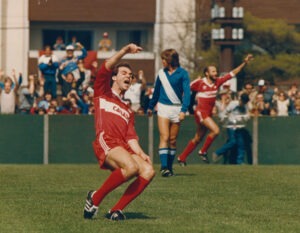 Honduras and El Salvador ultimately qualified, while Mexico and Canada missed out by a single point.
Dale also played a leading role for Canada at the 1984 Olympics where Canada produced its' best-ever men's result making the quarterfinals after emerging from its group in second place with a win over Cameroon and a tie with Iraq to go along to a narrow 1-0 defeat to group winner Yugoslavia. The group matches had all taken place back east in Boston and Annapolis but Canadian players were able to get the full Olympic experience in Los Angeles where the knockout matches took place. Canada faced perennial world power Brazil, but more than held its own in a highlight for the men's program to this day.
"The thing I remember about that game, we were 1-nil up in the second half," recalled Dale, who scored that goal for Canada in the 58th minute. "Then Gerry Gray took a free kick and it hit the post and came back. I put the rebound in. It was called back for offside. We would have been 2-nil up in the second half. And you can see in the replay that the goal was actually not offside. I was actually behind the wall when Gerry struck it. But the American linesman put his flag up and it was called offside. The Brazilians being experienced players put the ball down and started playing right away. They ended up getting a late equalizer against us. Then after extra time we lost in the penalty shootout. But that was a great thrill. That tournament also gave us great confidence for the World Cup qualifying campaign in 1985."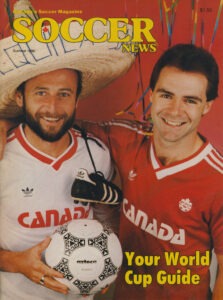 Dale finished the 1984 Olympic tournament tied for third in scoring with three goals in four games.
The Canadian men took the success from the 1984 Olympics and just kept rolling under coach Tony Waiters as they entered the qualifying campaign for the 1986 World Cup in Mexico. Dale played all of Canada's first-round qualifying matches in the spring of 1985 and scored four goals.
"I was flying really to be honest. I was scoring and playing at my peak."
Then disaster struck that summer in a friendly against Everton at Toronto's Varsity Stadium when Dale tore ligaments in his knee.
"I didn't even know where my career stood because it was such a serious injury at the time."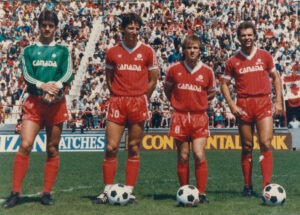 He ended up missing the crucial last portion of Canada's qualifying campaign including the historic match in St. John's, Newfoundland where Canada defeated Honduras 2-1 to qualify for its first and until recently only men's World Cup appearance. In a classy gesture Waiters offered to fly Dale out for the match so he could be there in person with the team for this moment despite still being injured. But Dale instead chose to stay home in Tacoma and focus on rehabbing his knee. He watched the match like many Canadians on the CBC.
"Within an hour of the game ending, I remember getting a call from Bruce Wilson, Ian Bridge, Bobby Lenarduzzi, just sort of encouraging me," he remembered "'You're part of this too! You'll be there in the summer!' That type of thing, which I always appreciated."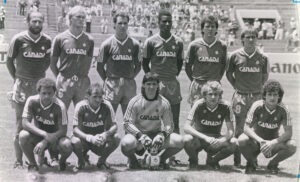 Remarkably Dale was able to rehab his knee and get himself back into playing shape in time for the 1986 World Cup. He played in one of Canada's three group stage matches, a 2-0 loss to the USSR.
Looking ahead to the 2022 World Cup, which the Canadian men just recently qualified for—their first trip back since 1986—Dale is excited by the current squad and their chances for success.
"With the MLS, the Canadian Premier League, all the youth academies around the country for the younger ages, and then the guys going to Europe and getting on some pretty big teams and playing regular minutes, the structures we have now in place are a lot better than we had in 1986. It sure is great to see that we're going to be back on that stage. I have a good feeling that what's in place now makes it a good chance for a more regular appearance for Canada at the World Cup."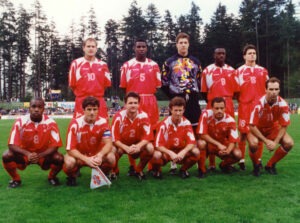 When Dale retired from international duty for Canada in 1993, at that time he stood tied for first with John Catliff as Canada's all-time leading goal scorer with 19 goals in 55 international appearances. Today he remains tied for fourth overall behind Cyle Larin, Dwayne De Rosario, and Jonathan David. Asked to pick his favourite from those 19 goals, Dale doesn't hesitate for a moment.
"[Canadian goalkeeper] Paul Dolan can tell you about this one," he chuckled. "It was a World Cup qualifier in Victoria at Royal Athletic Park against Guatemala in 1985. Dolie punted a ball from our box and I controlled it. It was about 25 yards out or so. Controlled it with the first touch and kind of turned with it and just hit it with my left foot. And it flew in at the near post. I think it's probably the best goal I scored for the national team. I always remember that one."
Maybe more than any other goal he scored that strike might have exemplified all the best strengths of Dale Mitchell the player.
"I was technically pretty good," he said. "My touch was pretty good. I could use both feet, I could finish with either my right or left foot. Technically I had some gifts there from somewhere. I think that I had that competitiveness and that work ethic that I got from my dad's side of it. The willingness to compete and not dwelling when you get beat."
There is one more part of Dale's playing career that we need to touch on, as from a BC perspective it's likely the most important of his career. Except for some occasional returns to the Vancouver area to play for Canada in international matches, Dale had largely played away from home since 1979. That changed in 1988. With the newly-created Canadian Soccer League and the Vancouver 86ers, Dale returned home.
"I was playing indoor and I wanted to come back to Vancouver. My wife Diane is from Vancouver. My parents are here. The opportunity came to play in Vancouver. Bobby Lenarduzzi was coaching and it was a pretty strong team."
Beginning in 1988 until his retirement in 1994 (except for a single summer in Toronto with the Blizzard), Dale was a dominant force on an 86ers team that was an offensive juggernaut and a true dynasty winning four consecutive CSL championships (1988-91), as well as compiling a North American professional sports record 46-game undefeated streak spanning the 1988 and 1989 seasons. Dale played a major role in the first three of those four CSL championships.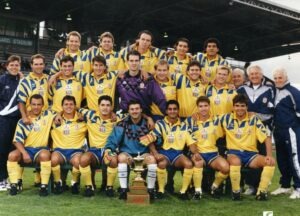 "We had a very good group of guys and a team that was very dominant," he said. "We played a very attacking style, which made it a lot of fun. Carl Valentine, Ivor Evans, Domenic Mobilio, Catliff, myself, and Jim Easton, amongst a lot of other very good players. We had a lot of attacking options. That's what set us apart. We had four to five guys that could score any time. Plus we had guys coming off the bench like Doug Muirhead. We had a lot of goals in the lineup. That was a very fun era. The team was very successful. Good crowds. Those games were on TSN. Graham Leggatt and Vic Rauter doing the games. It was a thrill."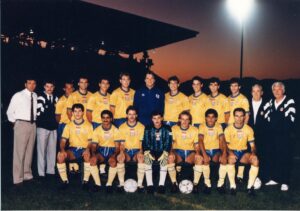 Few people saw more of Dale on the pitch in those years than Alan Errington, who served as the 86ers assistant coach for much of this golden era of 86ers dominance. As clinical a finisher as Dale was, he was so much more to the team than just scoring according to Alan.
"The thing I remember most about Dale is that he was the ultimate professional," he said. "Never late for training or games, always trained as if it was a big game and led by example. A player that all of the younger players tried to emulate. You could always count on him to have chances during games, as he had a knack of being in the right place at the right time and, boy, could he finish."
Dale's career stats back that up. He would score 49 goals for the 86ers in all competitions—fifth all-time in club history—in just 121 games. Add to that another 10 goals in 22 matches in that lone season in Toronto in 1991. He returned to Vancouver in 1992 and shared the team scoring lead while also being named the club's Player of the Year. Injuries and missed matches due to indoor and national team obligations cut into his career appearances total slightly with the 86ers, but one thing to note is many of Dale's best performances came in the biggest matches—playoff games and cup finals—where more often than not key goals were either scored or set up by number 14. Perhaps more than any other 86ers player during those glory years of the 86ers CSL dynasty he ensured Swangard remained a fortress that was virtually impenetrable to any competition.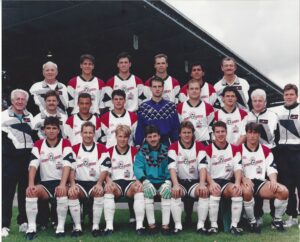 Already helping with the coaching of the 86ers in his last two seasons as an assistant playing coach and looking at that as the next stage in his career, at the end of the 1994 season Dale chose to retire at the age of 36. Fittingly, in his final season he led the club in scoring one final time with five goals and nine assists.
After that Dale turned his focus solely to coaching, serving as the 86ers first team assistant coach and head coach of the 86ers reserve team over the next five seasons, while also running successful youth soccer camps throughout the Lower Mainland. He served as the club's head coach for two seasons in 2000 and 2001 spanning the transition from the 86ers white, red, and black colours back to the Whitecaps blue and white in the latter year. From there he focused his time on Canadian national program, serving as Canada's U-20 men's team coach from 2001-07 before taking over as head coach of the Canadian senior men's national team from 2007-09.
"I found coaching a tougher job than playing," he admitted. "I loved it, but I found playing came more naturally to me certainly than coaching did."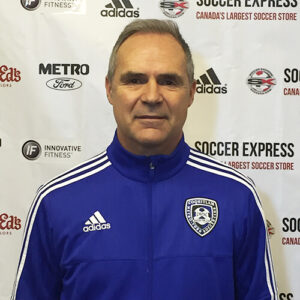 And even today, venture out to a soccer field in Coquitlam and chances are you'll find Dale somewhere putting a Metro-Ford squad through their paces. With Coquitlam Metro-Ford for the past decade, he currently serves as the club's technical director of their BC Soccer Premier League program.
"The thing I'm most proud of is the ability I've had to stay in the game, the longevity, the versatility," he said. "There was always something about soccer that attracted me to different roles and staying in the game. I'm still in the game today. I still enjoy it. It's not the higher levels of the game like I have been involved in the past, but it's still the game so, that's the thing I'm most proud of. That I was able to make a living from it and stay involved with something I really, truly love."
Dale's upcoming BC Sports Hall of Fame induction follows on the heels of several other prestigious honours already bestowed upon him. In 2002 he was inducted into the Canada Soccer Hall of Fame and in 2012, for Canada Soccer's 100th anniversary, he was named to the All-Time Canada XI Team. More recently in 2019, he was inducted into the BC Soccer Hall of Fame.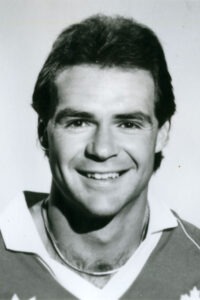 And his thoughts on his latest induction into the BC Sports Hall of Fame?
"It's a great honour. As someone that's grown up here, so many of the members that are inductees I've seen them compete and I know about their careers and the kind of athletes they were. I think it's a great thing that the Hall does to honour people that have been involved whether as a builder or as a competitor. It's likely not something people think about on a regular basis, but when it happens to you, it really is a good feeling. I'm very appreciative of all the work that's been put in by a lot of people to make it happen."
As part of the Class of 2021, Dale Mitchell will be formally inducted into the BC Sports Hall of Fame in the Athlete category at the annual Induction Gala to be held June 9, 2022 at the Vancouver Convention Centre.
*Note: Photos courtesy of photographer Kent Kallberg and Canada Soccer.