51st Induction Gala
Celebrating the Classes of 2020 and 2021
Tonight's Program
Club 1966 VIP Pre-Reception – 5 pm
Induction Ceremony – 6:30 pm
Auction Closes – 9:00 pm
50/50 Closes – 9:00 pm
Meet the Induction Class of 2021
JASON DELESALLE - Athlete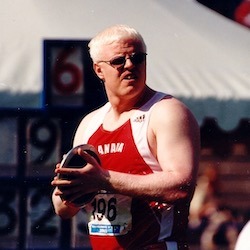 One of Jason Delesalle's favourite early memories is of annual elementary school sports days, throwing bean bags, running races, and long jumping. It proved to be a taste of bigger things to come as for a decade Jason was throwing, running, and jumping in stadiums around the world as one of the best multi-event Paralympians on the planet.
Despite having impaired vision since birth, Jason was always active in sports growing up in Invermere and Tumbler Ridge. After discovering track and field in high school, Jason's athleticism was spotted by revered coach Don Steen, who convinced Jason to move to Burnaby to train. Jason flourished under Steen's coaching and soon was representing Canada internationally.
At the 1992 Paralympics in Barcelona, Jason won a silver medal in the javelin (B3 class). A three-time national champion in pentathlon, Jason won the world championship in the event at the 1994 IPC World Athletics Championships in Berlin.
His career highlight came at the 1996 Paralympics in Atlanta where Jason came from behind in the pentathlon's final event, the 1500m, to win gold in the P12 class with a Paralympic record total of 3050 points. He also won a bronze medal in the discus (F12 class).
Two years later at the IPC World Athletics Championships in Madrid, Jason claimed silver in both the pentathlon and javelin. Battling nagging injuries, he represented Canada at his third Paralympics in 2000 in Sydney and third IPC World Athletics Championships in 2002 in Lille, France. In 2003, he won bronze in the discus at the IBSA World Championships in Quebec City.
Since retiring, Jason has coached young athletes at the Royal City Track & Field Club.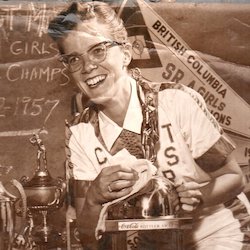 Vancouver's Gerry Gilmore excelled in three sports as one of Canada's best all-round athletes of the 1950s and 1960s with a unique drive to be the best and a fierce will to win.
"I always said that if I'm in a flat race, I'll probably come in last, but if you roll a ball in front of me, I'll get to it before you do."
Growing up in a lacrosse-mad family, when Gerry couldn't find a boys team that would let her play, she turned to basketball, softball, and field hockey.
Gerry played point guard for the Vancouver Eilers, the dominant women's basketball team in Canada during the 1950s that won nine straight national championships. She helped the Eilers to two of those titles and a third in 1960 when the team changed its name to the Richmond Merchants.
In softball, Gerry was one of Canada's best fielders at second base and a strong hitter. She played the entire 1960 Vancouver Senior A Women's League season without committing an error and was named a Pacific Northwest League all-star. She helped the Crowhurst Motors and South Hill Queens reach five World Women's Softball Championships. Later she played in four Canadian championship tournaments in five years with Vancouver/Victoria teams, highlighted in 1966 when she was named a national all-star. Over her career, she led her teams to a remarkable 11 BC championships.
In field hockey, Gerry played for Canada internationally at the 1959 and 1963 IFWHA world tournaments, serving as Canada's vice-captain in the latter. Also in 1963, Gerry served as Canadian vice-captain in the Three Nations Tournament and later captained the Canada West team to the Canadian championship in 1966.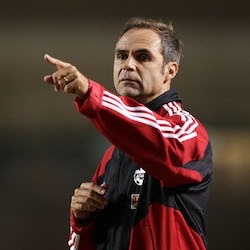 From the time Dale Mitchell was a toddler, the only time a soccer ball wasn't at his feet seemed to be when he cracked a pinpoint strike at goal. And as one of Canadian soccer's all-time great finishers, Dale often found the back of the net.
Growing up in Vancouver, Dale played soccer for Grandview Legion and basketball for Van Tech. After making the Vancouver Whitecaps at age 18, he was traded to the Portland Timbers in 1979. Over the next three-and-a-half seasons with Portland and one season with the Montreal Manic, Dale scored 43 goals in 125 games.
In nine MISL seasons, Dale established himself as one of the best indoor soccer players in North America. Playing with Tacoma, Kansas City, and Baltimore, he scored 406 goals and totaled 686 points—3rd and 4th most all-time respectively in MISL history.
A regular member of the national team from 1980-94, Dale played for Canada in four World Cup qualifying campaigns, helping Canada qualify for the World Cup for the first time in 1986 and coming close on two other occasions. He also led Canada to a quarterfinal finish at the 1984 Olympics where he finished third in tournament scoring with three goals in four matches. Upon retiring, Dale stood tied with John Catliff as the leading international scorers in Canadian history with 19 goals each.
Dale also played seven seasons in the Canadian Soccer League, leading the Vancouver 86ers to three of their four-straight CSL championships from 1988-91. In 121 games with the 86ers, he scored 49 goals—fifth all-time in club history.
Later, Dale coached the Canadian men's national team from 2007-09.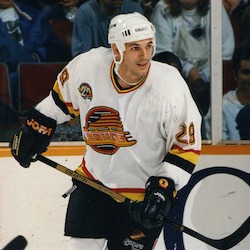 Few athletes in BC sport history have had their name chanted so fervently by stadium crowds as Gino Odjick. One of the most beloved and toughest Vancouver Canucks ever, Gino was known for taking on the NHL's heavyweight enforcers through the 1990s and courageously protecting his teammates.
Of Algonquin heritage, Gino grew up on the Kitigan Zibi Anishinabeg First Nation reserve near Maniwaki, Quebec. He learned to play hockey on the reserve's outdoor rink on teams coached by his father Joseph. As a youth Gino often spent his days at the rink in Maniwaki. Years later this rink was named in his honour.
After playing with Laval at the Memorial Cup tournament, Canucks scout Ron Delorme encouraged general manager Pat Quinn to draft Gino in the fifth round 86th overall at the 1990 NHL Draft. Called up by the Canucks later that year, he made an immediate impact and remained a key Canuck for the next eight seasons, including the 1994 run to the Stanley Cup Final. Often playing with close friend Pavel Bure, Gino worked tirelessly on his game and proved he could play with the very best. In the 1993-94 season, he totaled a career-high 16 goals and 29 points.
Over 12 NHL seasons with Vancouver, New York Islanders, Philadelphia, and Montreal, Gino played in 605 games and totaled 137 points. Of his 2,567 career penalty minutes (17th most in NHL history), 2,127 came with the Canucks—a club record that still stands.
In recognition of his NHL career and many years giving back to Indigenous communities, Gino was awarded the 2015 Indspire Award, the highest honour the Canadian Indigenous community bestows upon an individual.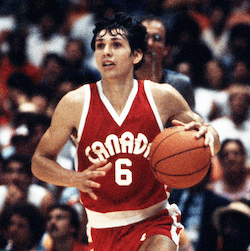 One of the most driven athletes in BC history, Victoria's Eli Pasquale led the University of Victoria men's basketball team to five straight CIAU national titles. Over that same period, Eli also refused to lose a single conditioning run in practice.
"He never had an off day," said coach Ken Shields. "He never had one."
Born in Sudbury, Ontario, Eli was coaxed west by Shields in 1979. He is believed to be the first athlete in Canadian university sport history to win five consecutive national championships. In 1984, he received the Mike Moser Memorial Trophy as the CIAU's outstanding men's basketball player. He was also named a CIAU First Team All-Canadian three times and the CIAU national tournament MVP twice. In 2005 UVic retired Eli's number 13 jersey, one of only three individuals in the university's history to be so honoured.
Over 12 years beginning in 1981, Eli developed into one of Canada's best-ever international players during arguably the Canadian national team's greatest era. As the starting point guard and co-captain, he helped Canada qualify for three FIBA World Championship tournaments, two Pan American Games, and the 1984 and 1988 Olympics, where Canada finished fourth and sixth respectively. The highlight may have been the 1983 Summer Universiade in Edmonton when Eli led Canada to victory in the semifinals over a USA team featuring future NBA legends Charles Barkley and Karl Malone. Canada later defeated Yugoslavia for gold in the final.
Drafted by the Seattle Supersonics, Eli played professionally in Europe and South America. He later played a major role in mentoring a young Steve Nash. For 35 years Eli's youth development camps all over BC gave thousands of kids their start in basketball.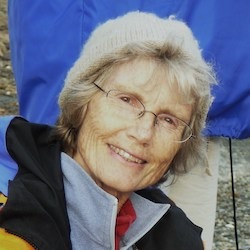 For over forty years, Vancouver's Judy Broom was the wind beneath the wings of BC field hockey, working tirelessly in the background helping to lift the sport to new heights as a player, volunteer, administrator, and supporter.
Growing up in Croydon, a town south of London, England, in school Judy discovered field hockey, typing, and shorthand—three things at which she would become exceptional. After she and husband Eric were married in 1964, they immigrated to Canada. Their honeymoon fittingly amounted to staging a series of field hockey coaching clinics together as they drove across the country to BC.
Early on, Judy played for the North Vancouver Field Hockey Club, volunteered with the BC Women's Field Hockey Federation, and supported Eric's work with the National Coaching Certification Program for the Coaching Association of Canada. It's estimated Judy typed over 10,000 coaches forms over the years.
In 1979, Judy became the first full-time paid executive director of the BCWFHF working alongside Jenny John. The strength of Field Hockey BC today, especially on the women's side, can be directly traced back to the groundwork laid by Judy from 1979-2005. During that time she helped organize countless tournaments at all levels of play including the 1979 International Women's Field Hockey Championship (IFWHA) held at UBC and the Vancouver International Tournament, which she helped found in 1995-96, a trophy for which is still awarded today known as "The Spirit of Judy Broom Award."
Later in her career, Judy helped merge the separate men's and women's BC and Canadian governing bodies into one joint organization at both the provincial and national level, today Field Hockey BC and Field Hockey Canada respectively.
DAVID COX - Builder-Coach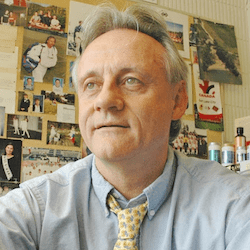 The first sports psychologist to be inducted into the BC Sports Hall of Fame, Dr. David Cox might own the most impressive office bulletin board of any individual in BC sport.
On it appear photos and thank-you's from Steve Nash, Grant Connell, Maelle Ricker, Rick Hansen, and Carol Huynh, among an amazing resume of elite Canadian athletes, teams, and organizations he's worked with over the past forty years. Internationally recognized in sports psychology, David's board is a vivid illustration of how positively he has impacted so many areas of BC and Canadian sport in so many different roles.
Growing up in Vancouver, David was a top junior tennis player, and later followed in the footsteps of his father, also a psychologist.
Since 1981, David has taught in the clinical psychology program in SFU's department of psychology. At the same time David began working with a young Connell and later became the first travelling sports psychologist on the ATP Tour. Besides coaching Connell to three Wimbledon finals, he helped him achieve the world number one doubles ranking in 1993.
David's work with Tennis Canada led to other opportunities with athletes in various sports at five Olympics and national teams in 12 different sports. He also assisted the 86ers/Whitecaps, Canucks, 2001 Mann Cup champion Coquitlam Adanacs, and SFU's athletic program. Using various techniques to optimize human performance, many of David's athletes went on to achieve career-defining performances such as Leah Pells, Jasey-Jay Anderson, the 2000 Canadian Olympic men's basketball team, and the Kelley Law and Kelly Scott curling rinks.
David also served as SportMed BC's chair for 22 years and as a member of the Canadian Sports Psychology Association.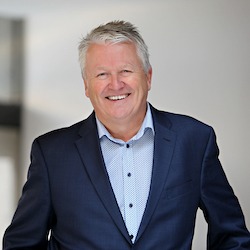 When Kelly Mann was in Grade 10 at Victoria's Lansdowne Junior High School a young practicum teacher named Roger Skillings wrote in his yearbook: "Sport or politics? All the best, Roger Skillings."
Fast forward twenty years and Kelly was hired as a BC Games Society event manager by Skillings, then the organization's CEO. Then in 1999, Kelly became his successor for the next 19 years.
After working with both sport and political leaders as the driving force elevating the BC Games into perhaps the most pivotal multi-sport athlete development event in the BC sport system and a model for other provinces, the answer to that looming yearbook question proved serendipitously to be not one or the other, but both.
Born in Ladysmith, Kelly grew up playing baseball in Victoria. By junior high, he was managing school sports teams. Beginning in 1992, Kelly worked as the BC Games Society's event manager responsible for accommodation, medical, food services, and communications.
This proved invaluable as CEO of the BC Games, quietly among the largest annual multi-sport events in Canada. During Kelly's term, the BC Games impacted over 250,000 athletes, coaches, officials, and volunteers in over 90 BC communities. He worked to make the BC Games a national leader in the development of young athletes, coaches, and community sport and it's no coincidence that BC consistently contributes more athletes to national teams per capita than any other province.
Kelly also served as founding chair of KidSport Victoria, Vancouver 2010 Olympic and Paralympic Winter Games ambassador, and board member for the Victoria Harbour Cats Baseball Club, Pacific Institute for Sport Excellence, the Aboriginal Sport and Recreation Council, and the Multi-Sport Organization Leadership Council.
1961-62 VANCOUVER FIREFIGHTERS MEN'S SOCCER - Team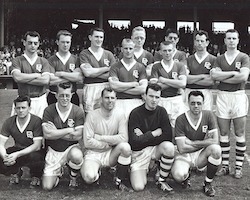 As a rule, the tightest teams off the field will often be the most successful on it. The 1961-62 Vancouver Firefighters men's soccer team took this to another level.
Each day Firefighters players and coaches showed up for work together at the Vancouver Fire Department fighting roaring blazes to save the lives of others and sometimes their own. On weekends they gathered for matches at Callister Park as part of a BC and Canadian soccer dynasty.
After narrowly losing the 1961 Canadian championship the previous season, for the first time since 1956 the Firefighters rejoined the Pacific Coast Soccer League, considered Canada's top league at the time. Midseason they defeated Victoria United to claim the Anderson Cup, the first of many cups this year.
Next, Firemen knocked off bitter rival Vancouver Columbus 5-1 in a one-game final to determine the PCSL championship. Firefighters goalkeeper Ken Pears was named PCSL MVP. The victory earned the team a trip to Los Angeles representing Canada in the Pacific International Soccer Championship against teams from the US and Mexico for the Kennedy Cup, the only athletic trophy to which the late US president lent his name.
In the semifinals, Firefighters won an epic 165-minute marathon match 7-4 over the Los Angeles Kickers via shootout. They managed to recover in time to defeat the Mexico Selects 2-1 in the Kennedy Cup final becoming the first Canadian team to win this trophy.
Back at home, the Firefighters added the Province Cup provincial title to their dream season defeating the Vancouver Canadians 3-1.
In the 1960s the Firefighters won five Province Cup championships in seven years, one Canadian championship, and four PCSL titles in five years.
Team Members: Eddie Bak, Art Bennett, Jim Blundell, Ernie Durante, Doug Greig, Art Hughes, Deryl Hughes (manager), Dave Hutton, Gordie Ion, Al Lenfesty, Jim McGuckin (trainer), Bob MacKay, Terry McKibbin, Norm McLeod, Bob Mills, Gord Nordby, Ken Pears, Gary Stevens, Dave Sullivan (coach), Louis Trischuk, Bud Walton.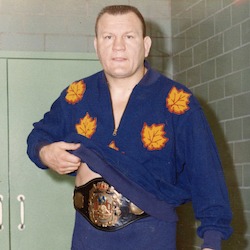 If ever there was going to be a first professional wrestler inducted into the BC Sports Hall of Fame, it had to be Gene Kiniski. It had to be.
'Canada's Greatest Athlete.'
'Big Thunder.'
Gene was a larger-than-life character whose personality and wider impact could never be contained within the ring ropes of the squared circle. In fact, in the late 1960s and early 1970s, he was likely BC's best-known international celebrity beyond the world of sport.
A top amateur wrestler in Alberta who also played football for the Edmonton Eskimos, Gene began wrestling professionally while at the University of Arizona after being ruled ineligible to join the NFL's Los Angeles Rams. Soon he was one of North America's top pro wrestlers touring the continent and facing legends like Whipper Billy Watson, Bruno Sammartino, and Killer Kowalski among many others.
Gene began wrestling regularly in BC in 1957 and within a decade made his permanent residence in Blaine, Washington and Vancouver his primary wrestling headquarters.
From 1955-72 Gene held various NWA, AWA, and WWWF title belts. The highlight undoubtedly was defeating the great Lou Thesz in 1966 to open a three-year reign as NWA World Heavyweight Champion at a time in pre-WWF/WWE/WCW days when the NWA title represented the best professional wrestler in the world.
He became a silent owner in the Vancouver-based All-Star Wrestling promotion and made regular appearances on the popular All-Star Wrestling CHAN-TV/BCTV program for two decades filmed in Burnaby and broadcast weekly across Canada.
Later in life Gene became a huge supporter of SFU's amateur wrestling program, in particular helping Bob Molle successfully rehab from back surgery to win a 1984 Olympic silver medal.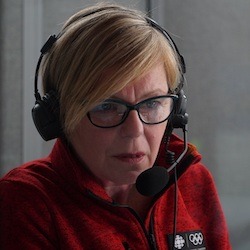 Over the past thirty years, Karin Larsen has built a reputation as one of the most versatile, knowledgeable, and respected members of BC's sports media. Few have covered more varied sports in more varied locations in more varied roles and done so with such "grace, integrity, and aplomb" as fellow BC Sports Hall of Fame media inductee Wendy Long put it.
And how many people can claim to have dual hall of fame careers? Before getting her start in the media, Karin was one of Canada's top synchronized swimmers during the 1980s, helping Canada to the world championship in the team routine event at the 1986 World Aquatics Championships and serving as the alternate for Canada's gold medal-winning pairs team at the 1988 Olympics.
Raised in Coquitlam and residing in Vancouver today, Karin got her start as a part-time weekend sports researcher at CBC Vancouver in 1988. She worked in various roles on shows like the CBC's NHL Breakaway and BCTV's Down the Stretch. Later she co-hosted CBC Vancouver's Seeking Stanley.
Since 1993 Karin has worked CBC network broadcasts of major sports events around the world, covering 11 Olympics, five Paralympics, several Grey Cups, the NHL's Stanley Cup playoffs, and countless Vancouver Canucks and BC Lions games. In 2006, Karin co-hosted CBC's coverage of the Closing Ceremony of the Torino Winter Olympics. She has since served as CBC's lead announcer for Olympic sports such as triathlon and wrestling.
Career highlights have included covering Carol Huynh's 2008 Olympic gold medal in wrestling, calling Simon Whitfield's dramatic come-from-behind 2008 silver medal, and commentating on sister Christine Larsen and Canadian teammates winning silver in synchronized swimming at the 1996 Olympics.
RON JONES - W.A.C. Bennett Award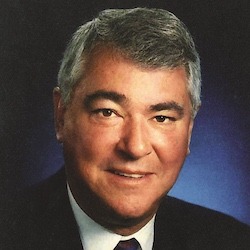 Looking back over a long and varied career, it's obvious Ron Jones loves sport.
"I just believe in sport," he said. "Brings out the best in people and/or makes them better people."
Ron is living proof of that himself and not many have contributed and invested more in BC sport than he has.
Raised in Vancouver, Ron played baseball and lacrosse growing up and began coaching youth teams by his late teens. One athlete he coached later in Maple Ridge was a young Larry Walker.
Beginning in 1976, Ron served on the BC Lions board of directors for a decade working closely with friends Bob Ackles, Jack Farley, and Norm Fieldgate to build one of the great eras in Lions history. Highlights included building a new practice facility in Whalley, moving into BC Place Stadium, and winning the 1985 Grey Cup. Ron served as Lions president from 1983-85 and as chair of the CFL's board of governors in 1986.
In 1983 Ron served on the board of directors of the organizing committee for the BC Summer Games held in Maple Ridge.
Beginning in 1986, Ron served as a trustee of the BC Sports Hall of Fame for nearly two decades, one of the longest serving board members in the Hall's history. He also served as the Hall's chair in 1996-97 and as a founding director of the BC Sports Hall of Fame Foundation.
In 1995, he helped create the Founder's Cup Charity Classic, which over the next 25 years became one of the most successful fundraising golf tournaments in BC raising over $3 million in support of youth sport charities and the BC Sports Hall of Fame.
MENU
Salad
Windset Farms tomatoes, Fior di latte cheese, fresh basil, Venturi Schulze aged balsamic reduction
(GF, V)
Main
Porcini crusted Fraser Valley free range chicken breast (GF)
Celeriac, caramelized onion, roasted baby potatoes, chicken pan jus
Seasonal market vegetables
Dessert
Bittersweet dark chocolate mousse, flourless cocoa sponge, salted caramel, coffee meringue
(GF, V)
Wines
Peller Estates Sauvignon Blanc
Peller Estates Family Series Cabernet Merlot
Coffee & Tea
Freshly brewed Moja organic coffee
TEALEAVES Tea
Meet the Class of 2020 Honoured Members
The hills in Coquitlam are steep and long. Thermal Drive, Blue Mountain Street—they're gut busters. Now imagine biking those daily…after riding 100 kilometres or more.
Alex Stieda did that for years, finishing long rides home sometimes completely shattered. It forged in him an endurance foundation that carried him through his career.
Growing up, Alex played hockey and tried cycling for summer cross-training. He bought a ten-speed and fixed it up, probably the best $20 he ever spent.
With the guidance of long-distance cyclist Harold Bridge, coach Baz Lycett, and senior rider Ron Hayman, Alex shot up the cycling ranks. In 1978 he won every event possible at the Canadian junior championships. At the 1979 world junior track championships, a young Greg LeMond edged him out in the individual pursuit quarterfinals.
After winning the 1980 Gastown Grand Prix, Alex was a Canadian international mainstay for 12 years. He won bronze at the 1982 Commonwealth Games, competed at the 1984 Olympics, and recorded three top-10 world track championships finishes. He also won 15 national titles.
He turned pro with the 7-Eleven team in 1986. On Day Two of his first Tour de France in 1986, Alex bluffed a 'nature break' and fooled the peloton. He sprinted in front and by stage's end held the overall lead to claim the yellow jersey and four other classification jerseys. It marked the first time a North American ever wore the Tour's leader's jersey. He remains one of only two Canadians to accomplish this. Alex hung on to cycle down the Champs-Élysées and finish 120th overall just eight years after taking up cycling seriously.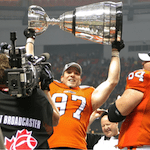 Brent Johnson changed the way we think about Canadian defensive players in the CFL.
At one time, common thinking held that certain positions were reserved for American players. Like a winded lineman left gasping in his wake, Brent exploded past that, proving not only that Canadians could play, they could dominate.
The amazing thing? It almost never happened to begin with. When Brent began playing football at Holy Cross High School in Napanee, Ontario, he barely saw the field and nearly quit. But he stuck with it, began to improve, and soon was garnering attention from top US universities.
Playing four years at Ohio State at defensive end, he helped the venerable Buckeyes to two Sugar Bowl appearances, a Rose Bowl victory in 1997, and memorable wins over bitter rival Michigan. He even sacked a little-known Wolverines quarterback named Tom Brady, who went on to have a decent career we're told.
Timing is often everything. After failing to catch on in the NFL, Brent came to BC in 2001, arriving as part of a young core of dominant players who drove the Lions to the most successful decade in club history. This included five West Division titles and three Grey Cup appearances, winning twice in 2006 and 2011.
Over 11 seasons with the Lions, Brent played 185 regular season games recording 225 tackles and a club record 89 sacks, including a CFL-leading 17 in 2005. Twice Brent was named the CFL's Most Outstanding Canadian, and to date, he stands as the only Canadian to win the CFL's Most Outstanding Defensive Player Award, which he received in 2006. He also was a three-time CFL All-Star and a five-time West Division All-Star.
In 2011, the BC Lions retired his number 97.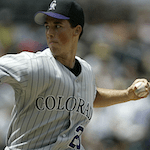 There was a time, long before his outstanding Major League career, when Jeff Francis actually wanted to give up pitching.
At age 13 Jeff—nicknamed 'Boomer' by his grandfather—had taken one too many line drives off his legs and was done with pitching. He was just too shy to tell his coach, who put him on the mound and, like always, Jeff threw strikes and won games. He never stopped pitching after that. And what a career he had.
Growing up in North Delta, baseball became Jeff's life when he made the BC Premier Baseball League's North Delta Blue Jays. Playing for UBC he set 11 team pitching records, twice was named an NAIA First Team All-American, and received the Bobby Gaul Award as UBC's top male athlete.
After appearing on the cover of Baseball America magazine, Jeff was selected ninth in the 2002 Major League Draft by Colorado—the second highest Canadian-born player ever chosen.
After making his MLB debut, Jeff quickly became a Rockies starter. In 2007, he compiled a 17-9 win-loss record and 165 strikeouts in 34 starts, earning Cy Young Award consideration and landing on the cover of Sports Illustrated. He helped Colorado complete one of baseball's most memorable late-season runs to the World Series, winning 21 of 22 games, before falling to Boston. Jeff became the first Canadian starting pitcher to win a major league postseason game and the second to start in a World Series.
Upon retirement in 2015 he finished with a 72-82 record and 869 strikeouts in 254 games over 11 seasons with six clubs.
But time remained for one more highlight at the end. In the 2015 Pan American Games gold medal game, Jeff pitched eight gutsy innings to lift Canada to victory 7-6 over the US.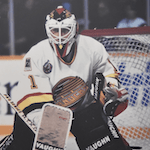 Press play on a highlight reel of the most iconic moments in Vancouver Canucks history and certain players keep appearing over and over. One of those is Kirk McLean.
The sliding two-pad stack save on Robert Reichel in overtime of Game 7 versus Calgary in 1994. A Stanley Cup Final goaltending clinic for the ages stopping 52 New York shots to steal Game 1. Perhaps the most famous Canucks photo of all time, an exhausted Trevor Linden embracing Kirk after a Game 6 Cup Final win.
Raised in Toronto, Kirk was a natural athlete who excelled at both hockey and soccer. Drawn to the crease, he patterned his play after legends Jacques Plante and Bernie Parent.
After starring with the Oshawa Generals, he was selected by New Jersey in the 1984 NHL Entry Draft. In 1987, in his first trade, GM Pat Quinn shrewdly snagged a future Canuck cornerstone in Kirk.
For the next 11 seasons, with his characteristic stand-up style and cobra-quick glove hand, Kirk provided the Canucks with some of the best goaltending in the NHL. By his departure in 1998, he was the Canucks' all-time leader in virtually all goaltending statistics: 516 regular season games played, 211 wins, 20 shutouts, and a 3.28 goals against average.
Kirk led Vancouver to two Smythe Division titles and recorded all 15 Canuck wins during the run to the Western Conference Championship and Game 7 of the 1994 Stanley Cup Final. He was twice selected to the NHL All-Star Game in 1990 and 1992. A two-time Vezina Trophy finalist and a 1992 2nd Team NHL all-star, he was also a two-time winner of the Cyclone Taylor Trophy as Canucks MVP.
In 2010, he was the second player inducted in the Canucks' Ring of Honour at Rogers Arena.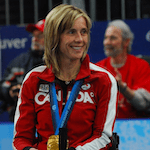 Every athlete has a story worth telling, but some force you to stand back and shake your head in wonder. Sonja Gaudet is one of those.
Growing up in North Vancouver, Sonja played basketball and equestrian, and ironically thought curling was 'boring,' but that would change.
She moved to Vernon in 1988 and worked at a local restaurant while raising a family. In 1997 she was seriously injured while riding her horse, becoming paralyzed from the chest down.
With support from her family, the Vernon community, and others like Rick Hansen, she made a miraculous recovery. After just a month in hospital and two more rehabbing at GF Strong, she returned home.
Sonja discovered wheelchair curling in 2003 when the Vernon Curling Club sought her advice on accessibility for a bathroom reno. Wheelchair curling was to be a new Paralympic sport in 2006 and Sonja had no idea she'd end up one of the new athletes recruited for it.
With the support of Sharon Morrison and Jan Mori, Sonja progressed rapidly, breaking into the national team program in 2005 and making her first international appearance for Canada at the 2006 Paralympics in Torino.
Over the next decade, Sonja helped Canada win three straight Paralympic gold medals in 2006, 2010, and 2014 and three world championships in 2009, 2011, and 2013. The period from 2009 to 2014, where Canada was virtually unbeatable with a largely all-BC-based line-up, will likely never be surpassed in Canadian wheelchair curling history. The highlight of Sonja's career was selection as Canada's Opening Ceremonies flagbearer at the Sochi Paralympics. In 2018, she was featured on a Canada Post stamp.
BILL MITCHELL - Builder-Coach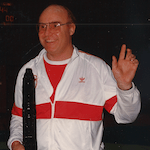 Bill Mitchell loved to coach. He put everything into it. And he was so much more than just a coach: father figure, mentor, counsellor. In many cases, he changed lives.
Like the time he discovered one of his Centennial Secondary wrestlers crying in a stairwell. Learning the young man was homeless and living in his car, Bill brought him home to live with his family until social services could help. The young man stayed in school, continued wrestling, and became a chiropractor. An extraordinary coach will do that for their athletes.
Born in London, England, after World War II Bill's family moved to Windsor, Ontario, where he starred in football, wrestling, and track & field at Western University. He played nine CFL seasons as a lineman and kicked field goals, including a then-world record 58-yarder.
Traded to the BC Lions in 1966, he took an offseason job teaching at Coquitlam's Centennial Secondary. He began coaching in 1969 and quickly turned the school into a perennial wrestling powerhouse. At one point, 35 provincial title banners hung in Centennial's gym—22 were teams coached by Bill. He remained a Centennial fixture until retiring in 1994.
Along the way, he served both the BC Amateur Wrestling Association and Canadian Amateur Wrestling Association as a director and president. In 1987, he received the Air Canada Sports Executive of the Year Award.
Over his 25-year career he coached thousands of athletes including some of Canada's greatest wrestlers like Chris Wilson, Chris Rinke, and John 'Earthquake' Tenta. It took him to events around the world: Pan American Games, world wrestling championships, Commonwealth Games, and his career highlight, the 1988 Olympics.
HARRY WHITE - Builder-Coach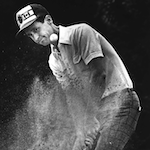 Harry White had a favourite saying that summed up his philosophy on the game of golf: 'Tee it high and let it fly, there aren't any hazards in the sky!' That's a pretty good motto for life in general, and if anyone lived it, it was Harry.
Few individuals were as dedicated to golf's youngest participants at the grassroots level in BC than the man many knew as 'Uncle Harry.'
Introduced to golf by his father, young Harry caddied for the legendary Stan Leonard and was transfixed by the fast, smooth swing of Moe Norman.
Known as a master putter and for using unusually high 6-inch-long tees, Harry developed into a top amateur. He played four years for Saint Martin's University in Washington and won the 1969 Vancouver City Amateur. He was named a member of three BC Willingdon Cup teams and two Pacific Coast Amateur Morse Cup teams.
Harry began coaching in 1969 and never stopped for five decades. In 1971, he and Fred Wellsby began holding junior events around the Lower Mainland. Two years later, Harry and Fred were the BC founders of the Junior America's Cup Team matches that allowed young BC juniors to play against the best from the western US.
That same year Harry began a 30-year run as chairman of the Inter-Club Golf Committee, creating a junior tour held at private courses that developed countless top young players. He also created the Junior Masters program, known today as Junior Linksters, often the first introduction to competitive golf for BC players under 12.
Add it all up and it's why some have said Harry has influenced the career of every BC junior champion and every Canadian junior champion from BC since 1971.
VALERIE JOHNSON - Builder-Coach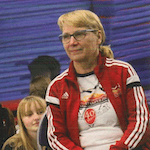 All you need to change a child's life is one hour. That's been the foundation of Val Johnson's coaching philosophy for over fifty years.
Val would know. Her own life changed in just one hour back in 1968 when she discovered gymnastics at the New Westminster community center. It spawned a lifelong devotion to trampoline.
Val began teaching gymnastics classes as a 14-year-old volunteer. The City of New Westminster hired her as an instructor at 16 and she just never left. 2020 marks her 51st year working as the only gymnastics and trampoline programmer ever employed by the City of New Westminster.
A founder of Ariel Trampoline Club, the first trampoline club in Canada, Val competed from 1969 to 1974 becoming Canada's first-ever national trampoline champion in 1971, adding two more titles in ensuing years. Twice she competed for Canada at the world championships in 1972 and 1974 before retiring from competition.
Val founded the Shasta Trampoline Club in 1975, now the oldest and among the most successful competitive trampoline clubs in Canada. Dozens of her athletes have gone on to wear the Maple Leaf over the past five decades. To date, Shasta athletes have produced at least 19 world championship and 31 national championship medals.
Since 1996, Val has served as BC's provincial coach at the Canadian championships. She also served as Canada's national coach at various international events including the 1978 and 2003 World Age Groups in Australia and Germany respectively, the 2002 Indo Pacific Championships in Australia, and the 2006 Albacete Cup in Spain.
1979-80 UNIVERSITY OF VICTORIA VIKINGS MEN'S BASKETBALL - Team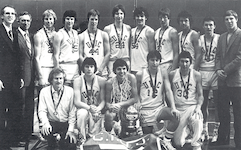 As a rallying cry, it was perfect: 'You can't stop a train.'
The 1979-80 University of Victoria Vikings men's basketball team screamed this in unison after many huge victories during a truly historic season that ended with UVIC's first-ever Canadian university basketball championship.
Coach Ken Shields transformed the UVIC program with his unique blend of intensity, work ethic, and the drive for perfection. Practices were daily wars. Canada West conference games felt easier than many summer scrimmages.
The team consisted of mostly Vancouver Island-born-and-raised players with a perfect mix of experienced veterans like Ian Hyde-Lay, Chris Hebb, Ted Anderson, and Reni Dolcetti and young talents like Eli Pasquale, Gerald Kazanowski, and Kelly Dukeshire. American import Billy Turney-Loos was the team's offensive sparkplug.
The Vikes rattled off 20 straight regular season victories in Canada West play, the first UVIC team to go undefeated. They then advanced to the CIAU national championships in Calgary after breezing through the playoffs without a loss. In the national tournament, victories over the University of Windsor and defending champion Saint Mary's Huskies followed. In the national final, UVIC faced number-one-ranked Brandon University. After a slow start, Turney-Loos and Dolcetti turned the tide in the second half as UVIC earned a 73-65 victory. Both were named tournament all-stars, with Dolcetti also named MVP.
The most remarkable aspect of this team? The era of success it opened. It would be seven years before an opponent legitimately stopped the UVIC train: the UVIC men won a then-unprecedented seven straight Canadian national championships.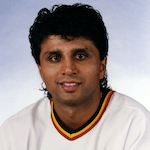 Looking back over a long and varied career, it's obvious Ron Jones loves sport.
"I just believe in sport," he said. "Brings out the best in people and/or makes them better people."
Ron is living proof of that himself and not many have contributed and invested more in BC sport than he has.
Raised in Vancouver, Ron played baseball and lacrosse growing up and began coaching youth teams by his late teens. One athlete he coached later in Maple Ridge was a young Larry Walker.
Beginning in 1976, Ron served on the BC Lions board of directors for a decade working closely with friends Bob Ackles, Jack Farley, and Norm Fieldgate to build one of the great eras in Lions history. Highlights included building a new practice facility in Whalley, moving into BC Place Stadium, and winning the 1985 Grey Cup. Ron served as Lions president from 1983-85 and as chair of the CFL's board of governors in 1986.
In 1983 Ron served on the board of directors of the organizing committee for the BC Summer Games held in Maple Ridge.
Beginning in 1986, Ron served as a trustee of the BC Sports Hall of Fame for nearly two decades, one of the longest serving board members in the Hall's history. He also served as the Hall's chair in 1996-97 and as a founding director of the BC Sports Hall of Fame Foundation.
In 1995, he helped create the Founder's Cup Charity Classic, which over the next 25 years became one of the most successful fundraising golf tournaments in BC raising over $3 million in support of youth sport charities and the BC Sports Hall of Fame.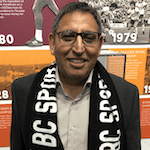 Cleve Dheensaw's induction into the BC Sports Hall of Fame for his outstanding 40-year career writing on Vancouver Island sport has its roots in a visit to the original Hall of Fame at the PNE.
That day young Cleve saw a display on his favourite BC Lion Willie Fleming and was astonished to learn a team from his hometown Victoria won the Stanley Cup in 1925. A passion for BC's sport history ignited within him that's still burning today, but Cleve never dreamt he'd be awarded his own place of honour.
Cleve grew up playing hockey and lacrosse, but showed more promise with the written word. He began writing at Victoria High School, the third great BC sportswriter after Jim Kearney and Jim Taylor to emerge from Vic High.
While attending the University of Victoria, Cleve wrote for The Martlet stumbling upon one of the biggest sports beats in BC: the UVIC men's and women's basketball teams in the midst of national dynasties coached by Ken and Kathy Shields. He began writing for the Victoria Times-Colonist in 1981 and hasn't stopped, shining the spotlight on countless BC athletes from their fledgling days to international stardom. Athletes like Steve Nash, Silken Laumann, and Simon Whitfield, among thousands of others.
During his career, he covered four Olympics in person, six Commonwealth Games, and the 2015 Pan American Games in Toronto. To date, he has written six books on BC sport.
Cleve is the first BC Sports Hall of Fame media inductee whose career was based entirely outside the Vancouver media market. No sportswriter in Canada has covered a similar-sized region for so long, so well, and so thoroughly.
KATHY NEWMAN - W.A.C. Bennett Award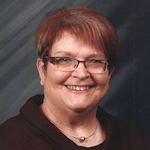 Over a 40-year journey, Kathy Newman's focus was to make a difference in the BC wheelchair sports community. You could say she's done that and more. Today the BC Wheelchair Sports Association enjoys a leading reputation worldwide.
It began in 1981 when as president of the Langley Mustangs Track and Field Club, Kathy invited young wheelchair athletes like Rick Hansen to compete at the club's annual track meet, one of the first in Canada allowing athletes with a disability to participate in an inclusive environment. The BC Wheelchair Sports Association brought her on shortly after and by 1987 she was the organization's executive director, a position she held for 25 years.
In that time, Kathy worked tirelessly to increase awareness of wheelchair sport. She developed the Bridging the Gap and Wheelchair Loan programs, as well as 'Have a Go' Days that encouraged individuals who had been recently injured to try participating in sport. Many lives were changed through these programs, encouraging countless people with disabilities to lead active lives and showing what is possible. BC athletes like Rick Hansen, Richard Peter, and Marni Abbott have become household names today and Kathy helped propel them forward until they reached historic heights.
Perhaps her most impressive contribution has been in the successful bidding and hosting of world-class international events. Kathy was the driving force behind the 2009 Americas Cup Wheelchair Basketball tournament and 2010 World Wheelchair Rugby Championships, both held in Richmond, and the 2014 Women's World Wheelchair Basketball Championship in Toronto. You can add the recently announced 2026 IWBF Wheelchair Basketball World Championships for both men and women together in Ottawa—another first for Canada.