51st Induction Class Welcomed into the BC Sports Hall of Fame
July 1, 2019
Presented by Vanguard Mortgage Investment Corporation
For Immediate Release Monday April 17, 2017
Vancouver, BC– With close to 800 guests in attendance at the Vancouver Convention Centre West, the BC Sports Hall of Fame formally inducted its 51st induction class at the star-studded annual Banquet of Champions, presented by Vanguard Mortgage Investment Corporation, last Wednesday, April 12th.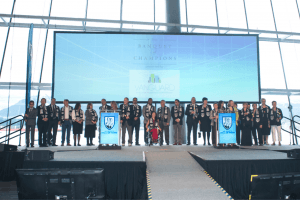 The Banquet of Champions is the premier event for the BC Sports Hall of Fame and a major fundraising opportunity for the institution, which dedicates its efforts to educating British Columbians about the province's history while celebrating commitment to excellence. The 2017 Banquet of Champions raised a net total of $150,000, an increase of $20,000 net from the previous year.
The Executive Director of the BC Sports Hall of Fame, Allison Mailer said: "Congratulations to the 51st induction class and thank you to all of our guests, sponsors, patrons, staff, volunteers, and our two emcees who made the Banquet of Champions possible. The event would not have been possible without your support, and special thanks goes to our presenting sponsor, Vanguard Mortgage Investment Corporation."
Moe Eskandarpour, CEO of Vanguard Mortgage Investment Corp. said: "It was an amazing event! We are honoured and proud to participate and sponsor an event celebrating and recognizing the extraordinary achievements of our athletes in British Columbia."
Induction to the BC Sports Hall of Fame recognizes extraordinary achievement in British Columbia's athletic community in the categories of athlete, builder, team, pioneer and media. Since 1966, the BC Sports Hall of Fame has inducted 385 individuals and 60 teams. The evening was an opportunity for guests to meet and interact with members of Vancouver's business and sporting communities in one of the major philanthropic events of the year.
The 2017 induction class includes:
Five individuals in the athlete category – Roland Green (Cycling), Mark Recchi (Ice Hockey), Geroy Simon (Football), Michelle Stilwell (Wheelchair Athletics/Wheelchair Basketball) and Mark Wyatt (Rugby).
Three inductees in the coach/builder category – Tim Frick (Wheelchair Basketball), Frank Smith (Football) and George and Dianne Tidball (Equestrian).
The 1969-70 UBC Thunderettes Women's Basketball in the team category.
Chang Keun Choi (Taekwon-Do) in the pioneer category.
David Sidoo (Football) as recipient of the W.A.C. Bennett Award.
About the BC Sports Hall of Fame
Go there. Experience. Be proud. Be inspired.
Located at Gate "A" of BC Place with inspiring exhibits, the BC Sports Hall of Fame is the 'go to' organization for BC sport heritage. For 50 years, we have honoured BC's teams, builders, athletes, pioneers, and media through the annual induction ceremony the Banquet of Champions. The collection of the BC Sports Hall of Fame and Museum includes over 25,000 artifacts and 20,000 archival documents representing 100 years of sporting accomplishments in British Columbia. In everything it does, the BC Sports Hall of Fame honours, educates, and inspires through the Hero In You Youth Education Programs. For more information please visit: www.bcsportshalloffame.com follow us on twitter @bcsportshall and like us on Facebook at: www.facebook.com/bcsportshall/
-30-
Media Contacts:
Eddie Tabakman
Media Relations
etabakman@lbmg.ca
604.306.0875