50th Anniversary Induction Gala Welcomes the Class of 2019 and Raises More Than $250,000 for Youth
July 1, 2019
For Immediate Release May 28, 2019
Vancouver, BC – A sold out crowd of more than 1,000 guests were in attendance last week for the BC Sports Hall of Fame's 50th Anniversary Induction Gala, presented by Victory Square Technologies – and a final tally has now revealed fundraising efforts in conjunction with the event totalled more than $250,000 which will benefit youth across this province.
The Induction Gala was a memorable evening for the Class of 2019, each of whom provided a heart- felt response to the honour that will see them join 406 Honoured Members and 63 teams that have been enshrined in the long history of the BC Sports Hall of Fame.
As a result of a 50-50 draw, in celebration of the 50th Induction Gala and the Vancouver Canucks 50th NHL season, Marriott® Dream Vacation Raffle and Silent Auction event, more than $250,000 was raised this year. The proceeds benefit Hero in You youth education programs, which inspire current and future generations to pursue sport, be active and healthy and achieve their goals.
For the BC Sports Hall of Fame's new CEO, the spirit of collaboration and hard work that contributed to this year's Gala was beyond expectations. "The success of this year's Gala is a tribute to our dedicated team and support of partners that went above and beyond to ensure our third consecutive sell-out," said Nicholas Cartmell. "We are also extremely grateful for everyone's support of this year's fundraising efforts, and look forward to seeing the positive difference this will make in the lives of youth across the province."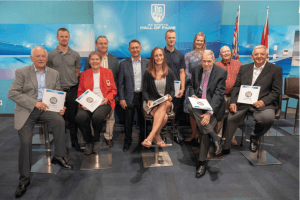 Induction Class of 2019 Photo: (Left to Right) Dan Jukich, Daniel Sedin, Darlene Currie, Ron Toigo, Ken Holland, Kelly McCallum, Henrik Sedin, Emily Brydon, Tony Waiters, Paul Parnell, Roy Gerela
For a high-res image of the 2018 Induction class, please email kgleeson@lbmg.ca
The Class of 2019 includes:
Emily Brydon – Three-time Olympian and member of Canada's National Ski Team for over a decade.
Roy Gerela – The first British Columbian to star in the NFL during an 11-year kicking career that included three Super Bowl championships with the Pittsburgh Steelers
Kelly McCallum – a legend in women's rugby, representing Canada 30 times at the international level and captained the national women's team 16 times
Daniel Sedin – All-time leading goal scorer in Vancouver Canucks team history over a 17-year career with the club
Henrik Sedin – All-time leader in scoring and games played in Vancouver Canuck history over a 17-year career with the club
Darlene Currie –one of Canada's greatest women's basketball players and one of the first women to coach a Canadian national team, women's basketball, 1970-75
Ken Holland – one of the most successful general managers in in North American professional sports over the past 25 years, and leading the Detroit Red Wings to four Stanley Cup titles
Tony Waiters –one of the greatest coaches in Canadian soccer history who guided the Vancouver Whitecaps to the 1979 NASL title and coached the 1986 Canadian men's national team in the World Cup
1968 New Westminster Salmonbellies – 1968 National Lacrosse Association champions and the first true coast-to-coast North American professional lacrosse championship team.
Ralph 'Hunk' Henderson – one of the first BC athletes to play professional football and a key member of three Hall of Fame inducted teams
Dan Jukich – considered one of the most talented horse racing announcers in North America for nearly 30- years and has been active in the BC horse racing industry as an announcer for nearly four decades
Ron Toigo – the WAC Bennett Award recipient is the long-time owner and president of the WHL's Vancouver Giants – and also helped bring and lead major international events to BC, including the 2006 and 2019 IIHL World Junior Hockey Championships, 2007 Memorial Cup and 2009 World Police and Fire Games
About the BC Sports Hall of Fame
The BC Sports Hall of Fame celebrates extraordinary achievement in BC sport history and inspires future generations to make their dreams come true. Each year, a diverse audience of over 35,000 visitors from around the globe are educated and enthralled by the collection of 27,000 artifacts and 100,000 archival documents representing 150-years of sporting accomplishments in British Columbia. Through the Hero in You Youth Education Programs, the BC Sports Hall of Fame reaches over 6,500 youth across the province, advancing its mission of building outstanding community legacies by honouring the past and inspiring the future.
For more information please visit: www.bcsportshalloffame.com follow us on twitter @bcsportshall and like us on Facebook at: www.facebook.com/bcsportshall/
-30-
Media Contact
Kelly Gleeson – LBMG
604-240-6231
Kgleeson@lbmg.ca